The McLaren 720S Is Still Supercar Royalty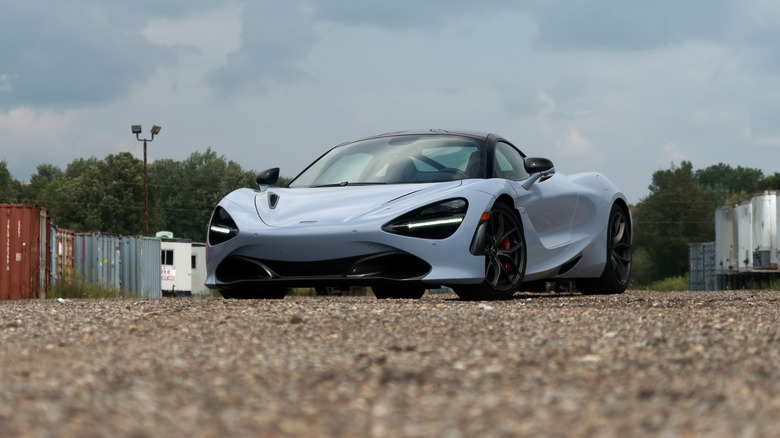 Chris Davies/SlashGear
Supercar manufacturers can be as bad as cosmetic surgeons, always spotting some potential nip or tuck, a tweak or an adjustment made in the hope of getting closer to some definition of "perfect." More aero bodywork, bigger spoilers and wings, extra horsepower coaxed from the engine, all typically with the goal of shaving away at the 0-60 time. Sometimes though, like a bad rhinoplasty, there's only so much slicing and dicing you can do before things start to get awkward.
McLaren's approach to the 720S, in contrast, has been refreshingly hands-off. Around about five years after the car was first unveiled at the 2017 Geneva Motor Show, the supercar you buy today is hardly changed in its essence from that initial, jaw-dropping 212 mph engineering marvel.
It's a testament to just how much McLaren got right on day one. After all, nobody can accuse the British automaker of being afraid to tinker: its recent history of limited-edition Longtails, Spiders, and other variants are fine evidence of that. What it hasn't succumbed to is change for its own sake; change that, quite frankly, when it comes to the 720S it really didn't need to concern itself with.
A lasting supercar recipe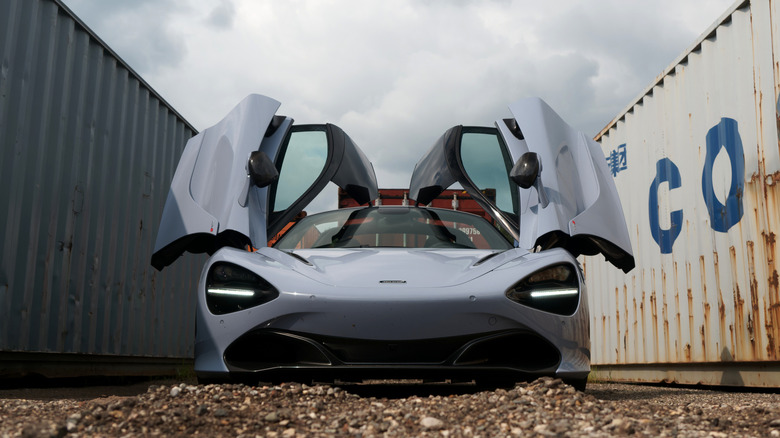 Chris Davies/SlashGear
Helping, there, is the fact that few — if any — of the 720S examples on the road today are the same. McLaren Special Operations, the automaker's bespoke and custom division, gets the credit there. If McLaren as a whole is reluctant to succumb to needless surgery, MSO has no such qualms about gussying the 720S' paintwork, wheels, lashings of carbon fiber, leather, Alcantara, and everything else.
Regardless of whether you go dark & stealthy, opt for something far brighter and eye-catching, or split the difference such as this subtle but striking Ceramic Grey from the MSO Defined range, McLaren's core recipe is the same. The 720S starts with a carbon fiber Monocage chassis, combined with an extruded aluminum sub-frame, for strength and minimal weight. A rear-mounted twin-turbo 4.0-liter V8 engine is dropped in, with a seven-speed dual-clutch transmission.
There's McLaren Adaptive Damping — with a double-wishbone independent suspension system — electro-hydraulic steering, and two-piece disc brakes with carbon-ceramic rotors. Supercar glitter comes courtesy of twin-hinge dihedral doors, which pivot up and outward like the wings of some glorious dragonfly, while inside there's seating for two in a cabin that eschews anything as mundane as switchgear parts-sharing with any other brand.
Supercar style, supercar power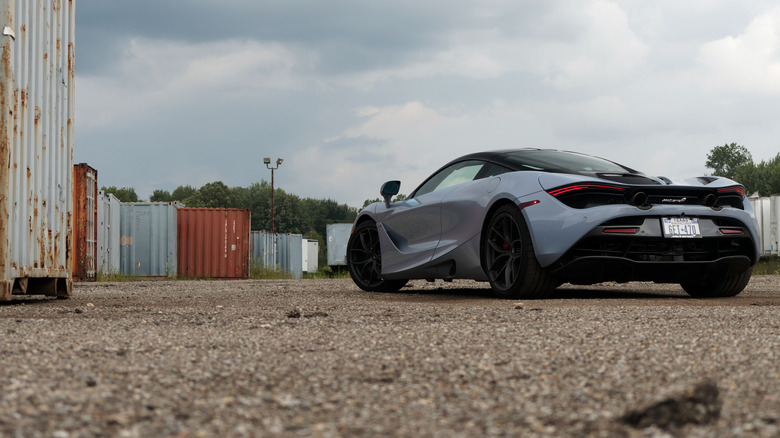 Chris Davies/SlashGear
Five years old, but it still turns heads and prompts confused questions. McLaren remains a semi-mysterious name in the US, familiar more for its racing heritage than its road cars. I'd argue the 720S boasts a more graceful shape than many of its more-recent rivals, too, and the detailing continues to delight. Air intakes built into the LED headlamp clusters give the 720S even more of an insectile edge, while the pop-up spoiler at the rear — which doubles as an imposing airbrake — lends a pleasingly mechanical heft to the coupe's drag-avoiding slipperiness.
Those lucky enough to enjoy six-figure budgets for their transportation have more options than ever for going fast these days. The 720S brings 710 horsepower and 568 lb-ft of torque to the party, and the result is 0-60 mph in a quoted 2.8 seconds (which feels, frankly, conservative). Are there faster supercars out there? Sure, if we're going to split hairs, though the McLaren's wildcard has always been its duality.
Cosseting with a British bite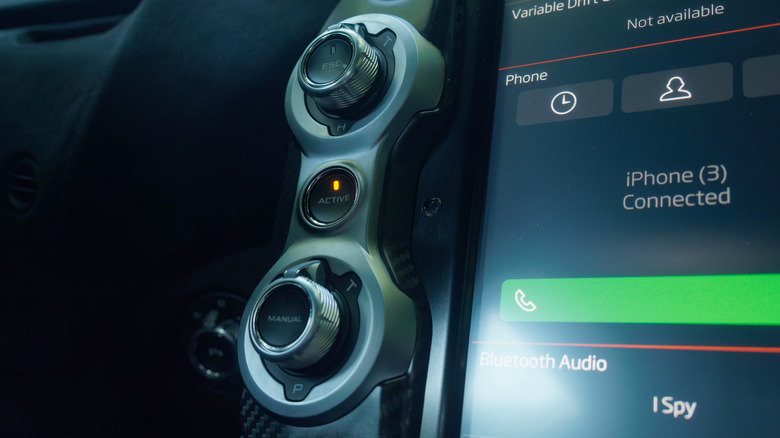 Chris Davies/SlashGear
Start it up, and the 720S' default drive mode promises the best of all worlds: cosseting with a British bite. Hit the "Active" button, though, and you get to play with the two — beautifully milled — mode dials. The Handling knob switches the suspension and related settings through Comfort, Sport, and Track modes; the Powertrain knob below it has the same three options, but here they affect the engine and transmission behavior.
The result is a car that still shocks with how broad its talents can stretch. Michigan is not a state known for its well-kept asphalt and silky-smooth roads, but the 720S' suspension can be dialed into a sufficiently plush level that I wouldn't lose my teeth on a daily commute. When the corners beckon, though, Sport or Track mode instantly squeezes out any sense that the McLaren is something short of a purposeful weapon. It can amble, certainly, but there's never the sense that the automaker has diluted or compromised what's really important from a sports car.
A track star that shines on the road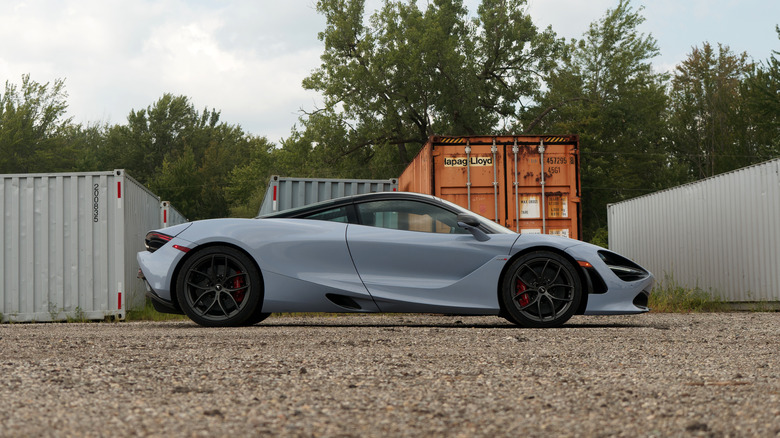 Chris Davies/SlashGear
What's particularly great is that, as well as being easy to toggle between the settings, you can adjust handling behavior independently from performance behavior without needing to dig into the customizable "Individual" mode most other automakers provide. Want the most aggressive gearbox shifts, but a little playfulness in gravel corners? Notching the upper dial to Sport and the lower one to Track will get you there in an instant. Prefer to use the arching carbon fiber paddles rather than leave McLaren's transmission to shift by itself? There's a dedicated button for that, too.
The 720S' worth is best demonstrated on an actual race track, of course: Its limits are far beyond the restraint imposed by public roads. Nonetheless, you can access at least some of the viscerality without putting life or license in absolute danger. Straight-line speed is, somewhat obviously, a giddying experience, if not outright terrifying as you're pressed back into the supportive buckets, but the crackle of grit on the flat underbody helps lend a sense of the pace as the coupe grips with delight in the corners.
There are electronics to help you, though while you can switch them off they're not spoilsports if left engaged. As for the steering, it's enough to make you weep: direct and communicative, weighted just-so. Other cars feel like hospital Jello in comparison, sloppy and lackluster. McLaren's carbon ceramic brakes respond well to a determined foot, meanwhile, demanding intent to go with their prodigious slowing power.
Unexpected daily-driver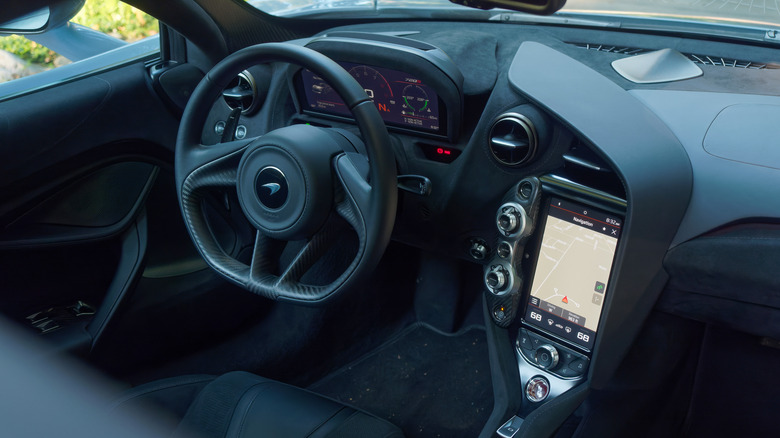 Chris Davies/SlashGear
It's honestly rare to find something so capable, so rewarding, at such extremes. What might put the dampeners on that daily-driver potential? Fuel economy for one: The 18 mpg combined that the EPA says you could achieve is probably possible, but the degree of self-control it would require feels like masochism taken a step too far. I suspect 720S owners won't be too swayed by the cost implications of the coupe's thirst for premium gas, but the rate at which it gulps through the 16-gallon tank might be more frustrating. Nobody likes to stop at gas stations, after all.
Cabin storage is similarly slight, though there's a useful storage bay under the hood that'll hold a small suitcase. There are door bins, too, but they're meager things: not least because they have to close so that your sunglasses and phone aren't promptly jettisoned when you swing up the door. Considering how even just clambering out of the 720S gracefully can be a challenge, avoiding being showered by detritus in the process is probably a good idea.
McLaren's homegrown infotainment system is pared-back and minimalistic. There's Bluetooth and a pair of USB-A ports, and the optional Bowers and Wilkins audio system is suitably beefy, but you don't get Apple CarPlay nor Android Auto. Unfortunately that means you're left with the mediocre in-built navigation, too, which can be time-consuming to program. Parking sensors are standard, but if you want a 360-degree camera you'll pay more than three grand for it.
Six-figure perma-grin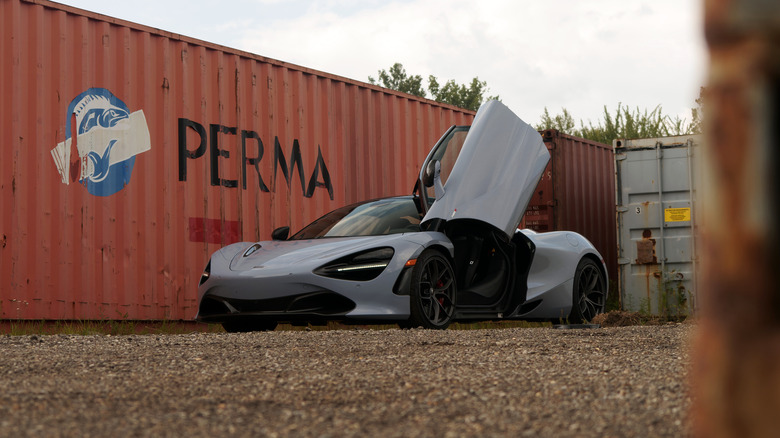 Chris Davies/SlashGear
Maybe, though, that's judging the 720S by the criteria better applied to far more mainstream cars. After all, the most fun is when you ignore a route and just follow the more entertaining roads – the first supercar-maker to have that as an impromptu routing option will get an award from me, incidentally – as the McLaren barks and burbles and howls. At some point I'd possibly get tired of the turning heads and dropped jaws, or for that matter the questions whenever you park or even just pause at the lights, but there's undeniably something nice about being able to put a smile on strangers' faces.
The biggest grin, though, is saved for whoever is lucky enough to be behind the wheel. Yes, with its $300k starting price, the 720S isn't exactly cheap, and yes, the extras and options can bring tears to your eyes: all-in, with destination, this particular example is north of $343,000. Nonetheless, it feels undeniably special.
That's the case if you're driving in earnest, or if you're headed to a grocery store, or just taking advantage of the unexpected dichotomy of the McLaren's personalities with an impromptu trip with no real destination or purpose in mind. The 720S in 2022 is not so much the definition of aging gracefully, as it is a reminder of just how far ahead the automaker was back in 2017.