2023 Bentley Bentayga EWB First Drive: Living Like The Super-Rich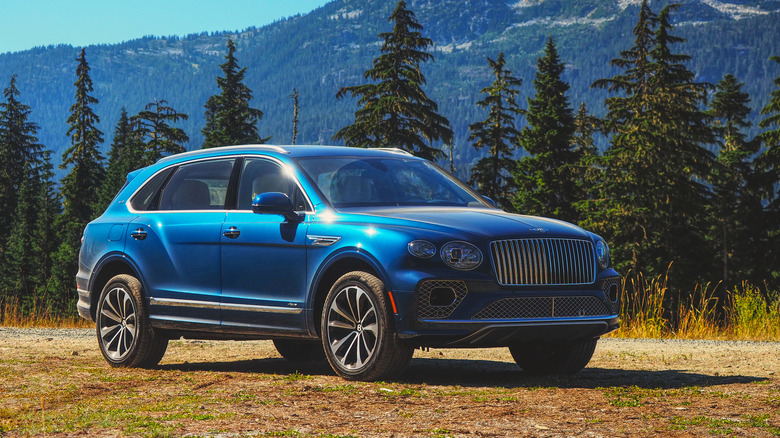 Chris Davies/SlashGear
Join me, won't you please, in considering the long and shapely legs of the super-rich, and how well they'll fit into the 2023 Bentley Bentayga Extended Wheelbase (EWB). It's hard to capture just how shocking the Bentayga was, when Bentley first revealed it back in 2015. The storied British automaker's first SUV was accused of upending tradition, of losing touch with heritage, of — maybe worst of all — the wrong sort of profligacy.
Today, of course, that decision seems nothing so much as prescient. The Bentayga now makes up 40% of Bentley's total sales, and it helped usher in our current age of vastly luxurious trucks from automakers better known for their limos and sports cars. Rolls Royce, Lamborghini, and even Ferrari have all followed suit, not to mention Aston Martin and Mercedes-Maybach, recognizing that while the whims of the wealthy may be fickle, the super SUV is apparently here to stay.
A problem and an opportunity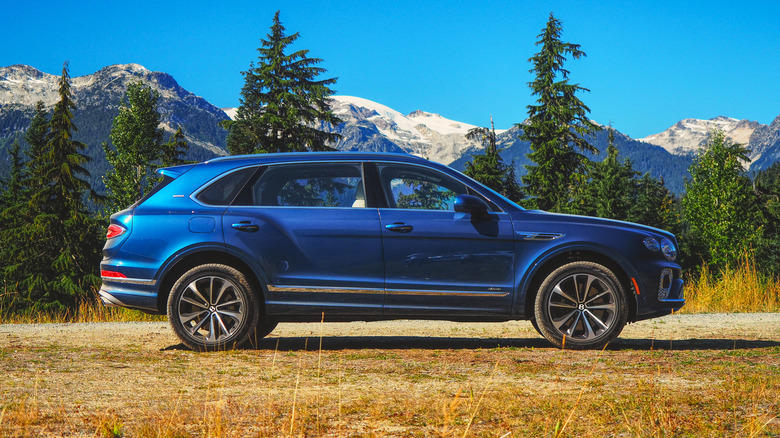 Chris Davies/SlashGear
That left Bentley with an unexpected problem, and an opportunity. Though it would've felt wild to say it once, the second-generation Bentayga almost feels compact compared to some of its rivals. Meanwhile, with the lavish and lovable Mulsanne put out to well-earned pasture, Bentley needed a flagship limousine for those who spend most of their time in the rear seats. Something for when even a capacious Flying Spur sedan isn't quite excessive enough.
The result is the Bentayga Extended Wheelbase, or EWB. A little over 7 inches longer than the standard Bentayga, it focuses its expansion on the rear compartment, turning what is relatively average into positively expansive.
Power close rear doors seal you into a leather, wood, and metal trimmed cocoon, as Bentley pulls out all the stops to coax you out of your private jet. And — as I discovered when the automaker hosted SlashGear in Vancouver to try out its newest model — as road trip treats go, there's a whole lot here to like.
Graceful expansion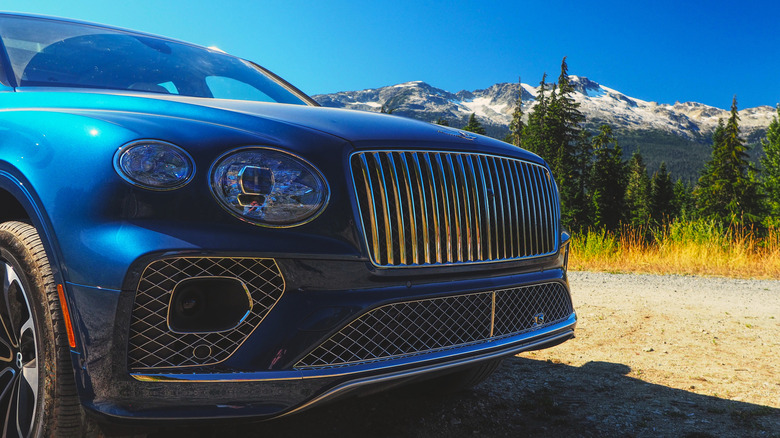 Chris Davies/SlashGear
From the outside, the Bentayga EWB wears its bigger suit well. In fact, I'd go so far as to say it looks better in Extended Wheelbase form than the standard SUV does, the lengthier rear doors adding some pleasing visual distance between the front wheel arches and the sharply-shaped rear haunches.
Generally, though, Bentley has taken a light-touch approach to its aesthetic changes. The grille is now straked with vertical vanes, and there are up to 22-inch, 10-spoke polished alloy wheels. You get, of course, the full Mulliner catalog to go as manic with as your tastes and budget allow. There are, Bentley estimates, 24 billion combinations of color and trim alone, before you get into one-off customs.
Time — and even more bombastic competition — has tempered the Bentayga's shock factor. Even the sizable grille no longer looks so extreme when compared to the vast snouts sported on a Cullinan or Alpina XB7. It's never going to be described as subtle, but it's not quite the outlandish statement it once was, especially if you opt for a more low-key color.
V8 to begin with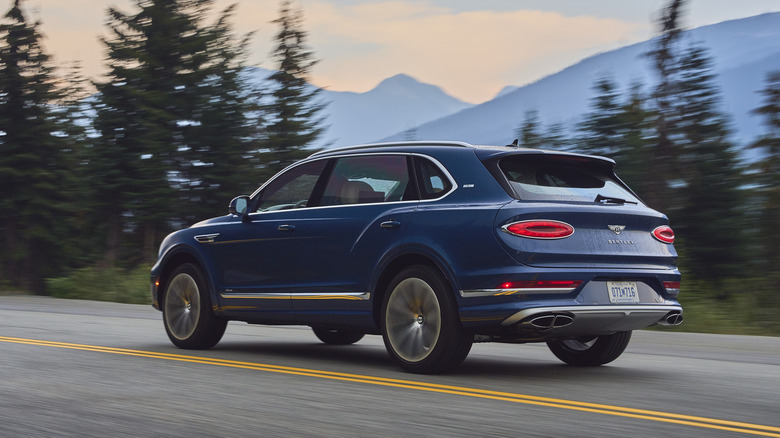 Bentley
Beyond the longer rear doors, what you don't see are the mechanical changes. This is, Bentley is at pains to point out, no simple stretch of the regular SUV. There's an entirely new underbody, unique to this Bentayga, and 2,500 or so new parts compared to the existing short wheelbase car. Enough that th automaker is insisting that this is effectively a new, standalone line, rather than just a derivative.
The 4.0-liter twin-turbocharged V8 is carried across, here tuned for 542 horsepower and 568 pound-foot of torque, along with all-wheel drive and an eight speed, dual-clutch transmission. 0-60 mph arrives in 4.5 seconds, Bentley says, just a tenth of a second slower than the standard wheelbase SUV with the same engine. Surging out of tunnels like a silicone-lubed lobster — crisp on the outside, but buttery soft within — down a length of cast iron pipe, the Bentayga's healthy torque feels like a happy precursor to the automaker's all-electric evolution.
Right now there's no sign of a hybrid Bentayga EWB, or one using Bentley's mighty W12 engine. The latter propels the Bentayga Speed from 0-60 in a mere 3.8 seconds, and bests the EWB's 180 miles per hour top speed by another 10 mph, but it's a heavy powertrain. With the Bentayga EWB V8 already 13 pounds heftier than the Bentayga Speed W12, and a couple hundred pounds more than the regular Bentayga V8, it's clear that pairing the longer SUV with the twelve-cylinder engine would result in a something even beefier.
Bigger car, smaller turning circle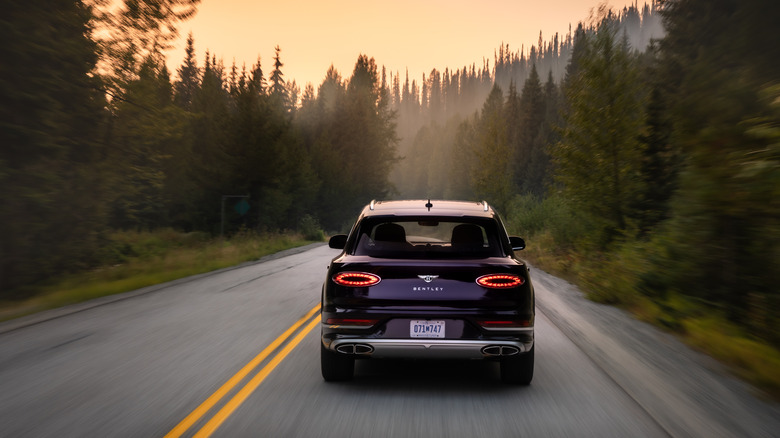 Bentley
What surprises, then, is how behaved the Bentagya EWB is in the corners. The suspension tune for the three-chamber air system is softer than on the standard-wheelbase car, but Bentley has also used rear wheel steering on the SUV for the first time. Though the rear wheels can only twist off-axis up to 4 degrees at most, the benefits are considerable.
At high speed, the bigger Bentayga sashays between lanes with a sense of planted confidence, the rear wheels tilting in accord with the front. At lower speeds, though, they mirror that turn, and in the process dramatically shorten the effective wheelbase.
In fact, despite being longer, the result is a turning circle that's actually smaller than that of the standard SUV, and that makes a big difference when you're navigating parking lots and tight urban areas. I still held my breath out of sensible concern for curbs and the big, beautiful alloy wheels, but I probably didn't need to.
The wise traveler opts for the fanciest seat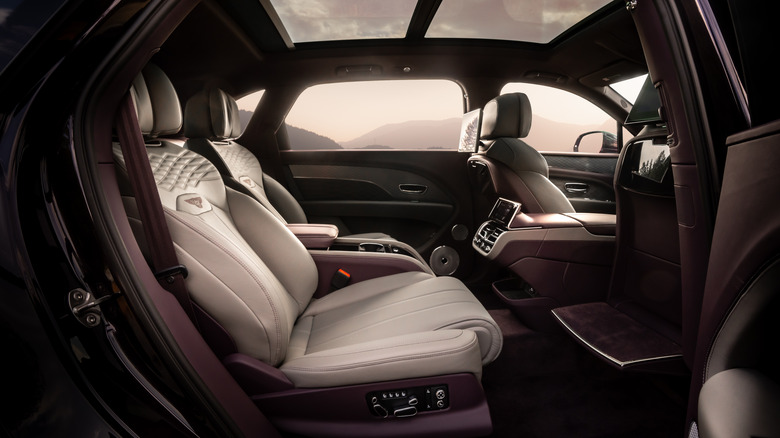 Bentley
There's a strong argument, then, to take the front seat, but then you'd miss out on the Bentayga EWB's whole reason for existence. There are three seating options, from a five seat configuration with a standard rear bench, through a 4+1 layout with a sizable rear center armrest that turns into a fifth, center seat, to the flagship 4-seat configuration with two separate thrones and a fixed center console.
Few seats cosset quite like these do. With the airline option there are 22 ways of adjustment, including one which elongates the rear passenger-side chair with a pop-down footrest for maximum relaxation. This isn't a lay-flat cabin — I'm 5'8 and could stretch my legs out fully to that footrest, something my taller drive partner couldn't quite do, and the backrest is still angled — but combined with Bentley's pillowy headrests it's not a bad spot to take a nap.
Switching the drive mode to Comfort makes most sense if that's your passenger's priority, the shifts and acceleration becoming languid. Even in Bentley mode, the automaker's preferred blend of sporting and supple, there's a noticeable delay when you plant your right foot before the transmission downshifts and the Bentayga EWB pounces forward. That pause finally disappears in Sport mode, or you can overrule things entirely with the crisp metal paddle-shifters.
A little British butler for your behind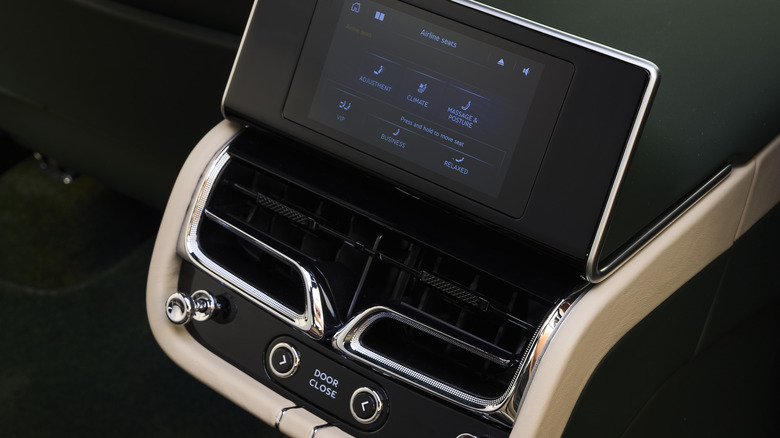 Bentley
That's a consideration for the chump driving, though. It's how the rear seats preempt your needs, however — like you're sitting on a little British butler — which elevates them above the rest. Auto Climate tracks the temperature and humidity of your back and thighs, adjusting the heating and cooling to make sure they're at their most comfortable. Bentley even says it can help cool you down when you're feverish, and while I happily wasn't quite that toasty, I definitely leapt out of the EWB's rear with a back neither sweaty nor shivering after an extended drive.
You could think of the Postural Adjust system, meanwhile, as a massage seat on a glacial scale. Designed to help prevent numbness over long journeys, it very gently manipulates your back and legs to ensure uninterrupted circulation.
Sometimes you notice it and sometimes you don't. The end result is as though that British butler is also a trained and talented chiropractor, too, only one capable of applying 177 individual pressure changes across six independent and highly-targeted zones. This octopus-armed purveyor of many spinal stickles is an option, and for the moment only available for those in the rear seats, though Bentley reps tell me they've had so many questions about why those in the front miss out that it's not hard to see the tech spreading in due course.
Yes, it's expensive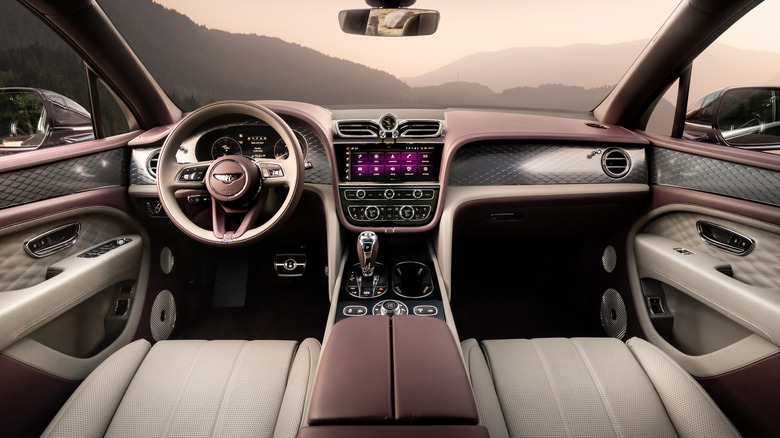 Bentley
Also optional, and equally worth it, is the Naim audio system. Its 1,780 watt, 20-speaker upgrade is part of the First Edition Specification that adds just north of $15k to the SUV's sticker price, or is $9,150 on its own. Expensive? Sure, but at around $263,500 all-in for the cars pictured here, Bentayga EWB owners clearly aren't going to be light in the wallet.
You might be tempted — good as it is — to turn off the sound system altogether. Though the regular Bentayga is a quiet place to sit, this Extended Wheelbase version is even more hushed. A redesigned exhaust system, new acoustic glazing, and lots of other tweaks and refinements make it an astonishingly isolated ride. Even the brush of your clothes across the highly-detailed seat quilting has a little less rasp to it, with softer thread used. It feels like Bentley really does raise its cabin materials game with each new car: the carefully perforated leather door panels, through which gentle ambient light glows through, also make their debut on the new SUV.
A preview of Bentley's future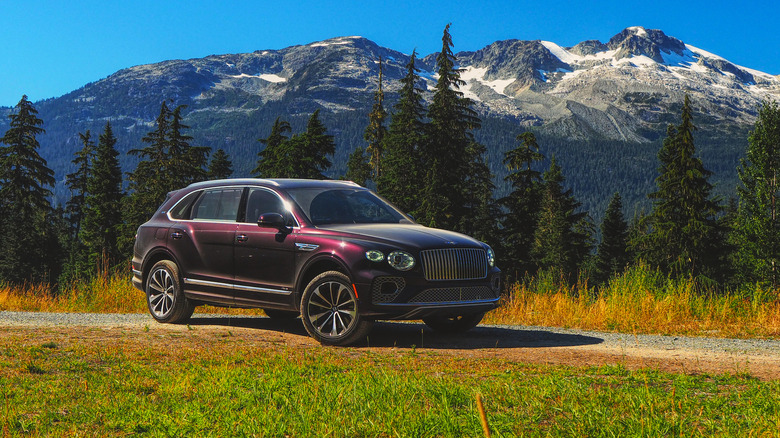 Chris Davies/SlashGear
Looking ahead, meanwhile, it's not hard to predict how electrification could slot neatly into the SUV we see here. Bentley has huge plans to go all-EV by 2030, and with its longer body a future electric Bentayga EWB would have plenty of space for bigger batteries delivering serious range.
We'll have to wait to see quite how that pans out. To say Bentley has big expectations from its biggest SUV today, though, would be an understatement. The Extended Wheelbase version is expected to eventually make up 45% of overall Bentayga sales, Bentley customers being more than willing to spend extra for a car dripping with even more superlatives. Indeed the biggest takeaway, personally, was the feeling that this is the car the Bentayga always should've been.
Bentley's big SUV isn't just a sales hit, it's a daily driver for most owners: 84% are apparently driven every day. Adding more space and more comfort to the automaker's most usable model feels like a succession fit for the Royal family, and though I'm still sad that there's no super-sedan Mulsanne successor in sight, I guess I can get onboard with the equally lavish experience the Bentayga EWB delivers.