2019 Rolls-Royce Cullinan first drive: Excess comes with a surprise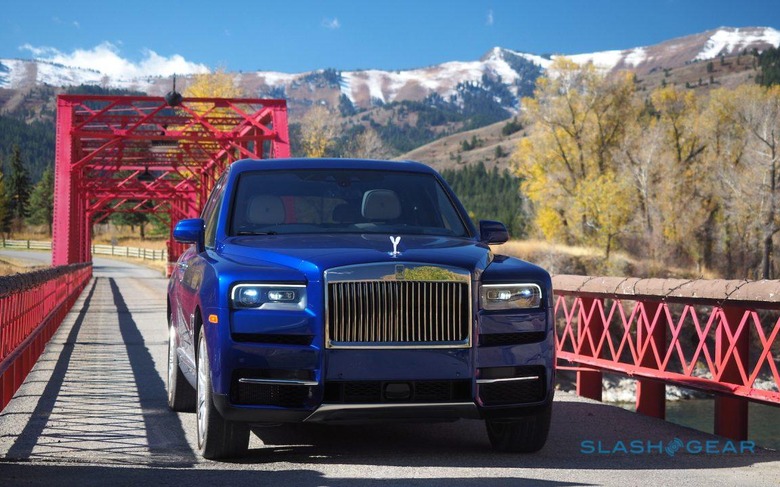 Not even Rolls-Royce is immune to the SUV craze. The tastes of the ultra-rich have hardly soured on ridiculously luxurious sedans to be chauffeured around in, but neither are they known for being anything less than voracious when it comes to something new. The 2019 Rolls-Royce Cullinan, then, breaks new ground for the storied British automaker, but also has ambitions that are by now familiar. How it goes about achieving them, well, that's the special part.
Those ambitions are, of course, to follow in the trail of other high-end automakers who may have been lambasted for launching a utility vehicle at first, but are now sitting pretty atop an unqualified best-seller. Porsche, Bentley, and others have demonstrated that an SUV needn't just add to your sales but can buoy them to new levels. Now it's Rolls-Royce's turn.
The $325,000 starting price is just that: the kicking off point for a very expensive test of quite how good your taste is. Rolls-Royce's standard paint, leather, and trim options can all be interchanged, customized, or replaced altogether. If you want a bright purple Cullinan with neon green seats and a dashboard the color of spray-cheese, you – and your wide open wallet – can have it.
Even in more restrained colors, though, you're not going to mistake Cullinan for anything else. Tall, imposingly slab-sided, and imperious, it elevates the Rolls-Royce grille to chest-height, topped with the traditional Spirit of Ecstasy. Either side are crisp LED headlamps, pulled back into the SUV's fascia as though protected by performance goggles. If the Phantom peers, haughtily at the road ahead, Cullinan's gaze is that of the polar explorer, eyes squinting into the relentless glare of the sun.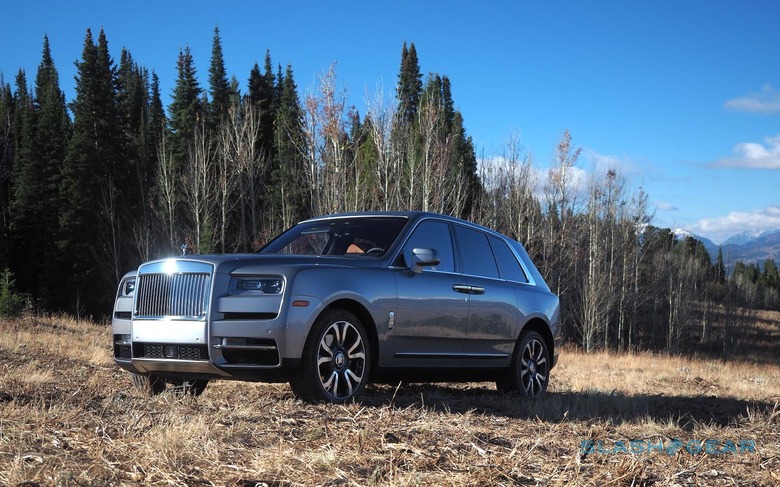 Form and function work together in beguilingly elegant ways. The lower edge of the doors plunges low, covering the sills; they're designed that way so that your clothes need never brush against dust or mud thrown up during your journey. Both the front and the rear-hinged back doors open wide, for a graceful entrance or exit that will likely also make loading and unloading children or pets more straightforward. Press a button and they power closed again. Rolls-Royce is determined that Cullinan will be family-friendly and possess a greater degree of everyday usability than its other cars.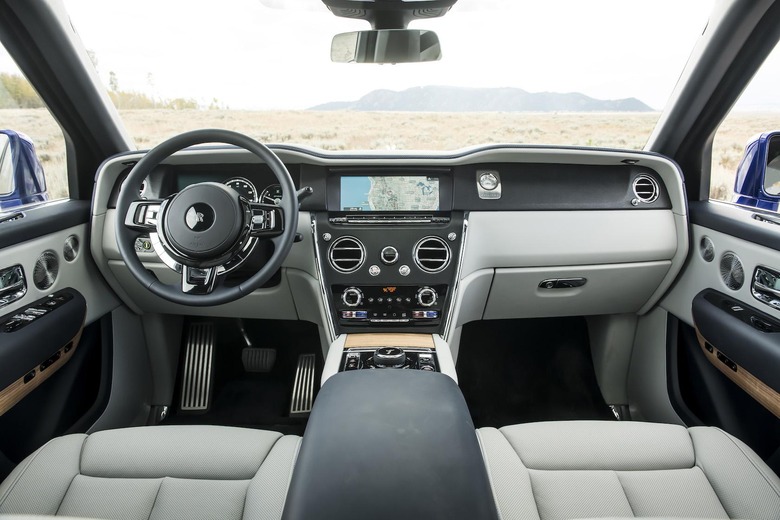 That's not to say it isn't as special as them. A dozen or more hides – each softer than the flesh inside your cheek – wrap the seats, dashboard, and other surfaces; deep lambswool floor mats encourage you to slip off your hiking boots and burrow with your toes. A rear bench seat, wide enough to happily accommodate three, is standard; it splits and folds to expand the trunk with its two-piece motorized tailgate. Two individual rear seats are optional, with a glass divider between cabin and trunk. Then there's the Viewing Gallery, a pair of slide-out leather upholstered chairs that emerge from the floor of the trunk for the most glamorous tailgating in town.
Underneath it all is the same Architecture of Luxury that the automaker debuted on the latest Phantom VIII last year. You can't really compare it to the platforms on which more mainstream car-makers rely. Rolls-Royce's is an aluminum spaceframe which allows pretty much any variation in dimensions, from the length of the hood and the wheelbase, to the distance between the base of the windshield and the trailing edge of the front wheels. It's a degree of flexibility with clear appeal to an automaker with a legacy of bespoke vehicles.
Still, there's a gulf between potential and reality. Rolls-Royce seems more than a little concerned that adding an SUV to its stable might be viewed as blasphemy. Certainly, the Cullinan's aptitude – indeed its appetites – for mud are at odds with everything we've associated with the Spirit of Ecstasy so far. If it all seems incongruous to you, though, I suspect you've just not been paying attention.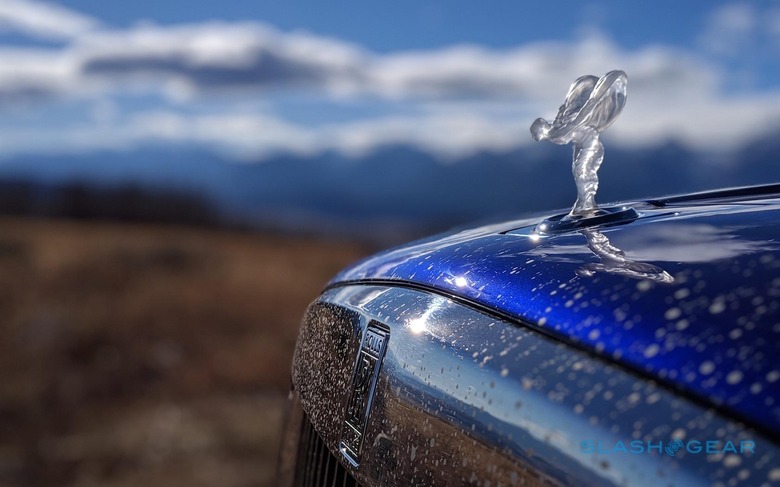 For me, the automaker's ethos has always been "make the best." Not "make the best luxury sedan," or "make the best Miami boulevard drop-top." Just ensure that, whatever you take it upon yourself to create, you do so sparing no superlatives.
Cullinan, then, is "make the best" when applied to utility. To get hung up on Rolls-Royce's absence of a clear track record in the category is to allow yourself to succumb to a MacGuffin on wheels. It didn't exist before because Rolls-Royce didn't choose to make it before. Now, it does, because it did.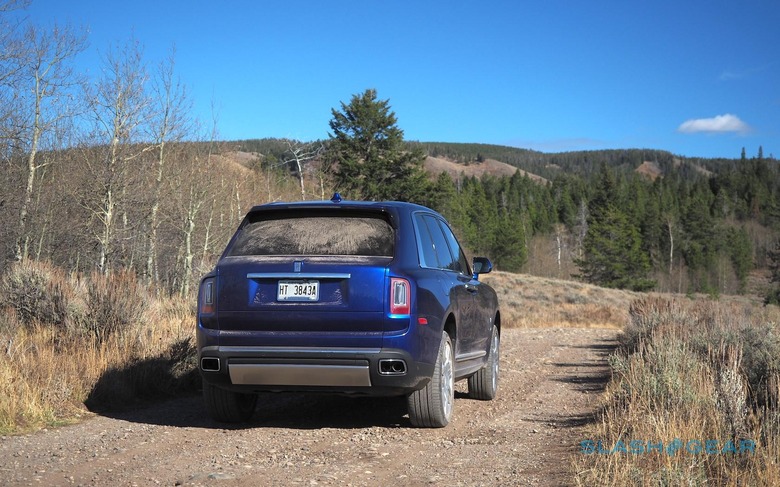 That works, of course, thanks to how astonishingly good the Cullinan actually is. As I slipped behind the wheel, I still half-expected a high-riding Phantom. A luxury sedan elevated atop all-wheel drive, and as remote from the rocks and rough and tumble of an off-road course as Rolls-Royce's insulating limousine is from more urban streets.
What I found instead was off-roading through a lens of understated talent. It's not that Cullinan hides the reality of rutted paths and skating floods of ice and loose snow, it just makes them passable without breaking a sweat. Unencumbered by such pesky mundanities as budget or mass production, Rolls-Royce's engineers were instead free to focus on just making the most outrageous SUV they possibly could.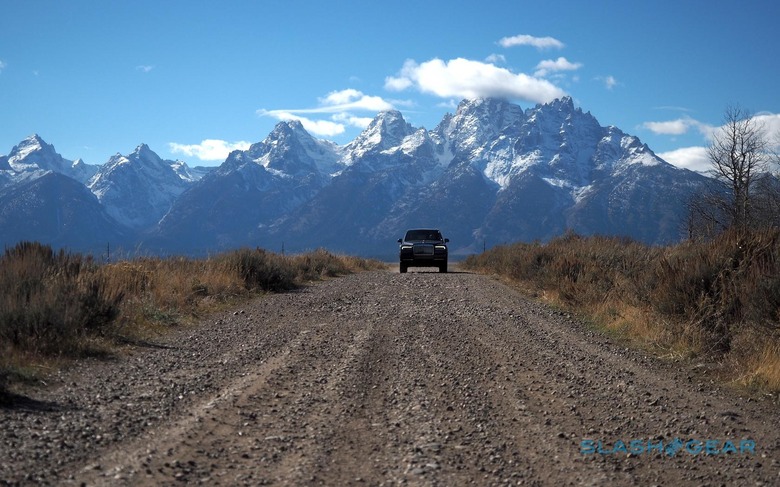 Air suspension that casts its eye ahead, via stereo cameras watching the furrows and hillocks of asphalt or otherwise dozens of feet in front of the car, to preemptively adjust itself for maximum compliance. All-wheel steering to virtually shrink the wheelbase, allowing Cullinan to pivot through narrow paths with much greater nimbleness than you'd expect from an SUV 17.5 feet in length. Specially developed tires designed to absorb bumps and rumbles before they even reach the chassis, then flooded with sealant for puncture resistance, and finally foam for noise insulation. A lavish 220 pounds of sound-deadening materials laced throughout the body along with glass that – at 6mm thick – is the thickest in the industry, its sandwich of soundproofing responsible for the courtly hush of the cabin.
And in doing so, they upended the usual definition of luxury.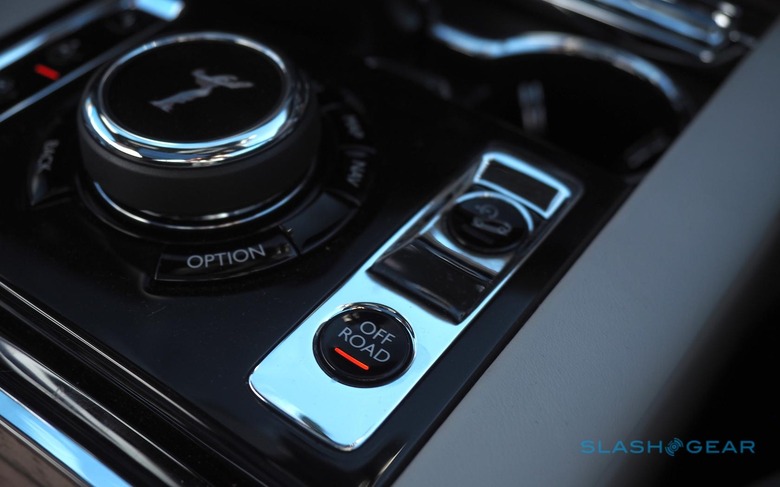 True luxury isn't choice, it's not having to choose. Unlike in other high-end SUVs, where longer and longer lists of different on- and off-road modes have become bragging rights on their own, the Cullinan makes a starkly different argument. You shouldn't have to choose how your luxury truck behaves based on what terrain you might encounter. It should tackle all that itself.
The result is the Off­ Road button, nestled down by the rotary controller for the reskinned BMW infotainment system. Tap that, and the Cullinan slips on the equivalent of a Barbour jacket and prepares for the wild, pulling itself up by its bootstraps 40mm in the process. If you really want to, you can shut off the traction control or the DSC altogether, but I suspect the Rolls-Royce will be too polite to mention if you got the electronic nuances wrong.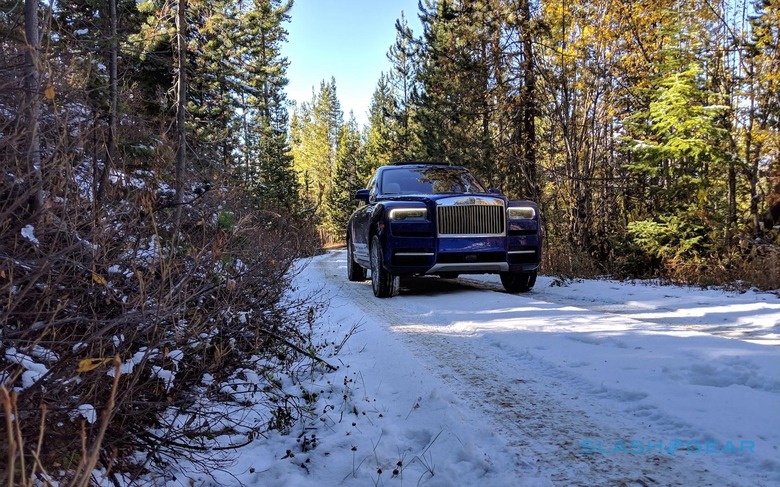 Pointing the pantheon grille upward, to the peak of a pre-ski mountain yet to gain its crust of white, the car and I encountered a Rolodex of road surfaces in fairly rapid succession. Loose gravel that made way for deep ruts you could lose a lesser wheel in; sudden patches of mud, their arch potential to turn the path into a slip-and-slide half masked by the dappling, deceptive shade of the trees. Unexpected stretches of snow and ice, upon you in a moment as you sweep imperiously around a corner.
Not once did I have to back up and try at another route. There was no squirreling for traction, despite the summer rubber on the 22-inch wheels. So sure footed was the Cullinan, and I more and more confident in its abilities, I could push harder and harder without penalty. Speeds that in another SUV – any other SUV, maybe – would have rattled the teeth from your gums and set your head grazing the roof lining. Allowing the rear end to slip out, trusting in my light grip on the steering wheel to pivot near-6,000 pounds of six-figure truck back in line, and with no more melodrama than the collective giggles of those in the cabin with me.
"Capable" be damned, this was just plain fun.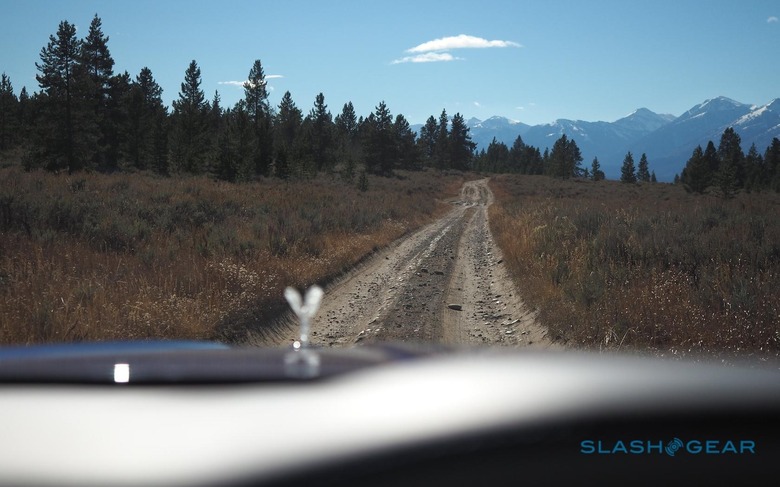 I've driven Dawns and Ghosts, and honestly the thought of taking them somewhere where their hand-finished flanks could get even just dusty is enough to give you pause. Cullinan, though, is all but begging for the filth. Off-roading isn't handled with disdain but with a wholehearted commitment.
Like other Rolls-Royce models, there's a simplicity to the cabin that you only really recognize once your eyes have acclimatized to the lustrous materials and craftsmanship. Don't expect every bell and whistle imaginable. Instead, it's what I can only guess life spent between multiple houses on a handful of different continents must be like: the essentials are there, keeping the flow of living at its most easefully seamless. A great audio system, seats that don't need 36-way power adjustment in order to be comfortable, and climate control both instantly effective and managed with simply-labeled knobs and dials.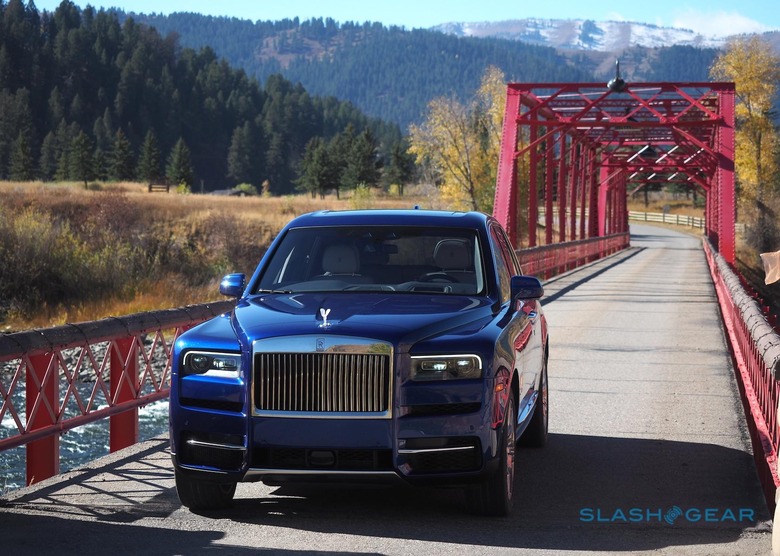 That's a good hint that you shouldn't be asking what potential Cullinan buyers might forgo in favor of this most cultivated off-roader. In the rarified air of the super-rich SUV crowd, cross-shopping is when you get home and – "oh goodness honey, you won't believe what a silly bean I've been, I only went and bought two cars instead of one" – decide which other vehicle to park your shiny new Rolls-Royce across from. Cullinan buyers will be brand loyalists, not replacing but adding to their garage. Pressed, the company will agree that it's Range Rover that would most likely have been the luxe-truck of choice prior to its arrival in the segment, but even then it's unlikely that Cullinan will put a dent in sales there. We're talking addition to the fleet, not substitution.
How many miles will each Cullinan actually log off the asphalt? Even the most generous prediction would have it as the minority; the Rolls-Royce SUV couldn't compromise on regular roads either. There, the automaker's legendary "magic carpet" ride is just as effective as in a Phantom. No wallow in the corners, no pitching back and forth like a rocking boat even under heavy braking. Smooth, voracious for racking up long distances, and with effortless levels of power.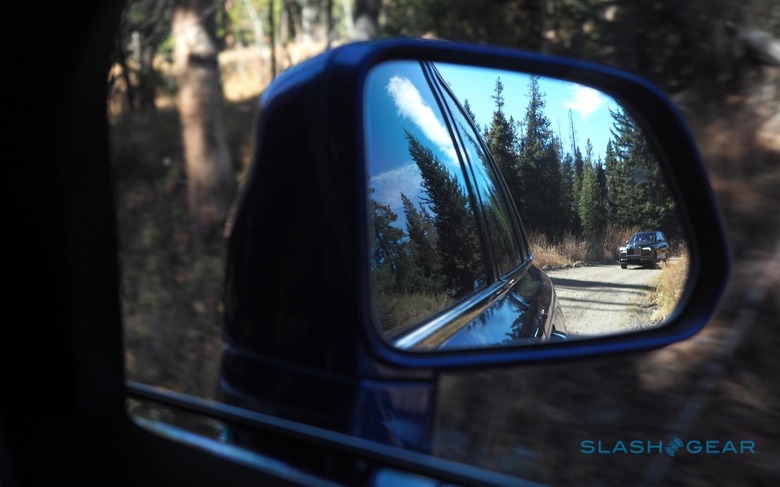 A vast 6.75-liter twin-turbocharged V12 engine is responsible for that, with 563 horsepower and 627 lb-ft of torque. Ridiculously potent, yes – 0-60 mph in five seconds, and on to an electronically limited top speed of 155 mph – but also subtle with it. Only the barest growl makes it inside, while the eight-speed automatic transmission uses GPS to look to the route ahead and make sure you're always in the most appropriate gear.
You hear "effortless" a lot when it comes to Cullinan. Its tagline, "Effortless Everywhere," is less a boast than it is a steadfast commitment.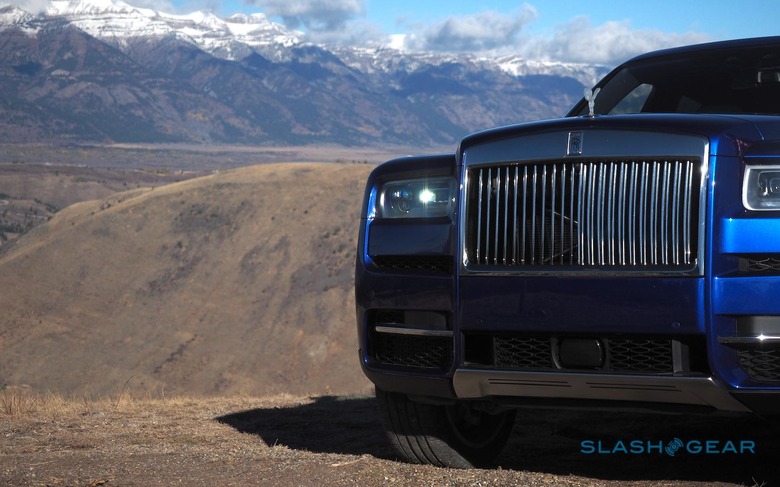 Relatively few will get to experience the fruits of that promise. Rolls-Royce isn't talking sales expectations for the SUV, only pointing out that while the first Cullinan will arrive with buyers around the start of the new year, you're already looking at a lengthy wait if you decide to put your money down now. Of those lucky enough to add one to their garage, few will likely push it to its full potential.
No matter. What's important is that the automaker has not only achieved its goal of crafting "the Rolls-Royce of SUVs," but that it did so without sacrificing the all-important charm instrumental in making it genuinely appealing, rather than an exercise in well-funded engineering. The Cullinan could've been a cynical play for a growth segment, but the reality is much more than that. People may well buy it for its badge, but they'll quickly learn to love it for its talents – on and off the road.