Bentley's Bentayga Extended Wheelbase Has Rear Seats Fit For A Private Jet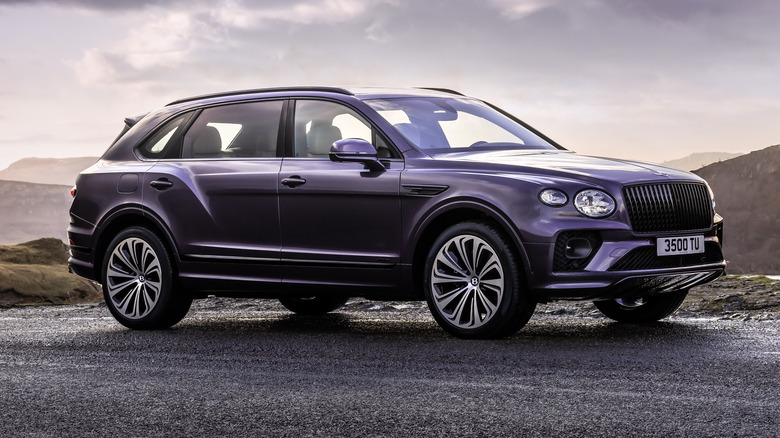 Bentley
Bentley's SUV is its most popular model, and now those wanting extra space to stretch out in the rear are getting a new Bentayga Extended Wheelbase with a lavishly enlarged cabin. The latest iteration of the second-generation SUV, it promises not only space but smarter and more comfortable seats, too, without compromising on the driving dynamics familiar from the standard Bentayga.
That means the introduction of rear-wheel steering and Bentley Dynamic Ride, alongside the 4.0-liter V8 twin-turbocharged engine with its 542 horsepower and 568 lb-ft of torque. Though the focus may be on even fancier chauffeuring, this is no slow-poke. Zero-60 mph arrives in 4.5 seconds, Bentley says, and the Bentayga EWB will rocket all the way to a top speed of 180 mph.
All the extra space goes into the rear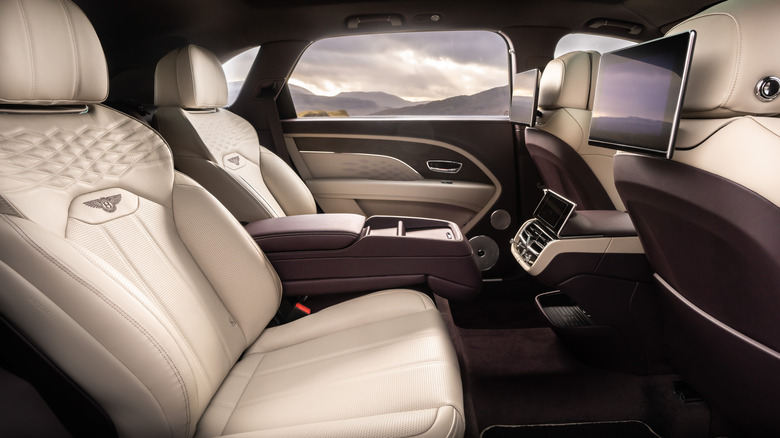 Bentley
To make the Bentayga Extended Wheelbase, there are changes to the doors, side panels, underfloor, and roof. As a result, the wheelbase is stretched by 180mm, or more than 7 inches, compared to the regular SUV. That all goes into the rear of the cabin, with a longer door opening — including optional power-closing doors — onto a more spacious area with upgraded seating.
Standard is what Bentley calls 4+1 configuration, with two outer rear seats — each having 16-way adjustment, heating, ventilation, and massage — and an occasional middle seat in the center. A Four Seat Comfort Specification has two individual rear seats with a center console for storage, an optional refrigerator, and charging between them. A Five Seat option has a folding rear bench for three.
You want the Bentley Airline Seat Specification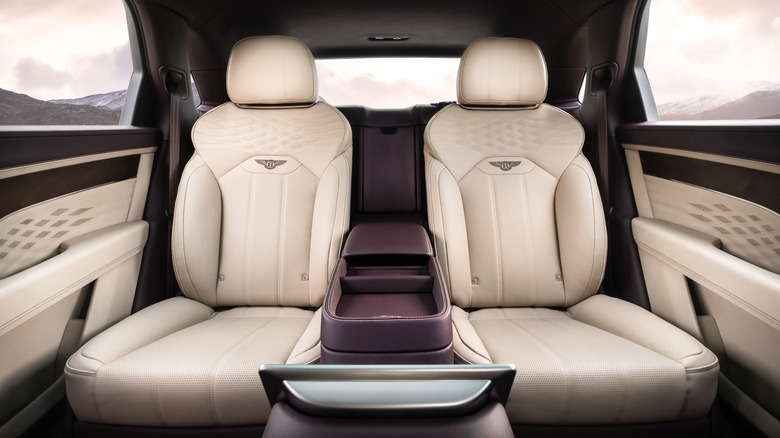 Bentley
These are, of course, no ordinary seats. Dubbed the Bentley Airline Seat Specification, for the 4+1 configuration they have extra cushion and backrest bolster adjustment, cushion extension, electric headrest adjustment, and a deployable footrest. A VIP mode moves the front passenger seat forward for maximum legroom, with the rear seats reclining by up to 40-degrees. Seat Auto Climate uses sensors in the cushion and backrest to track contact temperature and surface humidity and then automatically adjust heating and ventilation to achieve the required temperature.
Finally, a Postural Adjustment function taps the air pockets built into the seats to gently, continuously change their shape, for what Bentley says is a way to ease pressure points and avoid fatigue. Almost imperceptible in operation, the automaker promises, the movements introduce a three-dimensional twist that — across six independent pressure zones – provide 177 adjustments every three hours. While that goes on, passengers can enjoy the heated rear door and center armrests, ensuring their elbows never feel an unwanted chill.
A more refined cabin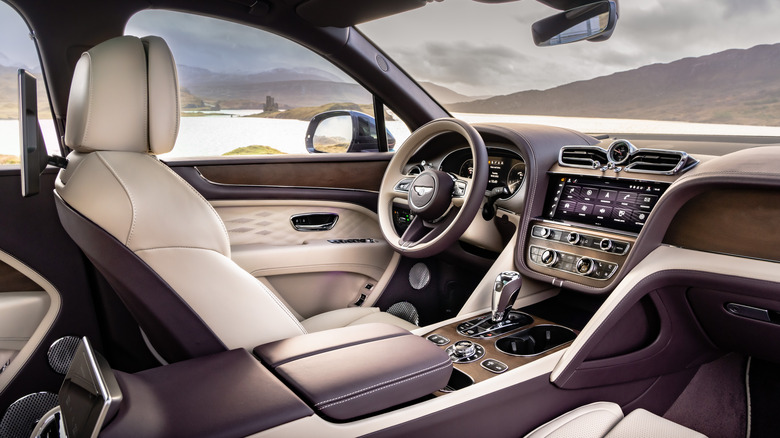 Bentley
That's not the only charming addition. Also making its debut on the Bentayga EWB is Bentley Diamond Illumination, which uses LEDs inside the front and rear doors that shine through 1mm perforations in the trim leather. Brightness and color are linked with the ambient lightning settings, while there are also new "waterfall illumination" lamps that help subtly brighten the rear compartment.
Metal Overlay in Veneer — previously offered only on Continental GT Mulliner — features photo-etched metal inlays, each hand-bonded to the veneer. Bentley also uses finer stitching and threads for its seat quilting, borrowing techniques developed for the EXP 100 GT concept car to make for more accentuated patterns that are also softer to the touch. Although Bentley will have a number of preconfigured cars to choose from, the magic here is undoubtedly in digging through the options for leather, wood, and other elements. In total, the automaker says, there are up to 24 billion different trim combinations available. 
Style and speed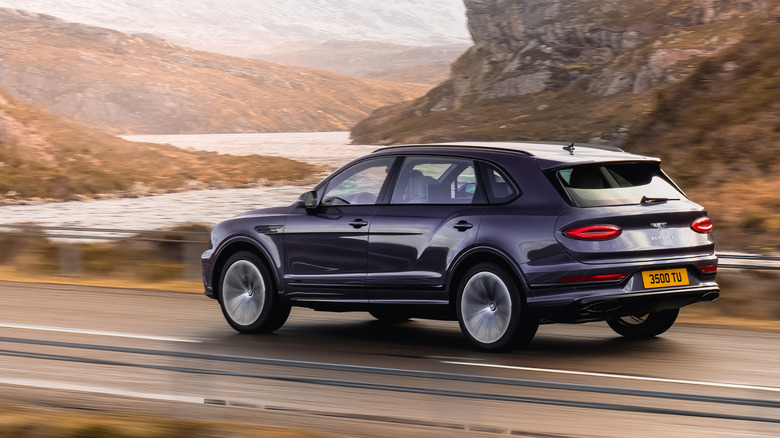 Bentley
On the outside, with the extra length surprisingly well hidden in the Bentayga's overall shape, there are still a few key giveaways that this is the extended model. A new, polished-finish 22-inch 10-spoke wheel features, as does a new Vertical Vane Grille with bright chrome atop black mesh. Viewed from the top — or inside — the panoramic sunroof has been repositioned, pushed back almost 5-inches to better cover the rear compartment.
Bentayga owners do often take the wheel themselves, however, and so the SUV's dynamic potential has been an area of focus too. The Flying Spur donates its electronic all-wheel steering for a tighter turning circle at low speeds and more stability at higher speeds. Indeed, the turning circle of the Bentayga EWB is actually 7% smaller than that of the standard SUV.
A 48V electric active anti-roll bar helps keep things stable in the corners, and there's standard self-leveling air suspension and continuous damping control. All-wheel drive is standard, too, with a Torsen center differential and electronic locking rear diff. There are four ride heights overall and a ZF eight-speed automatic transmission; for slowing, 6-piston front brakes with iron discs are standard, with 10-piston carbon silicon carbide versions optional.
Spiritual successor to the beloved Mulsanne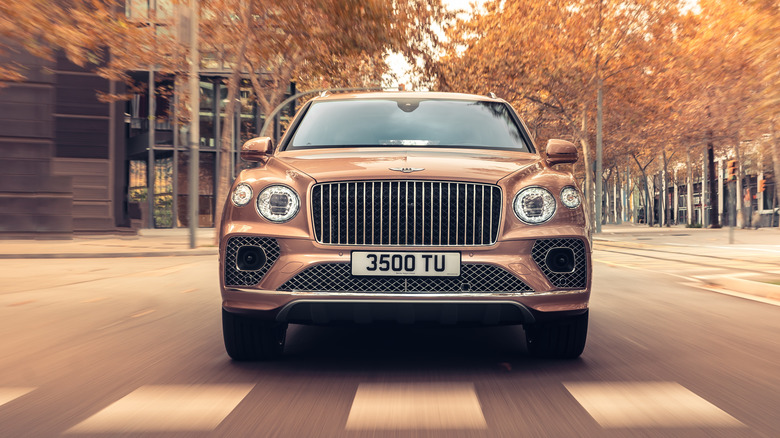 Bentley
Bentley certainly expects this new version of the Bentayga to be popular. Up to 45% of sales of the SUV will be the stretched version, the automaker predicts, helping it keep its top spot as Bentley's most popular model.
It'll also provide an unexpected replacement, of sorts, to one of Bentley's fondly missed models: the Mulsanne. Discontinued in 2020, the stately sedan was effectively succeeded by the Flying Spur, but it's this Bentayga EWB that brings the true rear seat spaciousness Mulsanne passengers grew so fond of. In fact, the SUV's shape means an all-important 10mm improvement in headroom compared to the Mulsanne, along with offering seat configurations the sedan couldn't match. Orders for the Bentayga EWB are being taken now, with Bentley expecting to begin deliveries from Q4 2022.