Taking the 600hp 2017 Bentley Bentayga to the track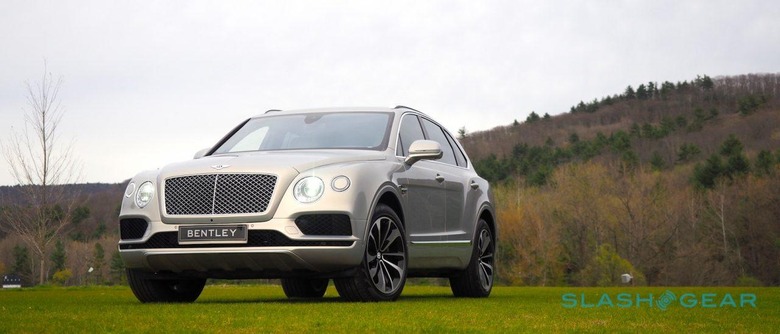 The racetrack is not the natural place for an SUV, but then the Bentley Bentayga is not your typical truck. For a start it's luxurious in an Black Amex-melting way – it starts just shy of $230,000 but only the most ascetic of buyers resists the Bentley options list, and they've no reason to be in the showroom in the first place.
Then, though, you have Bentley's boasts of extensive Nürburgring testing, in among the extremes of temperature, all-weather driving, and off-road mischief any credible SUV must satisfy. All in the name of providing that this is not just some big, fancy soft-roader.
It'd be easy to succumb to hyperbole to encapsulate the Bentayga: words like "opulent," "lavish," or just plain "excessive," all of which are true. There's nothing lazy about it, though, from the brand-new 6.0-liter W12 engine with its eye-watering 600 horsepower and 664 lb-ft. of torque, to its mixture of aluminum and steel that makes it more than 500 pounds lighter than Bentley's Mulsanne sedan.
The aesthetics are proving divisive, and I found it's highly color-dependent as to whether or not it finds favor. All of the traditional Bentley cues are there – vast grille flanked with double headlamps, along with a strong shoulder-line flowing back to bulging haunches – but more swollen and upright, as though perhaps a Mulsanne swallowed an SUV whole and, like a snake's belly hugging the contours of its undigested possum feast, the two are trying to coexist.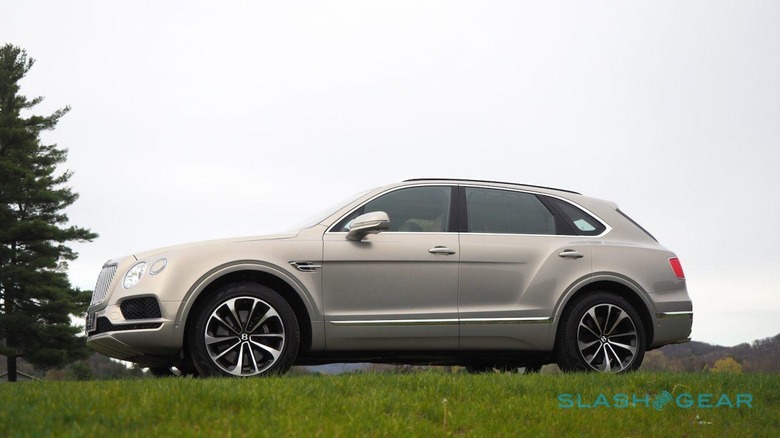 I like it most from the front three-quarters. That's where you get the best effect from the aggressive grille and the short front overhangs, with the muscular rear visually driving the whole car forward. The back, conversely, looks a little too understated to my eyes, though just as is the case everywhere you look the detailing – like the Bentley "B" shape picked out in the rear lamps – is superb.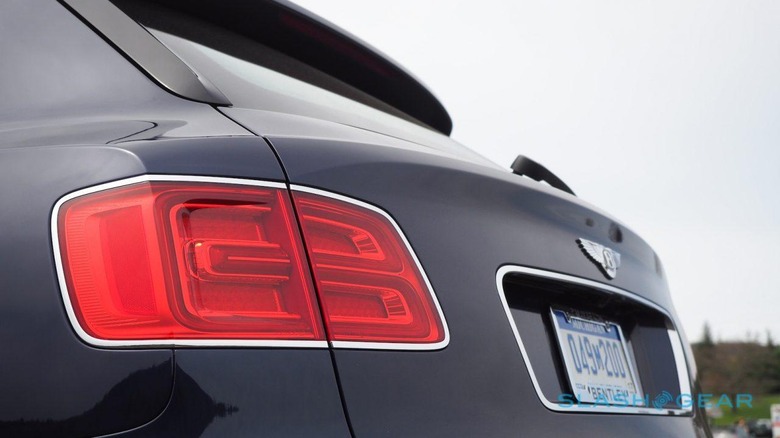 In a more traditional color, like silver or cream, it has a stateliness to it that you could readily see winning over Range Rover owners. They flatter the body's creases and curves, too, which Bentley turned to high-pressure air-forming to create from single sheets of metal, in an attempt to minimize panel gaps.
Opt for one of the more bombastic hues, however – like the bold metallic purple I spent much of my time in – and you've a car fit for a rap video. The smallest wheels on offer are 20-inches, which Bentley recommends for those few actually wanting to take their off-roader off the road; 21- and 22-inches will probably be more commonly seen, and though vast they nonetheless shoe the five-ton-plus behemoth well.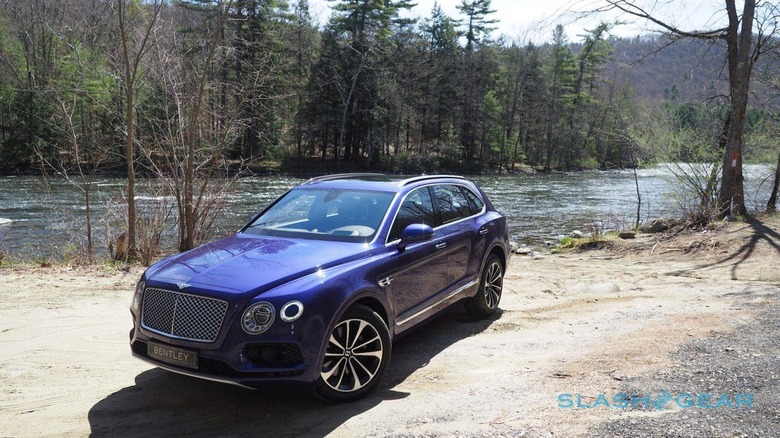 Step inside, and you have an interior that rivals – and in some ways exceeds – the Mulsanne, hardly a low bar when you're picking cosseting competition. Bentley says it leaned toward classic luxe with its selections of wood, leather, and metal, but with a boggling palette of colors and finishes to choose from, the end result is only really limited by your own taste.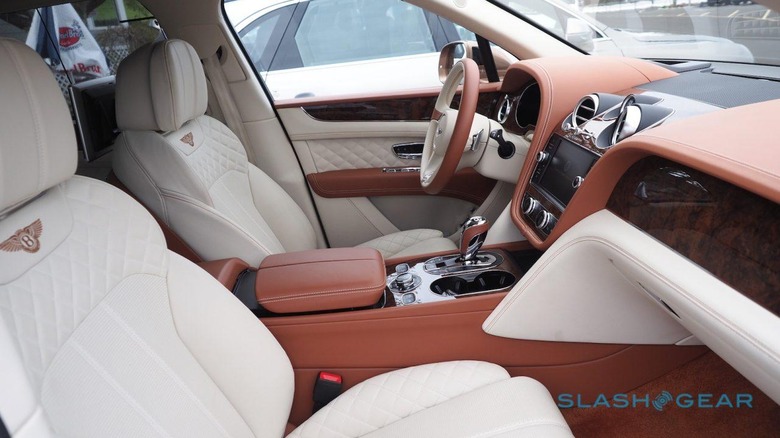 The driver's seat is imperious without being awkwardly high, and you still feel the height of the dual-swell dash top. A sheet of mineral glass covers the analog instruments, either side of a large, color display.
A second screen, this time 8-inches and supporting touch, is in the center console. It gets a new MMI infotainment system which is swift though information-dense, while physical buttons either side jump between the various modes. The tech sits nicely amongst the familiar Bentley detailing, like the organ-stop vent controls and the eyeball-like vents themselves, though I wish the navigation voice offered the clipped British tones of a Downtown Abbey character rather than the default American instructions.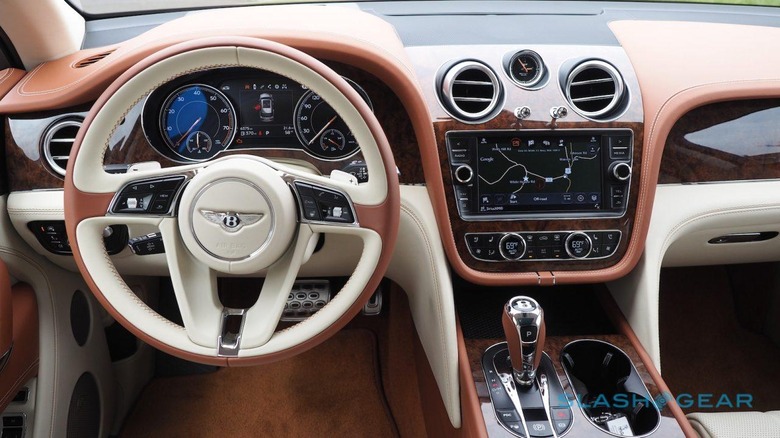 Leather falls under your fingers nearly everywhere you touch, a legion of cows sacrificed, tanned, and dyed so that seats, headliner, dashboard, grab-handles, and just about anywhere else can be wrapped and stitched. Only a little plastic makes it through: the indicator and washer stalks, for instance, while the HVAC buttons are more Audi than Bentley.
Still, I won't argue with some of the other VW group technology donated to the Bentayga. The exterior is peppered with twelve ultrasonic sensors, five cameras, and two radars of varying range; altogether, they're good for night-vision, park-assist, and adaptive cruise control with lane-following. A head-up display floats neatly in your line of vision, with speed and other details.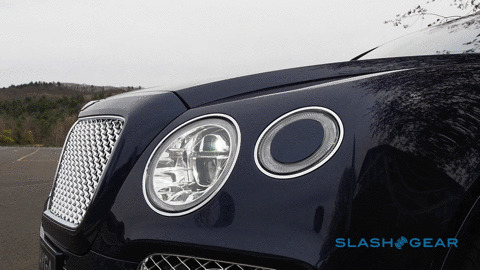 Bentley offers either a five-seat or optional four-seat configuration, the latter doing away with the regular rear bench and dropping in a further two captain's chairs with the same 18-way adjustment (or, optionally, 22-way adjustment plus heating and cooling, along with massage options) as those up front. It's an excellent way to spend $11,015.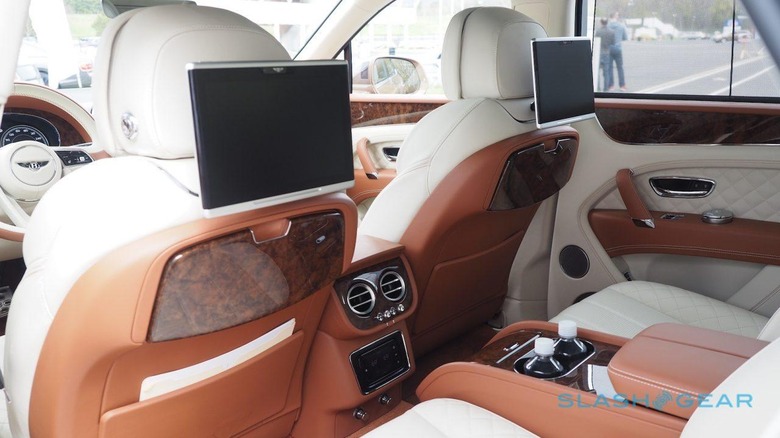 Headroom is excellent, and the panoramic glass roof – the front section of which slides open – makes it feel even airier. Rear legroom isn't at Mulsanne levels, but it's hard to imagine anyone taking issue with the offered accommodations, especially once they pop out the little touchscreen remote that grants control over HVAC, media, and seat heating/cooling/massage.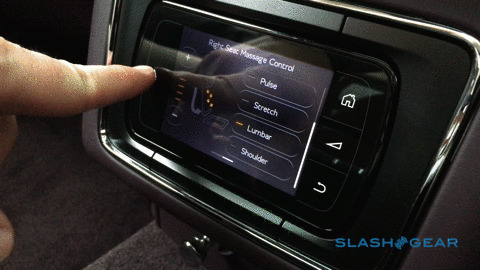 Open the trunk – power-assisted, naturally – and there's 17.1 cubic feet of space. That's assuming you've not further raided the options list, and added Bentley's astonishing $32k trio of "Mulliner Hamper" picnic baskets, each individually removable so that you can use them as some of the most expensive stools in the world, and variously containing Linley cutlery, china, and crystal glasses, a Bentley blanket, and two refrigerated slots for a pair of champagne bottles.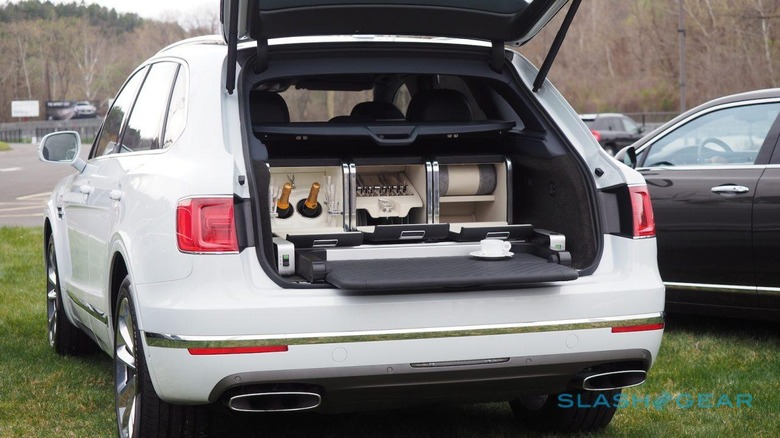 Spend more still, and you can have the retracting, folding Event Seat, a hinged leather bench that Bentley believes offers far more befitting a perch than a split tailgate would to the entitled buttocks. Upright, it'll work as a trunk divider, too.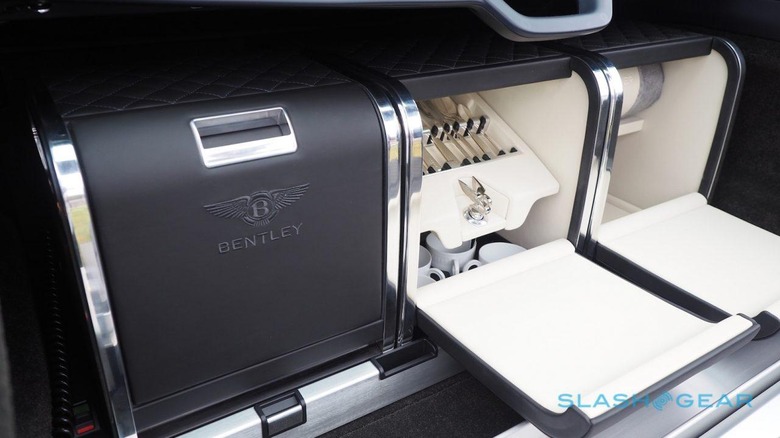 If you're already blanching at the excess, it might be time to raid that picnic fridge for a restorative, because we're nowhere near done. $4,690 gets you a 1,950 watt Naim audio system complete with 22 speakers and a subwoofer with its own, separate 300 watt amplifier. That's just in case the "regular" Bentley Signature system, with its "mere" 700W, is insufficient.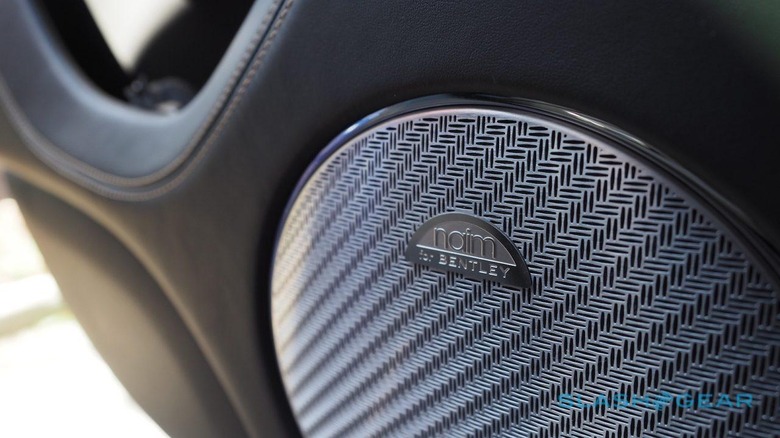 The Naim upgrade sounds, unsurprisingly, incredible, whether you're playing music from CD, SD card, SiriusXM, Bluetooth streaming, or the onboard 60GB hard-drive. I might save my money and skip the $7,155 rear-seat tablet package, though, which reskins the 10-inch touchscreen slates we've already seen on Audi's Q7 with Bentley graphics, and puts them on docking arms behind the front seat headrests.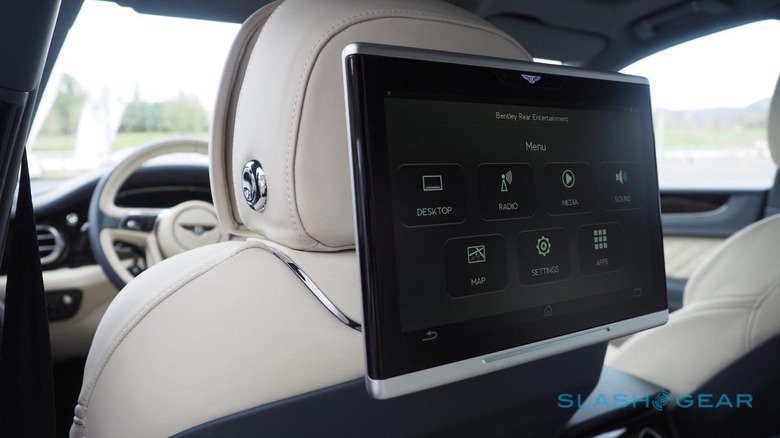 They run Android 4.4.4 and tap into the Bentayga's LTE WiFi hotspot, but while you're meant to be able to stream content across from your phone, or review the current navigation route, I had issues getting it all to work smoothly. Far better, frankly, are the Mulsanne's power-folding iPad docks, each with space for an Apple wireless keyboard.
Those expecting true rarity, however, can compete for the chance to fit one of the four handmade Breitling clocks made each year into the Bentayga's dashboard. Finished in white or rose gold, with a black or white mother-of-pear face, and then studded with eight diamonds, each of the self-winding chronographs costs 150,000 Euro – around $170k – alone.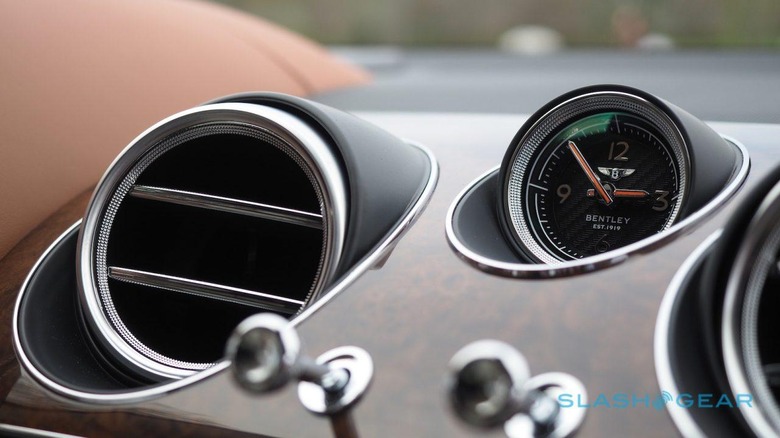 Comparatively, the $28,500 to add real carbon fiber trim seems a positive bargain, but unusually there's no carbon ceramic brake option to upgrade the standard-fit iron system. I guess that leaves something to distinguish the inevitable Bentayga Speed, which will likely tickle up the total horsepower and trim the 0-60 mph time to avoid any potential embarrassment at the hands of Porsche's Panamera or Mercedes-AMG's G 65.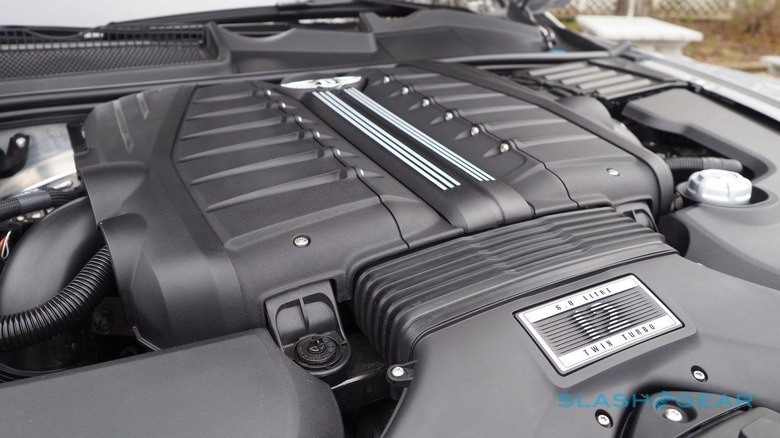 Still, it's hard to imagine many finding the Bentayga's power and performance lacking. Previous demonstrations of the car have shown it's comfortably at home on the steep sides of mountains and sand dunes – which will undoubtedly come as a relief to the fraction of a percent of owners who actually encounter such terrain, not to mention the rest who don't want to be embarrassed by their Range Rover driving friends – but this time around, Bentley wanted to prove the SUV could be a track star, too.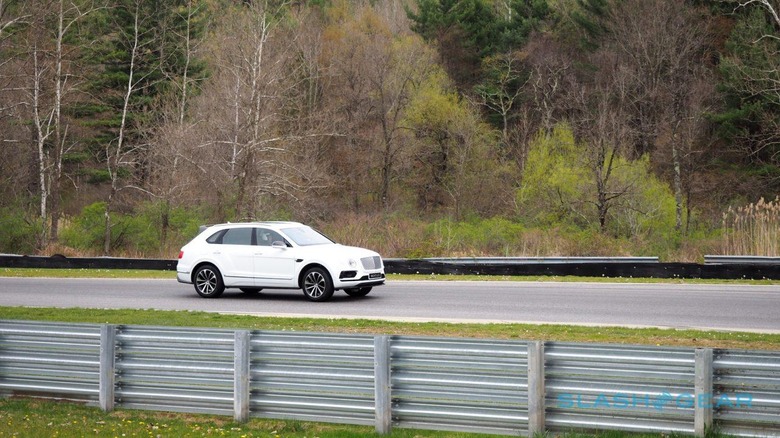 So it's away to Lime Rock Park in Lakeville, CT, a fast little 1.5 mile track populated with cruel chicanes and sudden elevation changes that could unsettle a race car, never mind the average truck.
Like I said, though, the Bentayga is no average truck. In fact, it's the first production car in the world to feature a 48 volt active roll bar system – here dubbed Bentley Dynamic Ride – which uses high-power electric motors to stiffen and soften the front and rear bars as you drive.
It's quicker than rival systems, which rely on hydraulics, and it gives the Bentayga a frankly astonishing degree of poise.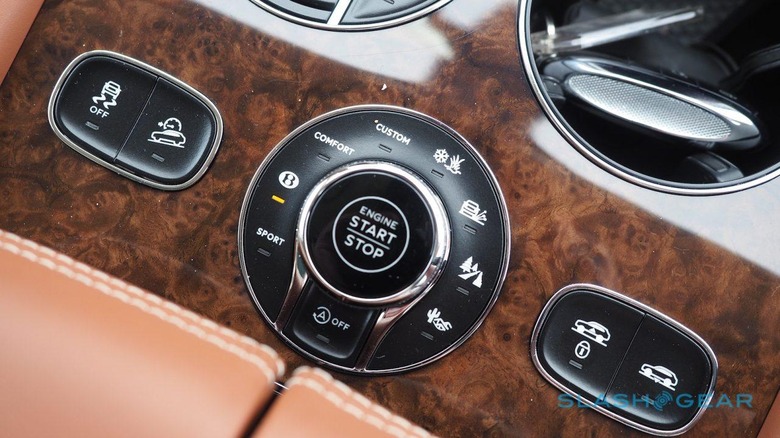 Turn the drive mode dial away from "Comfort" and "Bentley" settings, or any of the four – Snow and Wet Grass, Gravel, Mud and Trail, and finally Sand – off-road options that come along with hill-descent control with the All-Terrain pack, and instead into Sport. Sight the horizon and plant your right foot, bracing yourself as best you can for the surge of power that presses you into the hide.
Bentley quotes a 0-60 mph time of 4.0 seconds, and a top speed of 187 mph. You get there with the twin-turbo, 6.0-liter W12 engine howling a stately bellow. It's fast on the road in any setting, the silken eight-speed dropping cogs by the discrete handful if you so much as hint you'd like to move more rapidly, but in Sport, on a racetrack, it's a legitimately ferocious excess.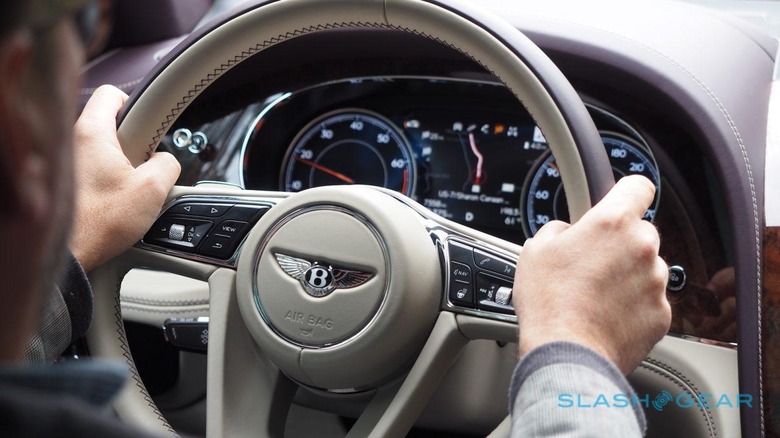 Try not to lose your nerve as the first corner spools into view. Physics may be one of those facts of life that you can't cheat, but you can certainly massage its impact: the Bentayga is roaring proof.
You need to slow, certainly, but far less than you'd expect. Get the braking out the way as you enter the corner and the SUV stays miraculously level: there's no body roll, no precarious leaning. Not once did I fear the car would understeer off the track and send me into crippling debt in a ditch.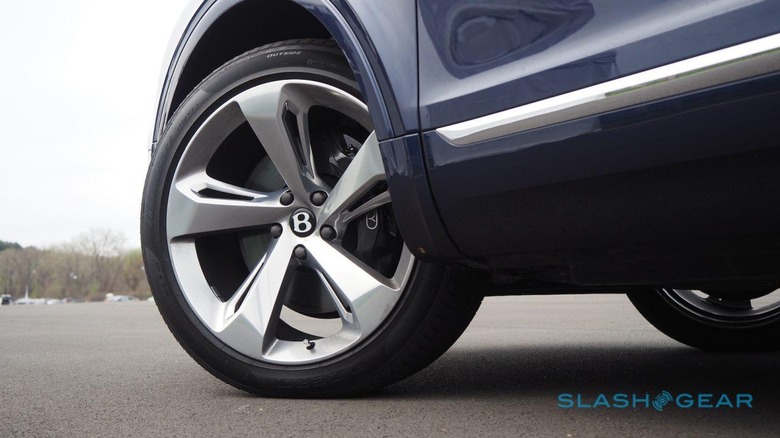 Before you get the chance to really marvel at it, though, you're feeding back in the power and the Bentayga is surging out in search of the next twist.
Some of the credit goes to five-time Le Mans 24 hours winner – among plenty of other trophies – and current Bentley brand ambassador Derek Bell, who was brought in early in the Bentayga tuning process to help fettle the settings. To really underscore just how capable it is as a result, I took a back-to-back spin with Bell at the wheel of the SUV, followed by racing driver Butch Leitzinger piloting the Bentley Continental GT3-R.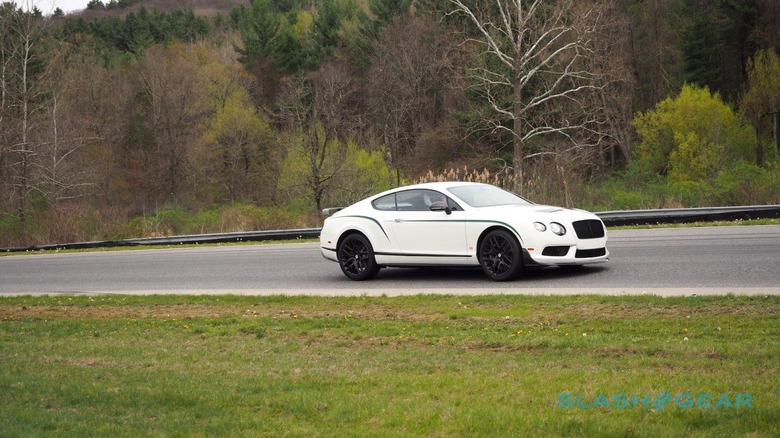 The GT3-R is no wallflower. Lightest of the Continentals, its V8 delivers 572 HP and 516 lb-ft. of torque, for a 0-60 mph time of just 3.6 seconds. The interior may still be a gentleman's club of quilted leather, but it's a damn fast one.
All the same, the Bentayga held its own. Though the GT3-R might have an edge in the corners, the SUV caught up on the straights; Lime Rock Park doesn't give you much time to accelerate in a straight line before you're into another turn, but both cars nudged over 130 mph before the heavy-duty brakes were called into play to shed speed.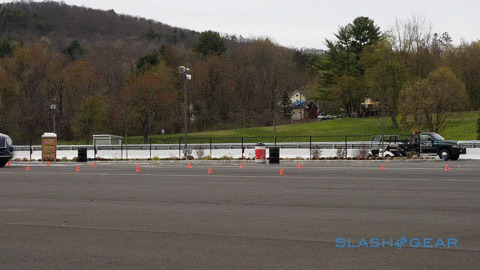 Speaking of the brakes, don't let the iron discs mislead you: they're more than capable of hauling the Bentayga to a swift halt.
In short, Bentley has taken the creation of the Bentayga seriously. It really had to, mind; luxury rivals are readying their own high-end SUVs, and if Crewe's is to be the benchmark then it can't afford to be all pose and no potential.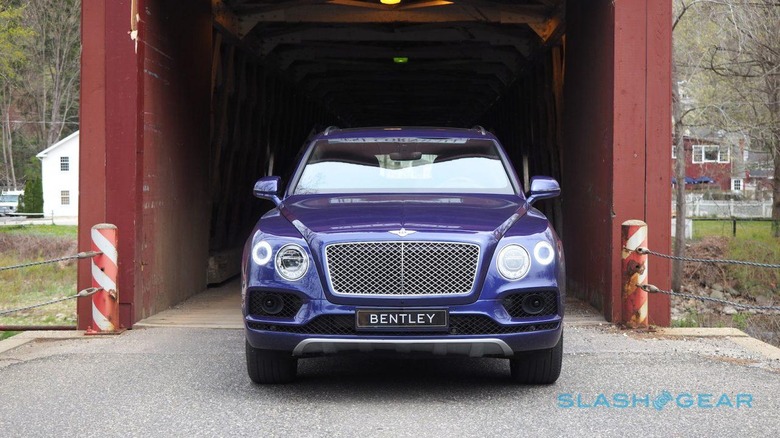 Nothing could be further from reality.
Already, Bentley has taken more than 5,500 preorders for the SUV, and raised its production targets accordingly: no easy task when you consider each takes 130 hours to make, by hand. It's only the start of an aggressive move by the company to refresh its model line, too, with the Bentayga first of five new platforms over the next five years.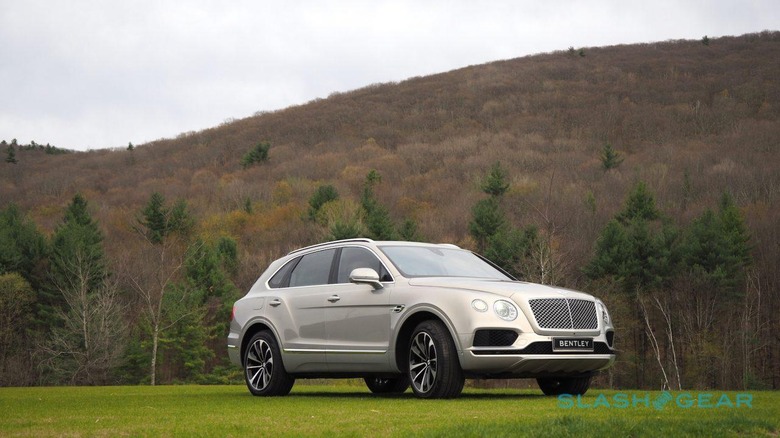 The goal isn't to make the brand a volume seller, but to position it as a legitimate leader in the very upper echelons of the luxury segment. That means more technological firsts like Bentayga's 48 volt system, more cutting-edge manufacturing like the Superformed bodywork, and more ways to comfort and cosset driver and passengers alike.
If the 2017 Bentley Bentayga is anything to go by, it's going to be one hell of a rip-roaring, torque-snorting, leather-lined journey. I only wish I could afford a ticket.
Check out the rest of our Bentley Bentayga photos in the full gallery¸