2023 Aston Martin DBX707 First Drive: More Than Just Bragging Rights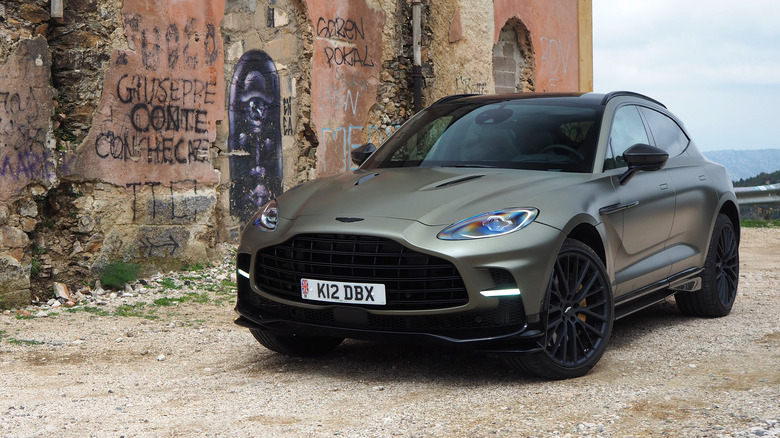 Chris Davies/SlashGear
It's hard to imagine anybody driving the Aston Martin DBX and thinking "this SUV is short on power," but let's not be naive here. In the echelons of the super-SUV, bragging rights are as important — if not more so — than matters of practicality, and so the DBX707 arrives to claim the "supercar of SUVs" crown. The real question is whether, in the process, Aston Martin's focus on performance has tuned the six-figure SUV out of practical daily use.
That may sound like laughable criteria, but make no mistake: lavish SUVs like the Bentayga, Urus, Cullinan, and others can't afford to sacrifice their usability too much. When you're buying a DBX instead of, say, a V12 Vantage, there's some degree of practical expectation there too. Not, for instance, shaking the teeth out of your family's mouths as you tap the 3.1-second 0-60 mph time.
More than just the supercar special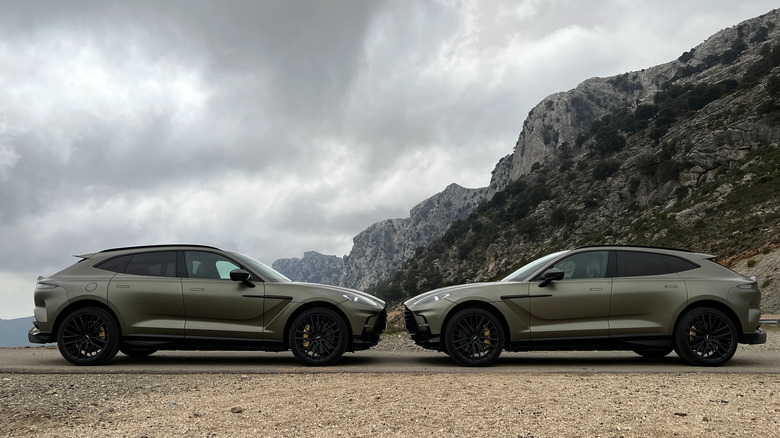 Chris Davies/SlashGear
So, the strategy that applies to supercars — tune the engine, stiffen the suspension, generally turn everything up to 11 — needs finessing for SUV application. In fact, while you might be tempted to dismiss the DBX707 as an engine remap and a body kit, its evolution into something worthy of a $236,000 (plus $3,086 destination, and more like $290k for the sultry Q Satin Titanium Grey example you see here) price tag is far more than the sum of those parts.
Sure, yes, the 4.0-liter V8 twin-turbo — supplied, as Aston Martin prefers not to dwell on, by Mercedes-AMG — has been fitted with larger turbochargers to help it breathe more easily. Its calibration has been "totally revised," according to Andy Tokley, Senior Vehicle Engineering Manager for the DBX, so as to lift it "above and beyond any other application of this engine." As a result, there's now 697 horsepower and 664 lb-ft of torque, both of which nudge the DBX707 to the top of its segment.
Peak torque arrives sooner, too, at just 2,600 rpm. The result is not only that class-matching 0-60 mph in 3.1 seconds, but 0-100 mph in 7.4 seconds, and a top speed tickled all the way up to 193 mph.
The extra power is the least interesting part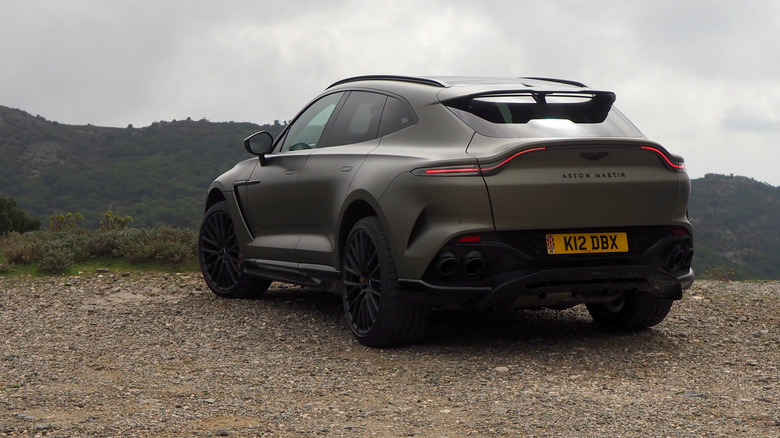 Chris Davies/SlashGear
Somehow, though, the feistier engine isn't really the main story, here. Instead, it's how Aston Martin's engineers have focused on the DBX package as a whole: delivering more power, certainly, and trimming the hardly-sluggish standard SUV's time to 60 mph by more than a second, but without losing sight of just what the point is in the first place.
Out goes the torque converter transmission from the standard DBX, the DBX707 getting a 9-speed wet-clutch version. It's up to 40% faster in its shifts, Aston Martin says, and supports fan-favorite features like Launch Control. There's a shorter drive ratio for a more sporting feel overall, too.
Torque where you need it, when you need it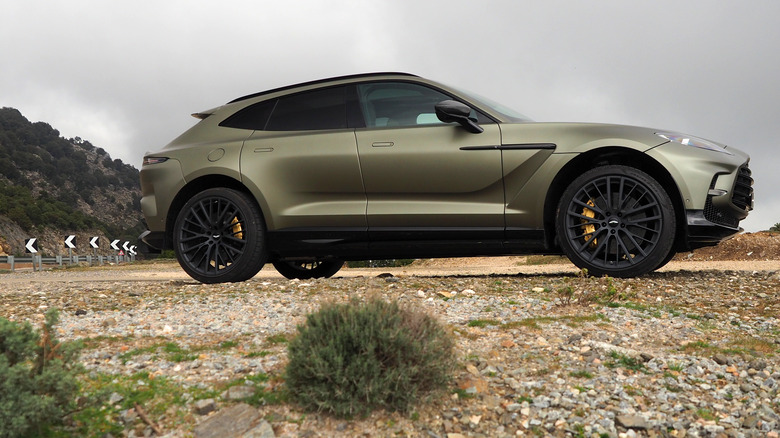 Chris Davies/SlashGear
The rear gets a new e-differential, upgraded to handle the extra torque involved, with a step up in locking power too. It can act faster than the standard SUV's diff as well, making it quicker to nudge power between the wheels. It's paired with a reprogrammed active center differential, which can push up to 50% of the power to the front wheels when traction demands it, or up to 100% of the power to the rear wheels.
Then there's the suspension and damping. Again, there's new software to go with hardware tweaks like updated damper valving, and a new hydrobush at the front helps avoid the aftereffects of potholes. You're still going to want to avoid them for the sake of the $5,700 23-inch wheels — upgrades over the standard 22-inch versions, and which either way use a custom compound tire, specially formulated by Pirelli so as to be rated for 193 mph rather than the more-common 186 mph — but untidy asphalt shouldn't be such a cabin-shaker any more. A 16mm increase in the rear track contributes there as well.
Practicality hasn't been forgotten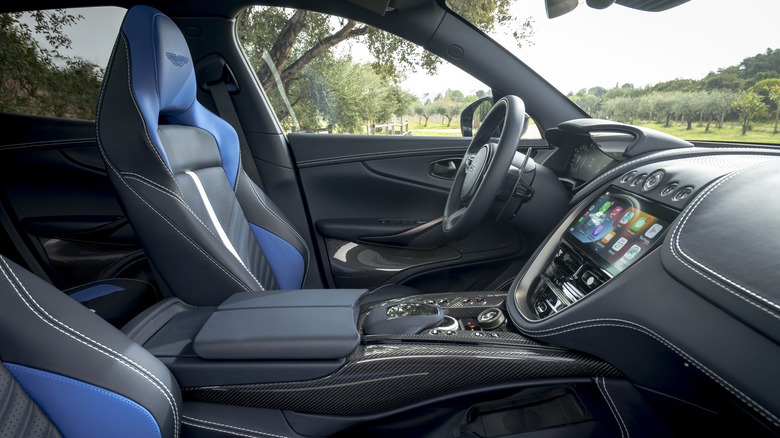 Aston Martin
Faced with all this engineering finesse, you'd be forgiven for laughing at some of Aston Martin's other tweaks. The cupholders, for example, are more capacious: they'll hold a wider variety of beverages now, which is actually a pretty big deal for something designed to be an everyday vehicle. Buyers also wanted soft-close doors, too, and so the DBX707 adds those. The weight impact is, apparently, fairly negligible overall.
Those looking at the DBX707 as a performance car first and foremost might still criticize the decision to include something so frivolous, but I can't really fault Aston Martin here. The same goes for that vast and comically-jutting rear diffuser, which seems destined to be the first casualty in parking lot maneuvers. Yes, it's expensive carbon fiber, but it's also an individual piece for relatively straightforward replacement. It won't be a cheap fix — this is still Aston Martin we're talking about, here — but hopefully it won't mean leaving your SUV in the shop for weeks.
A functional, not frivolous, style upgrade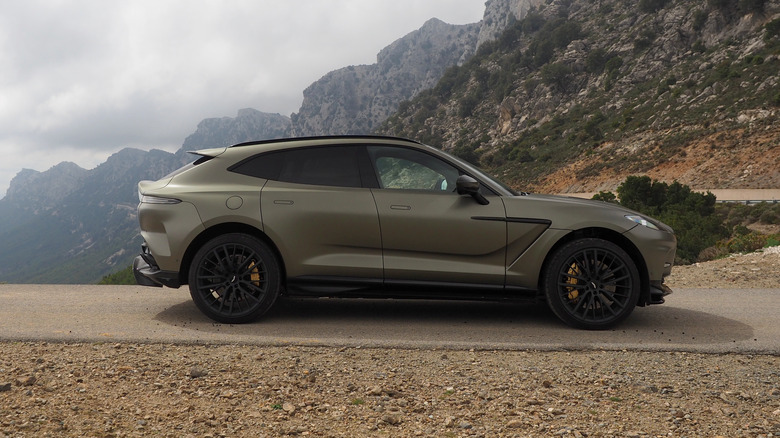 Chris Davies/SlashGear
It's part of a body revamp that leans on functional rather than frivolous. The hood vents, front and rear corner vents, and redesigned diffusers are all instrumental in feeding and cooling the engine, along with cooling the brakes. The rear spoiler extension is there for a good aero reason, too, while the new sill cladding also helps avoid drag along the sides. The end result is a completely neutral lift balance on both the front and rear axles, Aston Martin says, without the complexity of active aero components.
Part of what you're paying for, of course, is what has been taken away. By ditching the standard iron brakes, for example, the DBX707 has trimmed an unexpectedly large amount of weight: the new carbon ceramic versions save a hefty 90 pounds.
One SUV, two distinct personalities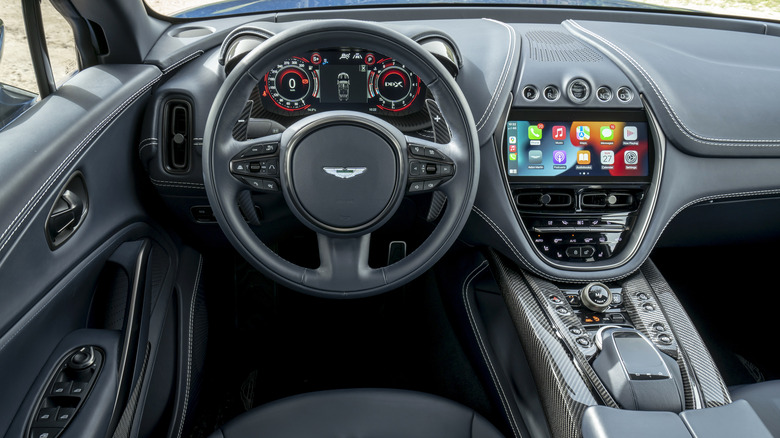 Aston Martin
What hasn't been removed — in fact, what feels exaggerated now — is the duality of personality the DBX707 offers. There are, in contrast to some of the other uber-SUVs out there, a mere three primary drive modes to confuse you, accessed by a new dial in the redesigned center console. GT is the everyday default, Sport makes things more energetic, and Sport+ cranks the settings to the max. You can switch the ESP into a less intrusive version, or turn it off altogether, and adjust the triple-chamber suspension across its three modes independently of the primary drive mode. Oh, and there's a Terrain mode for those rare, brave few who actually dare take their DBX707 off-road, and an Individual one that can be customized.
Despite the greater power, despite the laundry list of tweaks and adjustments, GT mode leaves the SUV feeling positively approachable. Slipping along the highways of Corsica, the Aston Martin wafts with pleasant restraint. It's not that the performance is held at arm's length, as much that it's not forced down your throat at every turn.
Putting the Sport in SUV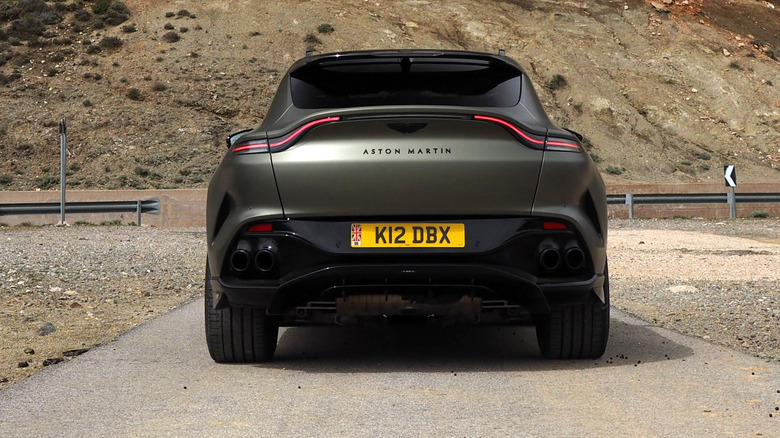 Chris Davies/SlashGear
Twiddle the drive mode dial, though, and things get far more entertaining. Again, it's the combination of improvements which weigh in here, rather than just the uptick in power. The newly-calibrated 48V active roll control, for example, works with the damping upgrades to keep things level and poised; the steering has heft, but not artificially so. The result is an SUV with an emphasis on the "Sport" in the acronym, its size shrinking around you as a benefit of how predictable it is.
Sport+ mode rewards those willing to reach for the DBX707's tactile paddle-shifters, the best way to work around the transmission's lingering insistence on upshifting. Where rival performance SUVs typically hold the lower gears on the assumption of more eager driving, Aston Martin's mapping trades away a little immediacy. The result can be a minor pause when you put your foot down coming out of a corner, as the gearbox catches up. A dedicated Sport mode for the transmission, for those times you're willing to live with a howling engine and worse fuel economy, would be a welcome addition.
Defying expectations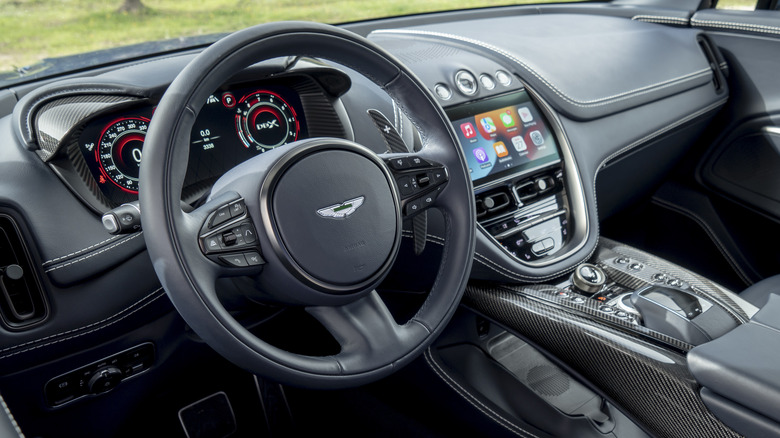 Chris Davies/SlashGear
Or, you can just tug the lengthy paddles yourself, and enjoy the quad exhaust system and its shouting. You can provoke pops if you're really of a mind to, or hit the Quiet button and tame the soundtrack for those early morning starts. Your neighbors will thank you, even if your ears miss the bellow.
I'll confess, I expected the DBX707 to be grunt first, and balance likely left behind. Not because I think that's what luxury SUV owners actually want, more that usability tends to be the first thing sacrificed when automakers decide they want to make "the fastest" or "the most powerful" car in the class.
The DBX707 rises to the occasion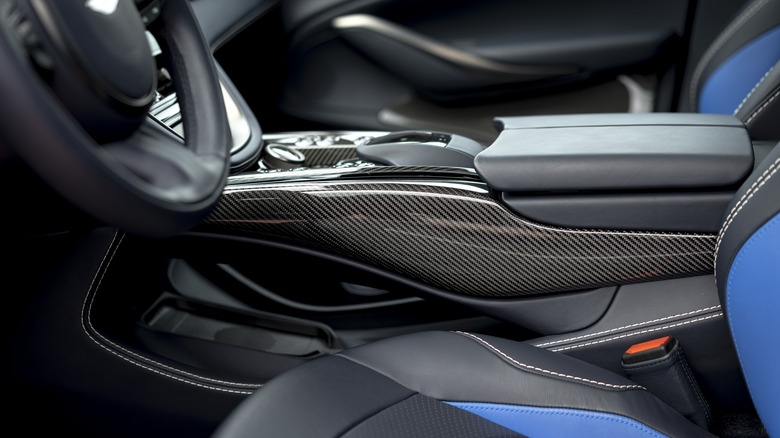 Aston Martin
The reality is something far more charming. Snug in your amply-leather-lined cocoon — now available with Q by Aston Martin's most cutting-edge woven leather, tweed, and cashmere, along with the more familiar hides and tinted carbon fiber — you simply dial in whether you want a laidback commute or a more playful zip through the backroads. Either way, the DBX707 rises to the occasion. The power is never lacking, the six-piston front and single-piston rear brakes are more than up to the challenge of aggressively shedding speed, and the whole thing feels more compact and lithe than its Bentayga Speed, Urus, and Cayenne Turbo GT rivals, even if interior space is just swell.
It's a pleasing cabin in general, and not just because of the more capacious cupholders. Aston Martin's new front seats straddle a line between sports support and general comfort, though I suspect larger occupants may find them a little snug; the rear bench is accompanied by surprising degrees of legroom, and even the trunk is reasonable once you've opened that unusually-sculpted hatch.
Special, down to the switchgear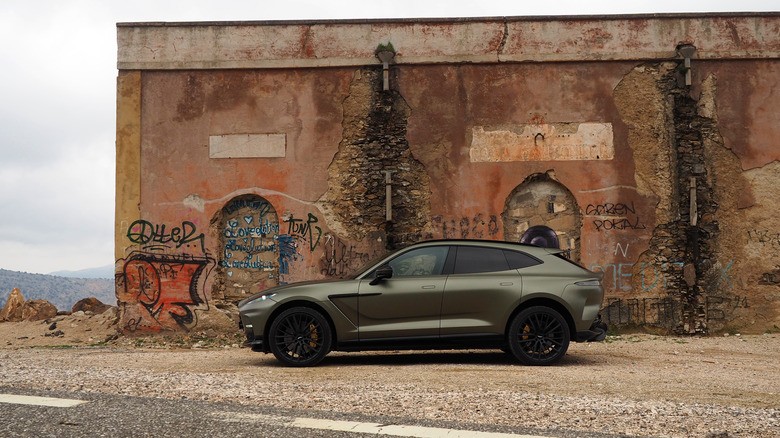 Chris Davies/SlashGear
Like with the engine, the infotainment system has been borrowed from the automaker's friends at Mercedes. Unfortunately it's not the very latest iteration, as in cars like the EQS Sedan, which means lots of swiping on the touchpad in the center console. There's Apple CarPlay but no Android Auto, though you do get a tremendous audio system, while Aston Martin's in-house switchgear is a distinct reminder that rivals like Bentley and Lamborghini do dip into the Audi parts bucket for some of their controls. Is the DBX707's dashboard the most ergonomically delightful I've ever sat at? No, but at least its buttons are its own.
Not just the supercar of SUVs, but something better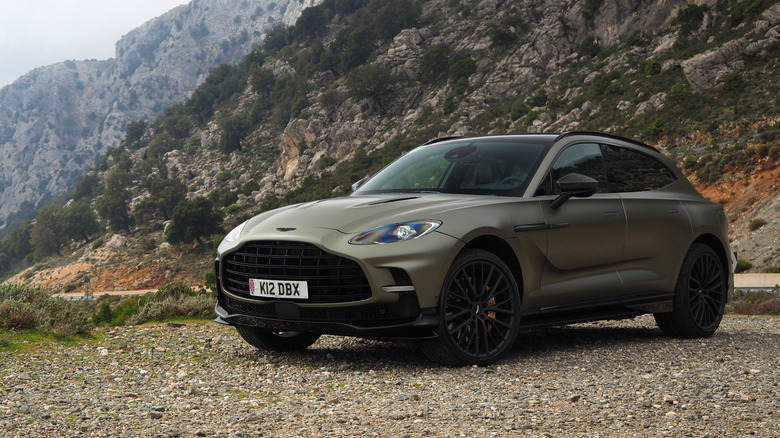 Chris Davies/SlashGear
Much in the same way, the reason the DBX707 works is Aston Martin's commitment here beyond just power, and the bragging rights that numbers alone can bring. Going fast, in a straight line, is relatively easy. Getting something that maintains that proficiency when you reach the first corner is far tougher, and creating a car which can achieve that without sacrificing comfort, refinement, and practicality along the way is even rarer.
Aston Martin says its goal was to make the supercar of SUVs. In fact, the DBX707 does something even better than that. Supercar performance, yes, but in a package that's neither so raw as to be only good for weekend playtime, nor so focused as to be two-dimension in its pursuit of speed. That seems like an achievement far more worth celebrating than horsepower or 0-60.