Aston Martin's New V12 Vantage Is The Best Sort Of Goodbye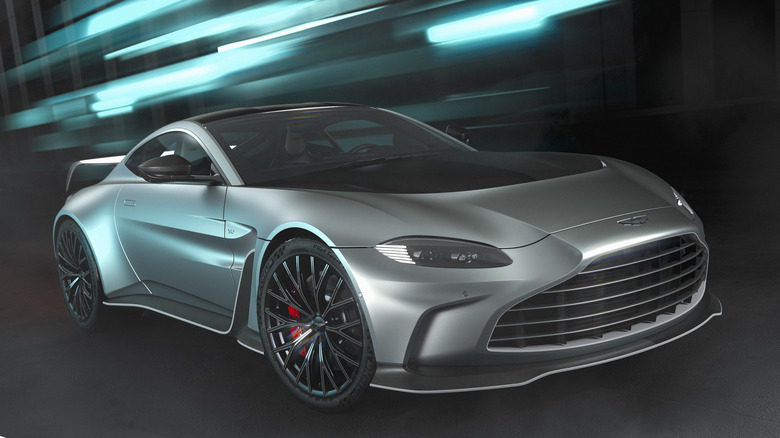 Aston Martin
Goodbyes are seldom easy, but Aston Martin is giving a fitting farewell to one of its modern-day icons: the new V12 Vantage closing out the door on the supercar. It's a 200 mph exit for what turned out to be a very good recipe for the British automaker: take its largest engine and squeeze it into its smallest model.
You can't say the V12 Vantage didn't have a good run. Aston Martin teased its hero model back in 2007, in the shape of the V12 Vantage RS Concept, though it was two years before the production model escaped from beneath the silk sheets. A V12 Vantage S followed in 2013, with an even more aggressive version of the 12-cylinder engine, and was followed by several limited-run editions like the Vantage AMR Pro and Vantage V600.
Still, despite all that, the writing is on the wall for big-displacement gas engines such as the 5.2-liter twin-turbo V12 in the new V12 Vantage. Aston Martin isn't quite done with internal combustion, but it'll be combining its electrification shift with smaller versions, like the twin-turbo V8 it has used to such impressive results.
More power, more width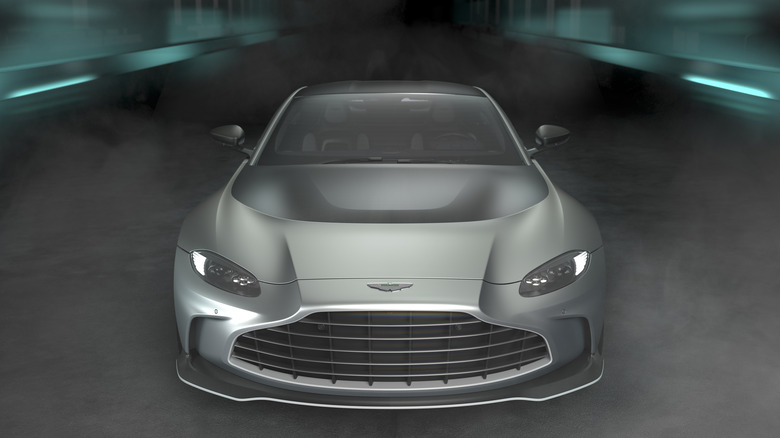 Aston Martin
This isn't just a goodbye to a nameplate, then, but one for a whole strand of modern Aston Martin heritage. It's tuned to mark the occasion, too: 690 horsepower at 6,500 rpm and 555 lb-ft of torque, all pushed through the rear wheels. Zero-to-60 mph arrives in 3.4 seconds, the automaker says, courtesy of a swift-shifting eight-speed automatic transmission.
There's a mechanical limited-slip differential, torque vectoring by braking, and adaptive shift, hurtling the new V12 Vantage onto its top speed of 200 mph.
Even standing still, though, you can tell this is something interesting. The bodywork has been widened by around 40 mm (1.6 inches), helping to accommodate the standard 21-inch alloy wheels that'll be available in satin black or satin black diamond turned. Aston Martin will offer an even lighter set, trimming almost 18 pounds from the curb weight. Either way, they're shod in Michelin Pilot 4S high-performance rubber.
A beastly V12 needs plenty of cooling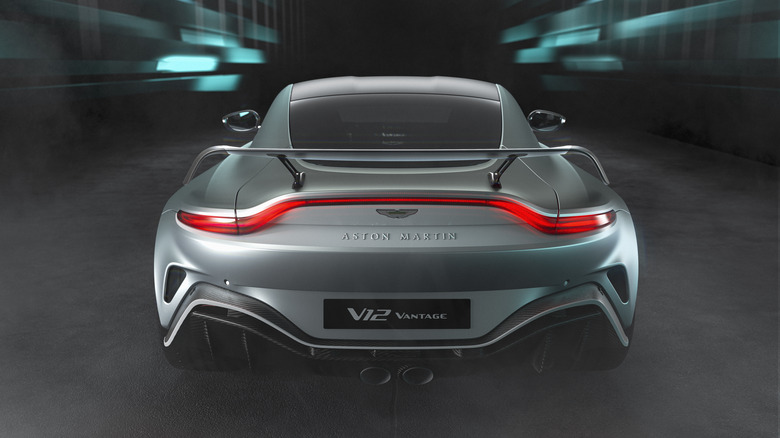 Aston Martin
At the front, there's a new bumper and a full-width front splitter — that's not just for show, either, as it helps add downforce and balance the overall aero. The grille is 25% larger, and there's a new "horse shoe" vent in the hood for even more cooling. A single-piece side sill calls to mind older V12 Vantage models, not to mention their own motorsport inspiration.
The rear gets a new bumper with an integrated diffuser and a center-mounted twin-tailpipe exhaust system. Of course, you'll probably notice the sizable rear wing first, which Aston Martin says will contribute around 450 pounds of downforce at top speed. There's the option to delete it, mind, if it's a little too imposing for your tastes.
Lighter, stiffer, and even more comfortable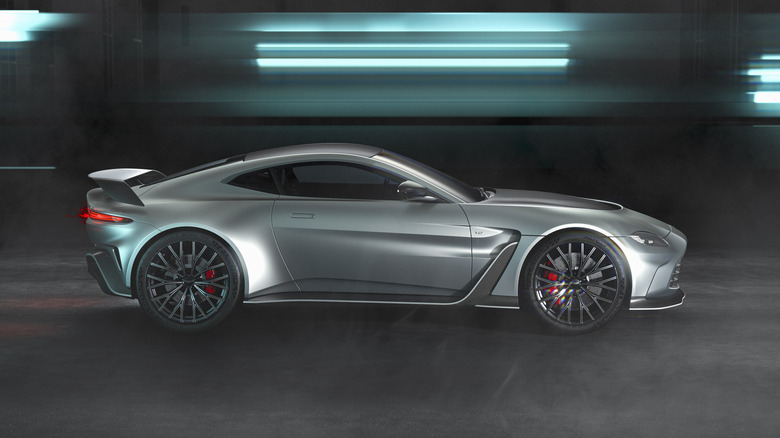 Aston Martin
Under the sheet metal, Aston Martin has made a number of changes. There's a new adaptive damping suspension system, for example, with new anti-roll bars, bushes, and spring and damper assemblies. The suspension spring rates are increased – 50% at the front and 40% at the rear – while mounts and anti-roll bars are stiffer all-round. However a secondary tender spring, added at the rear, ensures there's still some degree of ride comfort.
The body is stiffer, too, and there's a new steering calibration – with a sharper response and more feel, the automaker says – plus an upgrade to the brakes. Carbon ceramics are standard, with 410 x 38 mm discs and 6-piston calipers at the front, and 360 x 32 mm discs with 4-piston calipers at the rear. Aston Martin says they not only save over 50 pounds in weight compared to regular iron brakes but hold up better at higher temperatures.
A lavish finale that's all sold out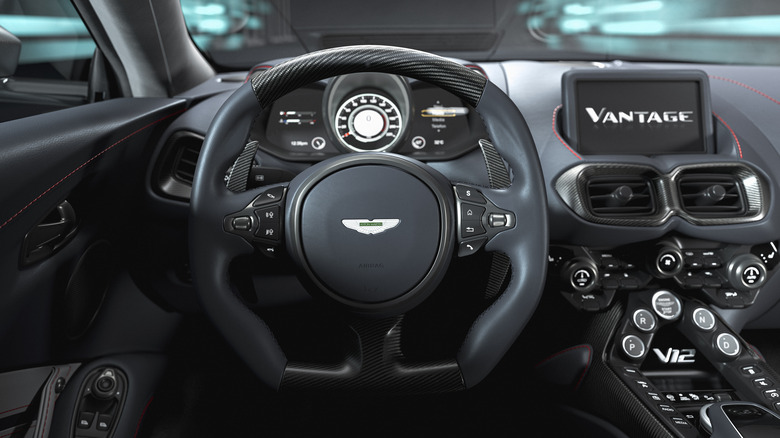 Aston Martin
Inside, the new V12 Vantage doesn't stray too far from what we've seen before. The Sports Plus Seat and full semi-aniline leather trim are both standard, with an optional carbon fiber performance seat available that trims over 16 pounds. Further options include woven leather and Alcantara seat inserts, color treatment for the dashboard's anodized rotary dials, and anything else the Q by Aston Martin bespoke team can think up.
Aston Martin will build a mere 333 of the new V12 Vantage, and the bad news is that the order books are already closed. "Unprecedented demand" for the shapely coupe seems like a suitable way to end the series, with every unit accounted for, plus an apparently lengthy list of would-be owners should anybody drop out along the way. Deliveries are expected to begin in Q2 2022.