2022 BMW Alpina XB7 Review: An Absurd SUV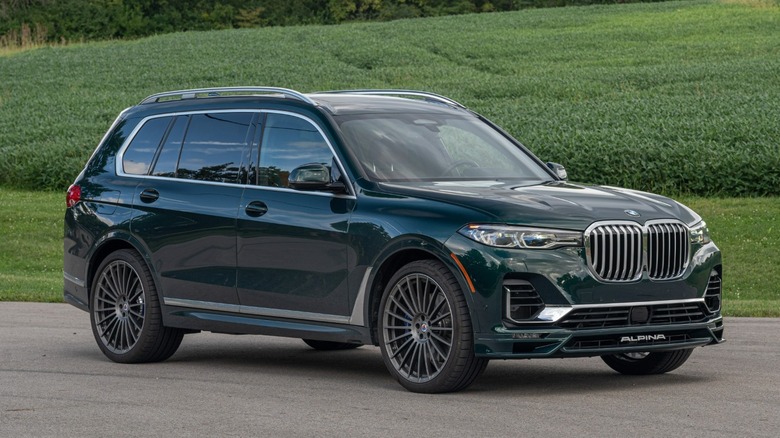 Chris Tonn/SlashGear
EDITORS' RATING: 8/10
The idea of hucking a three-row crossover — tipping the scales right at three tons empty — into a switchback at something approaching triple the recommended speed felt as enticing as it was insane. After all, we had all three rows occupied as to properly test the 2022 BMW Alpina XB7 and its people shuttling abilities. My wife, however, is prone to both motion sickness and vertigo, while I do everything I can to avoid spending a ton of time detailing the interiors of cars. So any properly spirited driving in the biggest Alpina yet was done solo, whereas when full up I switched the driving mode toggle to the "Comfort" position.
Too bad, as the two-lanes suggested by Google Maps as we traversed a number of towns in a daylong adventure to visit potential colleges for my eldest child were delightfully sinuous. This journey was a simple drive through each campus to see if my daughter felt like she might want to consider a proper visit: I'm most certainly not rolling up on a formal meeting with financial aid counselors in a luxury SUV that costs as much as some houses. We save the baller stuff for drop-offs at homecoming dances and the like.
A Proud Heritage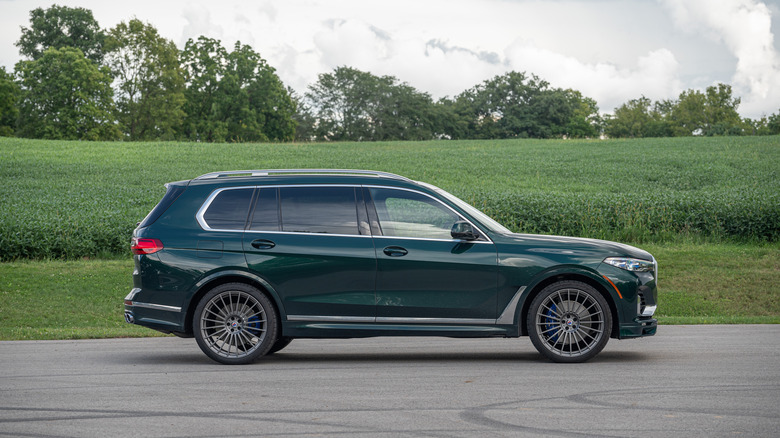 Chris Tonn/SlashGear
Without a deep background in Bavarian tuning house history, most onlookers will be befuddled by the Alpina badges festooned about this tall wagon. In short, Alpina was a separate company that would hand-build specially modified BMWs to add a dash of both performance and luxury to the standard car. The Alpina Green paint seen here is a signature hue, while the alloy wheels – always with 20 spokes – are a feature common to all Alpina-branded vehicles. You can get different ones, but you shouldn't. 
The German government considers Alpina the manufacturer of their cars, not BMW. However, Alpina cars are sold and serviced through the normal BMW dealership network, so the effect is to find Alpina much like one finds the M badge: a sub-brand within the greater Bavarian Motor Works group.
This is no M-badged X7, mind. While the performance figures available from this Alpina XB7 are decidedly rowdy, there is a level of refinement here not always found elsewhere within the BMW lineup. The seats, while still supportive if you do want to throw a three-ton, three-row crossover into a switchback at speeds likely to generate a lot of expensive Pirelli-scented clouds, are more inviting than the track-ready chairs often found on an M car. The leather-lined cabin and an air suspension tuned for brisk touring make this a performance vehicle well suited for a night on the town.
Styling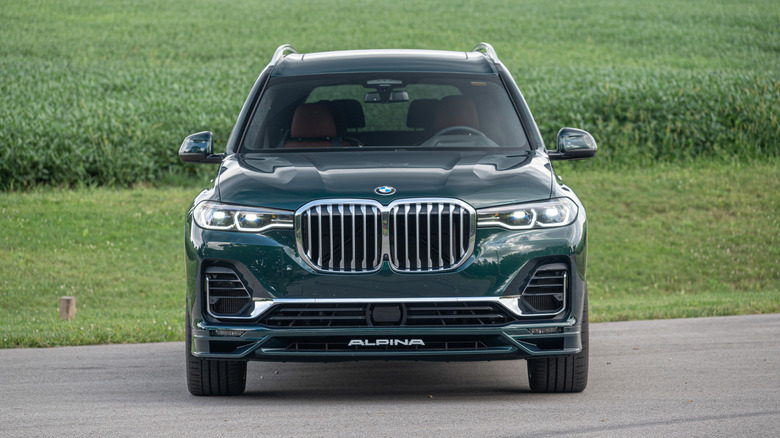 Chris Tonn/SlashGear
While the chrome-tooth-filled double kidney grille remains garish and oversized to these eyes more accustomed to styling restraint, the bold ALPINA lettering in the lower grille immediately south of the front-facing sensors does well to distract from the bucktoothed biggest Bimmer. Styling isn't much different from a standard X7 otherwise. The exclusive Alpina 23" forged alloy wheels – a $2,600 option over a standard set of 21" alloys – do make a bit of a statement, as do the standard blue brake calipers on display behind those rims.
It's honestly a bit weird calling the styling of a $150k super-SUV subtle, but there is nothing on the outside of the Alpina XB7 shouting for anyone's attention. Beyond a few people who recognized the familiar BMW grille and not the Alpina badging, onlookers generally didn't remark on the overall look of the car. It's handsome enough, to be certain, but the massive Bavarian-by-way-of-South Carolina doesn't grab anyone by the lapels to demand admiration.
Behind The Wheel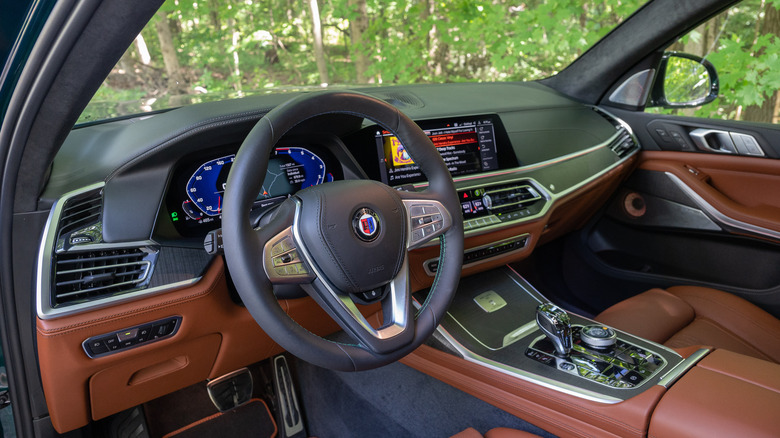 Chris Tonn/SlashGear
Driving the XB7 isn't a night and day experience if you're coming from a standard X7. Adding around 90hp to the top end means launches can be properly brutal should you choose, but in normal driving it feels much like any other big three-row machine. Almost a bit too mellow, honestly, when you consider the performance heritages of the BMW and Alpina badges.
Click through the driving modes and you can tweak the feel of the standard air suspension, to be certain: a firmer steering response is most noticeable, along with tweaked shift mapping and of course a bit more of a roar through the Alpina-specific quad-tipped exhaust. The tune sung by the 4.4-liter twin-turbocharged V8 is quite lovely when opened up – it's hard to beat the sound of a V8. In part-throttle driving, however, the excellent sound damping of the XB7 mutes nearly everything from the outside world.
Handling? In Something This Large?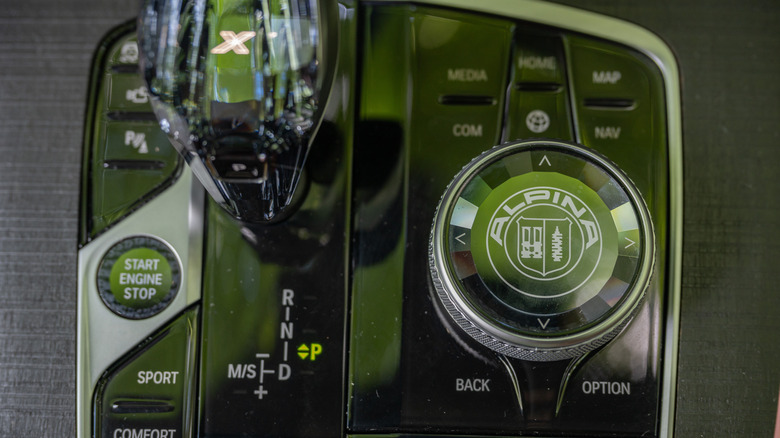 Chris Tonn/SlashGear
Active sway bars further manage the physics-defying handling of this beast. While you certainly feel the weight of your body being tossed to the outside when hustling through curves, the XB7 corners nearly flat. Likely more computing power than was used for the Apollo lunar missions is involved in making a big wagon handle like something much smaller: whether we call that progress or lunacy depends on several personal factors.
One place where this combination of power and simple mass comes in handy is while towing. The XB7 is rated to tow 7,500 pounds with the factory hitch, making this a lovely way to haul a small boat or a car trailer. I'll admit to noticing a larger share of luxury SUVs pulling open trailers to the race track in recent years; seems some folks are tired of dealing with full-size trucks and would like a few more creature comforts both when towing and while unhitched.
The Pump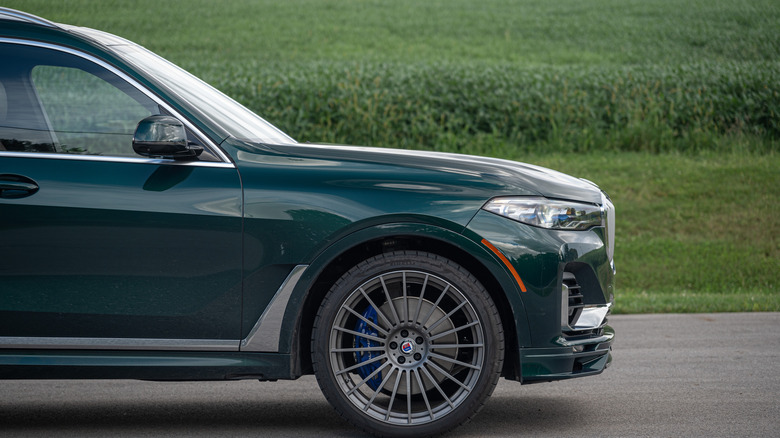 Chris Tonn/SlashGear
There is a cost to all of this power and performance, and it comes at the end of a six-foot-long rubber tube. You'll be visiting your local purveyor of fuels and fine packaged snacks quite frequently. The EPA rates the XB7 at 15mpg city and 21mpg highway, for a combined rating of 17mpg. That's an ugly number as-is, but I couldn't quite manage to beat 15mpg for my week of driving.
While I try and mix up both city and interstate routes, I don't have a formalized test loop so my numbers are never completely repeatable. But to only manage 15 miles per gallon of premium fuel is a tough petroleum pill to swallow.
I suppose for those considering putting an XB7 in their driveway, a few MPG differences between one vehicle and another isn't likely a big part of the financial calculus. But when you're stopping more often, you're picking up more and more Corn Nuts and Slushies and both the money and the calories add up.
Creature Comforts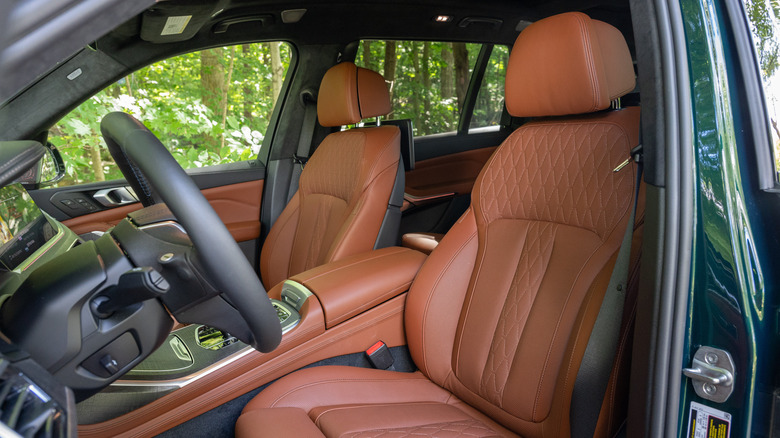 Chris Tonn/SlashGear
The interior is a wonderful place to spend a day. Buttery Merino leather — called Tartufo by BMW/Alpina and best resembling sitting in a heated and ventilated vat of dulce de leche without leaving the sticky mess on your trousers — coats nearly every surface. The second-row headrests have additional pillows in a suede-like material (BMW didn't provide any cows for comment to confirm whether the material was from a sibling or from some mystery Alcantara animal) which prompted my youngest daughter to slowly drift into dreamland as she scrolled through hours of TikTok videos during our drive.
Even the third row proved acceptably comfortable for a pair of tall teenagers. While I struggle to find comfort in most third-row compartments, it's likely down to my above-average torso length and age creeping on my joints making me dread the inevitable unfolding of hips and knees upon disgorging myself. I do, however, regret that most three-row SUVs — the XB7 and the X7 included — have very little cargo space behind an erect third row. I packed a small cooler with drinks and snacks (I'm nothing if not a stereotypical dad) and there was room for little else. With the second row folded there is plenty of space, but don't expect to go pick several friends up from the airport unless you feel like strapping either luggage or that one friend who didn't shower up on the roof rack.
To be clear, we at SlashGear do not recommend riding on or in a vehicle without using the provided passenger restraints in their proscribed manner. If that friend does indeed smell, leave them at the airport to call a rideshare instead.
Value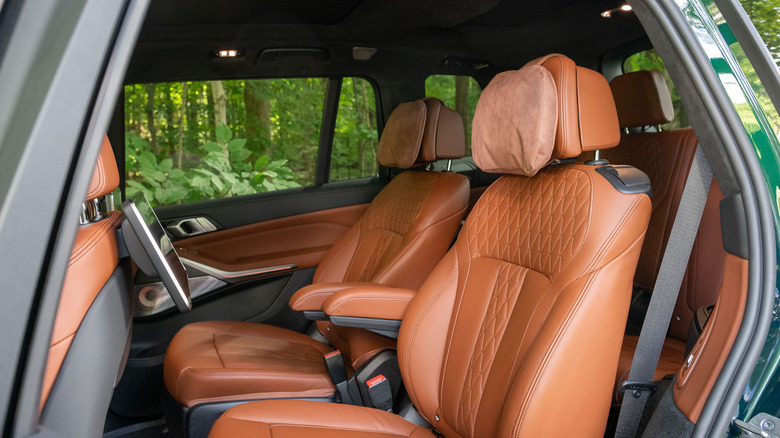 Chris Tonn/SlashGear
Let's talk pricing, and what you get for your money. First, let's consider the standard X7 from BMW, without any of the fancy Alpina branding and tweaks. The top-trim X7 M60i has a similar 4.4-liter twin-turbocharged V8 — producing 523hp to the 612hp here in the Alpina — and starts at $103,190 plus destination charges. Going nuts with the order sheet on that X7 M60i puts the price right around $122,000.
Selecting an Alpina XB7 like the one seen here, however, starts at $141,300. My tester stickers at $154,395 after a host of options: $1,500 for the Tartufo Full Merino leather, $2,600 for the 23" alloy wheels, $800 for five-zone climate control, $850 for the second-row captain's chairs, $750 for the panoramic roof, $2,200 for the rear-seat entertainment screens, $3,400 for the excellent Bowers & Wilkins sound system, and $995 in destination charges.
2022 Alpina XB7 Verdict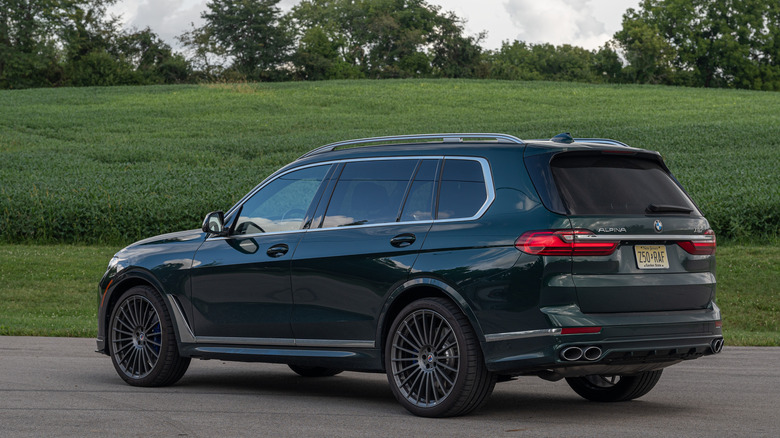 Chris Tonn/SlashGear
Cheap? Absolutely not, though luxury three-row SUVs aren't exactly strangers to six-figure price tags these days. It's not like the XB7's primary rivals are especially affordable either. Mercedes-AMG's GLS 63 is similarly vast, pairing its three rows and 600-plus horsepower with a roughly $135k starting point that easily spirals up once you've assaulted the options sheet. An Audi RS Q8 or Lamborghini Urus deliver on the performance, meanwhile, but neither are much use if you really do need that capacious three-row cabin.
The reality is, though the market may be skewing larger and more SUV-shaped, the hefty Alpina is playing in relatively sparsely-occupied waters. I keep going back to a single word when considering my time with the 2022 BMW Alpina XB7. That something so physically large can perform like something smaller leaves the engineer deep within me flabbergasted. It's an SUV that can do things on pavement that simply shouldn't be possible. This big wagon is simply absurd.