Big, brash and potent, the BMW X7 SUV makes some serious claims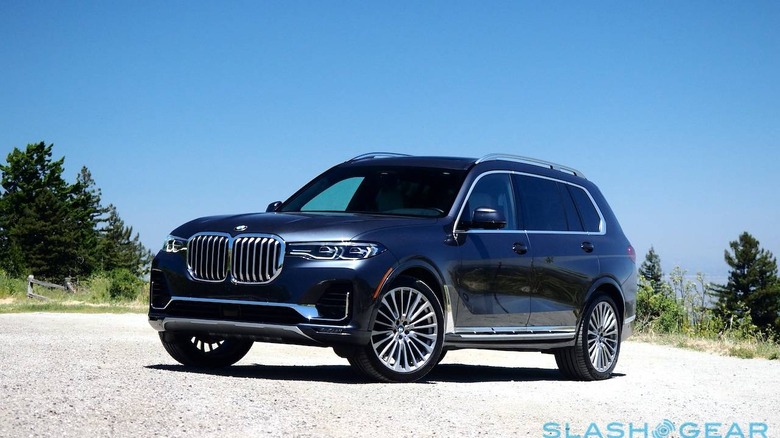 Size may not be everything, but clearly nobody told the BMW X7 that. Big SUV, big grille, big luxury, and big price tag: the 7-seater may be the German automaker's first full-sized SUV, but nobody could accuse it of playing things safe. Then again, with the segment as competitive as it is, safe was not an option.
It's unmistakable on the road, even if BMW's current SUV design language leaves the latest X5 and X7 sharing very similar cues. Much has been said about the automaker's oversized snout, but I think it looks pretty fitting on a vehicle this size.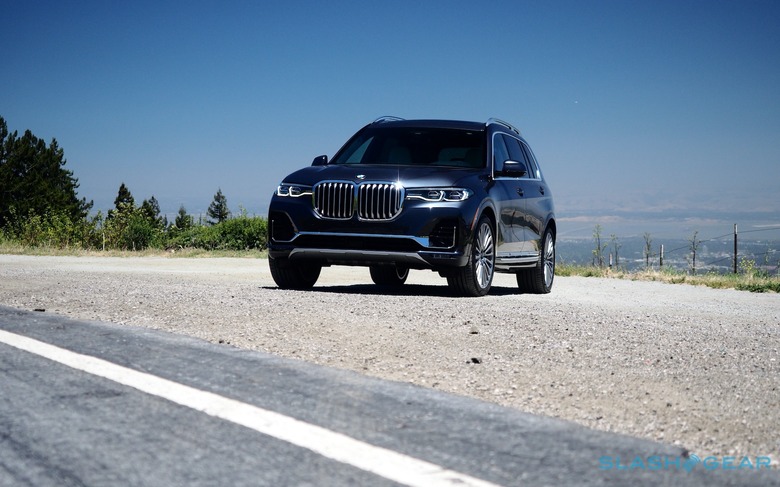 There's definitely something stately about it, like the Doric columns outside of a Roman amphitheater. Narrow LED headlamps either side give the SUV a squinting, supercilious expression. The X7 is unamused by your dallying, fellow road-user: it has places to be.
You get there in levels of cabin luxury that only a few years ago would be unheard of in an SUV. BMW has cribbed liberally from its 7-Series sedan, and that's no bad thing. The driver's cluster is fully digital, and there's a 12.3-inch widescreen touchscreen in the center, that can be controlled by your fingertip, via the iDrive knob in the center console, or through hand gestures. Navigation, wireless phone charging, and wireless Apple CarPlay come as standard.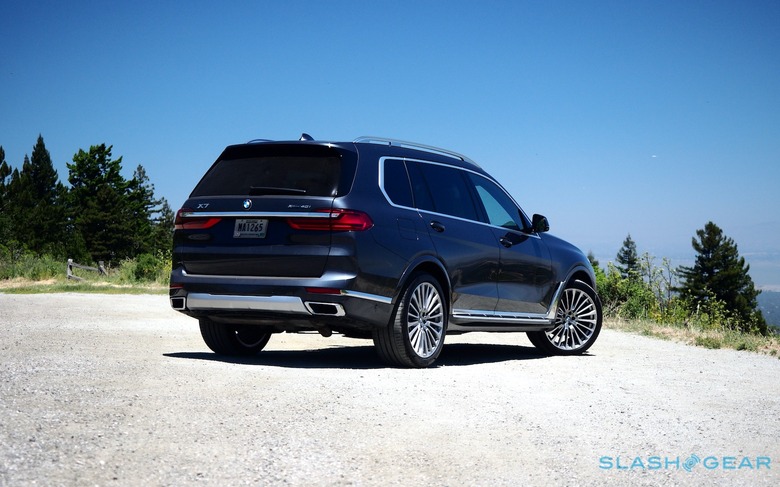 So, too, does a panoramic moonroof, power tailgate, front and rear parking sensors, and heated 16-way power front seats. As you'd expect, though, BMW also offers a vast list of options packages, ranging from the must-have through to the frivolous. The $1,600 Luxury Seating Package, for example, upgrades the cosseting thrones with massage and ventilation; the $3,400 Bowers & Wilkins audio system is a triumph.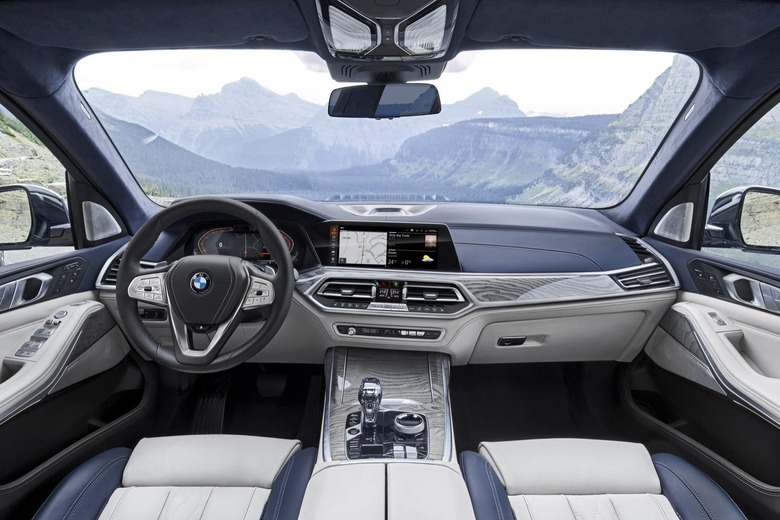 Personally, I'd probably save the $650 that the automaker asks for the Swarovski glass controls, while the $1,650 Off-road Package is probably wasted on where most X7 owners will ever take their SUVs. That said, the behemoth is rated for 5,400 to 5,950 lbs of towing capacity, so horse boxes and trailers shouldn't be an issue.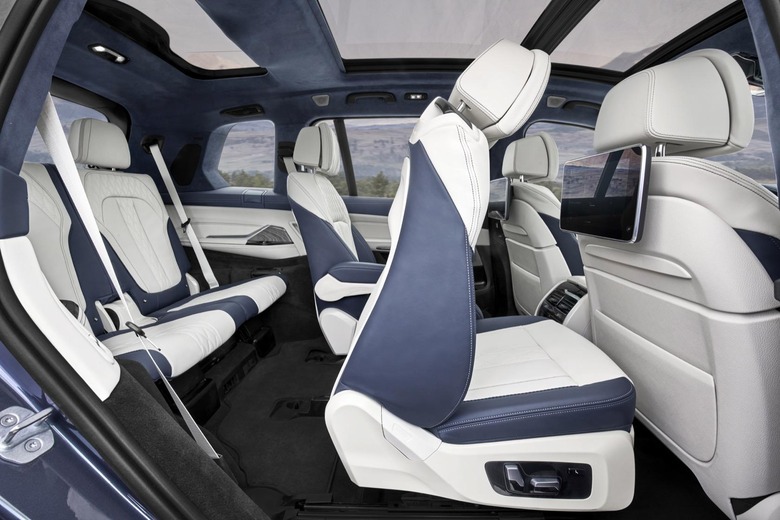 Second row seating is as plush as the first, particularly if you opt for the Captain's Chairs. They're an affordable $850 option, though it's worth noting that unlike the standard three-seater bench they don't fold down flat. That cuts down on your cargo options. With all three rows up you're looking at just 11.5 cubic feet, though hit a button and the rear-most seats fold flat to expand that to 48.6 cu-ft. With the bench down, that can grow to 90.4 cu-ft.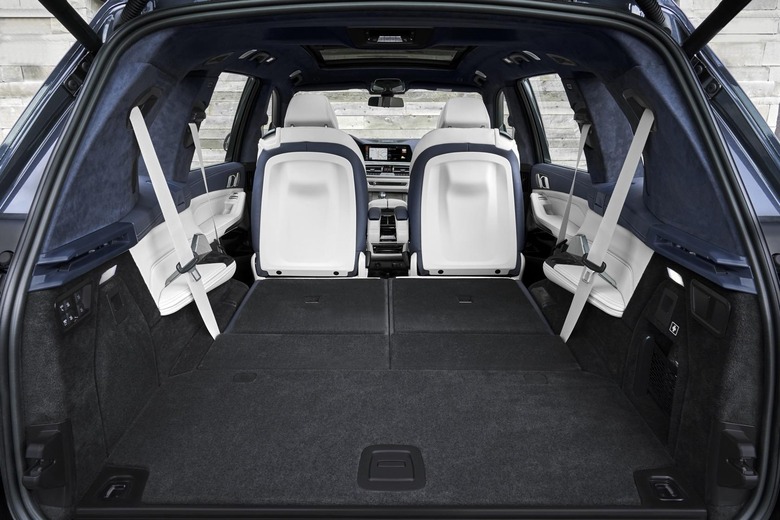 It leaves the X7 not quite the biggest load-carrier in its luxe truck segment, but not far off. BMW's split tailgate can make loading easier – there's also a button to lower the SUV on its standard air suspension – but if third row comfort is your main concern then space is more plentiful in the Mercedes-Benz GLS.
BMW X7 xDrive40i
The X7 xDrive40i kicks off at $73,900 (plus $995 destination), though by the time the various packages, extras, and upgraded interior trim was added, I was sitting in a $100,395 truck. Under the hood is BMW's 3.0-liter TwinPower Turbo inline-6, with 335 horsepower and 330 lb-ft of torque. An 8-speed Steptronic automatic transmission is standard, as is all-wheel drive.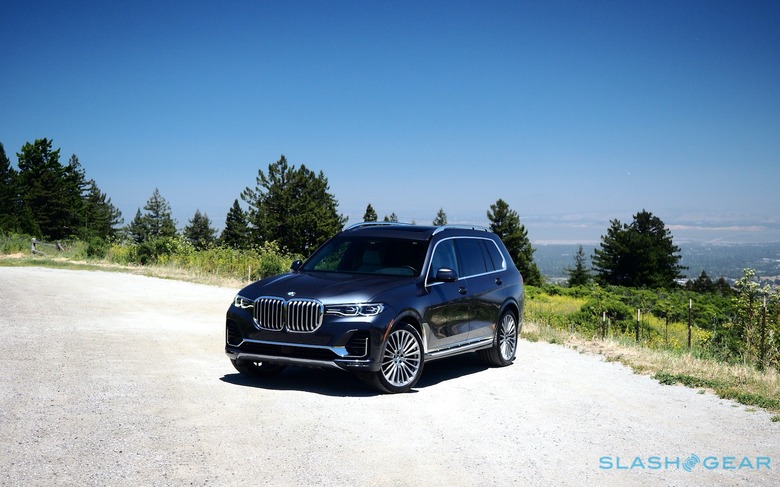 It may be the smallest engine offered, but it's no slowpoke. 0-60 mph in 5.8 seconds, BMW says, and a top speed of 130 mph. Drive conservatively and the inline-6 is rated for 20 mpg in the city, 25 mpg on the highway, and 22 mpg combined, which seem reasonable from my testing.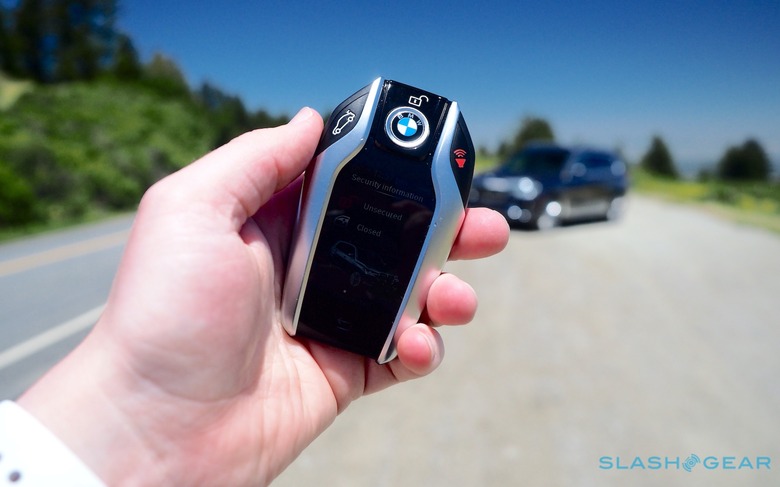 Indeed it's an engine that suits the X7 well. Even in Sport mode the suspension errs on the side of comfort – there's not-unnoticeable body roll if you push it in the corners – riding smoothly over potholes and bumps. Factor in the early entry of peak torque, arriving from just 1,500 rpm, and the well-assisted steering, and piloting what – at almost 17 feet long – is undoubtedly a big vehicle is unexpectedly easy.
BMW X7 xDrive50i
If the 3.0-liter isn't enough for you, the X7 xDrive50i will likely do the trick. It steps up to a 4.4-liter TwinPower Turbo V8, with 456 horsepower and 479 lb-ft of torque, and starts at $92,600. Again, BMW had been generous with the options, sending my review car spiraling up to a heady $120,945.
The bigger engine cuts the 0-60 time to 5.2 seconds, and there's the option to increase the speed limiter to 155 mph. Economy, of course, dips in turn too. 15 mpg in the city, 21 mpg on the highway, and 17 mpg combined – all very realistic numbers – make this a thirsty SUV, particularly when fully loaded with people, cargo, or both.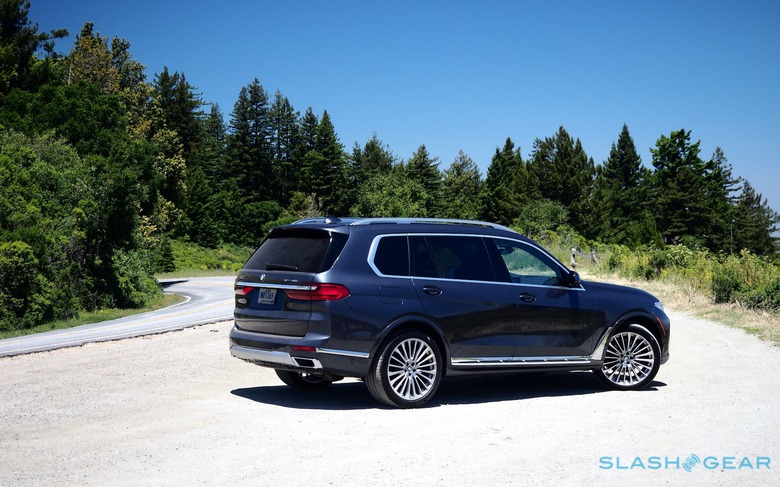 It sounds good, though, just the right quantity of gurgle and growl making it into the well-insulated cabin, and the extra urgency is welcome. Again, taking advantage of the excellent brakes for the corners is wise, since there's only so much that can be done to hide the 5,370 pound curb weight and body roll is a reality of simple physics. Getting back up to speed is plenty of fun, however.
BMW also offers a flagship X7 M50i, coaxing 523 horsepower and 553 lb-ft of torque out of the V8 engine. It starts at $99,600.
BMW X7 Verdict
You're spoiled for choice right now when it comes to big, luxury SUVs, with mainstream brands now brushing shoulders with more exotic fare from Bentley, Lamborghini, and even Rolls-Royce. If you need three rows, though, your options are more limited. In that case, the X7's natural competition is the Audi Q7, the Mercedes GLS, and Volvo's XC90.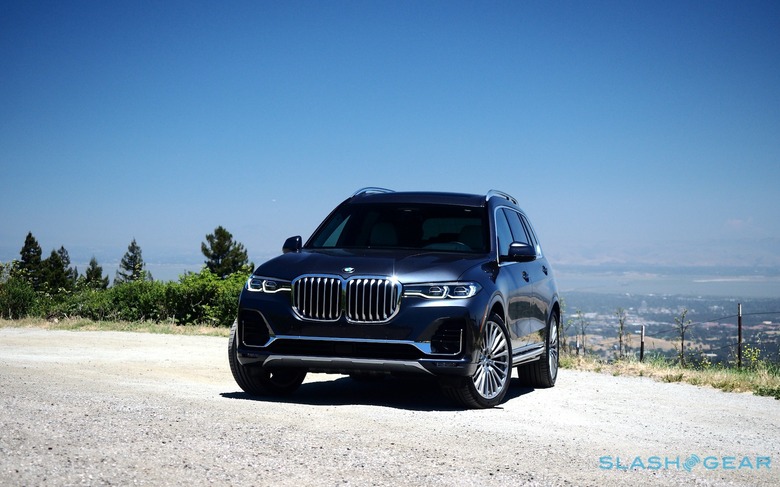 Of the four, I'd go for the X7, and the xDrive50i engine to be specific. BMW's technology is comprehensive but easy to use, and its 4.4-liter V8 strikes just the right balance of performance and comfort. It makes for an SUV that should be right at home doing chauffeur duty for the family, without coming anywhere close to that minivan feeling.
The BMW X7 makes some big promises, but for the most part it delivers on them. In a segment where first-impressions count, this 7-seater lives up to expectations.