SlashGear Weekly Roundup Video - May 1, 2011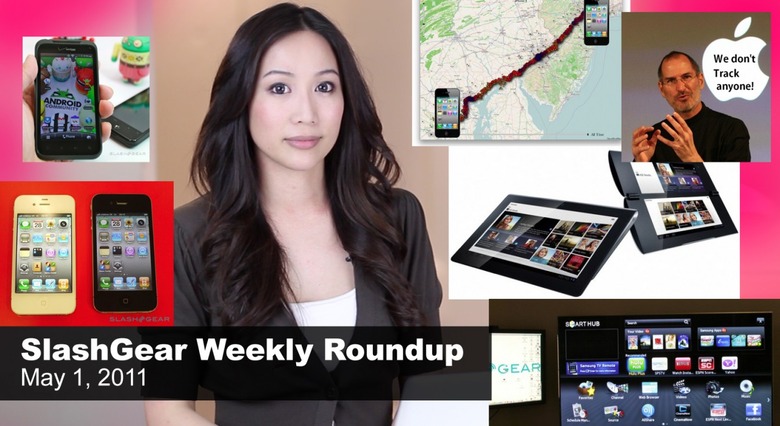 This week was heavy on developments in the smartphone location tracking controversy that now involves not only Apple and Google, but all six major players in mobile platforms including Microsoft, Nokia, HP, and RIM. Not only are there class-action lawsuits, but Congress is also stepping in with the House Committee on Privacy seeking some answers. Another topic heavy with new developments was Sony's PlayStation network outage, which continues to leave its over 70 million subscribers without service and possibly with compromised personal information and credit card data. For the full list and video, continue after the cut.
[vms dcf3942c54e0b537ffc6]
1. Apple & Google location tracking drama
iPhone storing tracking details on users even with location services off
"We don't track anyone" Steve Jobs reportedly tells user
Class action suit filed against Apple for iPhone location tracking
Microsoft Also Collects Location Data Of Windows Phone Users
Apple releases iPhone tracking Q&A: Denies spying, tips incoming traffic updates
South Park Spoofs Apple Location Tracking Controversy
Google sued over Android location tracking
2. PlayStation Network breach
PSN Admin Dev Accounts Got Hacked, Source Claims Service To Return By Tuesday
PSN Network Updates – Anon disavows [UPDATED AGAIN]
Sony pulled PlayStation Network over rampant piracy?
Sony Issues Update: PlayStation Network Account Information Compromised
Sony defends sluggish PSN leak warnings; Some PSN services back "within a week"
Sony PSN Outage To Face Its First Class-Action Lawsuit
PSN breach could cost Sony $24B
Sony moving PSN data center in hack response
PlayStation Network credit card data reportedly up for sale warn security experts
PlayStation Network And Qriocity Services Questions And Answers
PlayStation Network and Qriocity back online from this week; Compensation detailed
3. New PS3 details
New PS3 models hit FCC, no word on changes
4. Other game console news...
Hulu Plus coming to Xbox 360 on April 29
Nintendo confirms Wii replacement in 2012; Preview at E3 2011
5. White iPhone 4
White iPhone 4 on sale Thursday
White iPhone Needed Sunscreen – Challenges Explained
White iPhone 4 hands-on [Video]
White iPhone 4 Thicker Than The Black iPhone 4
6. Sony announces S1 and S2 Android tablets
Sony Enters Tablet Market with Two Honeycomb Devices
Sony Teaser Video For S1 And S2 Android Tablets
7. Samsung Galaxy S II
Samsung Galaxy S II Commercial Touts 8.49mm Thinness
8. DROID Charge
DROID Charge unboxing and hands-on
9. DROID Incredible 2
Incredible 2 unboxing and hands-on
10. HTC Wildfire S
11. Samsung 55" D8000 Smart TV
Samsung UN55D8000 55-Inch 1080p 240Hz 3D LED Smart TV
12. SlashGear Giveaways!
Qualcomm & BSQUARE Mobile Development Platform Kit