PSN Network Updates - Anon disavows [UPDATED AGAIN]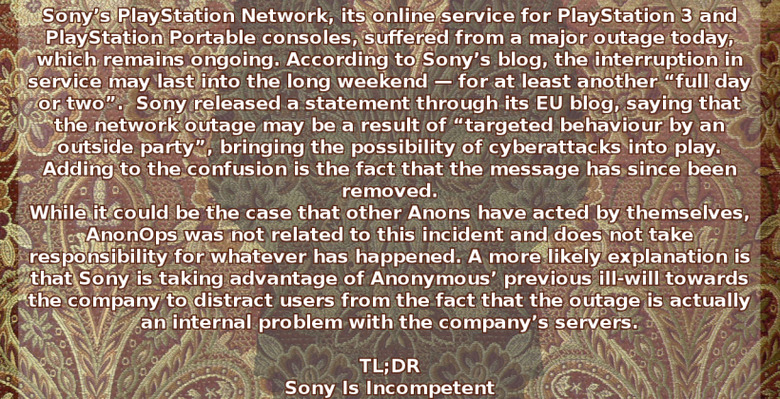 There's an update to this story about Sony's PSN network going down. System crackers gained access to the Playstation Network's Admin Dev accounts. Sony has publicly stated that they don't have any idea how deep the incursion went. Anonymous has disavowed any knowledge of the attack, though all eyes are on them in the wake of their recent threats vs Sony. Sony got pwnd.PCWorld spoke with spokesman for Sony Computer Entertainment in Tokyo, but Sony isn't really saying much except that this was an "external intrusion" into their network. They're working to figure out if any of the personal information such as credit card numbers were compromised. If you use the PSN, keep an eye on your accounts. I personally doubt that the people responsible for this attack are looking to target the customers, but that data might have been too juicy of a target not to grab if they had the opportunity.
Though Google recently pulled Anon's videos from April citing ToS violations, there are still conduits of their voice postin' videos. If you missed their threats vs Sony the first time around like I did, check it.
Sony has no official word on when they will be able to reinstate their service. Some sources point to tomorrow, but Sony's official word is that they don't know. This is a quote from the EU PSN blog:
I know you are waiting for additional information on when PlayStation Network and Qriocity services will be online. Unfortunately, I don't have an update or timeframe to share at this point in time. As we previously noted, this is a time intensive process and we're working to get them back online quickly. Will keep you updated with information as it becomes available. We once again thank you for your patience.
I'll say it again. Sony got pwnd.
UPDATE: Yeah, they still don't have a clue as to when they'll get everything back online. As far as cyberattacks go... props duders, whoever you are.
[via ars technica]