Samsung Galaxy S II Review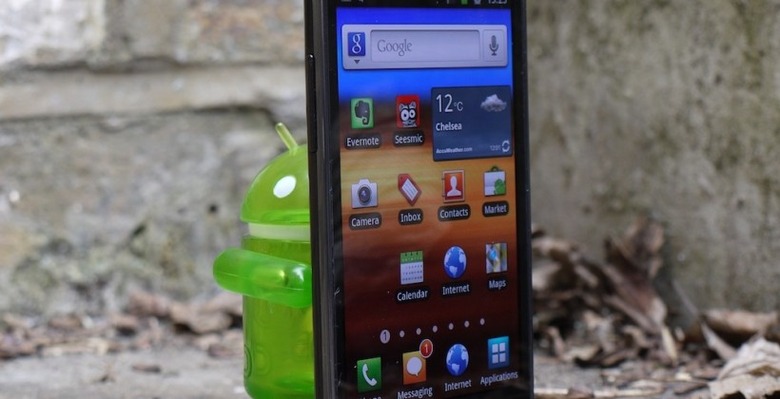 Samsung has a lot riding on the Galaxy S II. When your displays, chips and memory are found in the flagship devices of OEMs around the world, you have to expect consumers will demand more from the hardware that bears your brand. The Galaxy S II (aka Galaxy S 2 or GSII) has even more to live up to: the original Galaxy S spawned several carrier variants that helped it become the best-selling Android smartphone in the US last year, and positioned Samsung as one of the key names to beat in the segment. So, with dual-core – and freshly overclocked – processor at the ready and a huge, Super AMOLED Plus display providing some eye-catching glitz, the Galaxy S II wades into the crowded smartphone market. New Android king or pretender to the throne? Check out the full SlashGear review after the cut.
Hardware
The original Galaxy S wasn't a small phone, with a 4-inch Super AMOLED display to accommodate. With the Galaxy S II, Samsung boosts the screen to 4.3-inches and the technology to Super AMOLED Plus, the latest high-end evolution of its OLED panels. Thanks to some judicious dieting they've ended up with a broad, long, slimline handset – 125.3 x 66.1 x 8.49mm and 116g – that's actually leading the pack in terms of thinness. In the hand it's a mixture of textured plastics and a full Gorilla Glass front panel, that feels surprisingly lightweight and creak-free.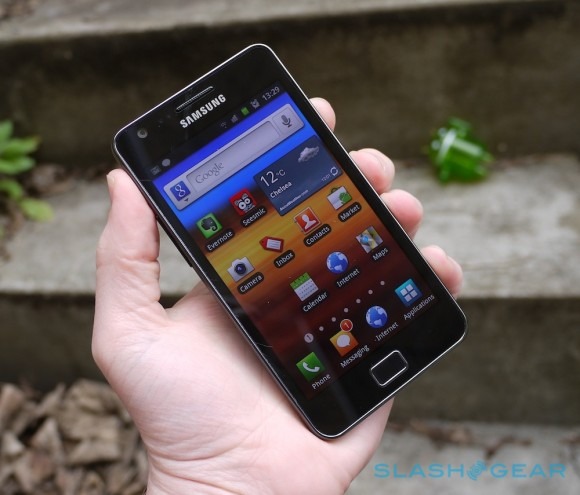 Super AMOLED Plus may have a name that sounds pure marketing speak, but its performance is anything but. As before, the picture seems to sit practically on top of the phone, a bright, vividly colorful splash of eye-pleasure. Viewing angles are so broad you could mistake it for a mocked-up store dummy, and the touchscreen is responsive and swift. Our only complaint is the resolution: while WVGA 800 x 480 is pretty much par for the course in mid- to high-end smartphones, the HTC Sensation will bring along an identically-sized qHD 960 x 540 panel later in 2011. Without a Sensation on-hand to properly compare, it's tough to say whether the Galaxy S II's brilliant panel technology will be preferable to the HTC's extra Super-LCD pixels. As it stands, even stretching WVGA over 4.3-inches, the Samsung doesn't show any pixelation or graininess, and even in direct sunlight proved easily readable.
Samsung Galaxy S II Extreme Unboxing:
Under the display is a central physical home button flanked by a touch-sensitive menu key on the left and a back key on the right. Holding down the menu button calls up search. A narrow volume rocker lives on the left edge while the power/lock button is on the right; some people are used to that from the Galaxy S and Nexus S, but we still wish Samsung would put the key on the top, next to the 3.5mm headphone socket, as is more common.
On the base of the phone is a microUSB port which also supports the MHL standard for HDMI connectivity, assuming you have the correct adapter cable. That's handy, since the Galaxy S II is capable of shooting Full HD 1080p video at 30fps, still something of a rarity in the market. The camera has autofocus and an LED flash, and is set in a textured battery panel underneath which you'll find the SIM slot and microSD card slot. In a somewhat unusual flip, the SIM can be removed without taking out the battery – though it takes a power-cycle to recognize a different card – whereas a microSD card cannot.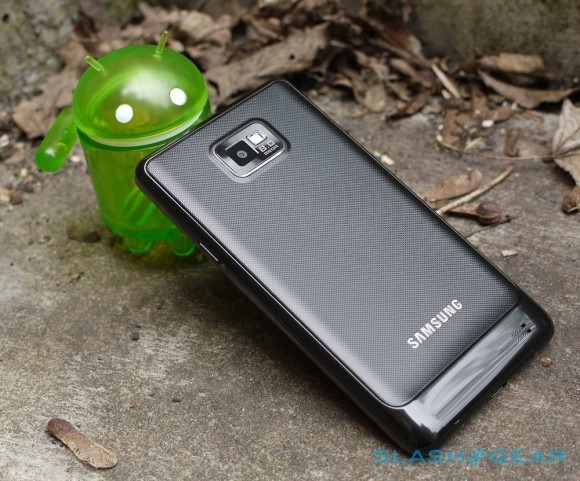 Up front is a 2-megapixel camera for video calling and vanity shots, sharing bezel space with the earpiece, proximity sensor and light sensor. They're joined by the usual accelerometer, g-sensor, GPS/A-GPS and digital compass. With the right adapter you can plug USB devices such as memory sticks into the Galaxy S II, too, thanks to USB On The Go support.
Keeping things running is a 1.2GHz dual-core Samsung Exynos processor paired with 1GB of RAM and 2GB of ROM. Two Galaxy S II SKUs will be offered, one with 16GB of internal storage – of which just over 11GB is available to the user – and another with 32GB. Each can handle up to a 32GB microSDHC memory card. Connectivity includes quadband GSM and quadband HSPA (850/900/1900/2100), Bluetooth 3.0+HS and WiFi a/b/g/n, making the Galaxy S II one of the more complete wireless powerhouses we've seen; only Nokia's pentaband HSPA smartphones go the extra step.
Samsung Galaxy S II overview:
[vms b71134d53e20206bd6fe]
In short, there's a whole lot going on in the Galaxy S II, and it's a continuous surprise that Samsung has managed to keep it so light and thin. The broad fascia is mitigated by a slimline build that makes it easy to drop the phone into a front trouser or inside jacket pocket, and the Gorilla Glass front leaves us a little more confident that doing so won't see you snap the Samsung in two.
Software and Performance
Samsung has sensibly started with Android 2.3.3 Gingerbread from the off, and Google's latest version for smartphones flies on the dual-core Exynos chip. What will polarize is the presence of TouchWiz, Samsung's custom software reskin. It's an acquired taste, certainly, though has become somewhat more palatable over the course of its various iterations.
The iconography is still somewhat cartoonish, and we still can't figure why Samsung decided to make the left-most homescreen pane the default; we prefer the native center-bias of untampered Android. Samsung's widgets – for news, weather, calendar, bookmarks, various clocks, social networking and a task manager, among others – are also more colorful than, say, those HTC uses in Sense, but there's a good range on offer and we prefer Samsung's system for choosing from them.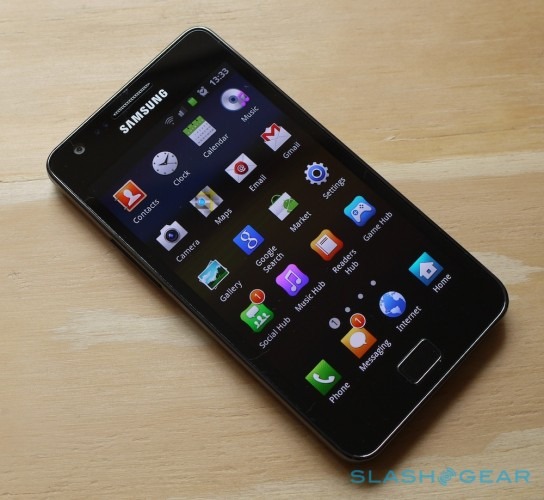 Long-press on the homescreen and the current view shrinks to fit a pane of options along the bottom, including shortcuts, widgets and other content; you can then sweep between homescreens to drop them in. A similar system is on offer in the main app menu, including the ability to add new pages as well as drop icons on top of each other to make folders. Simple tooltip pages show up along the way to help smooth the process for new users.
Something we wish Samsung had left well alone was the standard Gingerbread keyboard. The replacement is frustrating in various minor ways: we had problems with it recognizing faster text-entry, particularly missing spacebar taps, while the auto-prediction and auto-correction aren't as accurate as Android's native system. Auto-capitalization is inconsistent – sometimes "i" doesn't get automatically changed to "I" – as is apostrophe entry, so you end up with "im" rather than "I'm" most of the time. Swype is preinstalled, though not the default, and of course there are multiple alternative keyboards to choose from in the Android Market, so it's certainly not a dealbreaker.
Samsung's other main change is under the "Motion" heading in the settings page, using the Galaxy S II's accelerometer to control various functionality. You can have the phone mute incoming calls and sounds by turning it face down, or zoom in and out of webpages or images by touching two fingers to the screen and tilting the whole thing back or forward. We had mixed results with the latter, with our movements sometimes not being recognized. It's also very linear: you can't angle the phone as you tilt it, to shift the portion of the screen which you zoom in on.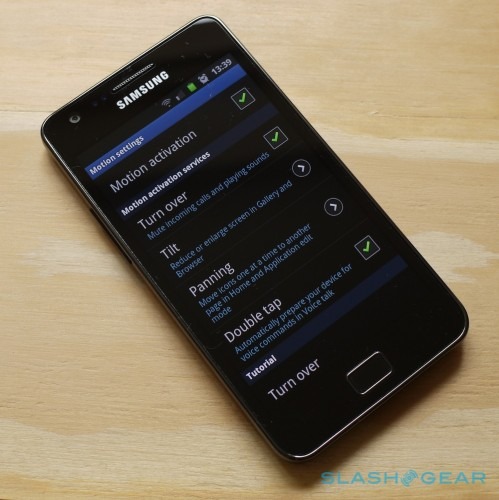 There are various preloaded apps, and some of the native Android software bears evidence of Samsung's inability not to tinker. The Calendar has had a generally successful redesign – we like the different agenda, month and today widgets – while the Mail app is also tweaked; we generally used the excellent Google Gmail app, however. Samsung's media player software is much preferable to the native Android version, and adds album art and music controls to the drop-down notification menu. That also has shortcuts for toggling WiFi, Bluetooth, GPS, sound and auto-rotation, though not the handy app switcher HTC Sense offers; still, you can long-press the home button to see the six most recent apps as well as jump straight into Samsung's task manager.
The other apps include preloaded photo and video editing software – more on which later – along with Samsung Apps, the company's own download store, Polaris Office, an IM client (supporting Windows Live, Google Talk and Yahoo! Messenger), FM radio, News & Weather and a Memo app. There's also Mini Diary, Samsung's attempt to get us all penning frequent journal updates (complete with snapshots and as much angst as the average Android owner can manage) along with the My Files manager that, frustratingly, couldn't actually open an .apk side-loaded file (which a third-party file manager handled with no issues).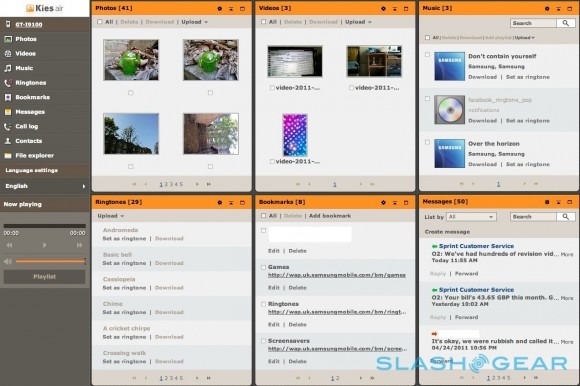 Then there's the wireless stuff, Samsung AllShare and Kies air. AllShare is Samsung's DLNA client, allowing you topush content from the phone to your HDTV or pull content from a NAS or other device. Kies air, meanwhile, adds wireless access to the entire phone: rather than using Samsung's Kies desktop management app – currently for PC only – over a USB connection, you run Kies air on the Galaxy S II and punch the IP address it gives you into your PC or Mac browser. That then allows you to browse multimedia on the phone, bookmarks, call logs, contacts and messages, stream music saved on it and copy across content via WiFi.
It's all limited to computers on the same WiFi network as the phone – not over 3G, like HTCSense.com – but it works surprisingly well, if a little sluggish when dealing with larger files. We'd like to see some media sharing and social network integration there, though: it would be useful to be able to upload photos and video direct to only galleries at Flickr and Facebook, for instance. Samsung has also given the Galaxy S II WiFi Direct support, the new point-to-point file transfer standard that wants to replace Bluetooth (though of course the S II also has Bluetooth 3.0).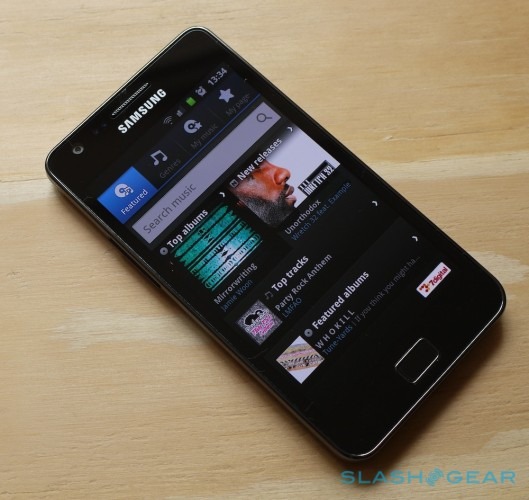 Finally, there are the various Samsung Hubs: Social, Music, Readers and Gaming. They work roughly as you'd expect from the names, so the Social Hub pulls in email, Facebook, MySpace, Twitter, LinkedIn and IM messages into a single timeline. The Music Hub is an on-device download store for individual tracks – priced at around £0.99 in the UK – or albums, and powered by 7digital. The Readers Hub does roughly the same thing, for digital newspapers, ebooks and magazines (from PressDisplay, Kobo and Zinio respectively). Finally, the Game Hub offers a range of Gameloft titles and other "social" mini games, though frankly the selection is better in the regular Android Market.
Performance is consistently strong: apps load swiftly, the gallery thumbnails populate instantaneously, and pinch-zooming is lag-free. Google Maps loads and locates you faster than on any other device we've seen, and the mapping renders as quickly as you can scroll. Raw benchmarks only tell part of the story, but the Galaxy S II scored 2939 in Quadrant Standard and 3540 in Quadrant Advanced, 46.939 MFLOPS in Linpack Pro, while the SunSpider test for browser performance came in at 3584.3ms (lower is better). We've a feeling that custom ROMs on this particular handset will simply fly.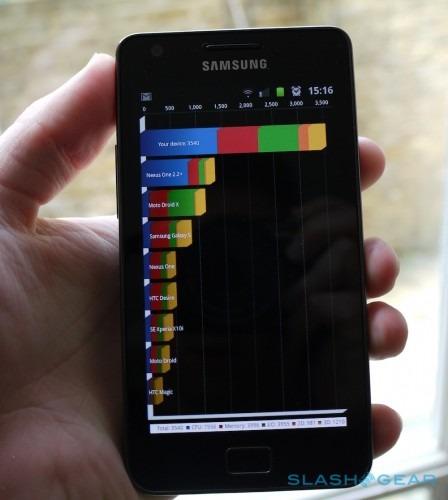 Camera and Multimedia
With its Super AMOLED Plus display and high-resolution cameras, the Galaxy S II obviously has plenty of multimedia potential. The main camera, at 8-megapixels, is a welcome step up from the 5-megapixel example in the original Galaxy S; the front-facing camera is, at 2-megapixels, at the top end for what we've seen studding the bezels of recent smartphones. In contrast, the iPhone 4 and HTC's recent line-up offer mere VGA resolution. Still, it's good enough for voice calling and the occasional vanity snap, but not really anything more thanks to the fixed-focus lens.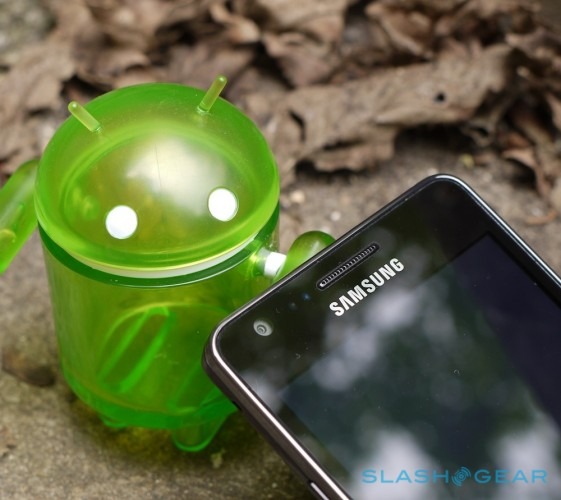 Happily the same can't be said for the main camera, which is capable of some very impressive, natural looking shots. Colors are accurate and Samsung's camera software thankfully doesn't over-sharpen or introduce unnecessary artifacts. The pictures may not exactly "pop" like the somewhat exaggerated shots the Sony Ericsson XPERIA Arc produces, but we'd rather have more manual control over post-processing than the Arc allows. Lower light shots aren't quite as successful, not unusual for a phone camera, with a tendency to lose detail in darker areas. Still, the LED flash helps some.
Settings include exposure, various effects, white balance, a choice between auto-focus, macro or face-detection, ISO, metering (centre-weighted, spot or matrix), blink detection, GPS geotagging and anti-shake. There's also an outdoor visibility mode for the camera app, which tweaks the UI color scheme for easier use in direct sunlight; however, we found the Super AMOLED Plus display was admirably visible in bright conditions.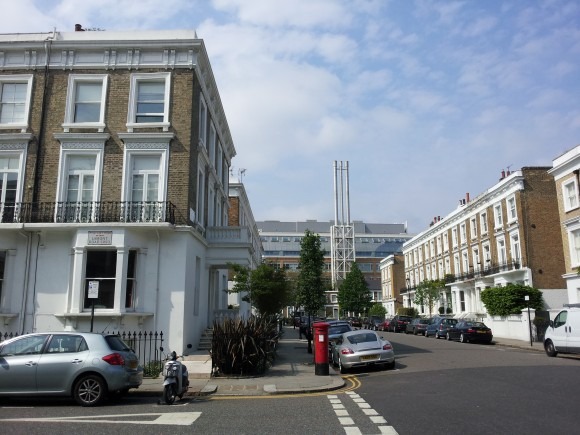 Video, meanwhile, can be recorded in anything from MMS-friendly 176 x 144 up through 720p and finally 1080p Full HD. There are settings for exposure, white balance, video quality and various effects, and you can record footage with the front-facing camera as well, though only at a fixed VGA resolution. Whether Full HD or 720p, the Galaxy S II's video is impressive. Footage is smooth and colors accurate, though the auto-focus system can hunt a little in faster moving scenes. Still, there's little in the way of glitches or blurring, and playbook looks brilliant on the handset's display.
Samsung Galaxy S II 1080p sample:
Unfortunately, not everything is up to speed with the Galaxy S II's 1080p HD. Samsung preloads its "Video Maker" app, which offers clip combination, themes, trimming and various other editing options, but it can only handle 720p HD at most. Meanwhile the HDMI output is not via a regular micro HDMI port but by a combination USB/MHL port: that means you need a special adapter, which Samsung doesn't include in the box. Unfortunately we did not have access to the correct cable, and so couldn't test direct HDMI connectivity; we'll update as soon as we can.
Multimedia playback, meanwhile, sees Samsung's solid codec support win it points. Audio can be in MP3, OGG, AAC, AAC , eAAC , AMR-NB, AMR-WB, WMA, WAV, MID, AC3, IMY, FLAC or XMF format, while video can be in MPEG4, H.264, H.263, WMV, DivX, Xvid or VC-1, and with up to 1080p Full HD playback support. There's 5.1-channel pseudo-surround when you're using headphones, while the speaker is sufficient for some personal use (and there's Bluetooth A2DP for wirelessly connecting to bigger speakers or headphones if you'd prefer).
Phone and Battery
Big, bright screen, dual-core processor, lots of wireless: you'd be forgiven for assuming the Galaxy S II would gulp down juice like a long distance runner after a race. In actual fact, it's something of a minor miracle. The standard 1,650 mAh battery took us through two days of use – from off the charger at 7am, through a full day with push email active, the display at maximum backlight while outdoors, lots of photography and some video recording, a couple of YouTube clips, GPS with Google Maps, browsing and some calls, then through the night (again, with push email switched on) and through the next day, only expiring that evening.
That's ridiculously impressive, and we'll be watching closely to see if it was a fresh-battery phenomenon or a sign that the Galaxy S II really is in the top tier of current smartphones. Even if you really hammer it with your usage, we're confident you should get a full day out of a single charge.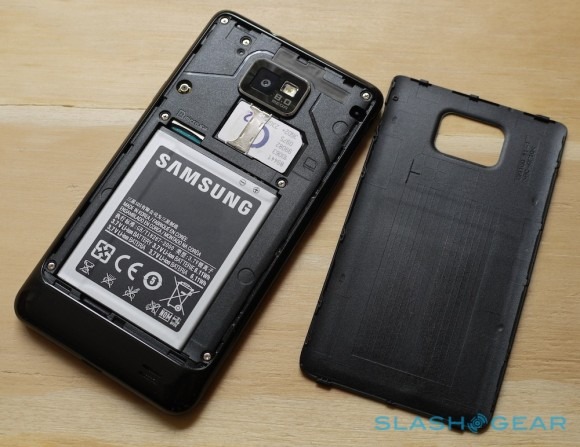 Phone performance, meanwhile, was good, with the Galaxy S II clinging tenaciously to a signal. Voice calls are strong, and the speakerphone – though certainly not the loudest we've ever heard – is good enough for impromptu conference calls.
Pricing and Value
As Samsung's new flagship smartphone, the Galaxy S II's relatively high price is understandable. SIM-free and unlocked, in 16GB form it's coming in at around £500 ($826); if you want an agreement then it looks like a £35 ($58) per month plan – with a two-year commitment – will get you a "free" phone.
In contrast you're looking at £45 ($74) per month or more if you want a "free" iPhone 4 16GB, while an HTC Desire HD comes "free" on £25 ($41) per month agreements. No word yet on pricing for the HTC Sensation, but we're guessing it'll be in line with the Galaxy S II.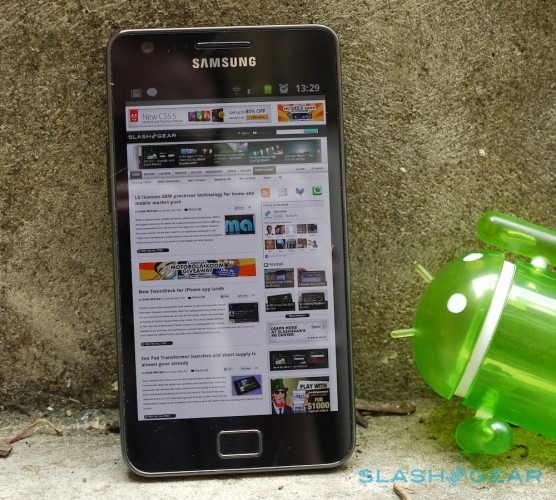 Samsung has a range of official accessories incoming for the smartphone, though so far none have been available for us to review. However, eventually there will be a desk charger (with room to charge a spare battery), an extended battery pack which gives the Galaxy S II a total of 2950 mAh to play with, car chargers and a vehicle dock (Samsung also offers a car interface app in its own app store, which automatically boots when the phone is placed into the vehicle dock), and various cases. There's also a Sound Station dock, which works as an external amp for the Galaxy S II, and of course the MHL HDMI adapter cable.
Wrap-Up
Make no mistake, the Samsung Galaxy S II could very well be the best Android smartphone on the market today. Several iPhone users we showed it to said it was the first Android device that could turn their heads from Apple's range, though the iPhone 5, expected to debut in the latter half of this year, should make for a strong incentive for existing owners to stick with iOS.
The HTC Sensation will bring the main Android competition when it arrives later in 2011, with its qHD display a key differentiator from the Samsung. However, it will have to prove itself against the Galaxy S II's battery life, screen quality and camera, and that's no easy challenge.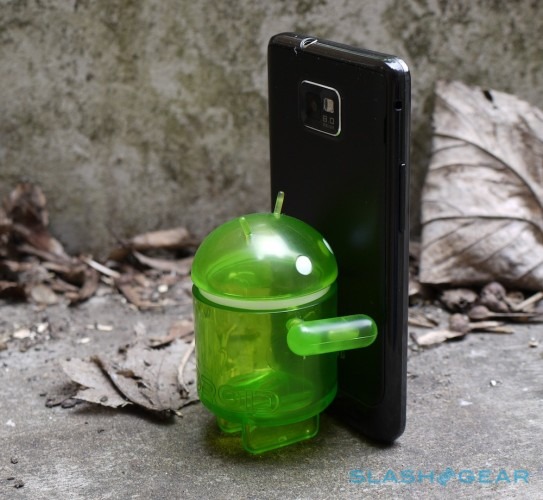 Is it perfect? No, of course not. While we like some of Samsung's tweaks – the Kies air app is surprisingly useful, for instance – we'd prefer to see a clean Gingerbread install rather than TouchWiz. How much of a delay that UI modification will force on future Android OS updates remains to be seen, and some changes – such as the keyboard – are frankly backward steps. There are also some annoying teething pains, such as the Video Maker app being unable to handle the Galaxy S II's 1080p footage.
They pale in comparison to the Samsung's strengths, however. The display belies its WVGA resolution with Super AMOLED Plus technology that manages to be both frugal and visible outdoors, while the dual-core 1.2GHz processor does a similar balancing act with power use and performance. Together they add up to a smartphone with brilliant battery life and the most future-proof hardware we've seen to-date. Layer on top of that a great camera, fulsome multimedia support, broad connectivity and a wafer-thin design, and we're running out of reasons not to buy the Galaxy S II. Samsung has upped not only its game but the benchmark for smartphones in general.