Apple's newest version of their mobile operating system, iOS 8, builds on the look and feel of iOS 7. Inside you'll find a number of feature updates on the surface, but – especially important since it was introduced at a developer conference – you'll find more underneath the surface than meets the eye. Apple suggests that iOS 8 is "Huge for developers. Massive for everyone else."
Spotlight
Searching with iOS 8 now allows you to get results from Wikipedia, places nearby, trending news, iTunes, and your phone. Searching in Spotlight means you're looking everywhere for the answers – or the means to find the answers – to the questions you have, and the means to experience the media you want to experience.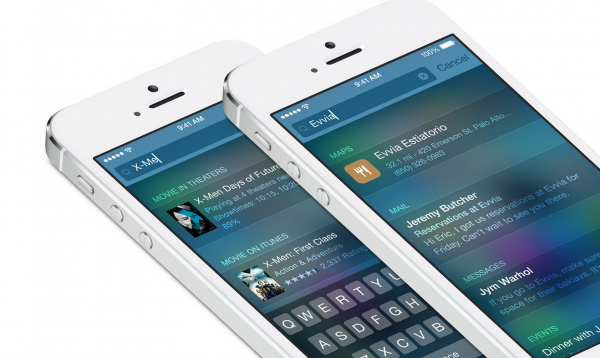 Shortcut to Multitasking
A double-press of the Home button on any iOS 8-laden device brings up the multitasking interface, updated in iOS 8 to include Favorite and Recent contacts. These contacts can be tapped to bring up a number of options, including sending a telephone call, a FaceTime call, or a Message.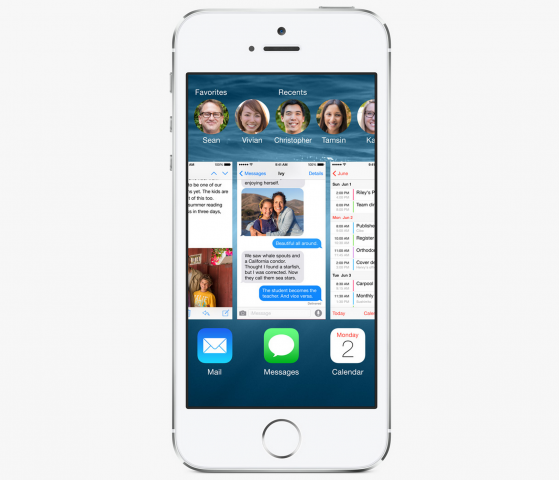 Call or receive calls on iPad or Mac
One of several new "continuity" initiatives revealed for iOS 8 is integration of calls on any device. You'll need an iPhone to get the signal, but you'll be able to see the phone call on your connected Mac computer or iPad. As long as your iPhone is running iOS 8 and is connected on the same Wi-fi network, that is.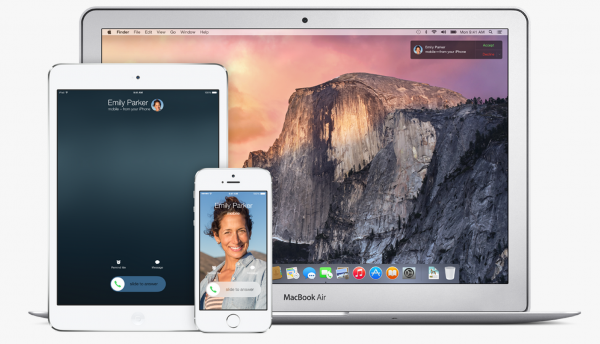 The caller's name, number, and profile appear and you'll be able to click or tap to answer. You can tap or click a number in Contacts, Calendar, or Safari to make a call as well.
Health
A new app will be available in iOS 8 called Health. This dashboard allows you to connect with fitness-related apps and, in turn, fitness wearable devices and/or the iPhone 5s' built-in abilities to monitor activity to keep yourself in tune. In this app you'll find Diagnostics, Fitness, Lab Results, Medications, Nutrition, Sleep, and Vitals.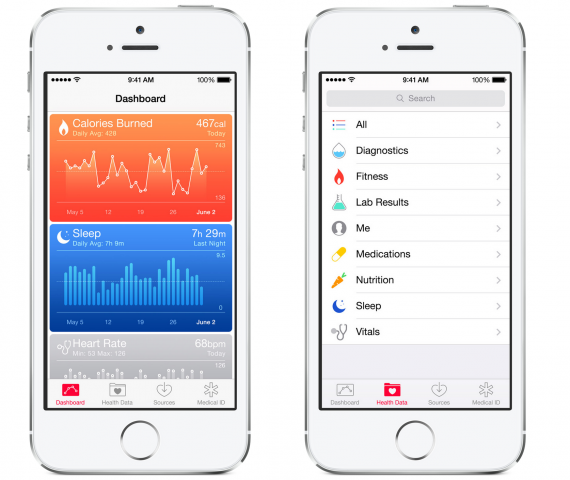 You'll be able to watch how many calories you've burned, how much sleep you've had, and how fast your heart is beating. Your medical ID can also be stored in your iPhone with the Health app for easy access if you ever have a medical emergency.
HealthKit is a software development kit made by Apple to help developers of health apps to work directly with the Health app.
Smarter keyboards
Apple has improved the iOS 8 keyboard with contextually appropriate words in keyed-in sentences. When you're typing "How are", the keyboard will likely suggest "you", then "doing." This system can differentiate between contacts and between apps, allowing you to keep the tone you generally speak in in each different instance.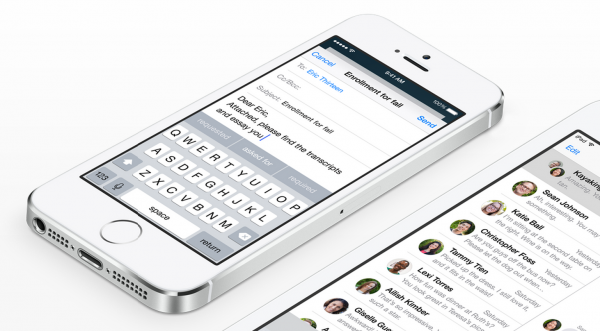 Apple has also opened up their Keyboard experience to 3rd party keyboard apps. This means that apps like Swiftkey and Swype will be able to bring their keyboards – standard on many other devices running Android – to the iOS universe with the iPhone and iPad.
iCloud Drive
Not satisfied to keep iCloud to the limited cross-section of photos and documents it had before, Apple has ramped up to iCloud Drive, online storage for any kind of file. This system works with Mac and PC and iOS.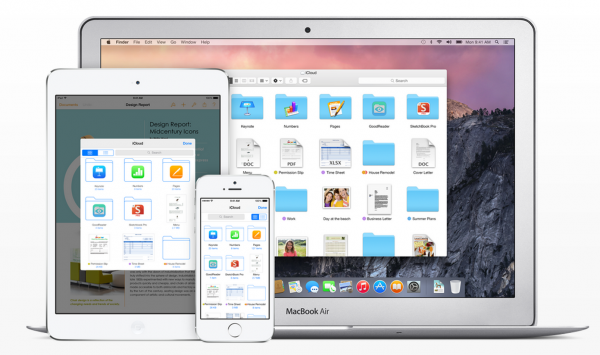 Sharing to iCloud Drive means dragging a file to a folder in OS X Yosemite or iOS 8. Once dragged and dropped, that file will be accessible from any of your iCloud Drive-connected devices. As you'll find in Photos, edits on one file affects that same file anywhere else it's being accessed.
Family Sharing
If you've got multiple devices and one, single family that essentially shares the whole bunch, Family Sharing might be right up your alley. With Family Sharing you'll see your iTunes, iBooks and App Store purchases available to every device in your family – up to six people, as it were.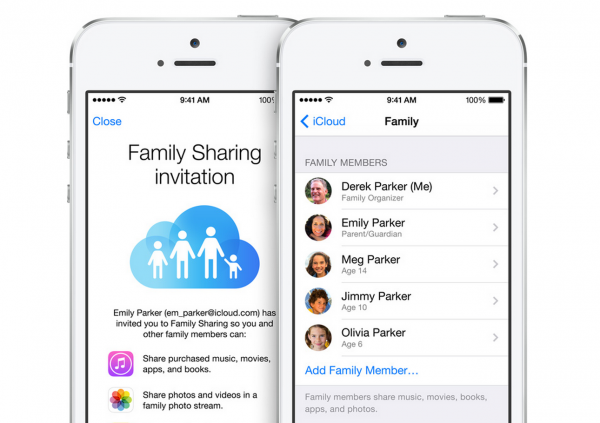 This system also allows you to work with family-shared photos, location sharing (integrated, more intuitive than it's been in the past), and a family calendar.
Messages
In Messages you'll now be able to work with groups. You can select a number of contacts that can all jump in on a room which you can name uniquely. You can also share your location with friends and relatives – this can be done for one hour, until the end of the day, or indefinitely.

With iOS 8's version of Messages, you can share video or audio clips. Clicking the Record button allows you to record an audio clip or a video clip- sharing with the Messages app is done in a similar manner to sharing your location – audio and video messages can have a self-destruct timer on them if you don't want them to last.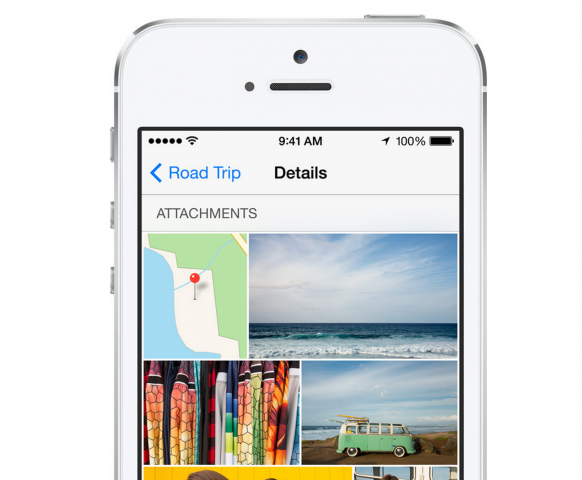 You can also send multiple photos and videos at once and see every attachment you've ever worked with in a single conversation.
Photos
The Photos app for iOS 8 now encourages you to use iCloud more than ever. Whenever you have an image appear in Photos, it'll hit iCloud and be shared to every device you own connected with that same iCloud account.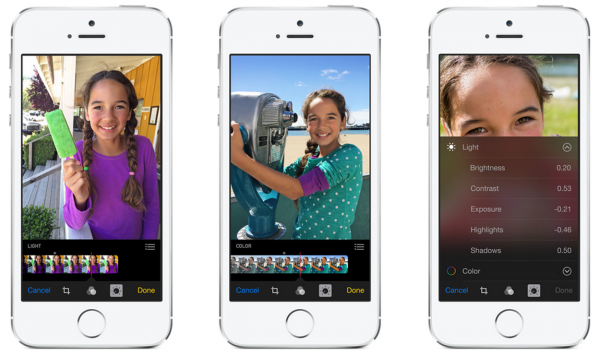 You can also work with smart composition tools and smart adjustments. These adjustments and composition tools allow you to make edits which sync instantly to iCloud – you could edit a photo on your iPhone and your associate on another device watching the photo change as you edit it.
Widgets
Widgets are miniature versions of full-fledged apps made to appear in locations like iOS 8's Notifications Center and Safari. We've not seen a whole lot about widgets yet save what Apple showed onstage this morning.
iOS 8 SDK
Developers will be able to access iCloud – for storage with iCloud Drive – as well as Touch ID with the release of the SDK for iOS 8. This release will also allow developers to work with Custom Actions, Photo Editing, and new Sharing Options – straight to Facebook, Twitter, and other social networks.
Notification Center abilities have been opened up to iOS 8 developers for Widgets and other oddities. Documents are going to be able to be opened and edited and accessed through iCloud. The Keyboard will be open to developers for strange and helpful iterations of all sorts.
You'll also find Apple attempting to make software development easier for all content creators with the introduction of Swift. The Swift development language will replace C for Apple mobile devices.
Availability
Starting this week iOS 8 will be available in Beta for Apple Developers. iOS 8 will be available for all users later this year, just so long as they have one of a select set of Apple devices.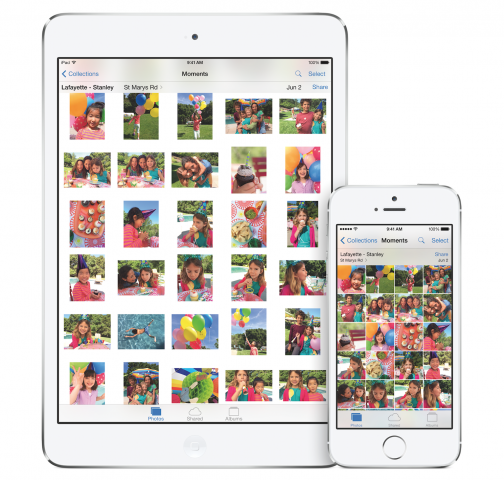 The iPhone 4s, 5, 5c, and 5s will be able to work with iOS 8, as will the iPod touch 5th generation. The iPad mini (all kinds) as well as the iPad 2, iPad with Retina Display, and iPad Air will also be able to work with iOS 8 when it becomes available.
See more Apple action from WWDC 2014 and beyond in SlashGear's Apple hub as well!