Microsoft just wrapped up its unveiling of the Xbox One, which is the company's newest gaming console. The whole keynote was only an hour long, but they blazed through a lot of information without really diving deep into detail. Thus, you might have missed some things if you were watching the live stream or our own coverage. With that said, here's everything that you need to know about the Xbox One so far.
Hardware
First off, the console and controller come with a new black look that's the complete opposite of the matte white appearance that the Xbox 360 had when it was first released eight years ago. The controller is reminiscent of the Xbox 360 variant, but it obviously includes a handful of changes, including a new D-pad (woot!), vibration motors in the trigger buttons, as well as a slightly redesigned body that makes the battery pack more flush with the rest of the controller.
As for what's inside the Xbox One, there's an 8-core processor with 8GB of RAM and a 500GB hard drive built in. The Xbox One will also come with a Blu-ray drive for the first time, officially ditching the HD-DVD format and officially getting with the times. There's also both HDMI input and output, as well as USB 3.0. As for the Kinect sensor, it has a 1080p camera sensor and can shoot 60 frames per second. It's so finely tuned that it can read your heartbeat while watching you exercise, as well as notice how balanced you are. The new Kinect's field of view is also expanded by 60% to allow it to capture more objects in the frame.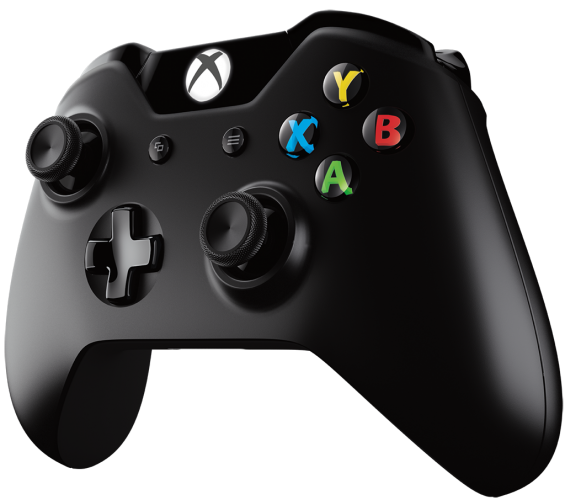 Software
Microsoft also revealed Xbox On (not to be confused with the name of the console itself). Xbox On is a feature that uses the new Kinect sensor and voice and hand recognition to allow users to perform a number of commands without the controller. You can even turn on the console with your voice, as well as switch through apps (including watching live TV and movies), as well as jump into games with the power of your voice. Hand gestures also allow you to navigate the user interface using Minority Report-like gestures. You can also use Windows 8's snap mode, where you have two apps run split-screen side-by-side, such as chatting with someone on Skype while you continue to play a game.
The home screen is a lot like that of the Xbox 360, with a few minor tweaks. We still get the tile layout that Microsoft is known for at this point across their different platforms, and the home screen shows us games, movies, apps, and TV stations that you've watched/played recently, and it also shows content that you frequent.

The Xbox One essentially runs three operating systems in a way. The first one is the raw Xbox OS that developers can use, and the second OS is based on the Windows kernel. The third OS is a piece of software that allows the first two OSes to communicate with each other. The raw Xbox OS will be used for games, while the Windows kernel portion will be used for apps and such.
The Xbox One will also be cloud-powered, meaning that games, movies, music, etc. You'll even get DVR capabilities in games, so you can record gameplay while you're playing, and play it back any time you want, with the ability to edit footage as well through the cloud. Not a lot of details on cloud capabilities have been announced, but we should be hearing more on that in the near future.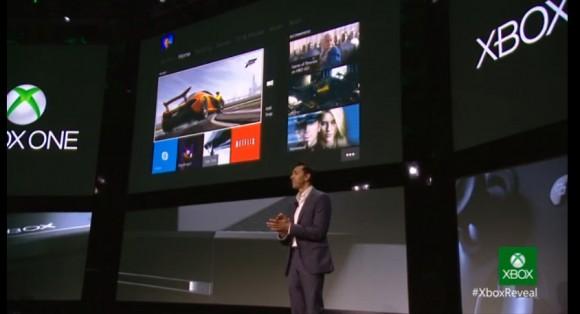 Games & Apps
Of course, it wouldn't be the Xbox One without games. Several developers and publishers made an appearance at the Xbox One event to show off the next-generation in gaming. EA Sports showed of FIFA 14, as well as new additions to Madden, NBA Live, and UFC. There's also going to be a new Forza installment, and a new concept that combines TV and gaming into one, called Quantum Break. Steve Spielberg also made an appearance and announced an interactive live-action Halo television series, which should be fairly interesting. Activision was also there to show off Call of Duty: Ghosts, which was just recently announced.
Microsoft partnered with the NFL to bring a more interactive and immersive football experience to the Xbox One. Users will be able to live-stream games, as well as manage their fantasy football teams through the console, with the ability to chat with friends at the same time through Skype. Details are extremely scarce at this point, but essentially, it seems like you just need to take what you know about interactive sports on gaming consoles and throw it all out the window.
Market Release
So, when should you expect the Xbox One to land in stores? Microsoft says at some point "later this year," but we're guessing some time in the fall before the holiday shopping season begins. That's around the same time that we should expect Sony's PS4 to release, so it'll be interesting to see which console hits stores first and when. In the meantime, Microsoft will reveal more about the Xbox One at E3 2013 next month, as well as at Gamescom in August.