The Daily Slash: November 23 2010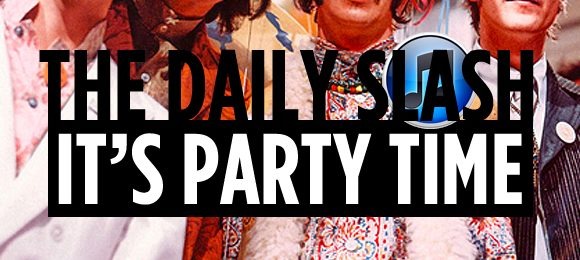 Oh you beast, Acer, you are such a beast. How dare you sillies release a slew of tablets right before a holiday when I'm going to get so much good food to eat? I can't believe it! But we'll still write about it. All of it, in a row. Then we've got a fancy review of the rough and ready Motorola Defy, a hands-on video of Marvell's Android tablet, a questioning article pondering designer 3D glasses, and another review on the Droid Pro! Android beats out Symbian in Asia, Skyfire 3.0 launches with Facebook Connect, and our big huge "A Week With" NOOKcolor continues with what might be the most important part of the whole device: reading! All this and MORE on The Daily Slash!
Also World War III may have just started in North and South Korea. No biggie.
SlashAGGRESSION
News from Rueters at approximately 1:22am EST today (November 23, 2010) was that North Korean artillery had hit a South Korean island setting on fire buildings and bringing about return fire from South Korea. This information came to Rueters via Seoul's YTN television. Reportedly there appeared to be 60 or 70 houses on fire, and the military (it's unclear whose, probably S.Korea) confirmed the exchange of firing without further details. This story was reported by Seoul bureau for Rueters, Writing by Yoo Choonsik; Editing by Jeremy Laurence. I provide for you here all these people's names incase this story proves to be massively important or a figment of someone's imagination. This story comes from Rueters (link below), I'd like you also to take a peek at this screenshot from the Rueters website, paying special attention to the story title in the lower right hand corner.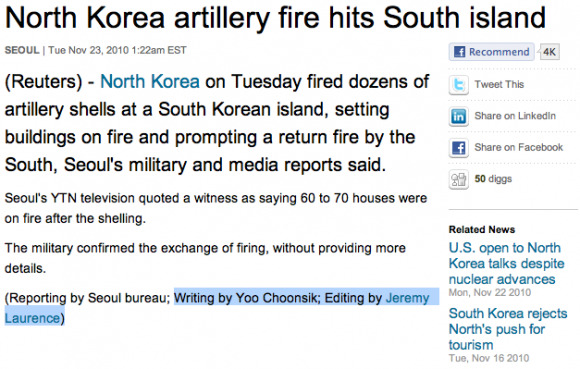 [Via Rueters]
R3 Media Network
SlashPhone
O2 Launches Live Network Status Webpage
The Dell Venue Pro Has More Problems To Fix
MetroPCS Getting LG Optimus M On November 24th
Android Community
Unlocked Dell Streak now on sale direct from Dell
Withings Wiscale gets Android support
Motorola's Tegra 2 Olympus leaks?
Sony Reader Coming to Android in December
2.2.1 Update coming to the Original DROID soon?
Motorola Defy [REVIEW]
Android takes top popularity spot from Symbian in Asia
DEFY to get Android 2.2 Quarter 2 2011
Skyfire 3.0 launches with Facebook Connect
SlashGear
Gliding snake research funded by US government [SNAKE]
Marvell Android tablet hands-on [Video] [FEATURED]
Digital Storm unveils new Sub-Zero gaming PC with peltier cooled liquid
Wrapsol offers 30% off on Cyber Monday
Dev-Team outlines jailbreak with 4.2.1 update
Jolicloud netbook now officially on sale [HOORAY CUTE]
Mobile Safari gets orientation API in iOS 4.2 for tilt-sensitive sites [IMA BARF]
Motorola Olympus Tegra 2 powered smartphone caught in wild
No iPhone 5 embedded SIM but T-Mobile interested say sources
Apple Black Friday teaser promises discounts in US & international stores [DISCOUNTZ]
Google Chrome OS netbooks delayed, but beta software release on track?
Droid Pro [REVIEW]
Original Apple-1 Computer Sells for $210,000 USD in London
Apple Proves People WILL Buy The Beatles Music from iTunes, Lots of it
Acer Android Tablets Hands-On [ACER EVENT]
Acer 10.1-Inch Windows 7 Tablet Announced, Due in February [ACER EVENT]
Acer Alive: Next-Generation Store, Focuses on Real-Time [ACER EVENT]
Acer's Clear.fi is Media Sharing Made Easy [ACER EVENT]
Acer 4.8-inch Android smartphone boasts 1024 x 480 display [ACER EVENT]
Acer Android Tablets Announced [ACER EVENT]
Acer Iconia Dual-Screen Laptop Unveiled [ACER EVENT]
iPad production boosted as new Foxconn plant comes online
WD TV Live and Live Plus Media Streaming Boxes Get Facebook Support, Plus More
Are Premium 3D Glasses Worth It? [COLUMNS]
A Week with NOOKcolor: Reading (aka Core Apps) [FEATURED REVIEW]
To see more Daily Slash posts, click here: [The Daily Slash] or here: [SlashGear Morning Wrap-Up]