Marvell Android Tablet Hands-On [Video]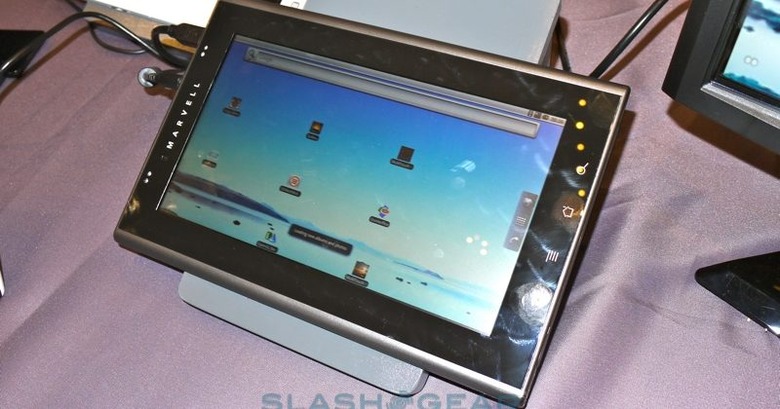 Marvell has been showing off its ARMADA 600-based Android tablet reference design, ahead of what the company says will be several manufacturer-branded products using the 1080p-capable chipset launched at CES 2011 early next year. The demo slate has a 10.1-inch 1280 x 720 capacitive touchscreen and runs Android 2.2 Froyo, and was shown simultaneously driving its own display and an external HDTV over HDMI.
Video demo after the cut
Marvell wasn't talking specific chipsets, but it's the ARMADA 628 that is at the helm of its tablet segment push. A tri-core chip capable of 3D graphics, 1080p video encode/decide, hi-fi audio, advanced cryptography, and digital photo data processing, the 628 has a pair of 1.5GHz cores for processing and a further, 624MHz core that can be used for apps with low power requirements. That means longer battery life, since the heavy-duty crunching is only turned on when it's actively required.
Actual shipping specifications will largely depend on OEM choice, so it'll be up to the manufacturers to decide how much memory to fit, whether to use a glass or plastic screen, what camera(s) to install and other differentiators like that. Without knowing what sort of pricing range they'll fall into, it's difficult to predict market success, but it seems CES 2011 will mark the start of another tablet-centric year.
[vms c92e6d7493423d729448]