Marvell unleashes tri-core Armada 628 processor for smartphones and tablets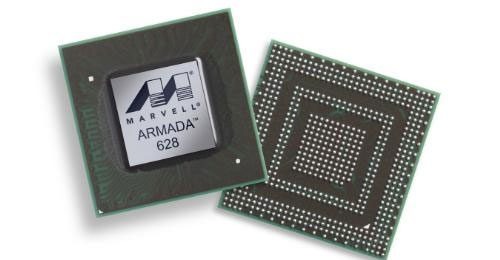 Marvell is content to let the other companies on the smartphone and tablet processor market smile about their dual-core offerings as it tosses the world's first tri-core processor for smartphones and tablets into the spotlight. The new processor is called the Armada 628. The new processor is a SoC design that has three high-performance ARM cores and operates as the world's first commercially available heterogeneous, multi-core applications processor.
The processor is packed with a number of advanced processing and power management features and has a pair of symmetric multiprocessing cores and a third core that is optimized for low power. The third low-power core is designed to support the routine user tasks and acts as a system manager processor. The two main cores run at up to 1.5 GHz and the low-power third core operates at 624MHz with 1MB of L2 cache total.
The processor is able to play more than ten hours of full 1080p HD video or 140 hours of music on a single charge and still provide 3GHz of raw computational power. The processor also has six processing engines to support 3D graphics, 1080p video encode/decide, hi-fi audio, advanced cryptography, and digital photo data processing. There are nine dedicated core functions. The processor will also provide USB 3.0 connectivity. The processor is available for sampling right now.