CES 2012 Smartphone Round-Up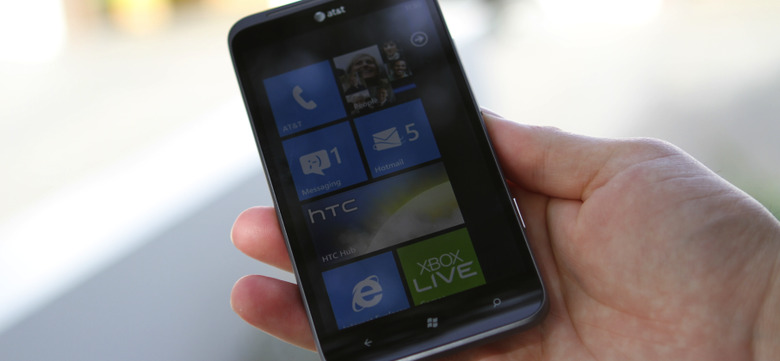 If Ultrabooks have been one of the key themes at CES 2012 this week, then smartphones have to be close behind: Motorola, Samsung, Sony and more have all rolled out new handsets to whet our cellular appetites. AT&T has pushed ahead with its eight-strong LTE range, including Nokia's first 4G Windows Phone, while Intel has also staged its long-awaited push into smartphones. It's enough to give anyone a headache, so read on for the SlashGear CES 2012 smartphone round-up.AT&T's cluster of LTE devices was perhaps the biggest single launch of the show, with the carrier hoping to flood our attention with more than a half-dozen 4G handsets. There are some stand-out phones in among the torrent, however: the HTC Titan II, for instance, packs a whopping 16-megapixel camera, while Nokia's much-anticipated Lumia 900 brings polycarbonate unibody style to the US and marks the start of the Finn's North American re-entry.
Otherwise there's the Pantech Burst and Samsung Exhilarate, both attempting to drag LTE to the entry-level, with a $50 apiece price tag. Sony ditched the Ericsson name and passé hardware with the Xperia ion, toting a 720p HD display and sizable 12-megapixel camera; both it and its European HSPA+ Xperia S pack NFC and the promise of ICS in Q2.
Finally, Samsung's Galaxy Note gets a new, AT&T LTE version, offering a compelling – if perhaps tricky to pocket – smartphone/tablet hybrid with useful digital ink input and a beautiful 1280 x 800 display. It's a phone we've coveted in Europe and we're curious to see how it does in the US.
Verizon had fewer devices than AT&T, but some eagerly awaited ones nonetheless. Motorola brought the DROID 4 to the party, an LTE-toting QWERTY Android slider, along with the DROID RAZR MAXX. The latter answers a common complaint of the original DROID RAZR of last year, meagre battery life on LTE, throwing a huge 3,300 mAh battery at the phone while still measuring just 8.9mm thick. Those looking for superlative displays have the LG Spectrum to look forward to, another LTE device but offering a 1280 x 720 IPS panel with iPhone 4S-besting pixel density.
T-Mobile USA had a much quieter show than either of the big boys, perhaps still licking its wounds and pondering the future now the AT&T acquisition has been ditched. The carrier had just one new device to announce, the Samsung Galaxy S Blaze 4G, supporting HSPA+ and – as the name suggests – being another iteration on the Korean company's familiar Galaxy S II.
Then there are the outliers and oddities. Lenovo opened the show with its S2, headed to China first with an encrypted kernel to keep your data secure and malware-free, while ViewSonic attempted to bridge the work and home worlds with its dual-SIM ViewPhone 3. Beyond their core conceit it proved tough to work up much enthusiasm around either device.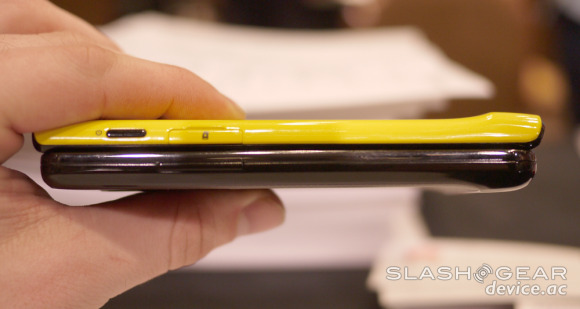 Easier to like has been the Huawei Ascend P1 S and P1, two phones that take dieting very seriously. The "S" prefix device is a mere 6.68mm thick, with what looks to be Galaxy S II "inspired" styling helping it take – for the moment at least – the title of world's thinnest smartphone. Perhaps more interesting, they both run Android 4.0 Ice Cream Sandwich, still something of a rarity (all of the previously mentioned handsets are still using Gingerbread).
ASUS' Padphone – back in its 2012 redux – is a lot chunkier than the Huawei, certainly, but arguably more useful. Like the Ascend phones it's now running Ice Cream Sandwich, but of course the Padphone also gets a tablet chassis in which it can be docked for big-screen browsing and multimedia playback. ASUS reckons it'll hit shelves in the spring, though still isn't talking pricing.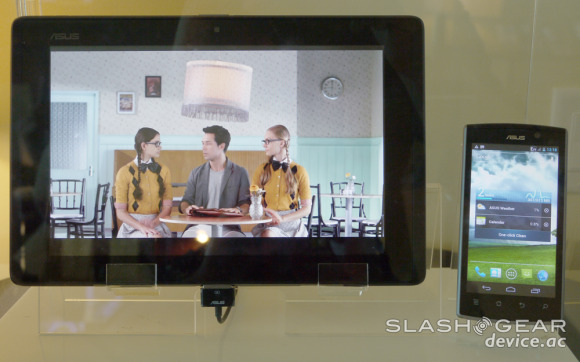 Finally Intel, a company that has been talking about entering the smartphone market for several years, but is only now looking like it's building any sort of momentum. The freshly announced Atom Z2460 Medfield processor, along with deals with Motorola and Lenovo, should result in some actual handset launches by the end of the year, each running Android, with talk of tablets also making an eventual appearance.
Lenovo stopped by to demonstrate its Racer-A Atom reference design, an impressive 4.5-inch smartphone with a 1280 x 720 display, 8-megapixel camera, HSPA+ and a 1.6GHz dual-core processor. There may be a few tweaks to the aesthetics, but for the moment this is likely to be one of the devices Lenovo brings to market in the second half of this year. We'll have to wait until then to find out whether Intel's long-standing battery issues have been ironed out with Medfield.
Tempted by any of these smartphones? Or are you waiting for Mobile World Congress next month, to see what HTC and others have in store for 2012? Let us know in the comments!