Pantech Burst Hands-on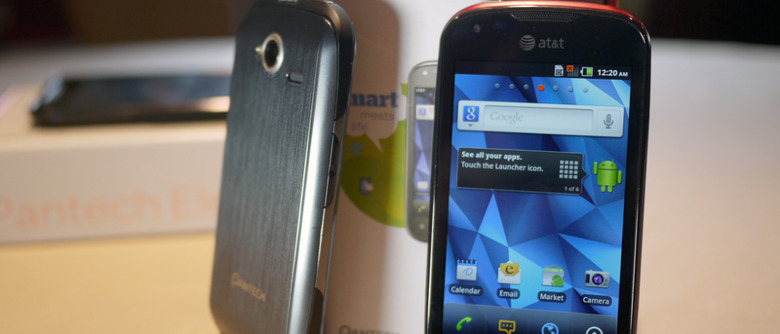 This week AT&T have revealed several new devices on their LTE network, notably a couple of Pantech devices that will be offered together – a tablet by the name of Element and a smartphone, which we've got here, by the name of Pantech Burst. The Burst has a 4-inch Super AMOLED touch screen at 480 x 800 pixel resolution, has a 5 megapicel camera on the back and a 2 megapixel camera on the front – the back capable of 720p recording. This device runs Android 2.3 Gingerbread right out of the box, has 16GB of onboard memory with a microSD card slot for expansion by 32GB if you wish, and it feels pretty nice to hold, if I do say so myself.
This device is the next generation of Pantech devices in a smartphone, it coming in titanium or a lovely maroon/red, and is set to be released on the 22nd of January, 2012. This device is part of two deals: one is the price point by itself, that being $49.99 by itself on a two-year contract or FREE if you buy it with the tablet. Both colors look fabulous, the metal feels excellent, and Pantech's own custom user interface is in full effect.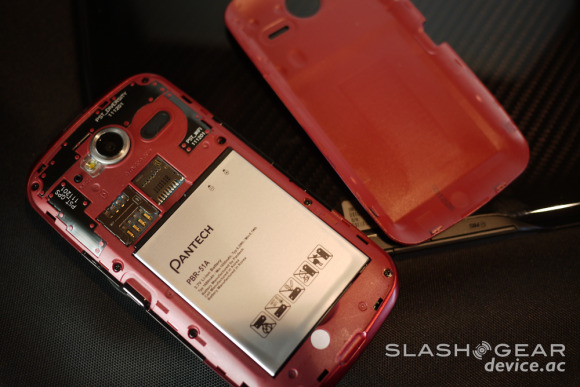 We've been told that both the Element and the Burst are fully capable of being upgraded to Ice Cream Sandwich and both upgrades are on the roadmap for Pantech and AT&T, but no dates have been given thus far. This smartphone is meant to work with the mid to upper range of devices what with its high quality build and value offer. This is a device that's made to beat up the mid-range, if I do say so myself, LTE and a lovely little machine like this are just begging to be picked up by a whole new generation of smartphone users.