Exclusive Insider Talk: Lenovo Racer-A hands-on with Stephen Miller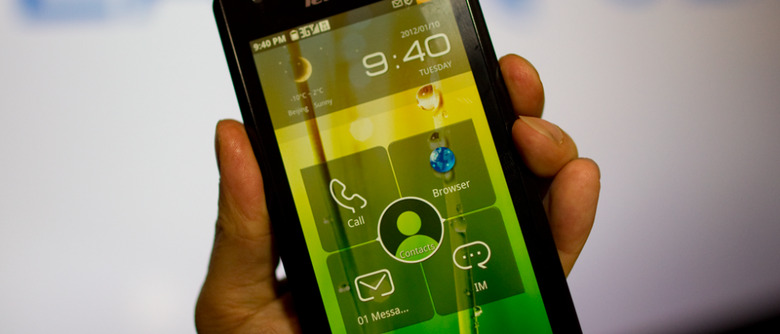 Here at CES 2012 during Showstoppers, we've been fortunate enough to get a personal interview with no less than Lenovo's own Stephen Miller speaking all about the 1st IA platform smartphone based on the Intel Medfield chip, the Lenovo Racer-A SmartPhone, aka the K800. This device is part of the Idea Smart Phone K series and has a 4.5-inch 720p multi-touch display with fabulous viewing angles. This device is capable of playing back 1080p, 30 frames per second video – it's also got a 720p wireless display, full 3D media center, and an 8M AF camera on the back. The processor is the real hero here as it is, believe it or not, a 1.6GHz dual-core Intel Medfield SoC.
This device will run Android 2.3.7 Gingerbread out of the box, WCDMA and HSPA+ connectivity, and LPDDR2 1GB + 32GB eMMC on the inside to keep you running quick and at the top of your game. The battery is 1890 mAh strong and will last the whole live-long day with the smartphone running a completely custom user interface over Android. This device is both light and relatively thin (or thick depending on who you're talking to), and as you'll notice – it's got three Android capacitive buttons below the display.
This smartphone has five home screens and its user interface is very similar to what we've seen with the Lenovo Android dual-core tablets of 2011, but the launcher is Lenovo's newest for smartphones specifically. Playing video at full resolution, you'll be able to scrub or jump to any moment without lag. You can connect straight to your Lenovo Smart TV via Wi-fi, streaming video over your home network.
The camera is a dual-LED flash having 8 megapixels on the back with a 5 megapixel camera on the front – HD for both sides! The gallery application that comes with the device is unique in that it's got a sort of 3D view to it, viewing images, zooming in and out with great ease and without a hitch. The ports on this device are thus: a microUSB port on the bottom right of the device, a 3.5mm headphone jack at the top, and that's it. There's also a speaker grille at the top along with the power/lock button, and the back of the device is removable along with the battery.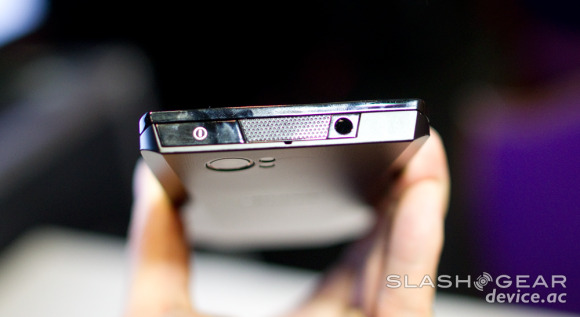 Dual-Hyperthreading is being used on this device, taking all the bits of a process and making them work as effectively as possible, and the battery does not get eaten up while you process. The Intel Medfield chip makes all of this possible. This device is made to be an everywhere device, booting up in a matter of seconds and with details that make it great for education, business, and the home. Inside the device you'll also find a compass, gyroscope, and GPS.
This device is upgradable to Ice Cream Sandwich, mind you, plans in the works for an eventual upgrade inside 2012 – though the interface will likely remain quite similar to what it is right this minute. This device will be released inside the second half of 2012 in the China market. We'll have a much closer look at this device later this year when its much closer to release time – seeya then!