CES 2012 Ultrabook Round-Up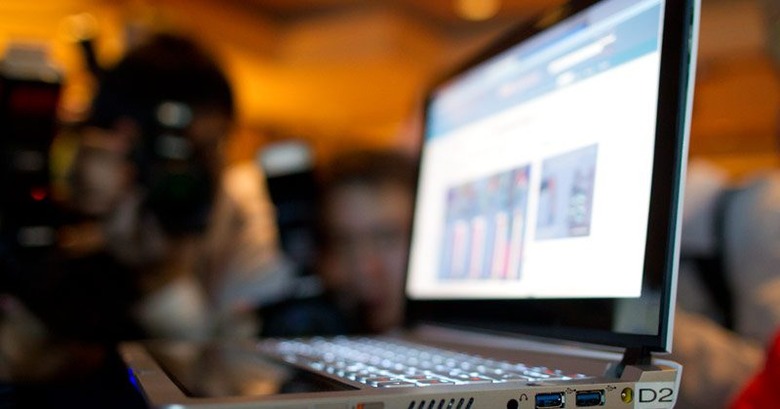 If CES last year was dominated by tablets, CES 2012 has been the year of the ultrabook. Intel's ultraportable notebook trademark had already picked up late in 2011, but it's the Consumer Electronics Show this week where the big guns like Dell and Samsung came out to give it some real momentum. If Intel has its way, one of the following machines will be lightly weighing on your shoulder over the next few months.Lenovo and LG opened proceedings, unable in their excitement to even wait for the CES preview days to spill the beans on the Lenovo ThinkPad T430u and LG Super Ultrabook Z330/Z430. Lenovo has been pushing ultrathin notebooks for years now, but with the T430u it shaves just enough off to fit into Intel's sub-20mm category.
It's likely to appeal more to road warriors counting on their IT departments to furnish their computing kit, perhaps, unlike the more consumer-centric LG Z330 and LG Z430. They offer the full gamut of Core i3, i5 and i7 processors and either 13.3- or 14-inch displays, and use a hybrid SSD/HDD setup to provide both rapid boot/resume times and capacious media storage.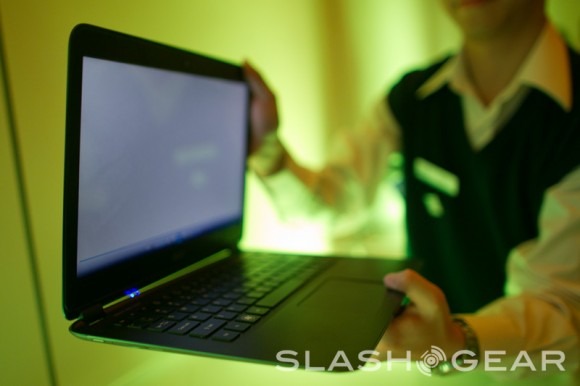 So far so good, but LG's machines were somewhat forgotten when Acer unveiled its waifish Aspire S5. A slimline mag-alloy chassis that tapers to a razor edge at the front, Acer's machine has some neat design touches like the drop down full-width port panel on the back. Never one to shy away from spectacle, the whole process is motorized.
Acer in fact had more than one ultrabook to show, with the Aspire Timeline Ultra series stretching the category at the fringes. Larger displays and even integrated optical drives mean they're not quite the ultrabook Intel intended, but perhaps better considered a hybrid of ultraportable and regular notebook.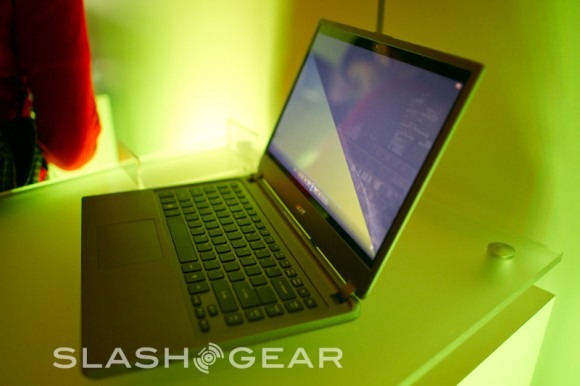 HP hasn't been shy about ultrabooks in the past, though it's arguable whether the 14-inch HP ENVY 14 Spectre quite counts. Still, with a choice of Core i5 or i7 processors, both HDMI and Mini DisplayPort video outputs, Beats Audio and a sub-$1,400 starting price, there's no shortage of things to like.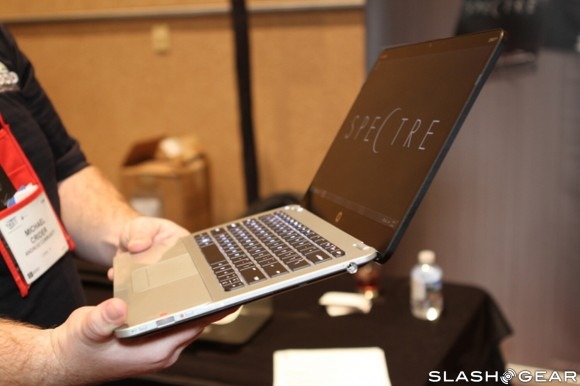 Samsung already had an ultrabook-a-like in its back catalog, and so the Samsung Series 9 merely refined the proposition in its second generation. Clad in an eye-catching "stone metal" finish, it's under half an inch thick and short of 2.5lbs, yet still manages to pack backlit keys.
It's joined by the Samsung Series 5, a 15-inch almost-ultrabook in the same manner as the Acer Timeline Ultra. The LED display is a particular stand-out feature, managing to look clear, vivid and crisp even in dodgy trade-show lighting, and its sub-$1,400 tag will undercut the Series 9 too.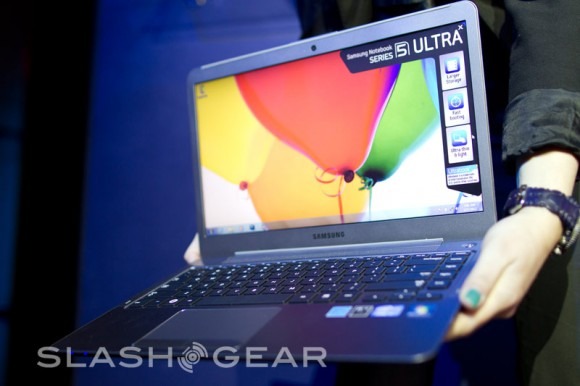 So far so good, but Dell through a spanner in its rivals' works with the late launch of the Dell XPS 13. The company's first ultrabook – though a machine with ultraportable heritage in the shape of the Adamo, among others – the XPS 13 turns to carbon-fiber for part of its construction, allowing Dell to fit a hefty Core i7 processor inside without worrying about overheating. "It's the world's best ultrabook" Dell insisted to us.
Then there's the ultrabook pipeline, and both Toshiba and Intel stepped up with possible products we could expect to see late in 2012. Toshiba's 14-inch prototype relied on Windows 8 for its appeal, though had a slickly curved aluminum casing so that you could still catch admiring glances in the coffee shop.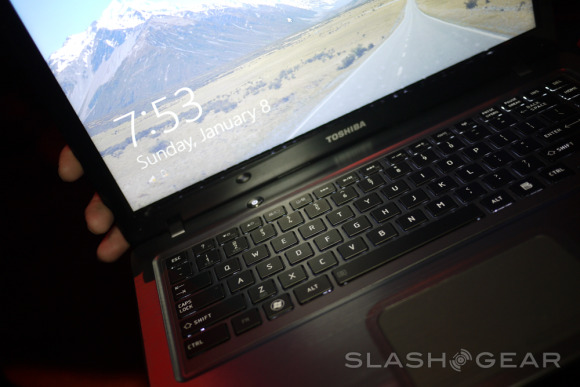 Intel, meanwhile, pushed the boat out with a sliding, tilting concept that packs a 12- to 13-inch display – potentially a touchscreen – with a full QWERTY 'board and the flexibility to use it either flat when walking around or notebook-style on a desk. Intel is hoping its OEM partners decide to adopt the design for future models, probably when Windows 8 brings its finger-friendliness to market later in the year.
Most eye-catching, though, had to be Intel's Nikiski concept, an ultrabook packing a transparent, full-width trackpad that could be used as a preview display when the notebook was closed. Sadly the likelihood of the Nikiski reaching the market is around about zero.
Of course there's another big name in ultrabooks, even if the company itself isn't calling its ultraportable that. Apple's MacBook Air arguably helped shape each and every one of the machines mentioned above, and stands as the notebook to beat in the extreme-ultraportable segment.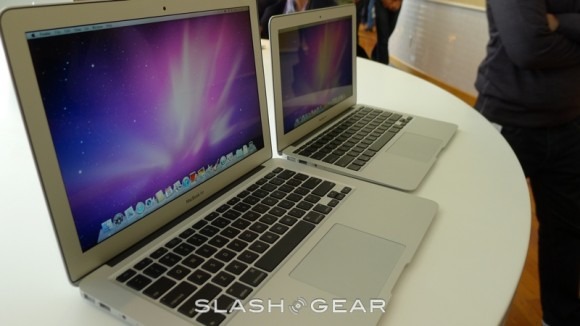 Last refreshed in July 2011, with new Core i5 and i7 processors along with Thunderbolt connectivity – still only matched by the ASUS Aspire S5 this week – rumors late last year suggested Apple was already looking to bring out an updated model sometime in Q1. That's likely to set the cat among the pigeons once again.
Convinced by Ultrabooks? Standing by with credit card in hand? Let us know in the SlashGear poll:
[poll id="24"]