Dell XPS 13 Ultrabook hands-on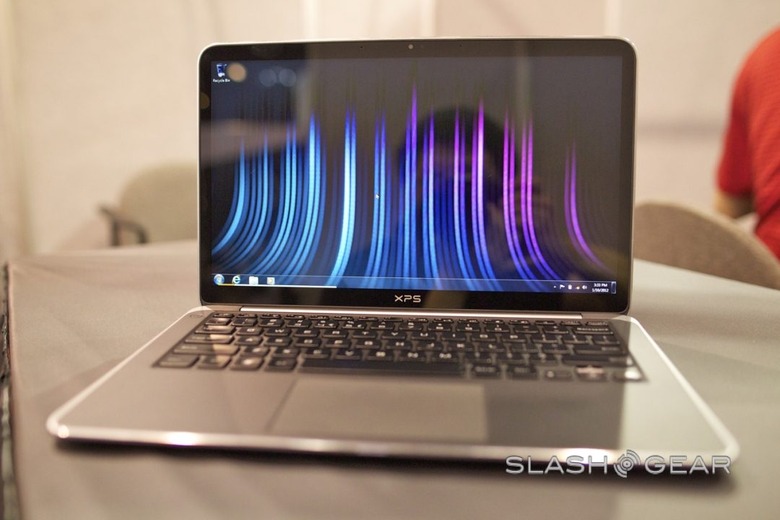 Ultrabooks are sweeping the board at CES 2012, and Dell isn't prepared to be left out: the company has revealed the Dell XPS 13, a new 18mm ultraportable that fits a 13.3-inch display into a 12-inch form-factor. Running either Core i5 2467M or i7 2637M dual-core processors, paired with 4GB of memory and either 128GB or 256GB SSDs, the XPS 13 measures just 12.4 x 8.1 x 0.24-0.71 inches and 2.99 pounds despite offering up to 8hrs battery life. We caught up with Dell last week to find out why they reckon the XPS 13 is the best ultrabook around.
The XPS 13 isn't Dell's first ultraportable notebook but, as Tim Peters – CSMB Client Business Strategy and Planning at Dell, pointed out to us, previous models have had more than their share of compromises. "Adamo... beautiful thin, but no substance. Two thousand dollars! We had XPS which we had to crowbar in the technology, very chunky."
"We looked at XPS and a key trend of consumerization of IT ... You had a consumer that wanted aesthetic appeal, premium design, craftsmanship and a lightweight design, and Apple's MacBook Air came and in really hit that hard. They always wanted the instant-on, accessible data and location-aware of a device like a tablet. Then they also wanted horsepower and substance: I don't want to compromise on taking a Core i3 only, I want something real to be productive. And, I'd like to be able to use this as my personal device, and the only way an IT manager would allow that to happen is that if it's data-secure."
The display is a 13.3-inch 1366 x 768 panel running at 300-nits, and covered in a sheet of edge-to-edge Gorilla Glass, powered by Intel HD 3000 graphics. Above is a 1.3-megapixel webcam and dual-array digital microphone. Connectivity includes WiFi a/g/n and Bluetooth 3.0, a single USB 3.0 and USB 2.0, mini DisplayPort and a headset jack. Unlike some rival ultrabooks, Dell has managed to squeeze in a full-sized backlit keyboard.

"We started our development a year and half ago," Peters explained, "it's taken us a lot of time – in fact we're the last ones to come out with an ultrabook – because we were crafting something a level above in terms of innovation." Although Dell obviously had other ultrabooks in mind when it designed the XPS 13, Apple's MacBook Air has obviously also been a consideration. The new Dell's display actually offers a similar viewing area to that of the 13-inch Air, but in a 15-percent smaller device.

Rather than solely rely on aluminum, like Apple, HP and others, Dell turned to carbon-fiber for the XPS 13's base. "Carbon-fiber has two functional performance benefits," the company says, "it dissipates the heat better – it's cooler on the lap and in the hands – and it's lighter." That improvement in heat management has meant Dell can slot in up to Core i7 chips without worrying about overheating. In fact, Dell mentioned that the company's engineers are actually working on a fanless version, though there's no telling when that might arrive.
Hands-on, it feels impressively light and thin. The keyboard is nicely spaced and the keys themselves have reasonable travel given the limits of the keytray. There are plenty of neat details, like the battery gage on the side, while Dell tells us that the machined aluminum lid saves even more weight compared to some rival's punched-aluminum production. The speakers are embedded underneath the keyboard, creating a surprisingly loud and clear soundstage, though unsurprisingly they lack some bass.
LIke other ultrabooks, the XPS 13 has Intel Rapid Start for boot times of around 5s, and instant-on resume from standby. However, Dell also implemented Intel SmartConnect, which periodically wakes the ultrabook to check calendar, email, social networking accounts and other data so that you're up to date as soon as you open the lid. There's also location-awareness, setting up apps for nearby restaurants, ATMs and other POIs with your current position.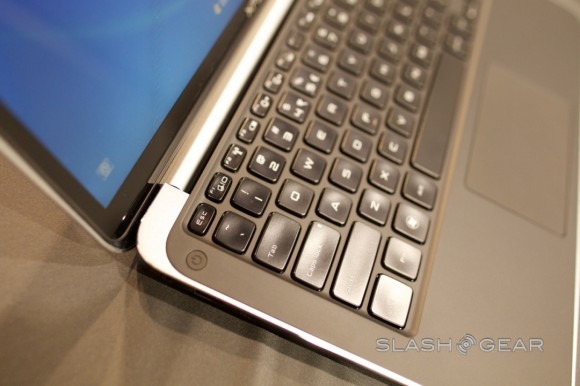 Enterprise customers get Dell's usual array of custom imaging and BIOS settings, along with asset tagging and BitLocker data encryption with TPM. There's also ProSupport, with Dell Command Center support for speedy repairs and replacements. As for all the labels and stickers most Windows laptops are plastered in, on the new XPS they're hidden away out of sight.
Dell expects the Core i5 version of the XPS 13 – with 4GB of memory and a 128GB SSD – to start at under $1,000 when the ultrabook ships in February. Final pricing will be decided just prior to launch.
"It's the world's best ultrabook" Peters concluded, "the smallest, the most powerful, the most aesthetically pleasing, the best to touch, the best at being enterprise-ready... the best of any product out there." We'll have to wait until we can put the XPS 13 through its paces in the full SlashGear review to find out whether we feel the same.