The Daily Slash: May 6, 2011

Behold a fine few days of wonder! This edition of The Daily Slash I'd like to take you on a journey of the more important (or otherwise featured) items we've had happen this week. There's been an above-average amount of hands-on opportunities this week, and I want to make sure you don't miss a single one of them. Then there's the ongoing epic with Sony and their gaming network (hacks galore!) some fresh new earth-shattering games for Android, and oh my goodness, a whole new generation of iMac for your personal enjoyment. So very large!
I want to begin by running down Chrome news of late – and the following goes back further than this past week, so beware: Google Launches Chrome 11, the beginning of the future with a whole new flattened icon. A couple of accounts of Chrome OS specific devices rear their heads: ZGB notebook, Seaboard tablet, and Samsung Alex. Google Chrome Canary for Mac browser launches with no testing, and two big commercials for the future of Chrome web browser launch: It Gets Better with Dan Savage and Dear Sophie, a spot which reveals Google's Google Chrome's +1 Extension.
Remember, while we're talking about Google, that the bigtime developer's convention Google I/O is next week. Get a Complete Schedule and the Official App to guide you true.
On the Android side of things, we go hands-on with the Sony Ericsson XPERIA mini and XPERIA mini pro for your enjoyment. There's a big giant review of the DROID Charge both on SlashGear and on Android Community. We'll soon be taking a closer look at the Samsung Infuse 4G as well – currently we've got a Hands-On in NYC (where it came from,) a Hands-On and Unboxing in Minneapolis (where yours truly is at,) and a little tidbit or two (through the weekend) before we get to the full review – check out some 8 megapixel photo and 1080p video examples, have a look at a comparison in Galaxy S II vs Infuse 4G, have a glance at Samsung Infuse 4G First phone to support hspa+/hsupa at launch and see the sweetness in AT&T Allows Sideloading Apps on the Infuse 4G.
Did you know we've got Official Android Community wallpapers for all your mobile device needs? You'll look so colorful and fly!
Then learn about the tech present through the eyes of our brilliant writers, analysts, and all-round superstars:
I'm Stupid, but I'm TryingI Can't Wait to See the Wii 2Less TVs in the US, is it the Economy or the Internet?Phones for Women: Is Verizon's Bliss misogynistic or just lazy?An ARM MacBook could revolutionize the industryHTC Flyer: Latest victim of tablet sabotageDear Nintendo: Drop the Wii to $100Does Nintendo Hate Money?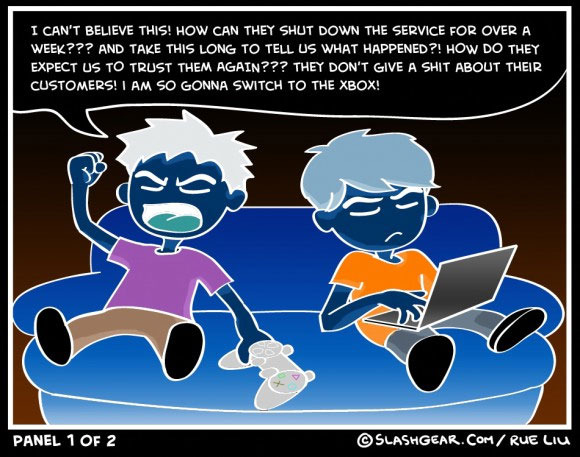 Finally, Sony and their Playstation network have been having some troubles as of late, and for once, it's not Anonymous' fault. It came to our attention first that Sony had to pull the PlayStation network over fears of piracy – turns out they were totally right. Sony then moves their PSN data center, gets sued, and faces a 29 billion dollar cost for the whole situation. And this is just the beginning.
Security experts warn of credit card theft, we have a couple of Q&A sessions from Sony and compensation for losses are detailed. Rue makes a comic about the whole situation.
Next, SOE wants to join in on the fun – Sony Online Entertainment goes offline while they investigate a possible hacker attack. Meanwhile Sony opts out of a Data Theft congressional hearing then responds to the hearing anyway. Anonymous is called into question, but they deny any involvement. Sony's CEO promises free identity theft protection as reparations to customers, the Euro edition of this protection "close," and now there's another attack planned for this weekend.
Fun for everyone!