HTC Flyer: Latest victim of tablet sabotage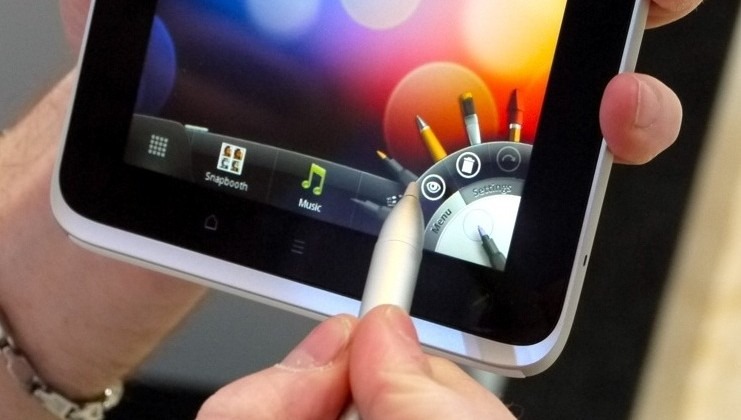 Perhaps it's Friday paranoia talking, but it does seem like the US carriers (and retailers, for that matter) want to kill the chances of every tablet other than the iPad. News that the "Scribe" active stylus for the HTC Flyer will be an $80 accessory for the WiFi-only version Best Buy will sell (and, presumably, the HTC EVO View 4G headed to Sprint) has whipped the rug out from under the tablet's stubby Android feet, making it either a very expensive – $580 for WiFi tablet and pen – proposition or merely a 7-inch slate not even running Honeycomb.
Now, we knew that both Best Buy and Sprint weren't planning to bundle the HTC Scribe pen with their versions of the Flyer, it was name-checked as an optional accessory in both press releases. In contrast, HTC tells me that the UK – and most likely European – version of the Flyer will come with the stylus included.
That certainly implies that the decision not to throw the Scribe digital pen – which is, remember, the pivot point around which much of the Flyer's value proposition is based – into US boxes as standard is that of the carriers and retailers, not HTC. I can only assume that stomaching the extra cost was too much for their delicate sensibilities, and that they weren't concerned that all HTC's work to add digital inking to their Moleskine alternative is for naught if users don't have the stylus to use it.
In fact, without the pen, the Flyer looks even more uncompetitively priced. That N-Trig active digitizer adds component cost and device bulk, something likely acceptable if you're actually getting use out of it – Android-based tablets with active stylus input are rare beasts – but not if you're only using your fingers.
HTC EVO View 4G demo:
[vms 7b8358eababa07fcaf09]
Price gouging is nothing new, of course. The original Samsung Galaxy Tab came in with a whopping sticker price when it hit all four US carriers, and unlike the European model had voice call functionality blocked, presumably to avoid new tableteers from ditching their separate cellphones in favor of a single, converged device. Motorola's XOOM looked hugely expensive when it hit the US, both in Verizon 3G and WiFi-only formats, compared to the iPad.
RIM managed to push out its BlackBerry PlayBook at a sensible, competitive price, but that's only by mandating the RRP from the off. Still, there's no cellularly-connected version on the market yet, only the WiFi model, and all signs point to the incoming 3G/4G version being delayed. There's a similar story with Samsung's Galaxy Tab 8.9 and 10.1, aggressively priced but only so far announced in WiFi form. It does look like a strong hand on the tiller (and standing up to no carrier nonsense) is the only way to get a decent sticker on your slate, assuming you don't carry Apple's weight.
The message from Best Buy and Sprint seems to be that either Flyer buyers face up to paying $80 above the tablet's sticker price if they want to actually use the stylus-led elements of the core functionality, or settle for a slate that has lost its USP. Remember, this is the tablet about which HTC said the "aluminum unibody design with touch and pen interaction make HTC Flyer unique." Cutting the pen out of that equation suggests whoever's responsible should be on tablets, not selling them.