Samsung brings fight to iPad 2 with aggressive new Galaxy Tab pricing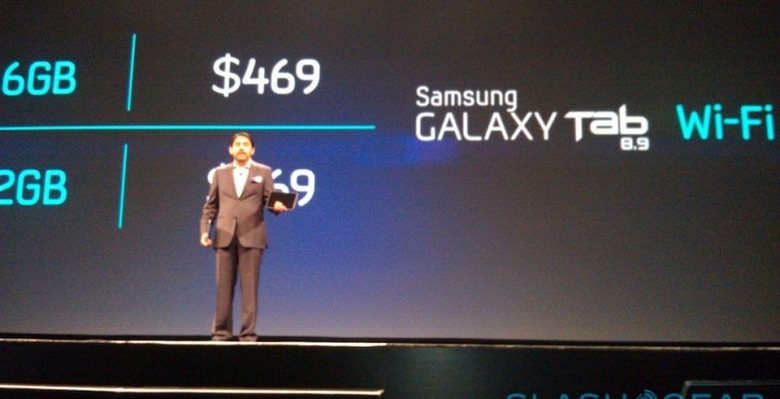 Samsung has officially priced and dated its new Galaxy Tab models, and it seems the company may be the first Android tablet manufacturer to actually compete with the iPad/iPad 2 on sticker price. With a $499 entry-price for the Galaxy Tab 10.1 WiFi, matching the baseline for the iPad 2, and the promise of the Galaxy Tab 8.9 actually undercutting the Apple slate by $30, we may for once be looking at a more level playing field for tablet consumers.
Like the iPad 2, both the Galaxy Tab 10.1 and Galaxy Tab 8.9 will come in WiFi-only versions with 16GB or 32GB of internal storage (both are also expected to have a 64GB model, according to the spec sheets). Pricing is $499 and $599 for the 10.1-incher, respectively, and $469 and $569 for the 8.9-incher; the latter also offers more pixels than the Apple tablet, at 1280 x 800 versus 1024 x 600.
Of course, the Galaxy Tab 10.1 isn't expected to go on sale until June 8 – the prototypes we tried at CTIA 2011 were definitely in need of some significant polish – and the 8.9-inch model won't arrive until sometime over the summer. That gives Apple several months to soak up new tablet buyers with the iPad 2, a model so popular the company can't keep it on shelves for longer than a few minutes. Still, it lays down the gauntlet for other Honeycomb tablet manufacturers as well; the Android slate segment is predicted to grow significantly in 2011, and Samsung is making an early play to ensure it has the lion's share of it.
GALAXY Tab 10.1 vs 8.9 vs iPad 2 vs XOOM:
[vms 9d3533ee1dd3ce4628ed]