GALAXY Tab 10.1 & 8.9 Hands-on [CTIA 2011]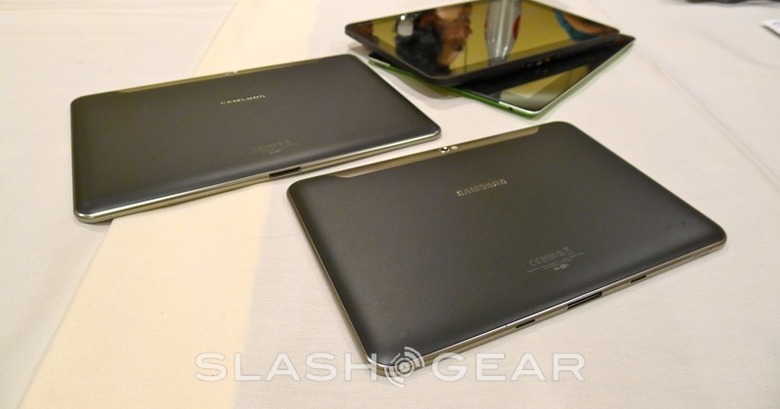 It's hard to argue with the fact that the iPad 2 sent Samsung rushing back to the lab to try to squeeze some bulk out of the Galaxy Tab 10.1, but then it's also clear that both the 10.1 and Galaxy Tab 8.9 slates are appealing hardware in their own right. Each slimmer and lighter than the second-gen Apple, they're as close to Star Trek style sci-fi tablets as we've seen so far, making Motorola's XOOM look fat in comparison.
Unfortunately Samsung's CTIA 2011 samples were so hot off the prototyping line that we weren't allowed to turn them on. The company demonstrated its newly updated TouchWiz UX for Honeycomb on a hands-off prototype, and thankfully it doesn't appear to be the wholesale reskin that we're familiar with from Samsung smartphones – and which generally slows down core OS updates – but rather a new set of dynamic homescreen widgets and controls which slot into Honeycomb.
[vms 31b55aa50c06529eaa21]
As Motorola did with recent versions of MOTOBLUR on Android smartphones, the TouchWiz UX widgets can be resized more flexibly, as well as intermingled with regular Google widgets and shortcuts. As long as it doesn't impact subsequent OS upgrades, we can see it being a popular interface.
Samsung GALAXY Tab 10.1 and 8.9 Hands-on
[vms 8035d23f69e30bb19218]
Physically, the tablets are everything you'd want from a portable slate, with the 8.9-inch Galaxy Tab being particularly appealing for its balance of size and high resolution. At 1280 x 800 it gets the same number of pixels as its 10.1-inch brother, which will make for a rich, dense screen in a bag-friendly chassis. Samsung isn't talking specific chips for its 1GHz dual-core processor, which leads us to assume that it could be the same mixture of homegrown Exynos and NVIDIA's Tegra 2.
GALAXY Tab 10.1 vs GALAXY Tab 8.9 vs iPad 2 vs. XOOM
[vms 9d3533ee1dd3ce4628ed]
Much will rest on pricing, and that's still left unconfirmed. If Samsung can bring the new Galaxy Tab models in at under the iPad 2, complete with higher resolution cameras front and back, and slimmer/lighter construction, that's a fair amount of marketing value to play with. We won't know that until later in the year when the two models go on sale, however.