We've known Samsung's Infuse 4G was coming to AT&T since CES 2011 back in January, but the vast 4.5-inch Android smartphone still has the power to surprise in the hand. Fresh from its official debut in New York today, the Infuse 4G has the biggest Super AMOLED Plus screen we've seen to-date, but still manages to be the carrier's thinnest handset. Read on for our first impressions.
The display and the slimline chassis are the two most obvious elements, and indeed the Infuse 4G is a combination of several well-esteemed Samsung devices of recent weeks. Just as on the Galaxy S II and DROID Charge, the Super AMOLED Plus – with its 50-percent extra sub-pixels – is eye-searingly bright, color saturated and clear. It may not run at qHD resolution but its WVGA is crisp and smooth.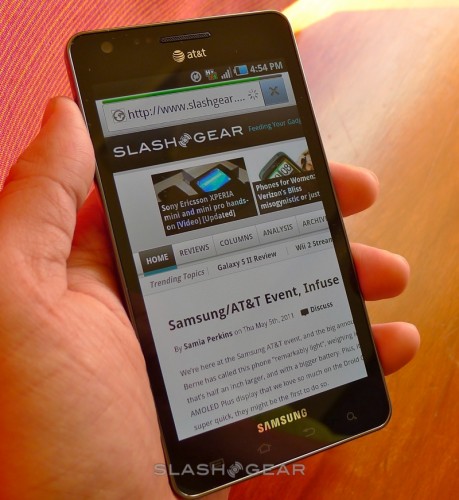 Physical design is much in line with the Galaxy S II, a narrow slice of handset with only a slight lip on the bottom rear edge to spoil the lines. It's plastic, but the build is sturdy and creak-free. Gone is the GSII's physical Home button, to make room for an all-touch row of four Android keys – menu, home, back and search – while up next to the earpiece is a 1.3-megapixel front-facing camera.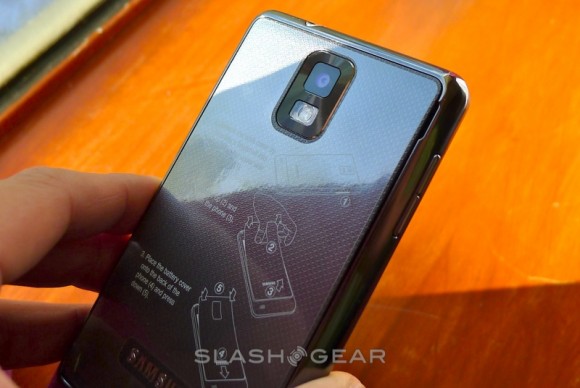 Unfortunately the Infuse 4G runs Android 2.2 out of the box – complete with TouchWiz – so there's no Gtalk video call support to actually take advantage of that camera. We'll have to wait for Samsung and AT&T to upgrade the smartphone to Android 2.4 before we can end our reliance on third-party video calling apps like Qik and Fring.
The 1.2GHz Hummingbird processor may not be the dual-core of the GSII but it's still enough to keep Froyo moving swiftly. Android looks impressive blown up to 4.5-inches, though we can imagine the Infuse 4G will be too big for many users. We'll have to wait to see how well AT&T's HSPA+ network performs when we have more time with a review unit; previously we've not been as impressed as with Verizon's LTE, though both carriers are pumping investment into boosting speed.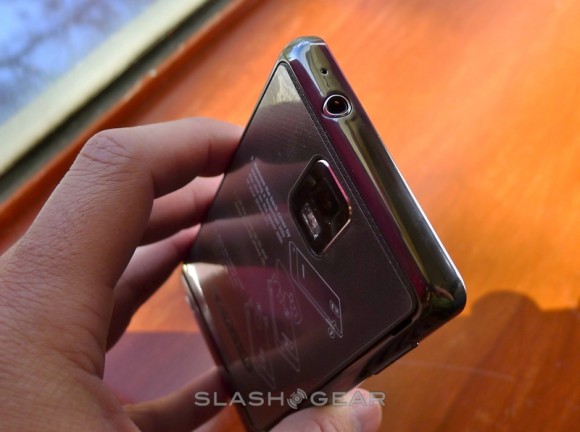 In all, we can't really argue that Samsung isn't on a roll right now. The Galaxy S II is a masterful flagship, the DROID Charge managed to skirt the line between LTE performance and reasonable battery life, and now the AT&T Infuse 4G is offering its own combination of that unique Super AMOLED Plus screen quality paired with a super-thin build. We'll have to put it through its paces in a full SlashGear review to be sure it's top-quality, of course, so for now enjoy the hands-on gallery and video from today's launch.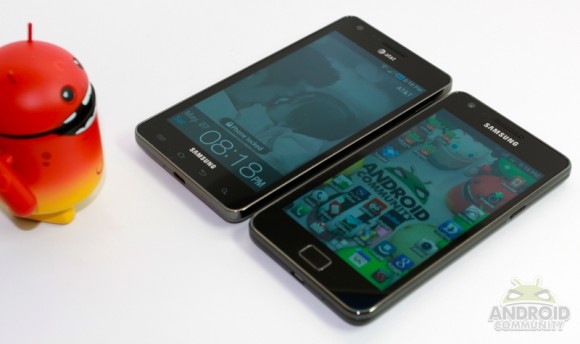 Samsung INFUSE 4G unboxing and quick hands-on
[vms 7a183884c18a67d3aa8d]
DALLAS, May 5, 2011 — AT&T* and Samsung Telecommunications America (Samsung Mobile), the No. 1 mobile phone provider in the U.S., today announced the upcoming availability of the Samsung Infuse™ 4G.
Key Facts
• Exclusive to AT&T customers, the Samsung Infuse 4G will be the nation's thinnest 4G smartphone at 8.99mm at its thinnest.
• Delivers the largest display in AT&T's smartphone portfolio with a brilliant 4.5-inch screen featuring next-generation Super AMOLED™ Plus technology.
• Powered by a 1.2 GHz processor and the Android™ 2.2 platform, the Samsung Infuse 4G also boasts an 8-megapixel camera, and a $25 credit to download movie content from Samsung Media Hub.
• Pre-loaded version of Angry Birds features an exclusive hidden level for Infuse 4G customers.
• Samsung Infuse 4G will be available in AT&T company-owned stores and online at www.wireless.att.com on May 15 and will cost $199.99 with a two-year contract and no mail-in rebate. (Minimum $15 data plan required)
Customer Benefits
The Samsung Infuse 4G will be the thinnest 4G smartphone available in the U.S. and will feature the largest screen — at 4.5 inches — in AT&T's smartphone lineup, and the largest touch screen on any Samsung phone. Powered by a 1.2 GHz application processor and running the Android 2.2 platform, the device delivers a brilliant display using Samsung's next-generation Super AMOLED™ Plus technology which features 50 percent more sub-pixels for better contrast. The display also offers unmatched outdoor viewing quality, even in the brightest sunlight.
With the Infuse 4G, Samsung and AT&T are raising the stakes on pre-loaded content that is not available on any other device. In collaboration with Rovio, the Infuse 4G will feature a special edition of Angry Birds pre-loaded on the smartphone. Players can unlock a special "Golden Egg" level of the game, and once the special level is completed, users can register to win Samsung prizes exclusive to Infuse 4G users.**
The smartphone also includes an 8-megapixel camera/camcorder with auto-focus and flash that shoots HD video with incredible detail. A front facing camera is perfect for self portraits or video chat. Customers can also watch hit movies and TV shows from preloaded apps like Samsung Media Hub, U-verse Mobile and U-verse Live TV.
The first 500,000 Infuse 4G units sold will include a $25 voucher for consumers to get started on downloading content from Media Hub. With Media Hub's progressive downloading feature, users can start watching their content almost immediately as the rest of the file downloads to the Infuse 4G. Plus, all Media Hub content can be shared among five Media Hub-enabled devices on the same account. The Infuse 4G also comes with a 2GB microSD card with preloaded trailers for upcoming summer movies.
Compatible with the Infuse 4G and other devices on the Android 2.2 platform or better, AT&T has also launched a new, fun app called JustUs. The app combines both social media and text activity from five favorite contacts into an animated wallpaper, keeping users better connected with those that matter most. Customers can download the app for free in Android Market today.
Quotes
"The 4.5-inch screen on Infuse 4G is enhanced further with Samsung's Super AMOLED Plus technology. Colors are rich and bright, even while outdoors in sunlight," said Jeff Bradley, senior vice president, Devices, AT&T Mobility and Consumer Markets. "When you juxtapose that with the fact that it's the thinnest 4G smartphone out there today, it's an incredibly compelling choice for our customers."
"When you combine the powerful 1.2 GHz application processor with AT&T's advanced 4G network, this device will truly be the fastest smartphone Samsung has ever created with AT&T," said Omar Khan, chief technology officer & chief product officer for Samsung Mobile. "The Infuse 4G is our latest example of Samsung's global leadership in Android platform smartphones. With every Android smartphone that we launch, we're bringing something new and exciting to the market."
Smartphone Portfolio
AT&T is a pioneer in smartphones and devices and expects to widen its portfolio in 2011. In January, AT&T committed to introducing 20 4G devices and 12 additional Android devices by the end of the year. Samsung Infuse 4G will be one of several new 4G devices that have been offered to AT&T customers in the first half of 2011.
Samsung Infuse 4G Accessories
To prepare for the arrival of the Samsung Infuse 4G in AT&T stores, the company has prepared a robust lineup of 14 fashionable and functional accessories including multiple case options, a vehicle mount and desk mount. All accessories are available in AT&T company-owned stores and online at www.wireless.att.com. For more details on the lineup visit www.att.com/mobilephones-news.
Key Specifications
• Android™ 2.2 platform
• 4G: HSDPA CAT 14 and HSUPA CAT 6
• 8.9 mm to 9.24mm thin
• UMTS 850/1900/2100
• GSM 850/900/1800/1900
• 1.2 GHz processor
• 4.5-inch Super AMOLED™ Plus screen
• 8-megapixel camera with HD 720p video camera and 1.3-megapixel front facing camera
• Virtual QWERTY keyboard
• Expandable memory up to 32GB with microSD card
• Text/Picture and Video Messaging support
• Samsung Media Hub, U-verse Mobile, U-verse Live TV, and Angry Birds
To learn more about the Samsung Infuse™ 4G, visit www.att.com/mobilephones-news, www.att.com/infuse4G or www.samsung.com/mobile.