Samsung "Alex" Chrome OS netbook revealed

The Chrome OS leaks keep coming, with the Acer ZGB netbook and Seaboard tablet being followed by details of Samsung's offering with Google's new platform. The Samsung "Alex" is a 1280 x 800 netbook powered by Intel's dual-core Atom N550 1.5GHz processor, along with a SanDisk SSD P4 and Qualcomm Gobi 2000 3G WWAN connectivity.
Other specs include 2GB of RAM, Bluetooth and WiFi, an integrated webcam and a Synaptics touchpad. That differs a little from Acer's model, which has a 1366 x 768 display and seemingly uses one of AMD's Fusion processors instead.
Samsung, Acer and ASUS are all among the company's namechecked to be producing Chrome OS hardware for launch in the second half of 2011. However it seems likely that Google will do some sort of presentation of the latest hardware and software at Google I/O early next month.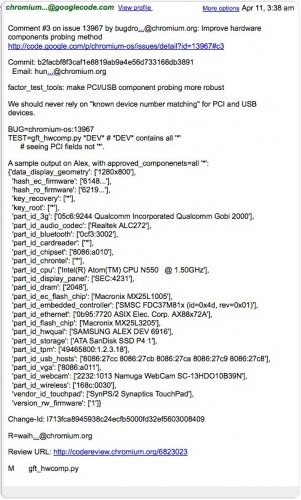 [via Engadget]