SlashGear Morning Wrap-Up: February 13, 2012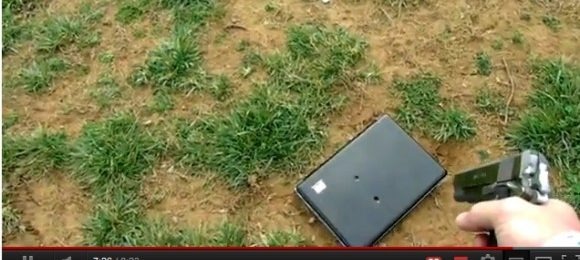 This weekend seems to have been all about one video, the one that you really need to watch if you've not seen it already: the one with the guy shooting a laptop full of exploding-tipped bullets with his pistol. Next there's been another form of aggression in the digital streets, that being Paul McCartney's pulling of every one of his tracks from streaming services across the earth. See Don Reisinger display his true addiction to the world of DVR, see the all-powerful Nokia N9 with Ice Cream Sandwich, and check out the posthumous Grammy given to none other than Steve Jobs – accepted by Apple's software exec.
HTC will be coming strong out the gates this year at Mobile World Congress with at least one contending smartphone, the HTC Endeavor, and it's got a Siri rival. It's also got a brand new version of HTC Sense, that being version 4.0 on top of Android 4.0 Ice Cream Sandwich. Apple appears to have forced the Pentagon to dump ASUS. Apple's also seen to be having Apple TV shortages – this likely portending a refresh of the line.
Apple's own iPad line is being confiscated in China after it's been found that someone else had the iPad name first. BlackBerry makers RIM feared "morons from outside" in their hunt for a new CEO. NASA is checking out the possibility and viability of a deep space outpost near the moon. Apple has brought in the Fair Labor Association to audit their parts suppliers amid reports that they're not run as ethically as they should be.
Samsung has revealed the Samsung Galaxy Tab 2 to bring Android 4.0 Ice Cream Sandwich to the masses at an entry-level price point. Google's big push for the @home experience is seeing them hit up a Experience Center to bring your house to one central experience point.