Apple TV refresh imminent suggests broad stock shortages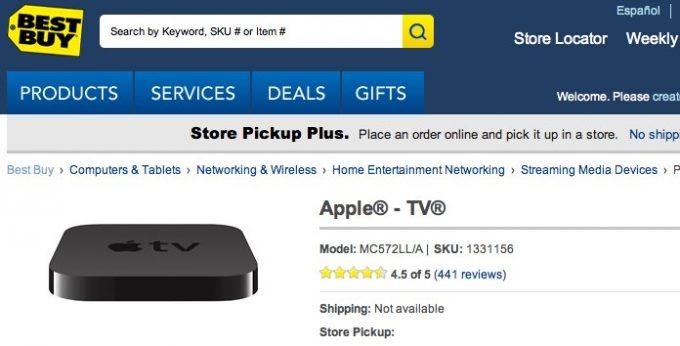 We may receive a commission on purchases made from links.
The Apple TV could be in line for an imminent refresh, with the news that Apple's set-top box is out of stock in multiple stores and, according to leaks from within Best Buy, can no longer be re-ordered. With the new model already referenced in among iOS 5.1 beta software, as the Bluetooth 4.0 toting "AppleTV 3,1", sources at Best Buy alerted 9 to 5 Mac to the fact that the existing device, launched in 2010, is now listed as "currently unavailable."
The tipster isn't the only one, either. Best Buy online shows the Apple TV as not available for shipping, as is also the case at Target; Walmart has removed the Apple TV from its online store completely. It's a similar story at other online retailers, with only existing stock left on-hand in stores seemingly available.
International sales also seem limited, with retailers in the UK and Germany also showing either no supplies or small numbers. Apple's own online store does still have stock, however.
It's possible a new Apple TV could debut at Apple's well-rumored early March event, so far expected to see the third-gen iPad get its official launch. However, Apple has slotted previous Apple TV refreshes as the "One other thing" in other events, so a shared spotlight for the third-gen variant isn't beyond the realm of possibility.
Exactly what specifications the new Apple TV might bring is generally unclear. Mentions of the new set-top box in iOS 5.1 betas suggest it will come with Bluetooth 4.0, a low power version of the short-range wireless technology, though most users are hoping for 1080/60p Full HD support; the current model is limited to 720p. iOS app support would also be a sensible addition – the current model is capable of it, though not officially – to better compete with Google TV.