Apple software exec accepts Grammy on Steve Jobs' behalf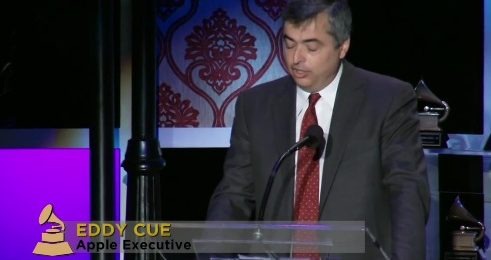 Yesterday, ahead of tonight's much more celebrated Grammy Awards telecast, the Record Academy held its ceremony for the annual Special Merit Awards. Perhaps the most noteworthy award was the one honoring the late Steve Jobs. Jobs was announced as a posthumous receipient of the award last year, celebrating his extraordinary achievements in the advancement of digital music distribution.
At the very least, it was the most noteworthy award that people in our industry took note of. At yesterday's ceremony, accepting the award was Apple's senior vice president of Internet Software and Services, Eddy Cue. Cue had worked closely with Jobs for 15 years and was the one responsible for carrying out many of Jobs's dreams and visions in the digital space.
This is the second time a Grammy Award has been awarded to Apple's achievements in music. In 2002, the entire company won a Technical Grammy. During his speech on behalf of the late Jobs, Cue said, "Accepting this award means so much to me because music meant so much to him. He told us that music shaped his life...it made him who he was."
[via MacRumors]