Because Google's most popular operating system – and the most popular operating system on the planet, mind you – is Android, it only makes sense that much of the company's yearly developers conference would be centered in this multi-device environment. What we expected for this year's Google I/O was an upgrade to a new version of the mobile OS and a new device (or two) to run it on. Instead what we got was a major upgrade to Google's social networking connections and services working in and around Android – a turning point, perhaps, for the company in a single three-day series of events.
We began our journey in a bit of a behind-the-scenes tour of the Moscone Center in San Francisco to see what Google had in store. It appeared that the setup was rather similar to what we'd seen the year before – save the massive models hovering above the third floor.
While on the third floor we literally saw the word ANDROID dominating the floor aside Chrome, the second floor retained a set of services for multiple platforms. The second floor also had Google Glass holding its own unique space on the level's far side. Below you'll see an on-site preview of the first of three floors through Glass – aka #throughglass – this method of collection acting as a teaser for what would become the dominant subject of the conference – whether Google intended it to or not.
It was announced by Google that they'd at this point counted 900 million Android activations across the planet. This number jumped from just 400 million activations in 2012 and 100 million activations in 2011 – that's four times the number from one year to the next, then nearly double that number again between last year and here.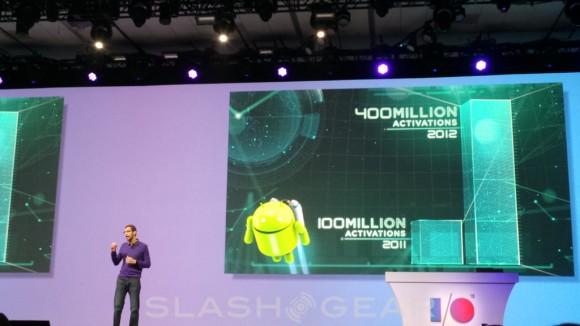 Just this past month, Android activations were marked at 1.35 million per day on average back on the 13th of March according to Google – at 750 million activations back then and 900 million now, the company could be seeing over 1.5 billion Android activations by the end of the year.
Devices
Google showed of a single new device – a new "Google Edition" or "Nexus Edition" of the Samsung GALAXY S 4. This device would be sold straight from Google the way a Nexus smartphone or tablet would, but would retain the Samsung GALAXY S 4 brand name. While device announcements such as this are normally joined by a giveaway for attendees of the conference, here it was joined by a price tag and availability date: June 25th for a healthy $649 unlocked and without contractual obligations.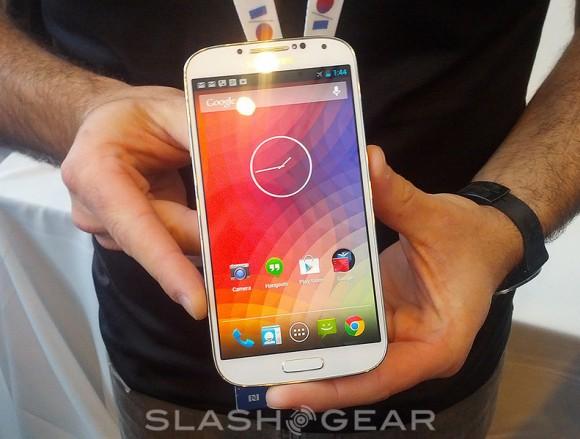 We had our own up-close look at this GALAXY S 4 courtesy of Hugo Barra. Google's Vice President of Android Product Management showed this device as exactly what you'd expect it would be – at least as swift as the Samsung-skinned original and ready to act as a non-Nexus alternative for those wishing to pick up Jelly Bean straight from the source.
NVIDIA came in to take a bit of the hype and excitement of the week with a double-down announcement of their SHIELD device becoming available for pre-sale. NVIDIA's SHIELD was both announced for pre-sale for early adopters and had its normal retailer pre-sale bumped up due to an apparent rush of requests from normal consumers.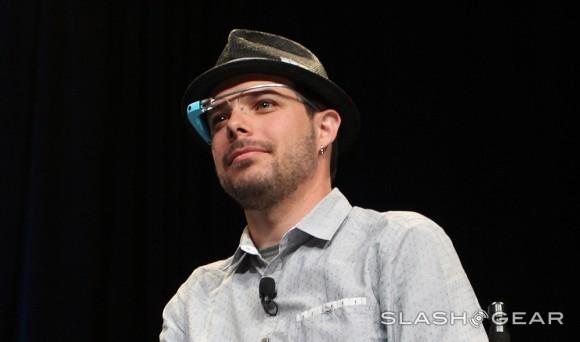 Google Glass was, of course, on a much larger percentage of the center's population than anywhere else in the world at any time up until this point, with the one possible exception being inside Google and Google X itself. Google Glass runs on its own unique version of Android, the device itself able to be hacked at this point to run Ubuntu (this also proven at a I/O breakout session just this week). Though it wasn't mentioned but in passing during I/O's keynote session, Glass and development surrounding it ended up being the star of the week.
Sliding in on the wearable wave as well was a device announced this week by Recon – the Recon Je. This pair of glasses works with a miniature computer that runs Android as well. We had a quick peek at this device here in its near-complete state as well – it'll be released by the end of the year, well ahead of Google's own Glass consumer push.
Services
The system known as Google Play game services was launched to tie together gamers on not only Android, but iOS and in-browser as well for desktop machines. This system will allow game saves to the cloud so that users can sign in with their game profile from any device and pick up their game where they left off. It will also support easier connections for multi-player games between users playing on different platforms.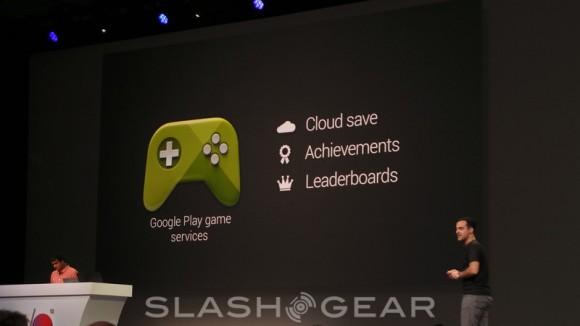 Groups such as Glu Mobile and Gameloft have already begun integrating Google Play game services connectivity and functionality into their games. Developers at Vector Unit announced and demonstrated the ability to connect over the web with speed with their upcoming title Riptide GP 2 – a game also demonstrated this week on NVIDIA SHIELD out on the main floor at Google I/O.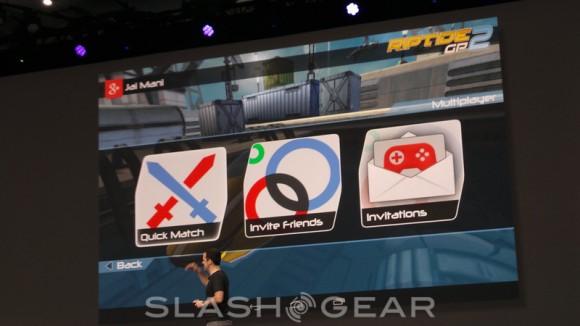 Development
As this is a developers convention, Google chose it for the announcement point of the system that the company says could end Android fragmentation woes forever. This system is called Android Studio and will act as Google's first all-inclusive developer tool they've ever offered – an IDE (integrated developer environment) that offers features such as virtual multi-device display testing and real-time views of multiple language translations in-app.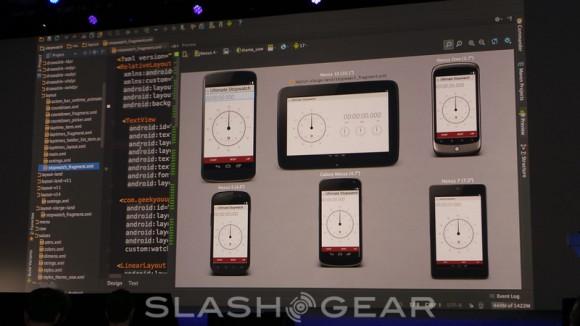 Android Studio works on Windows, Mac OS X, and Linux at the moment. In speaking with multiple developers throughout the week, we found the fact that these three platforms were chosen first to be a common notion. Why give developers a Chromebook Pixel with an operating system based on the web and announce an Android developer system that's not entirely web-based?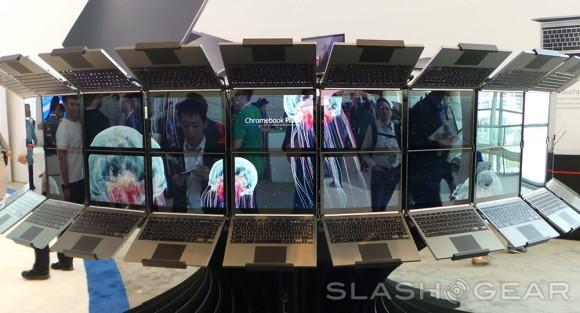 On that note, Google also let it be known that the Chrome OS experience was coming to its Android web browser with several account-sync abilities. One of the more interesting of these was form autocomplete, this allowing users to store their credit card information and contact information as they normally would on the desktop version of the browser and pull it up automatically from the mobile web.
Apps
Announced as an upgrade to the buy-and-own system already in place, Google Play Music All Access was revealed as a real competitor to streaming music services like Spotify and Rdio. This system is able to stream music both in a web browser and in-app, costing the user $9.99 a month for access – if they don't get in on the deal early, that is.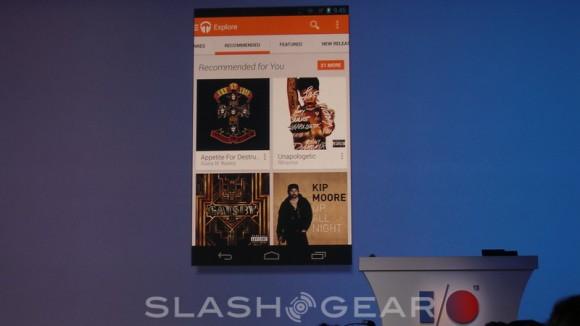 This system is based on a choose-your-own-playlist system that also offers up smart selections from Google's robots – at the moment, it's both in-web and on Android, but not ready for iOS. This system is ready to roll for both mobile and in-browser users of Google Music.
Perhaps the most important app announced this week was the cross-platform chat platform expanding what was originally reserved for Google+ in video chat. Here we saw Google+ Hangouts for Android, iOS, in-browser inside Google+, and as a OS X app. Users sign in with their Google+ account and use contacts through Circles to connect.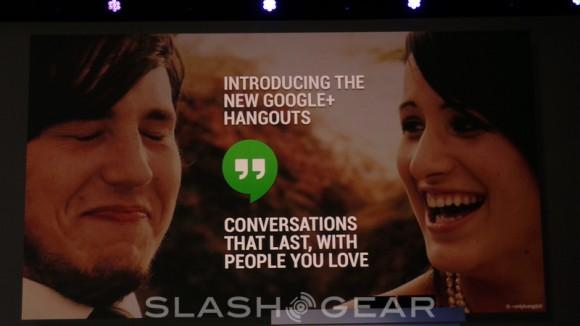 Google+ Hangouts are able to work with text, stickers and icons, video and photo sharing, and video chat. This system will be expanding to include new types of sharing in the future as Google+ as a social network leads the way. This system is now live in effect for all platforms announced, desktop, Android, and iOS included.
Wrap-up
Android has been presented this week as one of several central systems part of the greater ecosystem that is Google, a company that aims to get technology "out of your way". Google's CEO Larry Page stepped on stage at the start of this conference to express his wish for an ideal future: "technology should do the hard work, so you can get on and live your life."
In the end, Android became a power here that was assumed while Google's ecosystem grew around it. It's here that Google makes it clear: Android itself doesn't need to be updated every time the company has a big event. It's the year of the Context Ecosystem, and Google's presentation of Android at Google I/O 2013 has once again proven it.