Chrome OS experience comes to Android mobile browser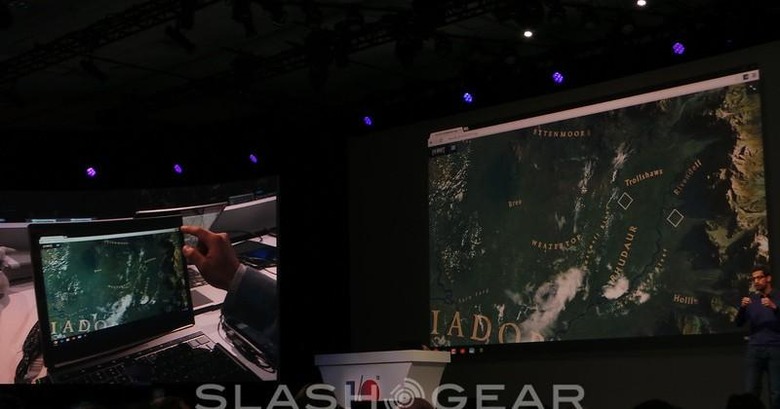 Here at Google I/O, the company is discussing their Chrome web browser, and they've announced that the browser has reached 750 million active users, which is up from 450 million users last year, which is quite the increase. However, the company showed off how they're working to evolve the Chrome browser in order to enjoy desktop experiences on mobile devices.
The company demoed a web app running on a Chromebook Pixel, which is an interactive app for the upcoming movie The Hobbit: The Desolation of Smaug. The app shows an overhead view of the world, which is pinchable, so you can zoom in and out to explore the various areas on the map. Google eventually showed off the same web app on a Nexus 10 running the Chrome mobile browser.
The web app shows an all-3D environment, but unfortunately, it ran a little poorly during the on-stage demo, with really low framerates and a lot of stutters. We're not sure if the Chromebook Pixel can't keep up or if the internet isn't doing its job. The web app is based on webGL, and since it's a web app, you can access it through mobile and have the same experience on both desktop and mobile devices.
It's certainly an interesting concept, and it seems Google is adamant about decreasing the separation between the desktop experience and the mobile experience, making both as equal as possible. Browsing the web on a tablet isn't the same as browsing the web on a desktop or laptop, but Google is looking to change that with Chrome, and they're planning to come out with some relevant features for Chrome later this year.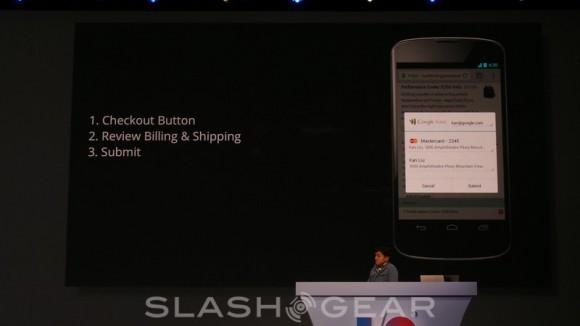 Furthermore, Google announced some improvements to the Chrome mobile web browser that will bring it up to par with the desktop version, including a new Checkout button that makes shopping easier on mobile devices. It's essentially a one-click process that saves you time from having to enter in multiple fields by typing on the small keyboard. It's essentially Google's first step to creating a simpler web browser. Stay tuned for more Google I/O news coming up!