Google Play Music All Access hands-on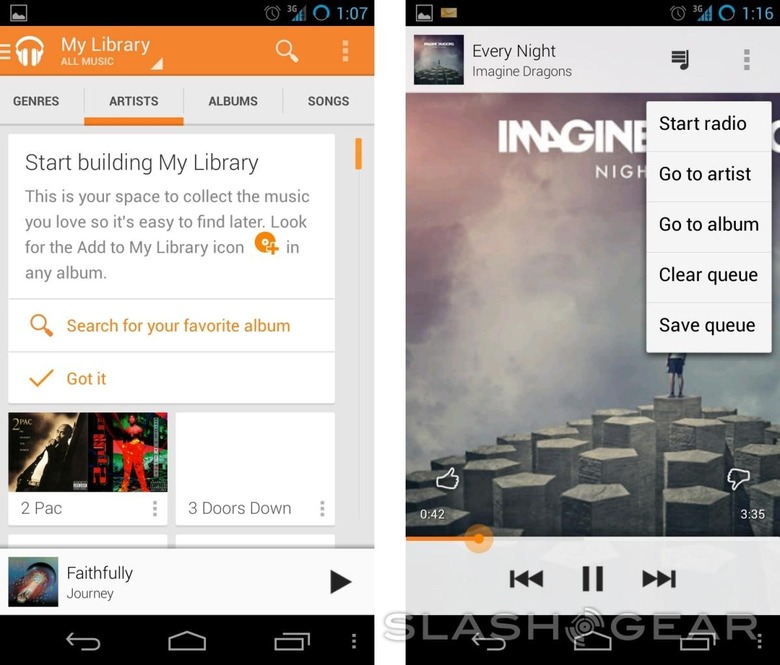 Google announced their own music streaming subscription service today during Google I/O, and while it's essentially nothing that we haven't seen before, it provides Google users who are deep into the company's ecosystem the opportunity to escape Spotify or Rdio and come back home to Google where the service is integrated with other Google apps. Let's have a quick look at the latest competitor in streaming music.
Overall, we're dealing with many of the same features that we've already seen with services like Spotify, Rdio, and Pandora, but Google has put its own spin and look into All Access. The Explore page is probably where most users will spend their time if they're interested in discovering new artists. This section includes personal recommendations, featured artists and albums, as well as new releases.
As what may appear to be obvious, All Access is simply added on to the current Google Music app, so all the previous features of the app still remain. You even still have the ability to upload all of your own music the app and have it combined with the streaming music that you have picked out, creating one large library of music that includes a mix between the two. This is something that only Spotify has, and it's a mighty-awesome feature to have.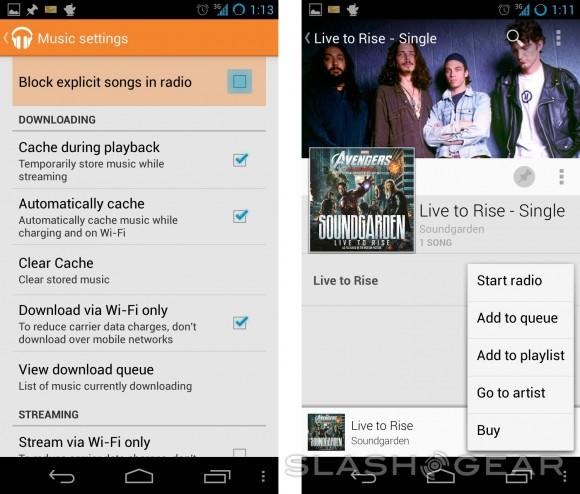 All Access also has a Pandora-like feature where you can create radio stations of sorts based on a single artist or song. From there, you can give a song a thumbs up or thumbs down to make the app continuously learn about the music that you enjoy most. You also have the ability to rearrange future songs in the automated playlist in the radio station, as well as the ability to swipe away the songs you don't want to listen to.
As for the user interface, nothing hasn't changed too much. You get the typical Google look with an orange and white color theme. Frankly, I'm not a huge fan of the squared-off boxes and shapes that many Android apps have, but it certainly doesn't hinder the music listening experience at all, and it's something that I can easily get accustomed to.
One huge problem with All Access is cross-platform support. It is available on the web in any web browser, turning your laptop and desktop into its own DJ of sorts, but as far as mobile apps outside of Android, Google has yet to make that expansion. The great thing about Spotify is that it's available on pretty much any platform, including iOS, BlackBerry, and Windows Phone. We'd be surprised if Google released their Music app for all of these platforms, so for users who yearn for cross-platform support, that seems to be where All Access's weakness is.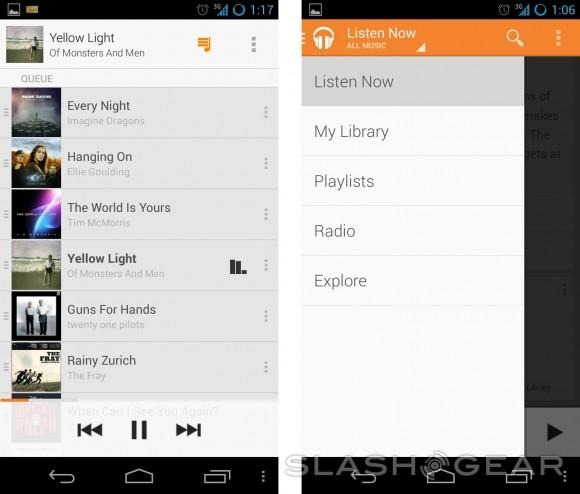 As for price, All Access will cost $9.99 per month, but if you sign up before June 30, you'll only play $7.99 per month. That price seems to be a permanent thing, so if you sign up before the end of June, you'll only pay $7.99 for as long as you have an All Access subscription. Furthermore, All Access comes with a 30-day free trial, whether you sign up before June 30 or not.
Overall, Google Play Music All Access isn't anything revolutionary, and we're frankly a little disappointed that Google is simply getting their feet wet first before diving in. Of course, this is a smart move sometimes, but instead of boldly diving in and giving Spotify and Rdio a run for their money, Google is simply taking it easy to get a feel for the market, which could put them further behind in the music-streaming race.