SlashGear's Best Of IFA 2022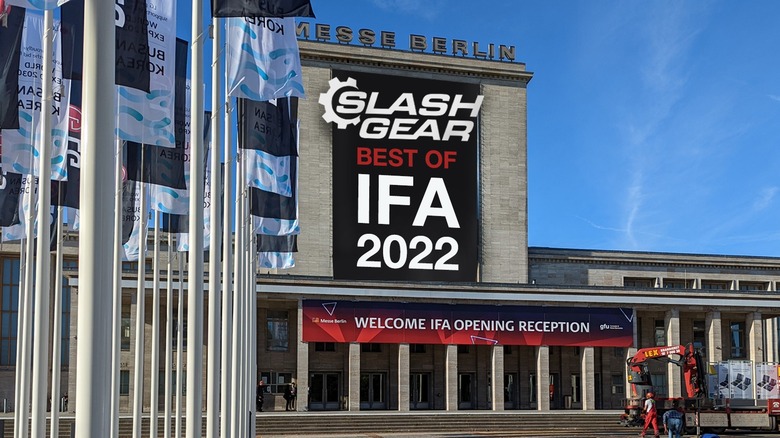 Chris Burns/SlashGear
After a couple of years of largely virtual tech conferences (and events of all sorts, for that matter), we're back to in-person action at IFA 2022 in Berlin. This year's conference isn't nearly as massive as it's been in the past, but some of the biggest brands have come packing top-tier tech all the same. This year's collection of items aim to overcome the drudgery of the last few years, not by staying the course, but by bashing forward with the confidence of a creator who knows they've made something brand new and exciting.
Our Best of IFA 2022 list features Samsung, Sony, Fitbit, Honor, Lenovo, Kobo, Philips, JBL, and Leica. We've sought out and found the best in everything from desktop monitors to ereaders — and the list is solid. Some products are winners because they presented a fantastic innovation, while others appear courtesy of their steadfast devotion to reliable simplicity, and a few might just surprise you.
Best Desktop Monitor: Samsung Odyssey Ark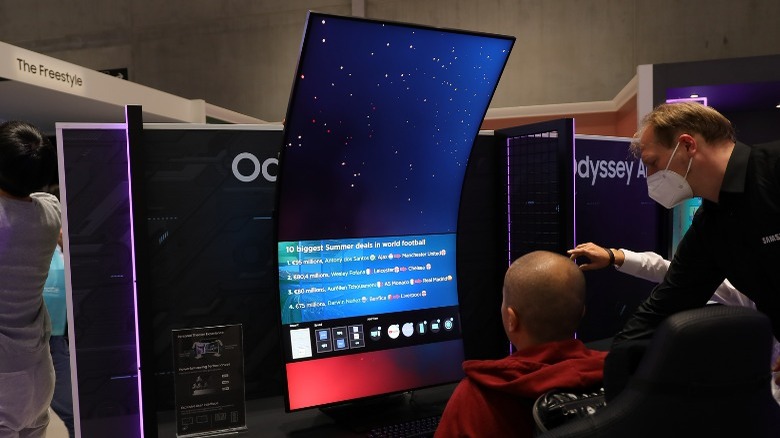 Chris Burns/SlashGear
The Samsung Odyssey Ark is a massive monitor made to make the most of a high-end desktop computing experience. This is not a monitor that the average consumer will be able to afford, and no, this entry on the list is not here because it's the best monitor for everybody. Instead, the Odyssey Ark is on our list because it was easily the most visually spectacular desktop monitor at IFA 2022.
The Odyssey Ark has the ability to automatically adjust itself (portrait to landscape and back again) depending on the sort of content you're about to interact with. It's sharp, colorful, and works with smart TV applications as well as whatever content your PC has to offer. The first time you see this monitor in real life, there's no looking away. It's like a colossal tower of light bending toward you, daring you to find a reason to stack your content upward instead of side-by-side as you always have. Expensive? Sure. Impressive? Absolutely.
Best Smartphone: Sony Xperia 5 IV
Despite the fact that Sony's never been a unit sales leader in the global smartphone market, they continue to hammer away at what they know works. This week, Sony revealed the Xperia 5 IV, a device that stick to what works when it comes to Sony's industrial design language, wrapping that around a high-end Android smartphone experience that just happens to have a 6.1-inch OLED display panel with 120Hz refresh rate, and camera technology borrowed from the company's camera division.
The Sony Xperia 5 IV is not the most extravagant phone at IFA 2022, but it is the most impressive 6.1-inch smartphone we've seen in years. It helps that Sony's allowed a 3.5mm headphone jack to stick around and bumped the battery capacity from the less impressive 4,500 mAh of this device's predecessor up to 5,000 mAh in this new model. Sony's never shied away from going their own way when it comes to smartphone features and solid, beautiful hardware — this Sony Xperia 5 IV is no exception.
Best Tablet: Honor Pad 8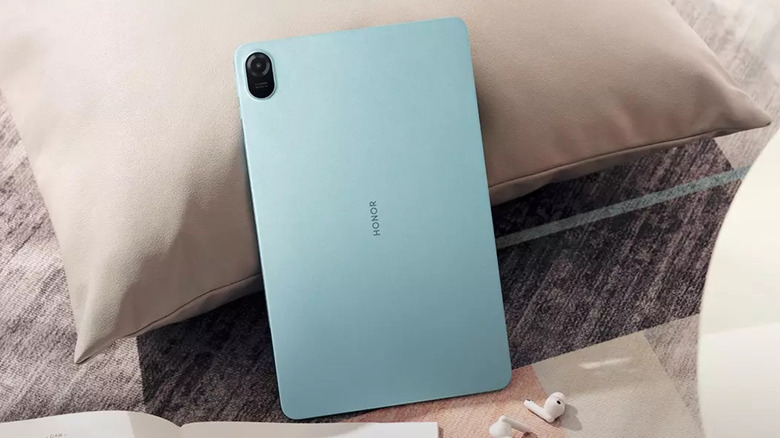 Honor
Honor came out swinging at IFA 2022, bringing the Honor MagicBook 14 with NVIDIA graphics inside, as well as the vlogger-friendly Honor 70 smartphone. The most interesting device the group revealed, though, was the Honor Pad 8. Much like the Sony Xperia 5 IV, Honor got our attention by going with what works.
This Android slate is handsomely designed with flat sides and an impressive 8-speaker audio system — significantly more impressive than most devices in this tablet's market category — and it has a fine display, to boot. This is quite simply a very well-designed 12-inch 2K display-toting tablet with a Qualcomm Snapdragon 680 inside, making it ready to roll for midrange users. Honor gets extra kudos for skipping dull colors and opting for a pleasing light metallic blue, too. The company has become known for its solid industrial design and reasonable prices over the past few years — let's hope these trends continue as it expands its borders worldwide.
Best Fitness Tracker: Fitbit Sense 2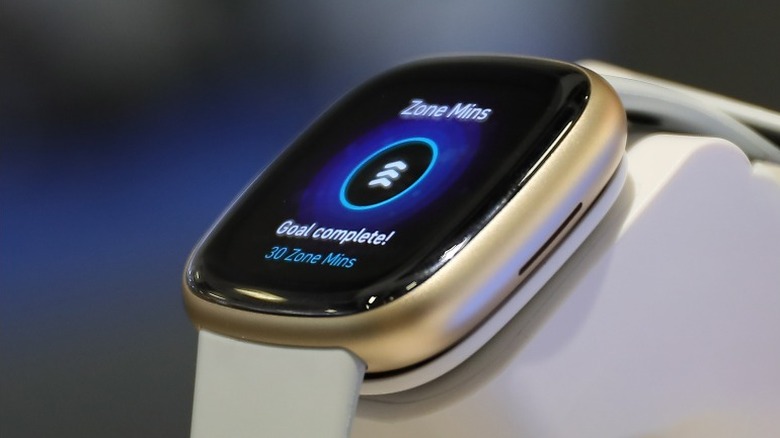 Chris Burns/SlashGear
Fitbit showed up to IFA 2022 with three updated versions of tried-and-true wearable fitness trackers. The Fitbit Inspire 3 delivers the simplest vision of the bunch, with a pill-shaped piece of hardware that can be detached from its strap and used on its own (or with a uniquely-designed clip accessory) — and without the other two products in the mix, it might've won this category on its own. Instead, Fitbit revealed two more fitness trackers with different names and very similar features.
Our Fitness Tracker category is won by the Fitbit Sense 2. The Fitbit Sense 2 and Fitbit Versa 4 have nearly identical hardware — including displays and sizes and shapes. But the slightly more expensive of the two, the Sense 2, has electrical sensors capable of ECG and EDA readings. The result is a pair of smartwatches that look and feel like high quality, fashion-forward watches, but with the data tracking exercise fans now expect.
Best Wearable: Lenovo Glasses T1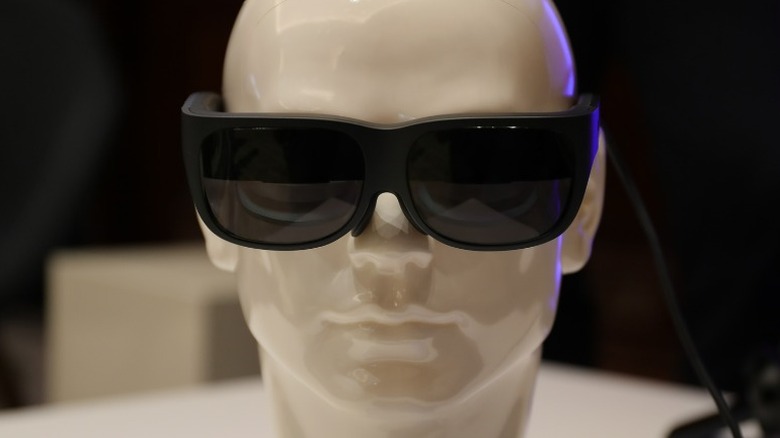 Chris Burns/SlashGear
Lenovo's Glasses T1 caught us by surprise. This was one of two Lenovo devices that've found their way on our Best of IFA list, and they're both here for similar reasons: both feel like they're ready to be used in the real world, despite the fact that they employ some technology that's probably unfamiliar to the general tech public.
The Glasses T1 expand on Lenovo's prior work on smart glasses aimed at business and industrial use. When we saw the Lenovo ThinkReality A3 Smart Glasses, it seemed as though we'd caught a glimpse of the future. Now the Lenovo Glasses T1 are taking their own aim at consumers, and we get the feeling that we're on the precipice of a miniature revolution in virtual display technology. Our first experience with Lenovo Glasses T1 showed us that we needn't be fully immersed in full-on virtual reality to expand our computing horizons — we just needed a virtual display.
Best eReader: Kobo Clara 2E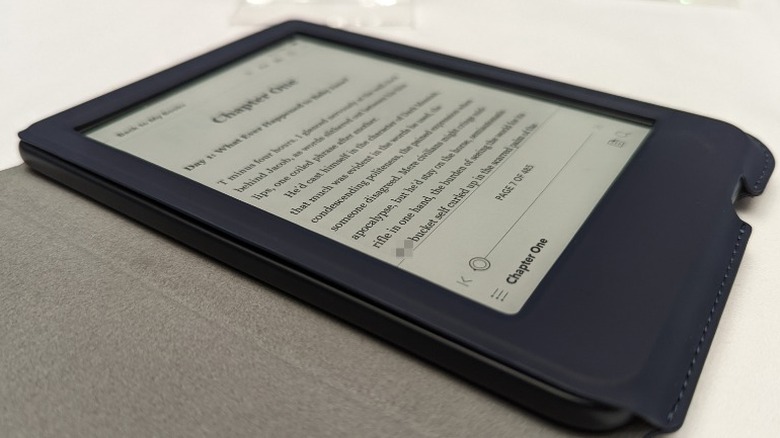 Chris Burns/SlashGear
The Kobo Clara 2E is quite easily the best option for ebook enthusiasts who do not want to buy products from the Amazon, Google, or Apple ecosystem. This ereader is simple. It has a 6-inch E Ink Carta 1200 glare-free screen that'll allow you to read in either the light or the dark, courtesy of Kobo's Dark Mode. There's also a bit of blue light reduction tech the company calls ComfortLightPro. Kobo claims that the shell of the ereader is 85% recycled plastic and the company has protective cases ready to roll for when the device is available to buy.
it's waterproof, and has a decent 16GB of internal storage for one whole heck of a lot of ebooks. Or, if you want to load a bunch of your own PDF files to this device, you can go ahead and do so since, as is the case with other Kobo devices, the Clara 2E is not inextricably tethered to any one book store or system. Kobo itself sells both DRM and DRM-free ebooks, and Kobo devices support a wide range of ebook and document formats.
Best Smart Home: Philips Hue Lightguide Bulbs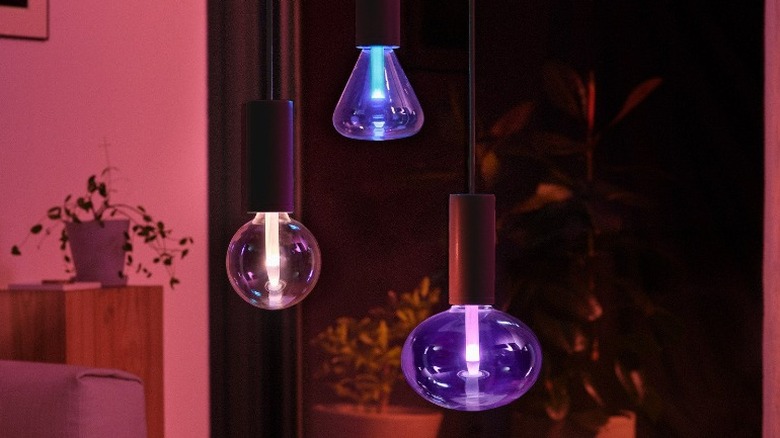 Philips
Philips revealed a surprisingly diverse collection of new smart lighting solutions for IFA 2022, but the most beautiful and innovative of the bunch must be their Philips Hue Lightguide Bulbs. Each bulb works with its own "light guide" tube made of optical-grade polycarbonate, that allows the bulb to fill with the color delivered by LEDs in the base.
The tube inside the bulb and the spreading of the light would've been enough to catch our attention, but Philips also went and designed three different bulb shapes, too. There's a large globe shape, a triangular shape, and an ellipse. The shapes and the color and the innovative way the bulbs spread the light are all indicative of how much consideration was put into the way these lightbulbs are used and seen — that's the sort of dedication we need in gadgets of all sorts. These bulbs will be released in the fourth quarter of 2022.
Best Audio: JBL Tour Pro 2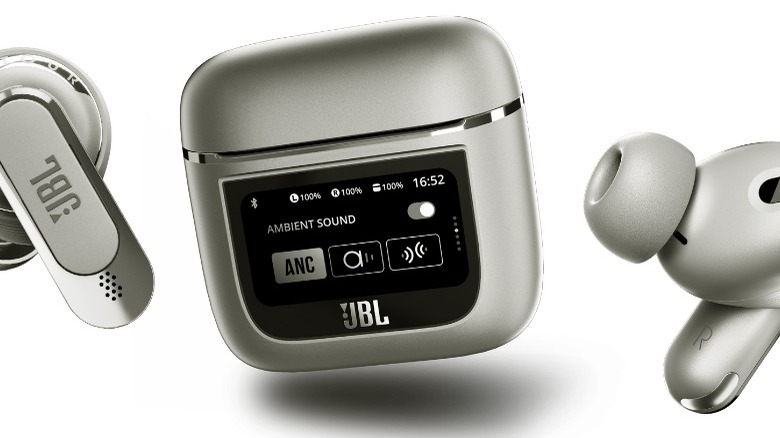 JBL
The JBL Tour Pro 2 is a pair of earbuds with ANC and ambient modes, as well as JBL Pro Sound and Spatial Sound. These buds roll with 10mm drivers and are the direct successors to the still-decent JBL Tour Pro+ originally revealed at CES 2021. However, the audio technology delivered by the JBL Tour Pro 2 earbuds isn't actually the most impressive bit about the product. 
It's the earbuds case that seems to have out-innovated the rest of the market. This case has its own touchscreen that doubles as a miniature remote control for your phone. You can control your earbuds and their settings from the case; you can also view notifications from your smartphone, and both screen and control phone calls that are then made using the connected earbuds. We've seen other companion devices like this before — but never in the charging case of a pair of earbuds.
Best PC: Lenovo ThinkPad X1 Fold (2022)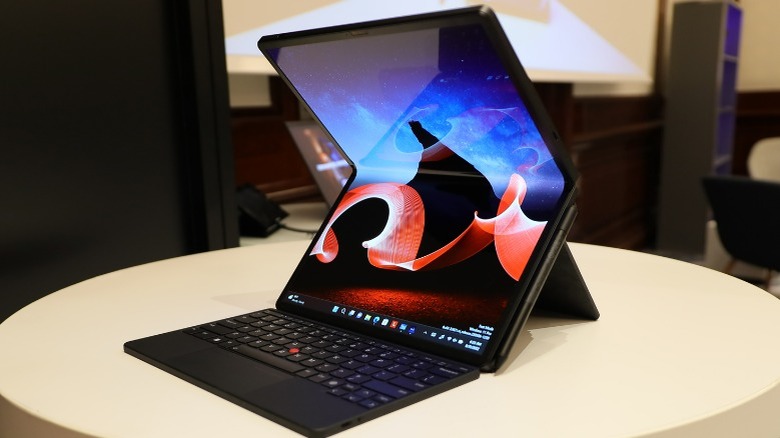 Chris Burns/SlashGear
The Lenovo ThinkPad X1 Fold (2022) is a new iteration of a foldable PC Lenovo first revealed at CES 2020. This time around, the Lenovo ThinkPad X1 Fold (2022) has advanced leaps and bounds beyond its predecessor, appearing this time far more like a game-changing market-ready computer than a prototype. The speed at which foldable display-toting devices have advanced over the past few years has been extraordinary. Where first-generation devices suffered from some of the most heinous of hardware missteps, Lenovo's all but proven that we're ready to roll with gadgets ready for the real world.
The Lenovo ThinkPad X1 Fold (2022) has the ability to fold up to the size of a tiny 12-inch laptop, then fold out to a highly decent 16.3 inches when totally flat. The display is twice as bright as that of its predecessor, and the whole thing appears to be running every bit as smoothly as its 12th Gen Core processor would promise in a totally flat display, as our first impressions suggest.
Best TV: Leica Cine 1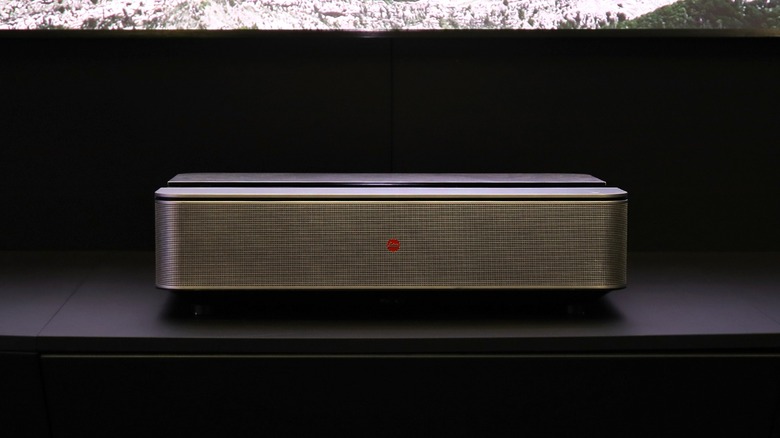 Chris Burns/SlashGear
The best TV at IFA 2022 does not have an OLED panel, nor a QLED panel. It doesn't have a curved display, and it's not made by Samsung or LG. In fact, it's offered by a company until now entirely absent from the large-scale display market. The Leica Cine 1 laser TV is a an ultra-short-throw projector with abilities far advanced beyond those of the vast majority of projectors released in the past, and it feels like a game-changer.
When we've heard the term "laser TV" used to describe short-throw projectors in the past, it always seemed like a bit of a misnomer. With the Leica Cine 1, our assumptions about the true definition of the word "TV" have been challenged. When we walked in the room with it running, it seemed as though we were looking at a speaker system in front of a TV built in to the nearby wall. Instead, the picture projected by this projector was so good, we had to double-check to be sure were weren't being pranked. Not cheap, certainly, but those who want big picture entertainment without a big screen need look no further.