Philips Hue 2022 Range Adds Dramatic Lightguide Bulbs And Light Strips For PC Gamers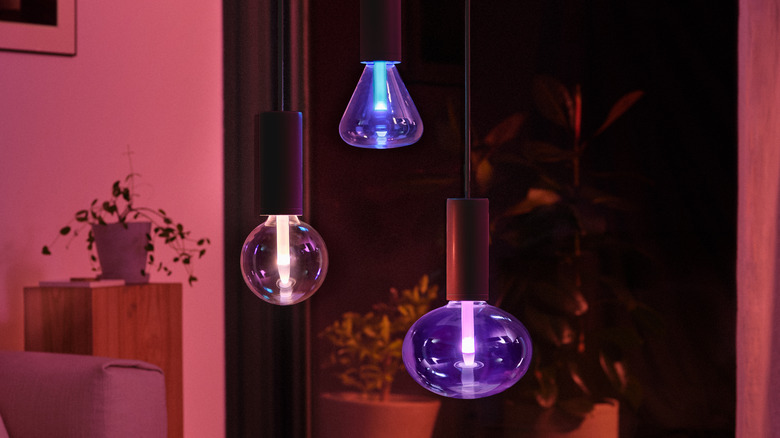 Philips
Philips is launching a new range of Hue bulbs at IFA 2022, along with software updates that promise more security and easier configuration. The new Hue bulbs range from distinctive shapes designed to look great without a shade, through super-slim downlights that no longer require a CAN fitting, to new lightstrips targeting PC gamers.
For the Philips Hue Filament white ambiance candle bulb — the smallest of the style — there's now an upgrade to adjustable white color temperature. Where the existing version is only dimmable, the new ambiance model uses two light-emitting filaments so that the light can be tuned from warm to cool. It fits into an E14/E12 screw fitting and will be $44.99 (or $64.99 for a pack of two) when it launches on September 13.
Far more dramatic is the new Philips Hue Lightguide bulb range. Launching in Q4 2022, the oversized decorative bulbs will come in three shapes — large globe, ellipse, and triangular — each given a reflective outer coating to make them glimmer more. Inside, there's a "light guide" inner tube made of optical-grade polycarbonate, which glows with the multi-color light from the LEDs in the base.
Philips' new downlight is bathroom-rated and super-skinny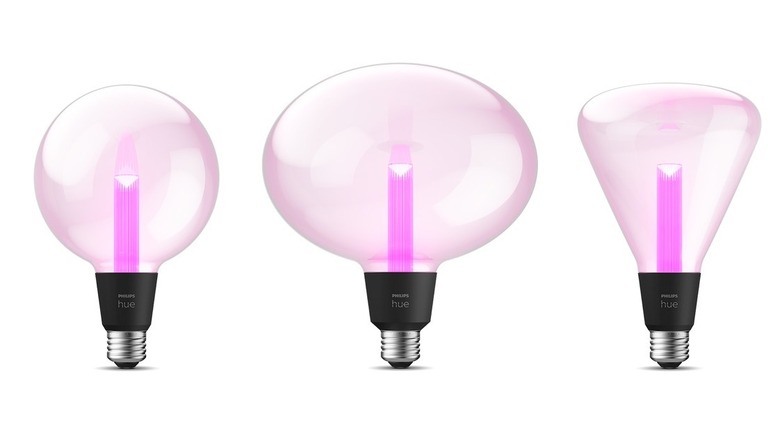 Philips
They put out up to 500 lumens — any more, Philips argues, and they wouldn't be comfortable to look at directly, since they're intended to be used without a shade as a statement piece — but are dimmable down to just 0.2% of maximum brightness. The company has also designed optional matching pendant cords, with a fabric-wrapped cable and metal holder in black or white. The bulbs will be $74.99 to $89.99 depending on style, while the cords will be $49.99 each.
Exclusive to North America, for the moment at least, is the new Philips Hue Slim Downlight. While it may look like a standard, recessed downlight when installed, it doesn't require a traditional CAN. In fact, it's just 3/4-inch thick, and can be fitted into rooms with low suspended ceilings.
There are 1,200 lumens of maximum brightness, and multi-color support too. Like the Lightguide bulbs, the Downlights are dimmable to 0.2%. Philips says they're rated for humid environments, such as bathrooms. They'll be priced at $69.99 each when they go on sale on September 1, 2022.
PC gamers get color-synchronized lightstrips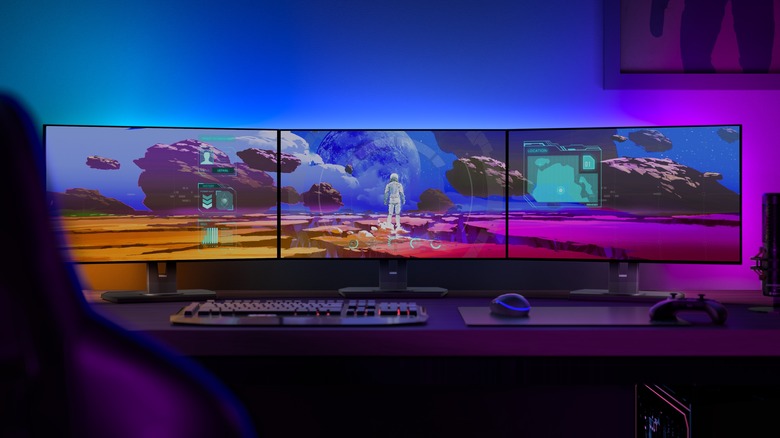 Philips
Finally, there's the Philips Hue Play Gradient Lightstrip for PC. Like the version Philips launched for TVs, it's a flexible light strip that fixes to the back of a display — in this case, a PC gaming monitor — and can show different zones of color along its length. That's controlled by the Philips Hue Sync app for PC, which matches the ambient glow to the game on-screen.
There'll be two sizes, one for displays 24 to 27 inches for $169.99 and the other for displays 32 to 34 inches for $189.99, together with a version for three-screen setups at $279.99. The latter is designed for a trio of 24 to 27-inch displays, with each of the three sections of light strip daisy-chained from the last. According to Philips' research, most multi-screen gaming rigs apparently skip two displays and go straight to three, so that there's no joining line right ahead of the player. Gamers will be able to choose which screen — and even which portion of the screen — is used for the color matching. All will go on sale on September 13, 2022.
Matter and more is coming to the Hue app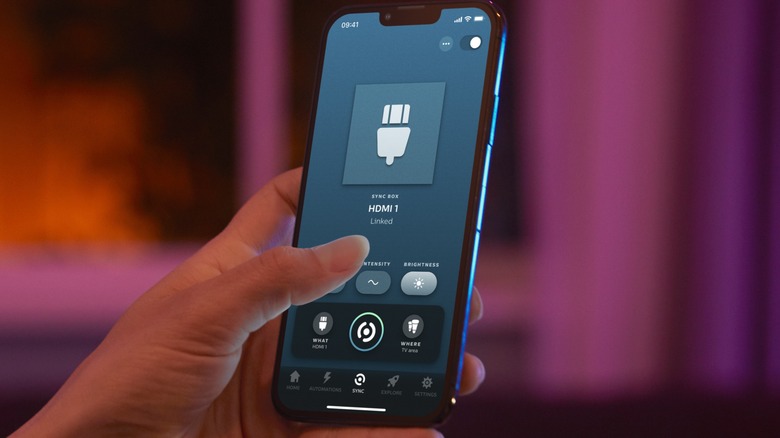 Philips
Philips' Hue software is also getting a handful of new features. Perhaps most useful will be Hue's ability to mimic your presence at home, automatically turning rooms and scenes on and off to make it look like you're physically there. It'll build on the existing timers that the Hue app supports, and users will be able to pick which room and lights are included, and what time it happens (or if it's only when it's dark outside) when the feature goes live this month.
Users of the Hue Sync Box will find, as of later in Q4 2022, that the functionality they currently open the standalone Hue Sync app for will be integrated into the main Hue software instead. It's part of Philips' push to simplify, and it'll see the TV-synchronized features added as an option alongside the existing Spotify integration.
Down the line, Philips says that Matter support for Hue is still on track for a Q4 release. It'll involve a software update for the Hue bridge rather than new hardware. Philips is also launching a new SmartThings integration for music sync, which will work similarly to its Spotify support. Any music on a Samsung Galaxy phone or tablet will get a real-time light show during playback. Finally, a partnership with Corsair will see Hue lights integrated with the Corsair ICUE app.