Nexus 4 T-Mobile Review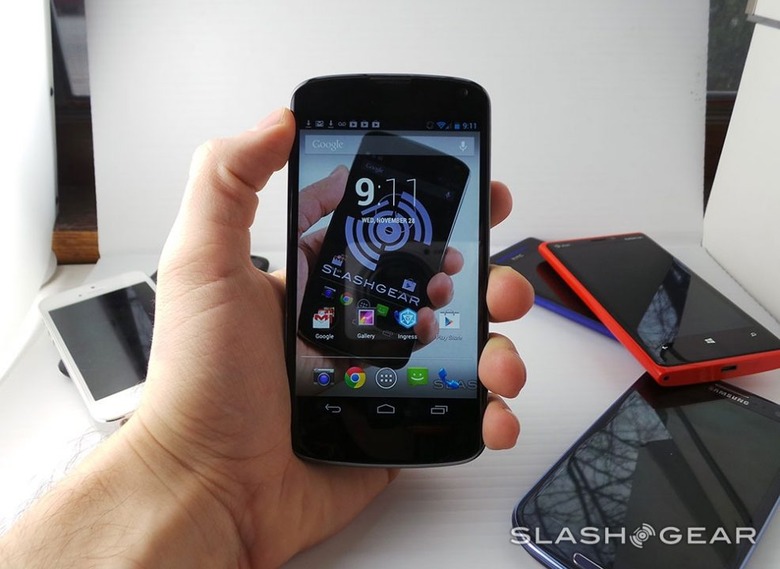 The difference between the Google Play Nexus 4 and the T-Mobile Nexus 4 is neither in the hardware nor in the software, but in the cost and agreement you'll be making with T-Mobile – but that doesn't mean we can't give some more time to Google's own smartphone hero for Android 4.2 Jelly Bean – for science! First be sure to take a peek at our original full Nexus 4 review as done by our own Vincent Nguyen, then have another dive in with the slight differences between it and the T-Mobile edition – must be something for the massive difference in price, right?
Hardware
I had major reservations about the LG Nexus 4 after having experienced the strangely slippery hardware of the LG Optimus G (see our full review here). I'm not talking about any sort of slipperiness in an ephemeral sense – I mean the plastic and glass that makes up the bulk of the device is literally slick. As it turns out here with the LG Nexus 4 though, any little bit of grip friendliness lost is more than made up for by the fabulously well-crafted curved edges of the front-facing panel.
Both the front and back panels on this device are made of Corning Gorilla Glass 2, the newest in undeniably tough glass action from the biggest name in reinforced glass panels for mobile devices today. Under the back panel you'll find the same Crystal Reflection pattern that the LG Optimus G has, many different squares of reflective material creating an ever-changing pattern of light and dark. The name "NEXUS" sits on the back in big clear letters so you know what you're using, too.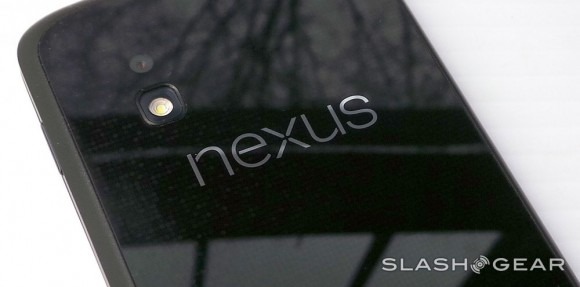 The display on this device is a lovely 768 x 1280 pixels across 4.7-inches of IPS PLUS LCD. That's 320 PPI, just above Samsung's Galaxy Nexus at 316 PPI (PenTile* in that case), and the Nexus S which was all the way back at 235 PPI. For comparison purposes: the iPhone 5 (and 4/4S) sit at 326 PPI and the highest sharpness on the market today exists on the HTC DROID DNA at a massive 440 PPI (across 5-inches of display, no less).
*See more on Samsung's PenTile choices here: "PenTile keeps you happy for Longer" – as spoken by Philip Berne for Samsung (Philip is also a columnist for SlashGear, mind you.)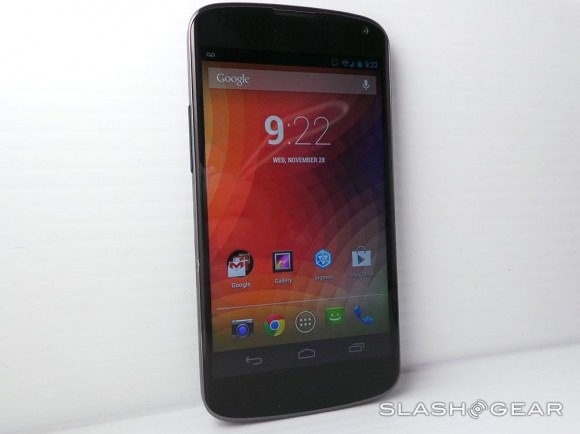 The Nexus 4's display is as bright, sharp, and vibrant as your eyes can handle – so says DisplayMate. Touch sensitivity on this display has been nothing less than top-notch, and viewing angles are essentially perfect. This device works with an RGB subpixel arrangement rather than the PenTile we've seen on several recent device including the Galaxy Nexus. LG's choice here means that that any pixelation you might have noticed in the Galaxy Nexus is gone here and the display experience is easily one of the best you'll find on any smartphone or tablet out today.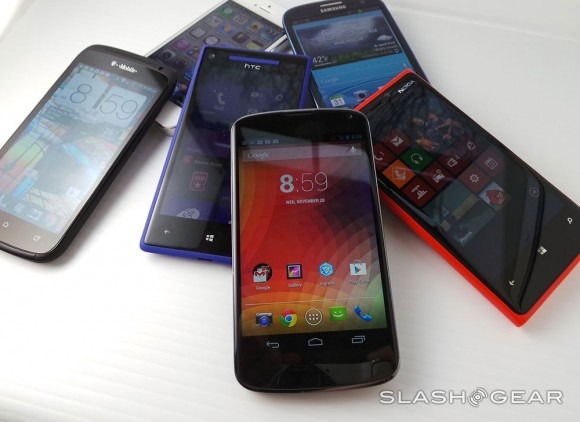 This device also works with not just wireless mirroring in the near future with Miracast, but SlimPort as well. With SlimPort accessories you'll be able to mirror your display via full-sized HDMI while your device charges at the same time – quite similar to what the HDMI converter accessories for MHL-compatible devices do. Here though you've got compatibility with HDMI, VGA, DVI, and DisplayPort too – though just the HDMI accessory exists at the moment.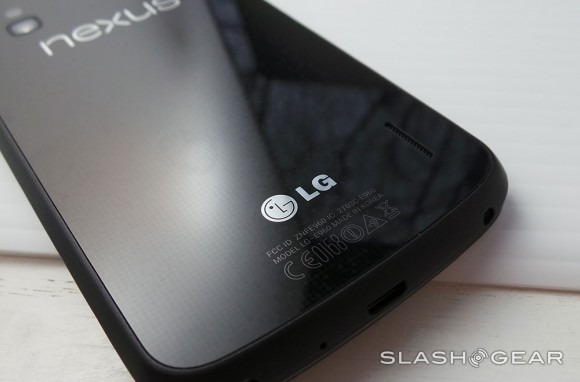 Also note that the Miracast standard wireless technology exists on several devices at the moment, also including the Samsung Galaxy S III. You wont find so much as a peep from this technology in the Nexus 4 at the moment, though – we must assume that it'll show itself once more accessories working with the Miracast standard hit the market. It is strange that Google would market the device as having said abilities without them being utilized right out of the box – isn't it? Have a peek at a column by the name of Miracast Accessories: don't jump in head first just yet for more information on the future of this technology – the imminent future, that is.
Camera
The camera is a vast improvement over the Samsung Galaxy Nexus' clunky 5-megapixel shooter, and not just because you've got a few more megapixels to toss around here. It would appear that LG, Qualcomm, and Google have come together to create a camera experience here that's sharp and clear. It's not perfect, and we're not quite ready to say it beats out the Samsung Galaxy S III, Nokia Lumia 920, or iPhone 5, but it's certainly a contender.
The panorama mode as well as Photo Sphere create images that are impressive to behold, but again, are not perfect. While the stitching of images together to create a whole are rarely done without error, the final product is almost always worth keeping. Have a peek at a couple of Photo Spheres in action in the following: [Mall Parking Lot], [Gas Station], [Arcade] – each are posted to Google+ in full-on exploration mode so you can see them in their natural state. Google cross-promotes their social network and the software here as Android 4.2 Jelly Bean+ will bring on this Sphere ability to all devices that run with it from that point onward – fun stuff!
Initial Cost and Data Plans
Once again, let's not forget that you literally get the same device from T-Mobile that you'd get from Google here, packaging and all. That said, the off-contract price for the T-Mobile-sold Nexus 4 is up at $499, that being approximately $150 more than the off-contract model you can buy from Google Play. Considering the fact that the Google Play online store is completely sold out of the device right now, with a 4 week wait (for some) before device delivery, you might want to drop that $150 to get it sooner.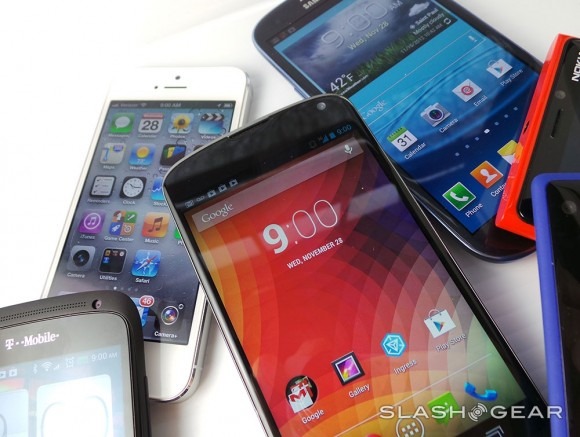 The device is available from T-Mobile attached to a 2-year contract for $199.99 (this being that $150 less than the Google Play $349.99 price), which you might as well go for if you're planning on working with T-Mobile one way or another. T-Mobile has a large collection of monthly plans for data, text, and talk, with the largest being a lovely $124.99 per month for unlimited action for all services with 10GB of data working at full speed (with throttling after that). This plan also includes hotspot abilities so you can share data from your smartphone to your other devices as well as 10GB of cloud storage.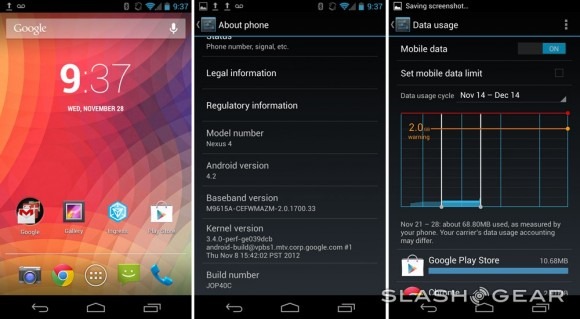 Though T-Mobile does have several unlimited data plans, its worth mentioning that you will be "throttled" after the specified amount of data is used each month. Throttling data speed means you've got significantly slower data delivery than, in this case, T-Mobile's 4G HSPA+ network normally delivers. You've also got a $79.99 per month plan that includes unlimited data, text, and talk, this time with 2GB of high-speed data before throttling.
Wrap-up
The LG Nexus 4 is just as awesome a Nexus device as any that've come before it. Google continues to bring forth stronger and stronger devices, amalgamations of power here in addition to standardization for developers. With this generation comes one of the most powerful processors on the planet along with one of the strongest cameras on the market and a rather top-tier experience for not just the expert Android user, but the average smartphone lover as well.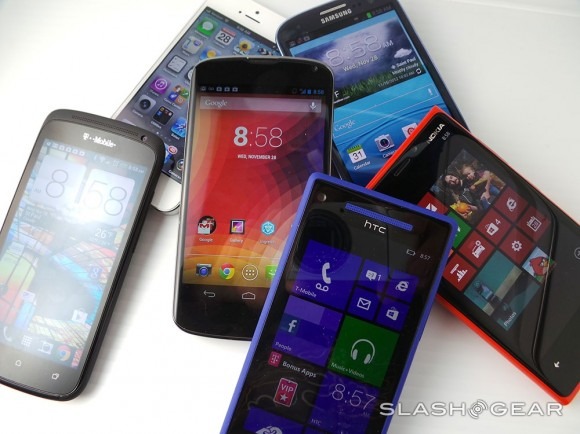 The only thing you'll want to keep your eye on is the fact that this device does not work with 4G LTE – if you need data speed in a mobile way, this isn't your best bet – not yet, anyway. If you're in the shade of the great wi-fi gods on the regular: no worries. Outside of data speed, this is easily one of the most fabulous smartphones on the market today.