Galaxy Nexus Review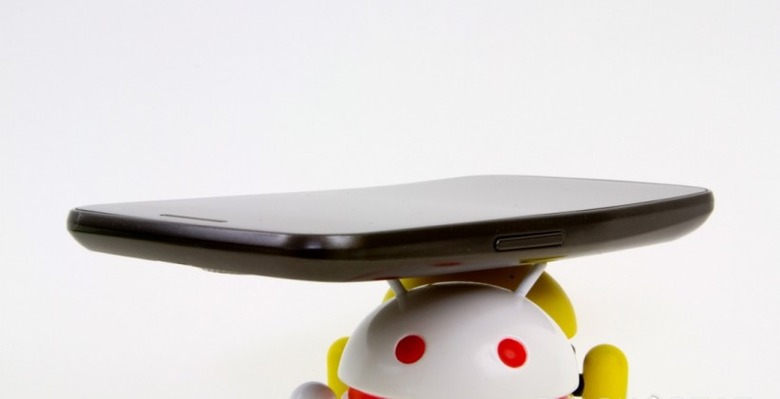 A new Nexus is a big deal in Android land, and the Samsung Galaxy Nexus has plenty to live up to. As close to an official Googlephone as we ever get, they demonstrate not just how Android's creators think smartphone development should progress, but set the benchmark by which the platform as a whole is compared to rivals like the iPhone. The Galaxy Nexus brings with it Android 4.0 Ice Cream Sandwich and some of Samsung's finest hardware: do the two add up to the best smartphone on the market today? Read on for the full SlashGear review.
Hardware
The Galaxy Nexus' Samsung lineage is clear. The bowed fascia – which Samsung calls a "Contour Display" and claims makes for easier one-handed use and more comfortable calls – is carried over from the Nexus S, while the rest of the design is strongly reminiscent of the Galaxy S II series of handsets. That does mean a plastic rather than metal body, here finished in matte silver, though the battery cover – while as flimsy as those on other recent Samsung phones – does have a semi-soft finish that's easily gripped.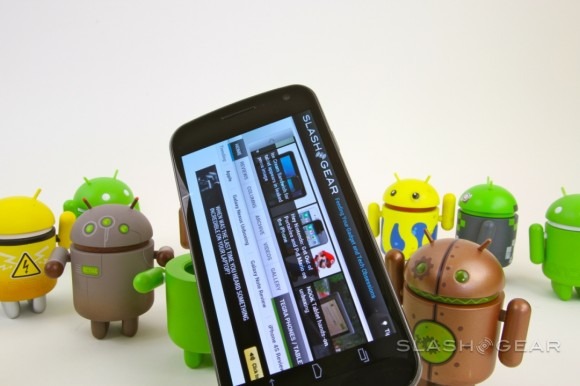 The curved profile emphasizes the taper, the top edge being pleasingly narrow and then swelling to a speaker bulge at the bottom complete with the microUSB port and 3.5mm headphone jack. On the left edge is a volume rocker, easily found with the finger and with enough button travel to leave you certain you've pressed it, while on the right edge is the power/lock button and, further down, three charging contacts for the various docks Samsung and Google plan to eventually release. For the moment, though, official accessories amount to the microUSB charger, wired handsfree-kit and microUSB cable found in the retail box.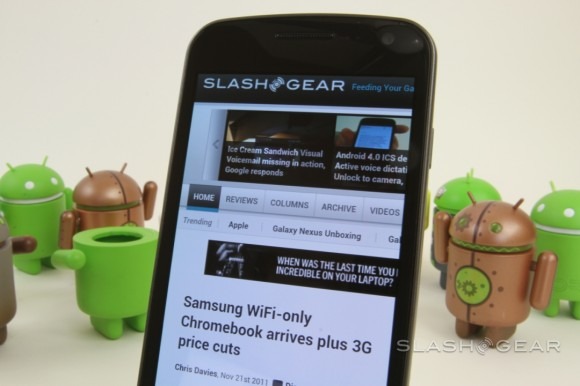 Behind the fortified glass is arguably the Galaxy Nexus' crowning glory, a 4.65-inch Super AMOLED HD touchscreen running at 1280 x 720 resolution. That's almost the same number of pixels as Samsung fits into the 10.1-inch display of its Galaxy Tab 10.1, which gives you an idea of the sort of density we're talking about in the Googlephone. Much has been made – and significant worry voiced – over Samsung's use of a PenTile display, but in practice colors are bright and vividly saturated, viewing angles are broad, and blacks ink-rich in their darkness.
Galaxy Nexus boot-up screen
[vms 06d7ffda75cd0b95eb70]
The only visual aberration we've spotted is a slightly apparent texturing of blocks of pale colors when the backlight is low, almost as if the screen was printed on fine-grained paper. It's little noticeable, and disappears when the backlight is turned up. Samsung has opted for a draconian auto-backlight setting, keeping things as dim as possible, which can somewhat emphasize the issue. Make no mistake, though, this is a very minor caveat in what's otherwise a fantastic screen.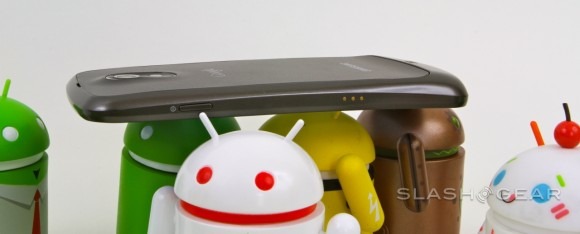 Although the display measurements might lead you to expect an oversized handset, Google's decision to make the persistent Android controls part of the on-screen UI meant Samsung could extend the panel deep into the Galaxy Nexus' chin. It fits the hand neatly, the curved corners leading to a device that feels more like the 4.3-inch Galaxy S II than you'd believe.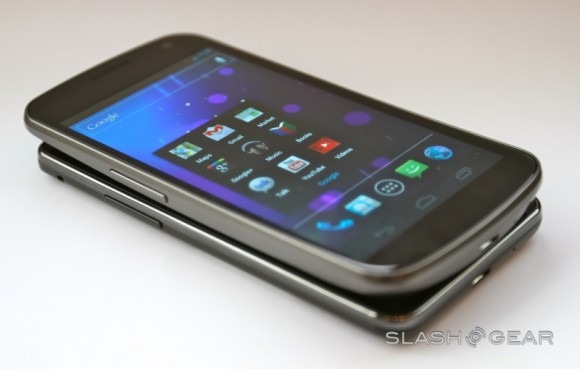 Inside, there's a 1.2GHz dual-core Texas Instruments OMAP 4460 processor, paired with 1GB of RAM and, in this HSPA+ version, 16GB of storage (which can be freely used for either user-data or apps). The LTE version of the Galaxy Nexus has up to 32GB, and since neither has a microSD card slot that's your lot. There's also a 384MHz PowerVR SGX540 GPU. Connectivity includes pentaband HSPA+ (capable of up to 21Mbps downloads and 5.76Mbps uploads, network depending) meaning the phone can work on both AT&T and T-Mobile USA's networks, along with quadband GSM/EDGE, WiFi a/b/g/n (2.4GHz and 5GHz), Bluetooth 3.0+HS, NFC and MHL HDMI support with the right adapter cable. The LTE model will support Verizon's 4G network and be on sale before the end of the year.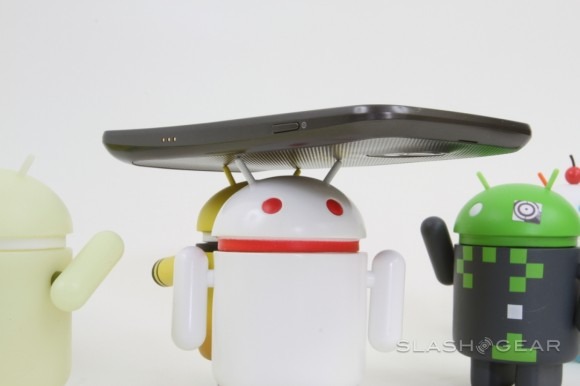 GPS, an accelerometer, gyroscope, digital compass, proximity and light sensors, and a barometer round out the main sensors. A 5-megapixel camera with autofocus and a single LED flash – capable of 1080p 30fps video recording – is on the back, while 1.3-megapixel camera for up to 720p video calls is on the front, above the display. A multi-color notification light hides in the Nexus' chin.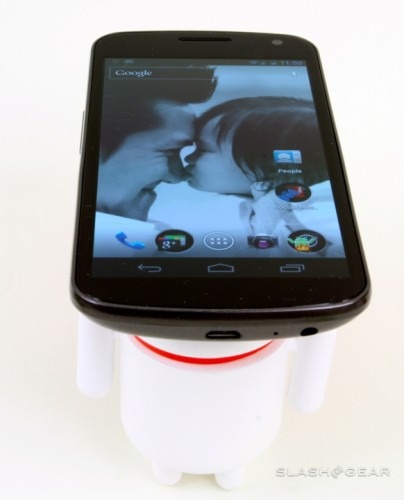 Overall, it's a handsome and distinctive device, that manages to squeeze in a large display without sacrificing the ability to drop it comfortably into a front trouser pocket. More metal in the construction would be a treat for the fingers, perhaps, but the Galaxy Nexus is still flex-free and feels sturdy.
Software and Performance
Hardware is only part of the story with the Galaxy Nexus: software – specifically Android 4.0.1 Ice Cream Sandwich – is a considerable part of the smartphone's appeal. We've separately reviewed Google's new software platform comprehensively here, but will pick through some of the highlights on the Galaxy Nexus.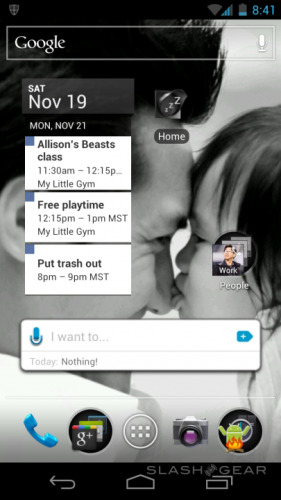 ICS' predominantly black interface blends seamlessly into the Nexus' screen bezel, particularly effective when it comes to the virtual back/home/app-switch buttons at the bottom. Google's new Roboto font looks brilliant, but the most significant improvement is the consistency throughout. Where Android once felt heaped together, a framework for Google's various apps to gain traction, the platform as a whole feels far more connected and uniform. Introducing third-party apps will obviously take its toll on that, but we're hoping developers use ICS' style as a guideline when they bring their software up to speed.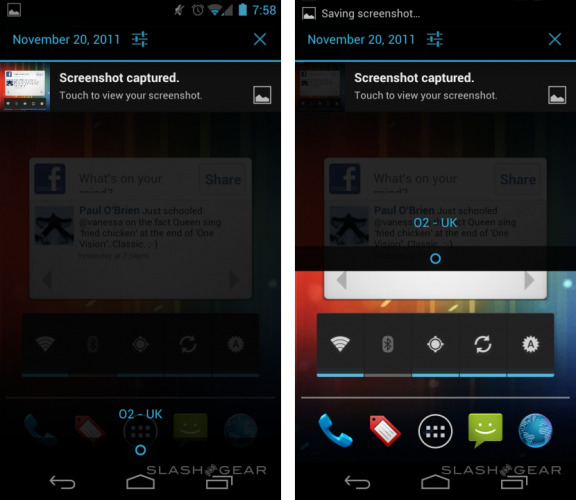 Although the TI dual-core is capable of 1.2GHz in the Galaxy Nexus (the chip itself is offered at up to 1.5GHz in other devices) during our testing it spent less than 5-percent of its time at that speed. In fact, over 85-percent of the time the CPU was running at just 350MHz, with the remainder somewhere around the 700-850MHz point. That aggressive throttling – and the fact that the phone never felt slow – is testament to Ice Cream Sandwich's frugality and refinement.
Android 4.0 Ice Cream Sandwich first hands-on [Hong Kong]
The Galaxy Nexus doesn't support USB Mass Storage mode, though that's a limitation of the phone – because of the absence of a memory card slot – rather than Ice Cream Sandwich. Instead, you get MTP support, which means basically the same plug-and-play access on Windows systems and, with the free Android File Transfer app installed, on Mac computers. There's also a PTP camera mode, allowing for access by camera software.
It's worth reading our full Ice Cream Sandwich review for all the details on Google's new mobile OS.
NFC
Near-Field Communications (NFC) hasn't quite come of age in cellphones yet, but that's not for Google's lack of trying. The Galaxy Nexus is the second in the Googlephone series to support NFC, the Nexus S already being put to work supporting Google Wallet for wireless payments.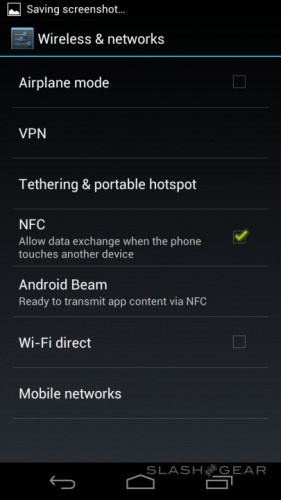 On the Galaxy Nexus, however, NFC is initially being positioned as a peer-to-peer networking technology. Android Beam, a new ICS feature, allows for straightforward swapping of contacts, webpages, YouTube video links, directions and apps, simply by holding two NFC-enabled handsets back-to-back. A sharing dialog pops up, you tap it and the on-screen content is blasted across to the other phone.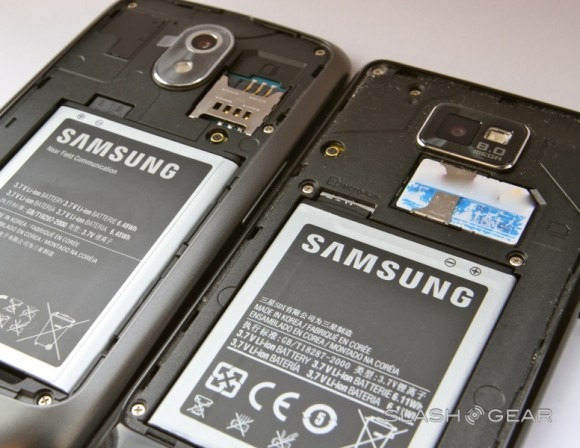 Obviously both devices need to have NFC and they need to be running Ice Cream Sandwich for it to work seamlessly; the Nexus S will apparently receive the data as a collected tag. That's going to be a sizable limitation, certainly while the Galaxy Nexus is the only ICS device around, and even after the Nexus S gets its promised ICS update. So far, Android OEMs have proved generally reluctant to fit NFC because of the limited number of applications for it; indeed, we were unable to try Android Beam during our testing, as we only had a single Galaxy Nexus. From previous experience, however, we know it works, and it's likely to encourage manufacturers to include NFC as a basic element of the Android experience moving forward.
Camera
5-megapixels doesn't look like much on paper – after all, Samsung has been pushing out 8-megapixel handsets for some time now – but as many spec-chasing manufacturers have discovered, there's far more to creating a good picture than just the sensor's raw abilities. The Galaxy Nexus is still capable of 1080p Full HD at 30fps of course, and even its front-facing camera is good for 720p HD.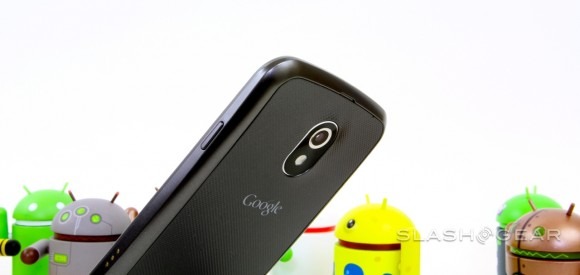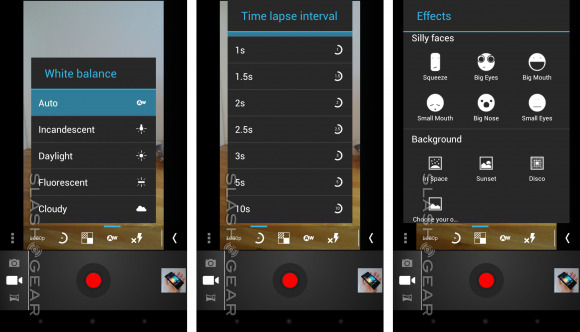 ICS' camera UI introduces an extra tap before you can switch between still photos, panoramic photos or video recording, whereas flipping between the main and front cameras is a single tap away. We'd rather see those reversed. A side-scrolling settings menu offers five scene modes – auto, action, night, sunset and party – along with adjustable exposure, white balance settings, flash control – auto, on and off – and a digital zoom. Google is particularly proud of the zero-lag shutter, with tap-autofocus and actually grabbing still images considerably faster than on previous Android phones.
The final results can be great, but it's not a home run. With sufficient light, images look natural and exposure is handled well, though colors are more muted than other recent Samsung Android phones we've used. Indoors, the Galaxy Nexus generally held up well in terms of avoiding too much noise, though occasionally the reduced shutter-lag technology actually proved something of a hindrance rather than a boon, with slight blurring showing up in the final shots.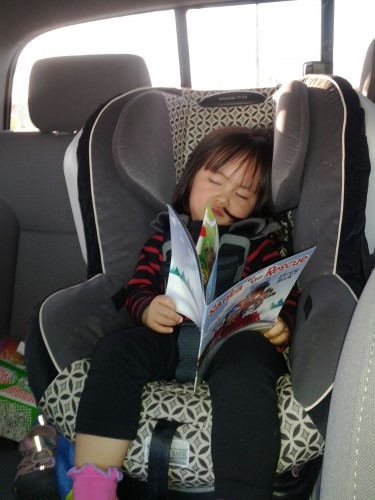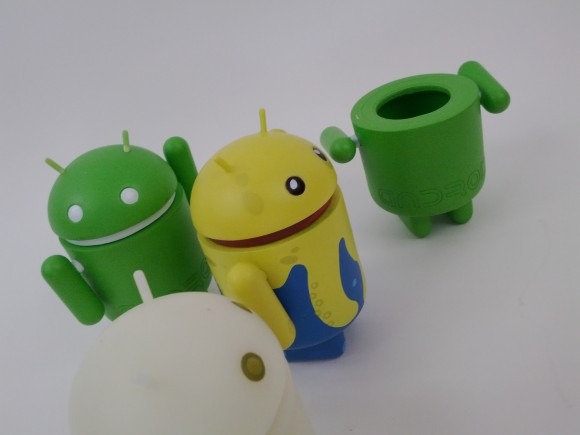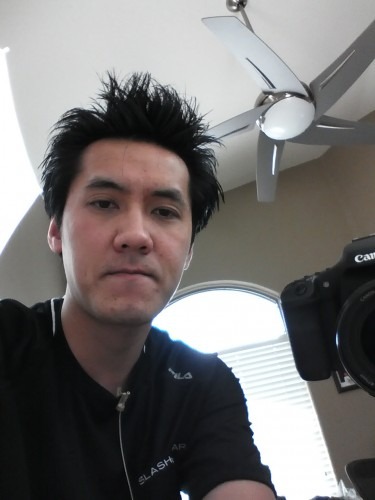 Video, meanwhile, can be recording in 480p, 720p or 1080p resolution, with control over white balance and whether the LED flash is used as a video light. However, there are also some more complex features, like time-lapse, which allows you to create a movie clip consisting of snapshots at various intervals (ranging from 1s to 10s), and a range of digital effects. The latter can either use face-tracking to morph your subjects in real-time – squeezing their face, giving them oversized or undersized eyes, mouth or nose – as well as digitally change the background behind them. As in Apple's PhotoBooth app, you choose your background (either a preset or an image from the Gallery) and then step out of frame, and when you return you're digitally overlaid on top. It works, just about, though is more gimmick than anything useful.
Thankfully video quality itself is far from being a gimmick. Given plenty of light, 720p/1080p HD clips are crisp and very watchable. Less light and things begin to suffer, with noticeable noise in darker areas of the frame. Google is rightly proud of its continuous focus system, however, which generally had no issues grabbing and clinging to a subject when lighting was good, and only suffered the occasional moment of hunting when things got darker.

Panorama mode, finally, is options-free: hit the shutter release and pan the Galaxy Nexus to the left or right, with a guide frame showing your progress at the bottom and warning messages if you move too fast. At the end, ICS cobbles the whole thing into a wide photo, though the end-results proved a mixed bag in our testing. Sometimes the joins were neatly fashioned; other times there were duplicated elements and it looked more like the Nexus had simply blurred the edges together.
Phone and Battery
Samsung fits the Galaxy Nexus with twin microphones for active noise-cancellation during calls, and that – along with a tenacious grip on a mobile signal – added up to above-average call performance. Incoming audio was crisp and loud, while those we spoke to had no problems hearing us even with street noise in the background. The rear speaker could have ramped up louder than the current maximum for our liking, however.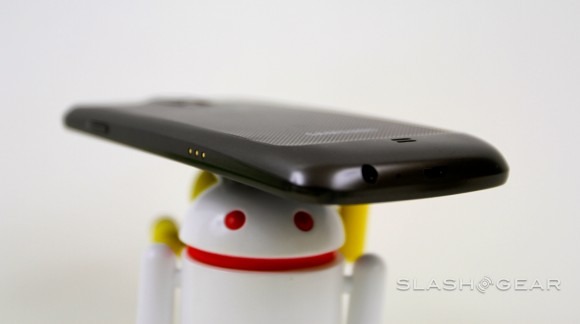 As well as regular voice calls, Ice Cream Sandwich supports VoIP, both from third-party services like Skype and native SIP support. If you have one or more SIP accounts you can direct your calls over that VoIP network rather than through your carrier's voice network, as well as optionally receive incoming calls too (ICS warns this could have a detrimental affect on battery life). It's important to remember that we were testing the HSPA+ version of the Galaxy Nexus, not the LTE model which will arrive on Verizon by the end of the year.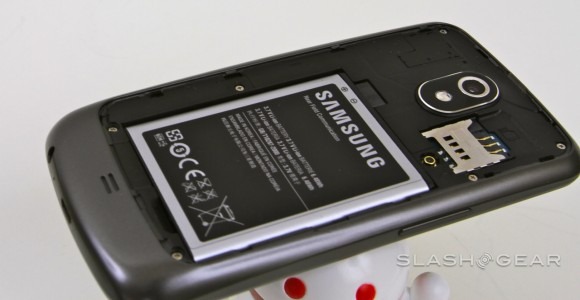 That LTE model will have a slightly larger battery than the HSPA+ version: the Galaxy Nexus we tested has a removable 1,750 mAh Li-Ion pack, whereas the LTE model increases that slightly to 1,850 mAh (with an ensuing increase in bulk, albeit relatively minor). Samsung quotes up to 12hrs of talktime or 270hrs of standby time on a full charge , though obviously typical smartphone use consists of a far broader range of tasks than just voice calls.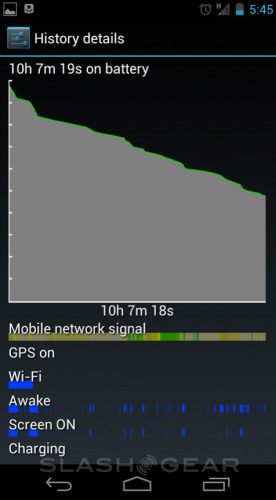 It's certainly easy to run down the Galaxy Nexus' battery in relatively short order. The big screen, usability of Ice Cream Sandwich and general performance meant it was hard to keep our hands off the phone: with above-average use, push-email turned on, using both 3G and WiFi at various times, we had to top up before the day was through. However, with more typical use – some browsing, push email, Google+, Facebook and Twitter, a couple of voice calls and SMS, some photographs and Google Maps use – and with WiFi turned off all day, the Galaxy Nexus went from full to around 25-percent in just under 15hrs.
We'll have to wait until we can test the LTE version to see if Samsung and ICS have been able to address the issue of 4G's prodigious hunger for power.
Wrap-Up
Make no mistake, this is the best Android phone around today. It's impossible to divorce Samsung's hardware from the Ice Cream Sandwich experience, for the moment at least. That may change as more manufactures offer Android 4.0 phones, but for now it's tough to think of going back to a Gingerbread or earlier device. ICS' finessed software works beautifully with Samsung's hardware and – with the exception of the camera, perhaps, which can be a minor blot on the Galaxy Nexus' score sheet – the sum of the two parts is massively compelling.
Ice Cream Sandwich will spread, but even then the Galaxy Nexus' hardware will likely prove a strong argument to go with the Googlephone rather than something else. The 720p HD display is incredible, the dual-core processor swift and the HSPA+ connection fast; that speed will only increase when the LTE version arrives. Those addicted to photography may want to look elsewhere, but everyone else can be reassured that the Galaxy Nexus is one of the finest devices on the market today.
Chris Davies contributed to this Galaxy Nexus review.