Nexus 4 Review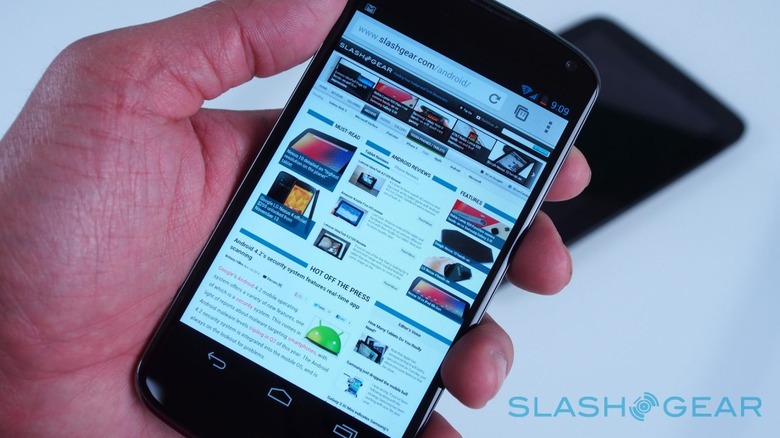 Google is up to its fourth Nexus smartphone, and the LG Nexus 4 faces a very different mobile world from the heady days of the Nexus One. Back then, Google's Nexus led the field in specifications, a deliberate kick to manufacturers to be more imaginative with their Android devices. The Nexus 4, however, faces ambitious and best-selling Android phones (not to mention the iPhone 5, and the launch of Windows Phone 8) that are already capable and compelling. Does the new Nexus have a place in the mobile market? Read on for our full review.
Hardware
If you've been keeping up to date with recent Android devices, the Nexus 4 should come as little surprise. Like Samsung before it, LG has looked to a recent flagship to build from, and the Nexus 4 is a not-too-distant cousin to the LG Optimus G.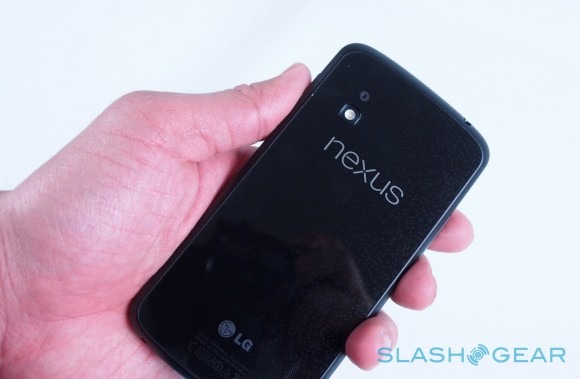 That's not a bad place to start, however. The Optimus passes over its 4.7-inch 1280 x 768 resolution HD IPS+ display – mustering 320ppi, versus the 326ppi of the iPhone 5, but in practical terms equally smooth in appearance – and while LCD is a first for the previously all-AMOLED Nexus line-up, it's a beautiful panel. Blacks are deep and rich, while colors are bright but not over-saturated as can sometimes be the case with AMOLED. LG's integration of the touch-layer and the top glass means graphics swim right underneath your fingertip.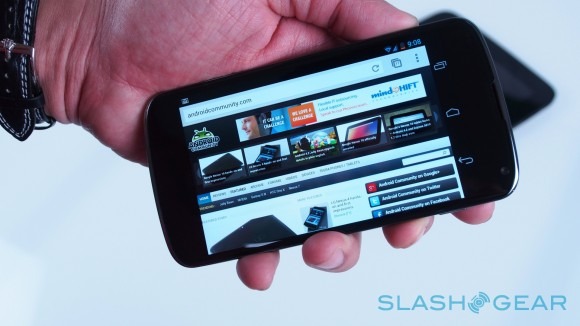 The Nexus 4 also gets Qualcomm's 1.5GHz quadcore Snapdragon S4 Pro with Adreno 320 GPU and 2GB of RAM. As per the Galaxy Nexus, there's no room for a microSD card: instead, you're stuck with either 8GB or 16GB of internal storage, and relying on Google Drive if you need any more.
It's not the only compromise, either. Unlike the Optimus G, the Nexus 4 lacks LTE, topping out instead at pentaband HSPA+ 42Mbps with support for both AT&T and T-Mobile USA's networks. That, Google has said, is because of the cost and complexity of outfitting phones with LTE radios to suit each carrier, particularly when you're aiming – as the search giant is – to sell more devices unlocked and SIM-free than you are subsidized through carriers. Other connectivity isn't quite so disappointing, with dual band WiFi b/g/n, Bluetooth 4.0, NFC for Android Beam, and microUSB.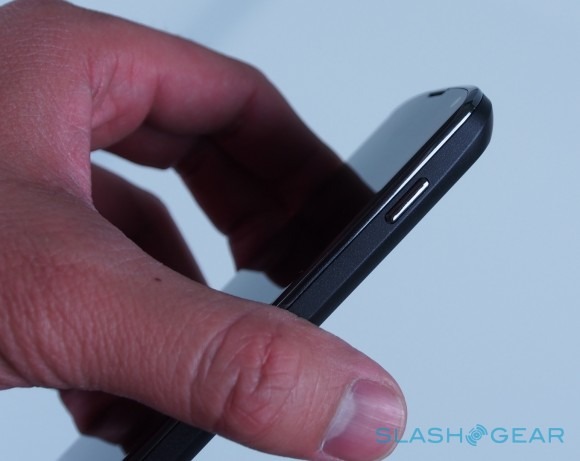 The usual array of sensors are present – accelerometer, digital compass, ambient light, proximity, gyroscope, barometer, and GPS – and the 2,100 mAh battery can be charged either via microUSB as normal, or using a wireless charger. Google has opted for the Qi standard, which means any compatible wireless charger – including those Nokia will offer alongside its new Lumia Windows Phone 8 range – will work to juice up your Nexus.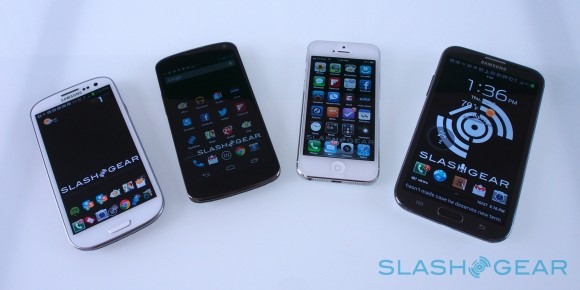 On the back there's an 8-megapixel camera and an LED flash, while the front-facing camera offers 1.3-megapixel resolution. The 139g body itself – which measures in at 133.9 x 68.7 x 9.1 mm – is made of a combination of plastic and glass, and feels considerably better in the hand than it looks in pictures. The edges of the Gorilla Glass 2 fascia curve slightly along the longer sides, meaning your thumb never encounters a blunt line when you're swiping, and the glass back panel is a cool, crisp touch. The soft-touch sides are easily gripped, and while opinions have been mixed here about the sparkly finish LG has given the rear, it's at least better than mock carbon-fiber.
Performance
With a final software update yet to come – more on that in the next section on Android 4.2 Jelly Bean – it's possible that Google could coax some extra performance out of the Nexus 4. As it stands, our benchmarking describes a phone that falls behind what the near-identically specified Optimus G achieved. In AnTuTu, the Nexus 4 scored 8,903, behind the scores of the HTC One X+, Note II, and Galaxy S III; in the same test, the Optimus G managed a huge 11,278.
In Smartbench 2012, the Nexus 4 scored 2961 in the productivity category and 2954 in gaming, while in Quadrant it edged ahead of the original HTC One X with a score of 4961. SunSpider, the test of browser JavaScript performance, the new Nexus scored 2170.4ms (lower is better).
What's interesting is that the difference in raw numbers doesn't add up to a phone that feels sluggish in use. No matter the app or the complexity of the webpage, the Nexus 4 whipped through with zero lag or delay. It's fast and responsive, and a great playing ground for the new version of Jelly Bean.
Android 4.2 Jelly Bean
Google's new version of Android is a minor refresh, as the unchanged name suggests, but there are a few key improvements which the Nexus 4 (and the Nexus 10 tablet) debut. Ostensibly it looks the same as Jelly Bean as we've seen it before, with the most visible difference promising to be the new lock screen, which will show widgets for calendar, email, and other apps. Third-party developers will be able to add their own lock screen widgets to apps available from the Play marketplace. Unfortunately, the new lock screen tech wasn't ready in time for our review, and will go live when the final ROM hits the Nexus 4 in time for its November 13 release.
What we could try is the new Google Now, which introduces fresh cards highlighting nearby events and concerts, upcoming hotel and flight reservations, places known for being photography hot-spots, and what movies are showing in nearby theaters. Voice search gets an update too, and can now be used – if you speak sufficiently clearly, and have a data connection – to set and search appointments along with open up apps. It's worth noting, though, that Jelly Bean 4.1 users can already try the new features by updating the Google Search app on their device.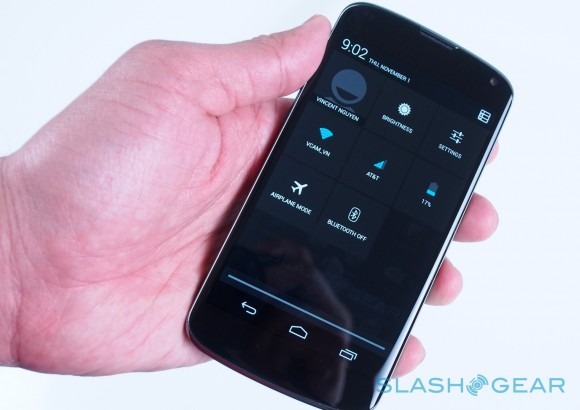 Android's flexibility with third-party keyboards has seen a number of alternative input options arise, though Google may well be putting some of them out of business with its new Gesture Type 'board. Like Swype, it allows text entry by sliding a finger between letters, rather than the usual hunt and tap, with a new word prediction system floating a box above your fingertip for easier review. It makes a real difference with one-handed typing, Google's new system keeping up with faster swiping and proving capable of picking out the most likely word we were typing, as well as gradually learning from our most frequently used words.
Wireless displays, with Miracast, are now supported natively, though you'll of course need a smart TV or monitor that can handle the standard. Alternatively, there are various third-party set-top boxes that can bring an existing screen up to speed. It works particularly well when watching streaming video, whether rented from Google Play and streamed from the cloud, or stored locally on the Nexus 4 itself.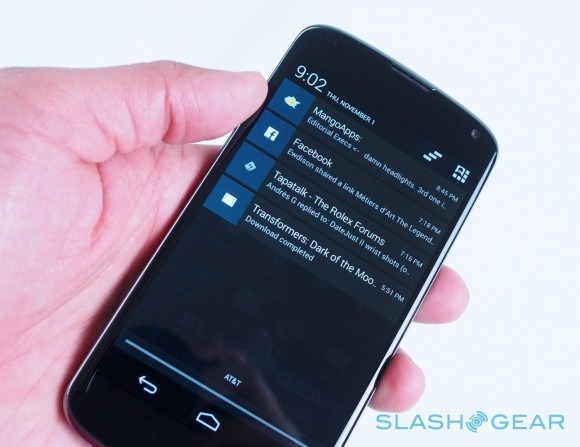 Jelly Bean was already a solid, capable OS, and this 4.2 version only polishes that. There are a few useful tweaks to the Gmail app with new gestures to shift messages from the inbox to the archive, along with zoom support. Finally, the pull-down notifications menu offers options to respond to an alert, not just open or dismiss it. You can snooze a ringing alarm, for instance, or fire off an email to meeting attendees from a reminder about an upcoming appointment.
Camera
The Nexus 4's main camera uses an 8-megapixel BSI sensor with f/2.4 lens, and is capable of 1080p Full HD video; unlike some variants of the Optimus G, it misses out on the 13-megapixel sensor. Up front is a 1.3-megapixel camera with 720p video recording.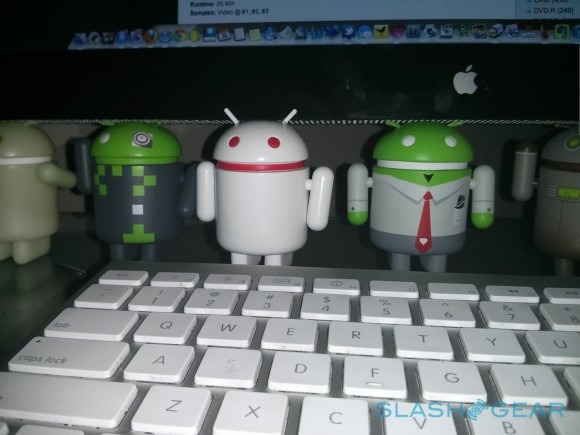 Previous Nexus phones haven't been known for their incredible camera quality, but the Nexus 4 delivers a noticeable step up. It's not the best camera we've seen on a recent phone – Samsung's Galaxy S III produces more colorful stills, to our eyes, for instance – but it's a huge improvement over the Googlephones that came before.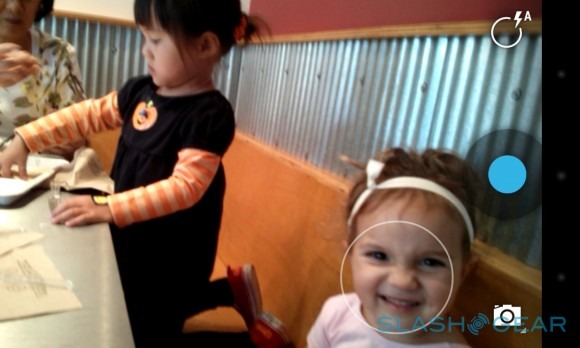 Video, unsurprisingly, is much in line with what we saw from the Optimus G. Colors are accurate, if a little muted, and the continuous autofocus makes it easy to piece together a more impressive clip than the usual point-and-shoot.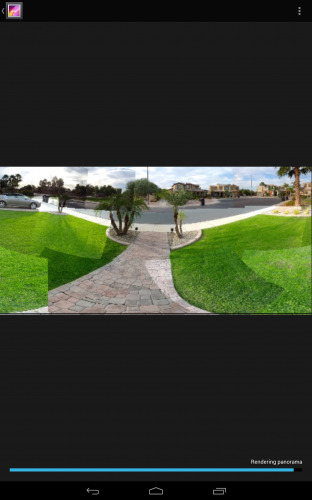 (Click for expanded view)
Of course, it's Photo Sphere that has been getting the most attention, a new addition to Android devices. It pieces together different frames into an overall 360-degree image, which can then be shared as stills or uploaded to Google Maps for use with the Street View viewer. In practice, while some impressive images can be coaxed out of Photo Sphere, it's also capable of some pretty underwhelming pictures. Indoors, with busy scenes, we had problems with badly-blended joins; outdoor panoramas proved far more successful.
Phone and Battery
Voice calls with the Nexus 4 were in line with what we experienced from the Optimus G, clear and with no issues with drops or static; the dual microphones help there. Google quotes up to 10hrs of talktime from the 2,100 mAh battery, or up to 7hrs web browsing, though in our experience it was heavily dependent on how bright we had the screen set. LG's HD IPS+ technology is certainly capable of some impressive brightness levels, but it also chews through battery life at the same time. Set to a more moderate level, we got through a full day before needing a recharge.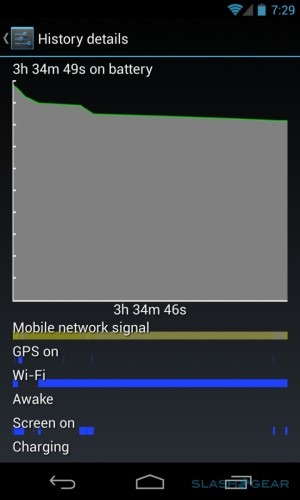 Of course, Google would like you to be setting the Nexus 4 down on a wireless charger when you're not using it, though one isn't included in the box. The switch to Qi technology from previous types of dock means you don't get Pogo pins on the Nexus 4, though the number of products that actually use them is so slim that for most people it's unlikely to make a difference.
Pricing and Value
Google's first Nexus was not only a spur to smartphone manufacturers, but the company's attempt to claw back some autonomy in mobile from carriers. That failed to transpire, but Google hasn't given up on its strategy of marginalizing them to "dumb pipes." The Nexus 4 will be offered via T-Mobile USA, priced at $199 for the 16GB model with a new, two-year agreement, but the real deal is when you go SIM-free.
Google is offering the Nexus 4 via the Play store, priced at $299 for the 8GB or $349 for the 16GB, unlocked and SIM-free. That means you can simply drop in your choice of AT&T or T-Mobile SIM – or, indeed, a SIM from an international provider – and get going, whether it's a post-pay or a pre-pay card.
The deals available when you're not wanting a subsidized device are generally significantly better, and so those willing to piece together a phone and plan separately are at an advantage. Considering the specifications, the Nexus 4 makes other Android phones – not to mention recently-announced Windows Phone 8 devices and the iPhone – start to look expensive.
Wrap-up
The LG Nexus 4 and Android 4.2 Jelly Bean are a very strong combination. LG's flagship hardware is capable of a smoothness we've only really seen hinted at with the effects of Project Butter until now; on the S4 Pro chipset it simply flies. Meanwhile, the gradual refinement of Android itself is more than welcome, and though Photo Sphere is undoubtedly a gimmick, features like Gesture Type make a noticeable difference to the usability of the phone.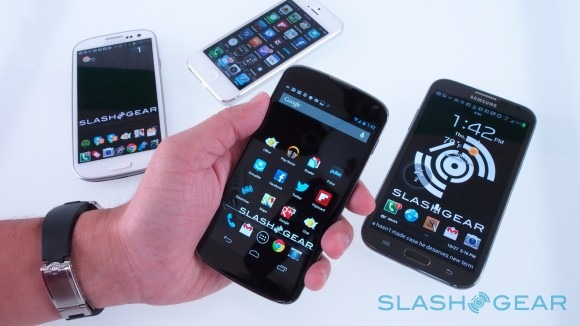 That makes it all the more frustrating that so few people will have access to Android 4.2. With so few devices updated to even the previous version of Jelly Bean, the saga of Android fragmentation shows little sign of ending. Google's strategy to address that appears to be more affordable hardware, though it remains to be seen whether the company can make unlocked devices popular in a way that it failed to manage at the start of the Nexus project.
None of that takes away from how capable the LG Nexus 4 is, however, and how keenly priced. Nexus devices are already appealing, being as they are at the front of the line for new Android updates, but until now there's always been a compromise somewhere along the way. With the Nexus 4, the compromise is as small as its ever been, and the fact that it's so very affordable makes it strongly recommended for those wanting the best of Android today.