iPhone 5 Review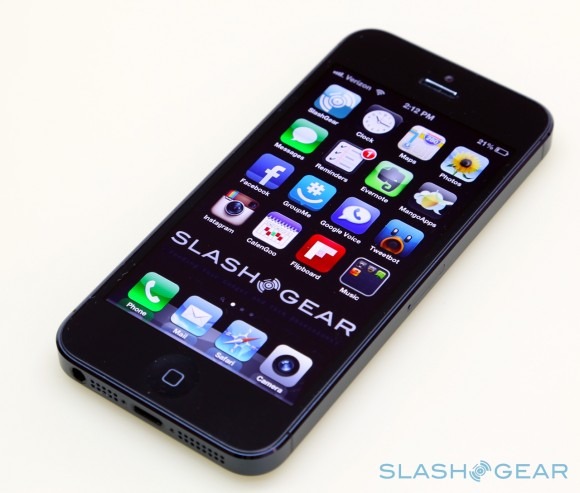 Apple's iPhone 5 has a lot to live up to. Its predecessor set sales records; its original ancestor changed the smartphone industry immeasurably. In the five years since the first iPhone, Apple's smartphones have taken the company's value sky-high, and made it a star performer in an otherwise laboring tech segment. In question: could the iPhone 5 shift the game ahead once again, while still retaining the essential DNA that makes iPhone users and developers so loyal to the platform? With competition surging, a bigger, faster, and bolder iPhone steps into the fray. Read on for our full iPhone 5 review to see if it can live up to those expectations.
Design
Unmistakably iPhone, and yet different. It takes little more than a glance to recognize the iPhone 5's lineage, though with closer examination it's clear quite how many aesthetic changes have been made in this sixth-generation handset. The new phone is thinner and longer than its predecessor; its anodized aluminum back replacing the old model's glass; the "sandwich" construction made more discrete.
Importantly, none of these changes have been forced for the sake of aesthetics alone, and in ensuring that they keep the DNA of previous models. The iPhone 5 is longer – 123.8mm now, versus the 115.2mm of before – so that it can accommodate a larger display. Its stretched appearance, meanwhile, is to keep the width of the display consistent: that means it can still be comfortably used with a single hand, the thumb extending to reach the limits of the UI without demanding that the person holding it stretch or use a second hand.
Aluminum rather than glass means the rear panel can be thinner, as well as more resilient to drops, and the change in profile maximizes internal space and emphasizes the waif-life 7.6mm thickness. At 112g it's lighter in the hand, too, though the combination of the sturdy casing and premium materials means the iPhone 5 doesn't feel cheap. In fact, like a good haircut, picking up the new model doesn't feel like a drastic change or departure from what came before. It's familiar enough to be usable, consistent.
Not everybody wants a big phone, though some people do. We're lucky that the iPhone 5 and the Samsung Galaxy S III, and other handsets exist, to fit those different needs. I've been using Samsung's flagship as my regular device since it was launched, and returning to pre-5 iPhones has felt cramped in comparison.
With the iPhone 5, though, it's been love at first swipe. The larger screen – still Retina resolution, at 326ppi, of course – is a great size compromise between the trend toward larger phones of the mobile industry overall, and Apple's own insistence on a resolutely pocketable device. The quality of the display bears mention too, however; Apple has used an in-cell touchscreen, doing away with another layer, and while ironically that has no noticeable change in touch sensitivity, it makes a significant one in how the screen looks and how the iPhone 5 feels overall.
Graphics swim directly under the fingertip, without any of the sense of buried depth you find with some panels. Viewing angles are incredibly broad – you can sit entirely offside from the iPhone 5 and still see the display with no color inversions – and the pared-down construction means the overall screen assembly is thinner and thus the iPhone 5 as a whole can be slimmer. It's a truly beautiful display, with the best colors I've seen in a mobile device.
As with the iPod touch, Apple has shifted the iPhone 5's headphone socket to the bottom edge of the handset. It takes a little getting used to, but after a short while it makes sense: you can drop the phone into your pocket top-first, without the cables getting caught up. It leaves the top edge only bearing the power/lock button, with the familiar round volume keys on the left edge, under a ring/silent switch.
Apple offers two color options, "white & silver" and "black & slate"; each uses the same mixture of glass and metal, and has color-matched beading between the antenna strips running around the outer-edge of the phone. They're finished with a beautiful chamfered edge, which Apple says is diamond-cut; it's unfortunately reasonably prone to scrapes, however, and after just a few days of relatively kid-glove treatment, this black review model bore at least one small scar. It would likely be less obvious with a white version.
Overall, though, it's a beautiful piece of engineering and design, and something you really have to hold in your hand to appreciate: neither photos nor words can quite do the accuracy of the construction and precise tolerances justice. Apple, for instance, says it employs two 29-megapixel cameras during the chassis manufacturing process, to match together the very best pairing of aluminum housing and glass inlay out of 725 unique options.
[nggallery id=66]
Hardware
The familiar exterior hides a clean sweep of changes inside the iPhone 5, with hardly a stone left unturned in bringing the new device up to par. Taking center stage is the Apple A6 chipset, a new processor of the company's own design, and which Apple claims to be twice as fast as the A5 in the iPhone 4S. Graphics performance has also been doubled, Apple says.
In practice, I couldn't find a single app to slow the iPhone 5 down. All of Apple's core software has been updated – more on which in a moment – to suit the new screen resolution of 1136 x 640 rather than the 960 x 640, and even when crunching Full HD video in iMovie (still currently in beta on this test unit), there was no sluggishness or lag. Apple's freedom to customize software and hardware so that they're perfectly in tune shows its benefits again, with none of the jitters that can affect even the most powerful pre-Jelly Bean Android devices.
The display may be bigger but so is the resolution, so Apple's Retina boast carries over from the iPhone 4S. Higher resolution panels are proliferating across the top-tier smartphones, but the iPhone 5's 326ppi pixel density means individual dots are still all but invisible to the naked eye. The in-cell touchscreen has also left the panel clearer in direct and indirect sunlight, a real advantage when you're using the smartphone outdoors.
Two connectivity standards make their iPhone debut on this latest model: LTE and Lightning. In fact, there are three iPhone 5 variants to handle different LTE networks in operation around the world, though even with up to five bands in this Verizon model, there are still networks either available or in the pipeline that the handset is incompatible with. That's down to fragmentation in LTE deployment rather than a shortcoming of the iPhone 5, however, and something each smartphone manufacturer has to deal with.
Apple's approach, in the US, is to offer one iPhone 5 with AT&T LTE support and another with Verizon and Sprint LTE. Each supports a selection of other, international 4G carriers, and there's a third model for Europe and most of Asia to handle LTE there. It makes for an altogether confusing situation when roaming, as even though a network operating in your next holiday destination may have LTE service, it might not be on frequencies compatible with your particular iPhone 5. Still, once you've got an LTE connection, the iPhone 5 flies. I've regularly seen download rates of around 13Mbps and upload rates of around 3Mbps.
The other new connection is Lightning, a proprietary sync/charge port that replaces the aging 30-pin Dock Connector. Apple presents this new socket as an inevitability of the shrinking process – it simply couldn't make such a small device if it needed to accommodate the far larger old-style connector – but it also brings some other advantages, such as being reversible. No more guessing in the dark as to which way round the charger on your nightstand plugs in, as it will connect either way.
There's no change in synchronization speed with Lightning, but it might require some changes in your other accessories. The port requires an adapter to hook up to the old-style Dock Connector, something which won't be available until October. Then, there'll be two versions, one a simple dongle and the other a short (0.2m) cable. It's potentially frustrating if you've got an existing speaker-dock or car kit that uses the previous port, but we're already seeing third-party manufacturers step up with new designs and/or interchangeable dock plates for that hardware which supports it. Apple, meanwhile, is pushing ahead with its wireless streaming options for media, and indeed the iPhone 5 supports AirPlay for sound and video, and Bluetooth 4.0 with A2DP support. WiFi a/b/g/n (with dual band support for 802.11n) rounds out the main connectivity options.
Apple has skipped NFC, leaving the short-range wireless technology that is gradually showing up in Android and Windows Phone devices. That comes as a disappointment for anybody hoping to see contactless payments integrated into the new Passport app in iOS 6, though it's questionably whether NFC has reached any sort of tipping point in the mass market. Accommodating NFC hardware would presumably have made the iPhone 5 slightly larger, a compromise Apple is apparently unwilling to accept for something far from popularized yet. Having had it on the Galaxy S III, however, and only used it a small handful of times, I'm not sure that Apple was wrong in that decision, either.
Overall, Apple has come up with a phone that's thinner and more flexible in how it can be used, without sacrificing the features of the iPhone 4S. True, it doesn't tick every possible box on the spec sheet, but what it does deliver is a sensible compromise of day-to-day usability in both hardware and form-factor.
iOS 6
Instantly familiar, but with a twist. Apple may have stretched the iPhone 5's screen – freeing up space for another row of icons on the homescreen, for instance – but iOS 6 won't scare away anybody used to an earlier iPhone, iPad, or iPod touch. This latest version apparently includes more than 200 new features, though what you'll actually notice boils down to a few key points.
Maps and Siri are probably the biggest points of change. Google Maps is gone, replaced by an app of Apple's own development, and for the most part it's very successful. Being homegrown means Maps can integrate more consistently into the overall iOS experience, so now you get integration with the lock screen – showing the next step of your journey without having to actually unlock the phone first – and if the iPhone 5 is sleeping when your turn is approaching, Maps will wake it up to prompt you.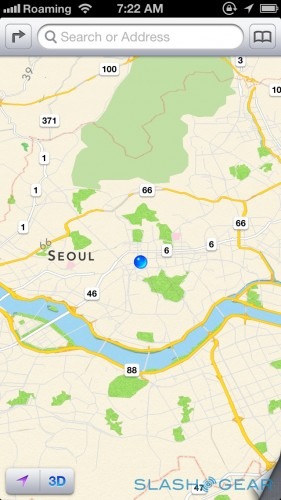 2D and 3D mapping, along with photo-realistic flyover views, all look great on the 4-inch Retina display, and there's no lag when swiping around, rotating the map, or zooming in and out. Apple has embedded traffic alerts into its app too, so turn-by-turn navigation – with spoken prompts, naturally – takes into account the actual road conditions rather than just the basic speed limits, when it figures out your ETA. That data can also be used to prompt detours if Maps figures out there's a delay ahead.
Unfortunately, it's not perfect. The excellent mass transit mode in Google Maps has no counterpart in Apple Maps, so there's no way to plan journeys that include bus, train, or other public transportation. Apple currently expects third-party apps to fill that gap. It's something I missed while testing the iPhone 5 during events away from home, when I rely on mass transit in cities I'm less familiar with.
Siri, meanwhile, can help in more situations and integrates more comprehensively with online services, such as restaurant booking. You can now ask for a recommendation of a nearby place to eat, based on cuisine type, see Yelp reviews, and then book through OpenTable. Rotten Tomatoes movie review data is used to suggest what might be worth seeing at nearby theaters (along with access to trailers, IMDB movie facts, and showtimes, all without leaving Siri's interface), and there's support for finding out baseball, basketball, football, hockey, and soccer scores and upcoming fixture information.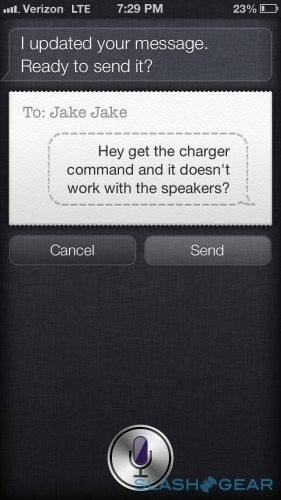 One of the simplest changes – opening apps by voice – has proved one of the most useful for me, particularly in the car. You can now simply tap the home button and say "open Maps" for instance, and the app loads up instantly. What makes it useful is the speed at which it happens; there's no churning away as can be the case with S Voice on the Galaxy S III, where it's often quicker to simply swipe through the app launcher to find the right icon. Finally, Siri now works in more places and in more dialects.
Passbook is Apple's attempt to corral loyalty cards, gift cards, membership documents, coupons, passes, and tickets into a single place, all stacked into a neat wallet UI. It's location-aware, so will suggest potentially relevant items depending on where you are – the Starbucks card will pop up if you're near a Starbucks cafe, for instance – though there are currently only a few compatible services and apps actually supporting it. Obviously it would be nice to be able to use NFC to actually pay for items with a gift card, but right now it's a case of scanning QR codes. We'll revisit Passbook later, when there's more to actually test with the system.
Similarly, it will take a little time for developers to get up to speed with the new 4-inch display. Right now, existing apps are letterboxed – they have black bars top and bottom (in portrait orientation) – rather than stretched, and that's certainly the right way of handling it. However, it's also annoying as it emphasizes the current waste of space. Apple tells me it's a relatively simple matter for developers to update their apps to suit the new size, and hopefully that will happen sooner rather than later; all of Apple's own native apps – including those not bundled with the iPhone 5, such as the iWork suite – have been refreshed to suit the higher resolution.
iOS has been criticized of late for not introducing any drastic changes. There are still no widgets, as you'd get in Android, for instance. Still, while Android is arguably more flexible, when it comes to everyday use, I – like a lot of people in the mainstream – find I more usually set up my device once and then don't change it. There are few widgets that I actually use, in fact.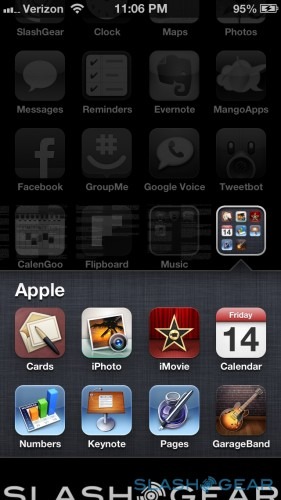 What you get with iOS is a consistent ecosystem: iTunes, iCloud, the App Store. Services that work together, particularly if you're pairing an iPhone 5 with an iPad or a Mac. iTunes Match, for instance – Apple's service where you pay a yearly fee for access to legal, streaming versions of your existing MP3 collection, however you acquired it – has made a significant difference to how I listen to music across devices, as has iTunes in the Cloud.
Versus Android, I miss the Google Voice integration, and the best Gmail experience is certainly on Android phones and tablets, but you still get compatibility with both in iOS 6. Both platforms come with compromises, in that sense. Overall, if you're coming to iOS 6 looking for a different software experience, then the iPhone 5 isn't for you. That still leaves plenty to enjoy for everyone else.
Camera
Most smartphone manufacturers concur that the camera is one of the features buyers use most often, and the iPhone 5's 8-megapixel iSight lives up to those expectations. The resolution may be the same as before, but the combination of a new backside-illuminated sensor and a reworked lens – covered with a tough sapphire crystal glass – along with new software and processing, add up to stills and video a step above what the iPhone 4S can deliver.
In fact, the iPhone 5 truly rivals a dedicated point & shoot in its camera abilities. Stills are crisp and bright, using a new spacial noise reduction system that can identify any outlier pixels – such as a rogue green dot in among an otherwise blue sky – and iron them out. There's also a low-light mode that promises a roughly two f-stop improvement in brightness and sensitivity by scaling down the end resolution and combining the data from four adjacent pixel clusters into each final dot in the frame. It's similar to some of what we've seen Nokia do with PureView, though without the need for a vast, bulky sensor.
[nggallery id=67]
Video, meanwhile, is recorded at 1080p Full HD, with face detection for up to ten people in-frame and digital image stabilization. There's now the ability to take snapshots while simultaneously recording, too. Compared to the clips produced by the iPhone 4S, the iPhone 5's footage is smoother and more detailed, with less visible noise in darker scenes. The front-facing camera also supports 720p HD video recording.
iOS 6 introduces Panorama mode – it will also be added to the iPhone 4S – to create far larger stills by stitching together multiple frames automatically. Hit the button and the iPhone guides you across the scene, flashing up useful tips such as warning you if you need to slow down. It's possible to piece together roughly six frame-widths, though you needn't use that many if you don't want to; there's the option to hit "Done" prematurely, and end up with a smaller panorama.

Panoramic shots have been possible on other smartphones for some time now, it's true, and via third-party apps for previous iPhones, but Apple's own system is particularly slick. The processing is all done in real-time, so there's no waiting around at the end for the camera app to crunch the various frames together; instead, you can get on with shooting your next photo or video. If you've ever missed a camera opportunity on an Android phone because you've been waiting for a panoramic shot to finish processing, you'll know how frustrating that can be.
Most importantly, the quality is considerably better than I've seen elsewhere. Apple says the final stills can be anything up to 28-megapixels, though that will vary depending on the size of the scene and the detail it includes. Either way, where some panoramas can look noisy and pixelated, lacking in the detail you'd get from snapping just one section of the scene in regular camera mode, the iPhone 5 produces simply incredible stills. The joins are particularly impressive, with none of the giveaway blur that can undermine some panorama.
Phone, LTE and FaceTime
The iPhone 5 has not one but three microphones dotted around its chassis – one on top near the earpiece, one on the bottom, and one on the back near the camera – for noise cancellation. This works with a complicated system called beamforming, allowing the handset to pinpoint exactly where the user's voice is coming from, but the upshot is amazing sound quality. Noise cancellation works for both incoming and outgoing audio in calls and FaceTime video chats, and if your carrier supports wideband audio, the iPhone 5 can handle that too.
The Verizon LTE of this review unit is a great boost for speed, though it's worth remembering that this particular iPhone 5 can't handle simultaneous voice and data. It's not something that's really been an issue, for me, though if you hold frequent speakerphone calls while browsing the web it might prove more of a hindrance. AT&T's version of the iPhone 5 doesn't encounter the same limitation, if that's a serious consideration for you.
Most impressive change has been the enabling of FaceTime over 3G/4G, with Apple's video calling system now operating over mobile data connections rather than solely over WiFi. That will be enabled for the iPhone 4S as well with the arrival of iOS 6 (though not, unfortunately, for the iPhone 4). As a parent who frequently travels away from home, it's made a huge difference to how I keep in touch, day to day, with my family.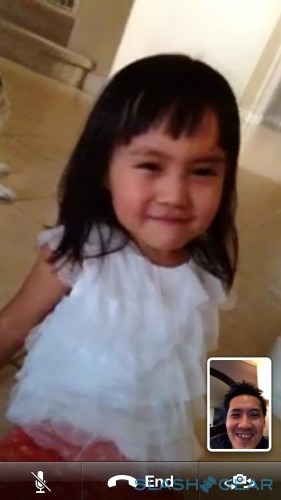 The key part is how straightforward FaceTime makes the process. Yes, other platforms have had video calling before, and there are plenty of apps like Skype and Fring which offer it too, but Apple's system makes it a two-click affair from iMessage. Easy means not only am I more likely to use it, but my less-tech-savvy friends and family are also more likely to call me: functionality is only useful if it's easy enough to operate, after all.
Battery
Apple's justification for leaving LTE out of the iPhone 4S was, in part at least, because of the impact the initial 4G radios had on battery life. That's presumably been addressed to the company's satisfaction now, because not only does the iPhone 5 have LTE but it even manages to best its immediate predecessor for runtime.
From a full charge, Apple suggests iPhone 5 owners will see up to 8hrs 3G talktime or 225hrs of standby. Alternatively, a full iPhone 5 is said to be good for up to 8hrs of 3G or LTE internet browsing, or 10hrs over WiFi; up to 10hrs of video playback; or up to 40hrs of audio playback.
In practice, with heavy use of both LTE and WiFi, push email turned on, media playback and streaming, some browsing and Maps use with GPS, and iCloud sync active, I squeezed more than 5hrs 30mins of active use (and almost 7hrs 45mins of standby) from the iPhone 5. That is, it's worth repeating, with very heavy use. In short, you could comfortably go through a full day without particularly sparing the iPhone 5, and still remain free of the nearest AC adapter.
Would I like to be able to change the battery myself? Certainly; it's something I particularly appreciate in the Galaxy S III, and indeed I usually carry at lease one spare battery pack around for the Samsung. Instead, I'm having to work around it with the iPhone 5, though the impressive runtimes I've been seeing have helped mitigate the frustration. Am I willing to give up the convenience of switching battery? Yes, for the benefits in size: making the battery non-removable means the phone overall can be smaller.
I've a similar argument around wireless charging. Yes, it would be a nice addition, if Apple had seen fit to include it. However, it would likely have required a compromise in size, and I'm still not convinced on the overall convenience. When I plug in to recharge via a cable, I can still pick up the iPhone and use it; that's tougher to do when it's sat on a charging dock. I'd expect to see third-party wireless charging systems – probably including an extended battery shell – arrive soon enough.
Accessories
Until now, bundled earphones with any smartphone have generally been good candidates for the trash. Apple's new EarPod buds, however, change all that: included with the iPhone 5, and a $29 option for anyone else, they promise to deliver the same sort of audio as significantly more expensive earphones.
The interesting news is that they really do work. Apple has done no small amount of work testing different earbud shapes in hundreds of different ears, resulting in the amorphous blobs you see here; they're punctuated with three different speaker ports, both on the inner edge and integrated into the stem. Bass is the most obvious improvement, while mids and trebles are clearer and crisper. There's more detail to music, and voice calls – which work with the call-answer button and volume keys in-line with the cable – sound bright and hiss-free.
As for fit, the EarPods obviously don't match a set of custom-molded earphones, but they're certainly better than the old style. I was able to jog while wearing them without them falling out, though they're still probably not the best option for those doing serious exercise. Nonetheless, for audio quality they're more in line with a decent (sub-$100) aftermarket set, and certainly worth auditioning before you automatically junk them.
Otherwise, all that's in the box with the iPhone 5 is a Lightning to USB cable, a USB power adapter, a small carry-case for the EarPods, and the usual sparse printed documentation. If you want the Lighting to 30-pin Dock Connector adapter, you'll have to wait until October for that to start shipping.
Wrap-Up
Does the iPhone 5 feel better in the hand than the iPhone 4S? Is it faster, and smoother running; does it have a more capable camera; can it access data more rapidly while on the move? Does the combination of iPhone hardware and iOS software feel the most holistic and balanced of any Apple smartphone to-date? The answer to all those questions is yes. Apple has addressed the bigger-screen debate with a solution that doesn't undermine key usability promises, delivered LTE without destroying battery life, and wrapped it up in a design that's both comfortably familiar and crisply revitalized.
The iPhone 5 probably won't take any more marketshare from Android than the iPhone 4S did before it. Neither of the major platforms is going anywhere, and each has its loyal user-base. But, it's the best iPhone so far, and breaking 2m sales in the first 24hrs of preorders suggests the public at large is confident of the same thing.
What the iPhone 5 really convinces me, though, is that throwing bells and whistles into a device doesn't necessarily make it a better phone in the end. I'd drifted from the iPhone 4S because I had core needs it was no longer satisfying: a larger screen, for instance. Where the iPhone 5 edges back into the picture is in how well it integrates into my daily life. So many things I can make work on Android – video calling, for instance, but iPhone simply makes them more straightforward. If they're straightforward, that means I use them more.
Competition between mobile platforms keeps the industry moving and innovating. That can often present itself as a surfeit of innovation: feature upon feature, piled high in an all-singing, all-dancing device. Right now, the iPhone 5 has the best balance of everyday usability and performance, without the distraction of functionality that is clever but unintuitive. It's an area in which Apple excels, and it's the reason the iPhone 5 is one of the best smartphones on the market today.