Samsung Galaxy S III Review [AT&T & T-Mobile]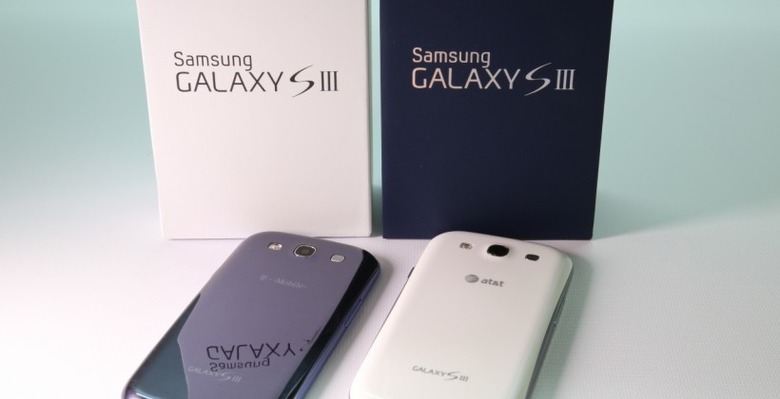 Is the Samsung Galaxy S III the most anticipated Android smartphone in the US this year? Given the reaction to the 4.8-inch flagship's announcement – not to mention the pre-launch rumor and hype – and the subsequent furore around the European model, it's hard not to reach that conclusion. Set to launch on five US carriers near-simultaneously, the Galaxy S III has arrived in AT&T and T-Mobile form on the SlashGear testbench, hoping to convince us again with their 4G and potent processors. We've already reviewed – and loved – the European version of the Galaxy S III that went on sale earlier this month; read on to find out if the US phones can live up to expectations.
Hardware
We've already comprehensively reviewed the Galaxy S III, and the bulk of the phone is unchanged from the original European model. We'd recommend getting up to speed on that review since most of it will be applicable to the AT&T and T-Mobile versions.
Unlike the half-dozen different designs for the Galaxy S II-based smartphones launched across the US, Samsung has used the Galaxy S III's bound-to-be-a-bestseller status to force a more consistent aesthetic. The AT&T and T-Mobile USA variants each look pretty much identical outwardly to the European handset, with the same physical home button flanked by touch-sensitive menu and back keys.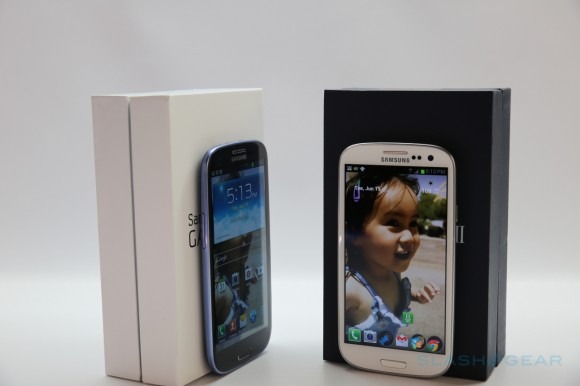 The front is dominated by the 4.8-inch 1280 x 720 Super AMOLED HD touchscreen, larger than the 4.3- and 4.5-inch screens of the last-gen handset, making for more room to browse, watch video and navigate Google Maps. It also makes for a phone, which nudges the limits of what many people are comfortable carrying and using. The Galaxy Note has its hybrid "phablet" status to justify its 5.3-inch panel, but the Galaxy S III is resolutely a phone, and those with smaller hands may well struggle to reach the edges of the display when holding it single-handed.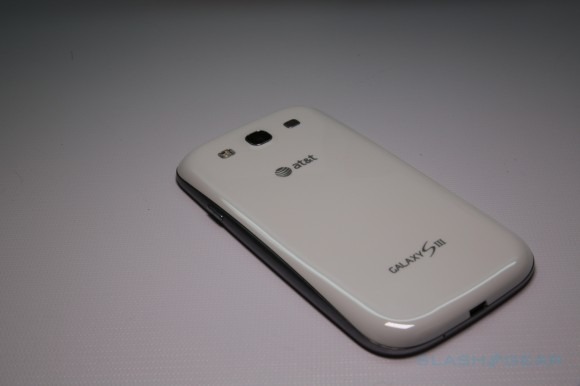 On the back is an 8-megapixel camera with autofocus, an LED flash and 1080p Full HD video recording. We were impressed with its performance when we tested it before – particularly with Samsung's customized camera software, which introduces useful features like burst-mode – and there are no differences in the US variants.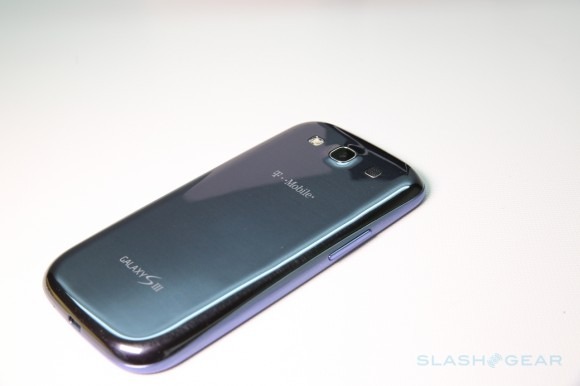 It's inside that the main changes have taken place. Samsung has thrown out its own Exynos quadcore processor in favor of Qualcomm's Snapdragon S4 dualcore, a move fueled not by disloyalty but to accommodate an LTE radio in AT&T's variant. Whereas the European model tops out at HSPA+ 21Mbps, the T-Mobile USA version gets HSPA+ 42Mbps and AT&T gets an LTE version (just as Verizon will) for higher-speed mobile data. The chipset is paired with 2GB of RAM, double that of the Euro version, plus 16GB of internal storage and a microSD card slot for adding up to 64GB more.
Software and Performance
Samsung has reskinned Android 4.0 with its own TouchWiz interface, dropping the crisp black and blue of pure Ice Cream Sandwich and replacing it with new iconography. It's certainly the best iteration of TouchWiz we've seen so far, but we'd still prefer to see native ICS if given the choice.
AT&T takes a casual approach to preloaded apps, adding only its myAT&T software onto the phone. T-Mobile, meanwhile, preloads Shazam, T-Mobile Name ID, T-Mobile TV, Visual Voicemail, Google Wallet, and Mobile HotSpot.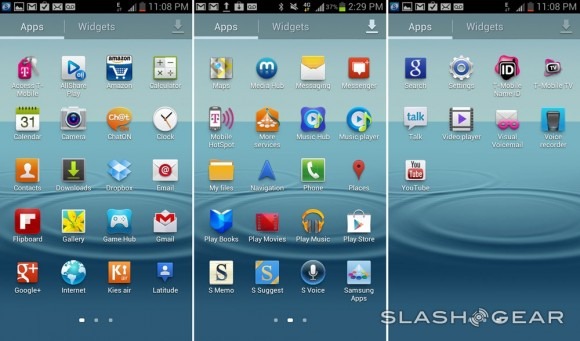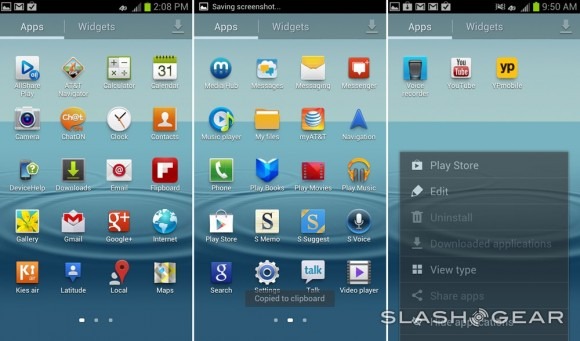 With two phones on hand, we were able to test Samsung's WiFi Direct integration, which has been paired up with the NFC-powered Android Beam. S Beam, as it's been called, uses NFC to initially set up a connection between two Galaxy S III handsets, and then switches to an ad-hoc WiFi Direct link for faster data transfer. As we've seen on other recent Android phones, webpage and YouTube links, along with Google Maps locations, flick between handsets instantaneously; what S Beam opens up is reasonably fast transfer of photos, music and videos. We had no problems transferring any of the three across, though it won't work if the DRM on the file prevents sharing.
S Beam Hands-on
AllShare Play / Group Cast Hands-on
Share Shot / Buddy Photo Share Hands-on
Performance from both versions is, unsurprisingly, roughly on a par. They also fall short of the Exynos quadcore, in raw benchmarking at least. In Quadrant, the Snapdragon version scored 4877 (when we turned on Power Saving mode, which automatically scales back the processor among other things, it scored 3412); in contrast, the original Exynos model managed 5365, almost a 500 points difference.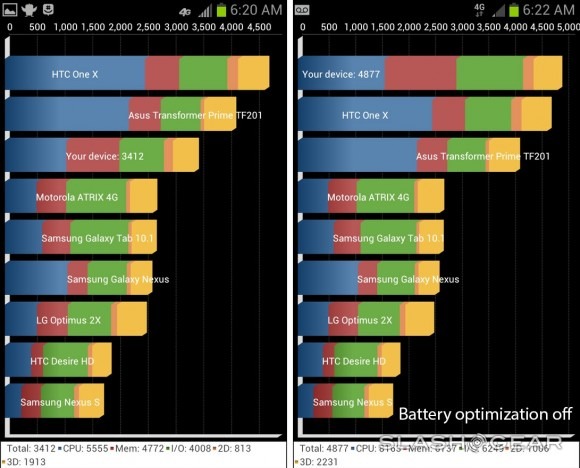 In Vellamo, Qualcomm's own benchmark of browser performance, the AT&T Galaxy S III scored 2261 and the T-Mobile version 2211. Turning on Power Saving mode saw that scaled back to 1440. In contrast, the Exynos-based Galaxy S III scored 2084.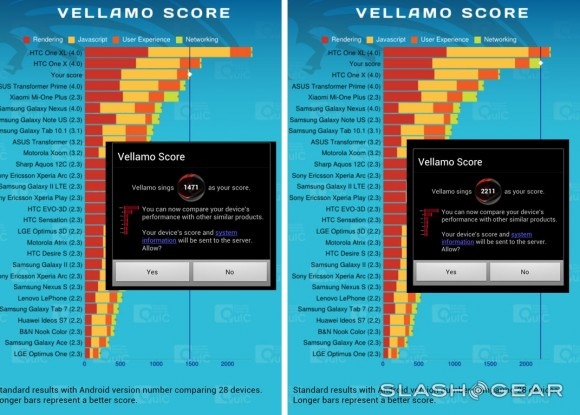 When it comes to daily use, though, there's not much to differentiate the Snapdragon from the Eyxnos. Apps load swiftly and demonstrate little to no lag; a well-packed email inbox appears with no delay, and we've seen no missed taps or swipes. Full webpages render quickly in both the stock browser and Google's Chrome beta for Android, with pinch-zooming equally slick. In short, just as was the case with the North American and European versions of the HTC One X, it's hard to tell the difference on what's going on inside.
4G and Battery
Both AT&T and T-Mobile have opted for higher-speed 4G versions of the Galaxy S III, though the relative use of that is very much dependent on each carrier's coverage where you live and work. T-Mobile has broader HSPA+ coverage than AT&T's LTE (AT&T also trails Verizon in LTE coverage) on scope of network roll-out, though of course the LTE is faster if you're in a location to take advantage of it.
Our speed tests, therefore, should be taken with a pinch of salt: AT&T has LTE coverage where we tested the phones, though T-Mobile actually managed faster peaks in places. We saw up to 12.32 Mbps downloads and 6.37 Mbps uploads on AT&T, and up to 14.10 Mbps downloads but up to 1.63 Mbps uploads on T-Mobile. Ping times were considerably longer on average with T-Mobile too.
AT&T Speed Test: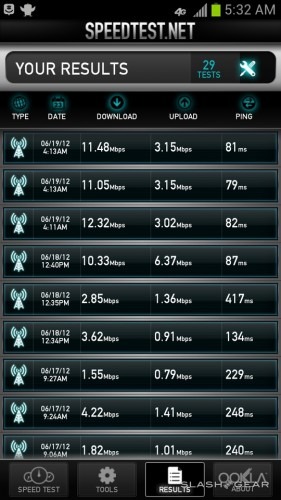 T-Mobile Speed Test: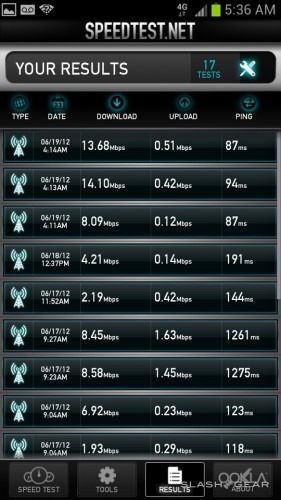 Nonetheless, in contrast to the maximum data speeds possible with the European HSPA+ version of the Galaxy S III, when you have LTE coverage the AT&T model is significantly faster. That makes a key difference when you switch the Samsung into mobile hotspot mode – something both carriers charge extra for – and share that HSPA+ 42Mbps/LTE connection with your laptop, tablet or other device.
Heavy Use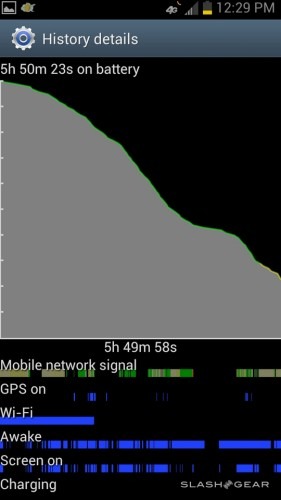 Average Use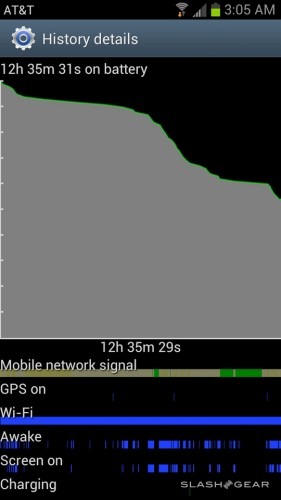 As with the Euro model, Samsung's default battery is a sizable 2,100 mAh pack, though here it's faced with the power-appetites of 4G. Thankfully it's also user-accessible, which means slotting in a replacement is straightforward. That's something we had to do with both AT&T and T-Mobile versions after a few hours of having mobile hotspot active, though with more casual use – with push email, Twitter, Google+ and Facebook active, automatic photo uploads, some browsing and multimedia playback, Google Maps with GPS, and some photography – we were able to get through a regular day on a single charge.
Wrap-Up
Samsung's efforts to standardize the Galaxy S III across the five US carriers initially getting the smartphone have resulted in a surprising degree of consistency between the AT&T and T-Mobile USA versions. That's not especially useful to carriers, which love to differentiate their devices in minor – often frustrating – ways, but it's great for consumers. The main difference comes down to coverage: does AT&T have better 4G service in the places you plan on using your phone, or does T-Mobile?
The Galaxy S III's obvious competition is the HTC One X. HTC's phone has the same processor (though less memory) and also offers LTE, wrapped up in a casing that feels better in the hand but doesn't allow for easily swapping out the battery. Given LTE's tendency to drink power, that could be a significant blip. There's also a question of whether you prefer TouchWiz or HTC Sense; we lean toward the former, though the great thing about Android is that, with either third-party launchers or ROMs, you can change pretty much anything. Of the two, the flexibility of a replaceable battery sways us toward the Galaxy S III.
The bigger challenge will arguably arrive when Apple's next-gen iPhone is revealed, expected to be in a few months time. As we said in our original Galaxy S III review, there's a cohort of Android enthusiasts who would never consider switching to iOS, and vice-versa; for everyone else, both phones are likely to be priced the same ($199.99 with two-year contract) and the decision will come down to app choice and hardware preferences. Even if, as the rumors indicate, Apple increases the screen-size of the new iPhone, it's almost certainly not going to be on a par with the Galaxy S III's panel, a significant differentiator for most.
What's round the corner, though, doesn't detract from what the Galaxy S III delivers today. 4G speed, plenty of processor performance (even without the two "missing" cores) and a brilliant display leave us with no more doubt than when we first reviewed the Samsung. It makes a strong and convincing case for being the best Android phone on the market today.