SlashGear Week in Review: Week 3 2009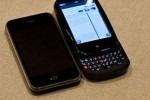 Things are traditionally quiet in the tech world the week following CES, but we've seen our fair share of intrigue over the past seven days.  Biggest news, in terms of share impact at least, is Steve Jobs' surprise leave-of-absence due to "health concerns", which has managed to overshadow both the teased redsn0w iPod touch 2G Jailbreak and rumors that the upcoming Mac mini refresh will use NVIDIA's Ion chipset.
In cellphones, it looks like the Helio Ocean 2 is almost ready to ship, but it could be too little, too late now that the Palm Pre is catching all the headlines.  Latest Pre rumor is that Vodafone UK will be picking it up as an exclusive; for all the details on Palm's new smartphone, check out this round-up post and then head over to Pre Community.
Meanwhile HTC aren't going to go down without a fight, no matter what Palm bring to the table, and their leaked 2008 line-up looks pretty impressive.  There are also rumors that they've turned to NVIDIA's 1080p-capable Tegra mobile chipset, which could help create some real powerhouse handsets.
In netbooks, we saw Sony's VAIO P (and yes, okay, they're not calling it a netbook, but it's not getting its own entire paragraph for "Digital Lifestyle PCs") unboxed, as well as heard rumors that HP are planning at least three new Mini models, one of which will have integrated 3G.  What might be even more exciting is if they used Intel's upcoming Atom N280, the minor clock-speed bump of which comes second to its new, HD-capable GN40 chipset.
The "bad news of the week" award goes to Circuit City, though they'll likely have to sell their mantelpiece in a liquidation sale.  Not far behind, however, go Google, Motorola, Seagate, Sanyo, NEC and Microsoft, all of whom have been hit by the economic crisis. 
Finally, we wrapped up our CES 2009 coverage, including a look at Wilson's MobilePro Cellphone Amplifier (expect a full review very soon) and the sight of my ears being filled with pink gunk.  It's all in the name of pro-audio, however.  Remember, you can check out our full show coverage by clicking on the CES 2009 tag; next month is Mobile World Congress in Barcelona.