CES 2009: Wilson MobilePro Cellphone Amplifier Hands-On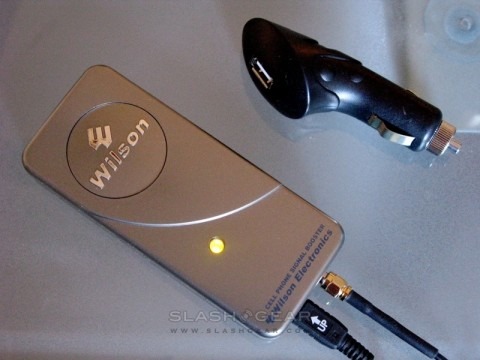 Your cellphone is great, and with the latest breed of smartphones you're not just making calls but messaging, surfing the net, downloading and sharing photos.  All that is dependent on catching a decent signal, however, and a weak connection adds up to call failures, poor data speeds and overall frustration.  That's why Wilson Electronics' MobilePro Cellphone Amplifier is so tempting.  Promised to reduce dropped calls, increase data rates and open up what previously were "dead spots", we picked up the MobilePro at CES this past week and have been testing it out.
In the box you get the MobilePro unit itself, a narrow matte grey box with a single status LED, together with a magnetic vehicle antenna, cigarette lighter power adapter and printed installation guide.   It's compatible with any cellular-equipped device, whether cellphone or 3G-integrated notebook; Wilson also produce a specific model for the iPhone and BlackBerry range.  Each will go on sale in Spring 2009.
Installation is straightforward: plug in the antenna and stick it, via the magnetic pad, to the outside of your vehicle.  The power adapter hooks up to another port, and that automatically powers the MobilePro amplifier on.  No settings or tweaking necessary; the status LED changes from red to green once it has a signal (amber means it's overloaded by the cell site.  Whatever device you're using it with must be within 6 to 12 inches of the MobilePro, which could limit your placement options or at least make a discrete permanent install tricky.  You also don't get a phone cradle or recharging option, which means that if you've only got one cigarette socket you'll have to choose between boosting and recharging your handset.  Still, with the right adapter it works both in the car and in the house.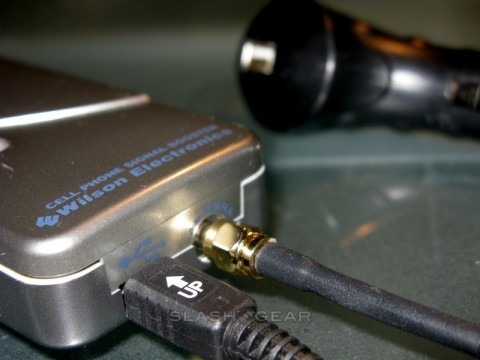 At $250, Wilson aren't aiming the MobilePro at your everyday user but at the mobile professional for whom ensuring a few extra bars, and therefore a few extra calls and a successful data connection, is worth the hassle.  Wilson promise to increase the transmission power to the cell site by up to 10x over the cellphone alone, and every MobilePro is apparently manufactured within a room with zero cellular signals, connected to a central server that monitors quality actually during the build process.  We're waiting for the company to confirm which bands the MobilePro supports, and as such whether it's only currently of use with US-spec 3G or will handle Euro 3G too, as well as how many devices it can boost simultaneously.
Of course, ease of setup and convenience is all pointless if the device doesn't actually do what it's supposed to: boost iPhone signal strength.  Initial impressions suggest greater call stability and improved sound quality, but we'll be testing the Wilson MobilePro out over the next week to see if it's really worth that premium price-tag.