Intel Atom N280 with HD-capable GN40 chipset coming Q2/Q3 2009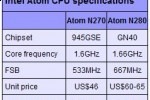 Anybody who has been following the tech world for the past six months will know that netbooks have swarmed the market; as soon as I see the word, my fingers automatically start typing "Intel Atom N270".  Now it looks as though that will have to change: reports from notebook manufacturers suggest that the next-gen single-core Intel mobile processor, the Atom N280, will begin to appear in devices between Q2 and Q3 of this year.
Specifications between the N270 and the N280 are similar, with clock speed seeing only a minor boost from 1.6GHz in the current CPU to 1.66GHz in the new version.  However the FSB also gets a boost, from 533MHz to 667MHz, and the accompanying chipset also gets updated, from the 945GSE to the GN40.
It's perhaps the GN40 that marks the most significant change for the N280, bringing as it will improved graphics performance and HD playback.  This seems to be a strike against NVIDIA's upcoming Ion chipset, which boasted improved HD performance and even Blu-ray playback for netbooks.  ASUS, Acer and Gigabyte are all expected to announce new netbooks using the Atom N280.