Palm Pre roundup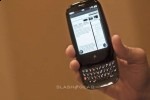 Perhaps the biggest announcement of last week was the Palm Pre.  Nobody expected a headline device from the company many presumed was months from extinction; it went on to be voted Best in Show together with taking the People's Voice Award.  Now, as the dust from CES 2009 settles, we sum up exactly what makes this smartphone special.
Initially, Palm tell us, there'll be the Sprint version of the Pre, with WiFi b/g, Bluetooth 2.1+EDR with A2DP stereo, A-GPS and EV-DO Rev.A.  That will be followed by a GSM version, switching out the EV-DO for HSPA.  Neither Sprint nor Palm will reveal how long the carrier's exclusivity agreement is, and as such there's no telling when the GSM device will make it to the US.
The Pre comes in smaller than the iPhone, with more rounded edges and a pebble-like appearance.  Despite that, the screen isn't all that much smaller at 3.1-inches, but it has the same 480 x 320 resolution.  Of course, there's also the slide-out QWERTY keyboard which creates a curved profile hugging your face.  Build-quality is difficult to predict, as so far Palm have only been showing pre-production devices, but assuming the plastics stay the same then we'd have no issues with it.  The capacitive touchscreen is flush-fitting with the front panel, though the glossy, slightly curved cover may cause some reflection issues, and underneath there's an area for gesturing with a small silver home-button embedded in the middle.  While the gesture panel doesn't have a display, there are tiny LEDs which glow as you carry out gestures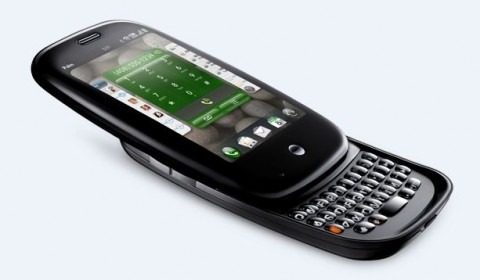 As with the Centro, the Pre's keyboard uses Palm's moulded-keys rather than individual buttons.  You miss out on a definitive key-press, as you would on a BlackBerry for instance, but we had no trouble pecking out messages.  Otherwise, hardware controls are rare, with only volume controls on the left-hand side and a ringer switch on the top.  Ports include a 3.5mm headset jack next to the switch and a microUSB port for both charging (unless you use the Touchstone; more on that later) and data.  Internal memory is limited to 8GB with no way to expand it: Palm expects users to make the most of cloud-based storage.
In terms of multimedia, there's a 3-megapixel camera with LED flash, which is apparently capable of continuous shooting for an (unspecified) period; the Pre waits until you're done to save the individual files.  Details on the navigation app haven't been revealed, beyond the icon itself in the GUI press shots; nor has the A-GPS chip's interaction with the camera been specified.  We'd assume the Pre is capable of geotagging images with the location at which they were taken.  Obviously there's also still image, audio and video support, with Palm quiet on what formats are supported; we do know, however, that the Pre's accelerometer can be used to switch between orientations, and that there's a light sensor (and proximity sensor) to adjust backlighting.
Palm knew that hardware alone wouldn't be enough to differentiate the Pre from the competition, and so they developed webOS.  The new platform – which Palm CEO Ed Colligan has confirmed will be in use "for the next decade" – is a huge step beyond the company's previous software efforts, seemingly learning from OS X on the iPhone without being an obvious derivative.
Capable of multitasking, webOS separates open applications as "cards".  These can be used full-screen or, by hitting the home button, fanned through and rearranged.  Rather than representing a snapshot of app status, each card is live: you can see an instant update on its status, or even manipulate the app from the full deck.  Gestures perform various tasks in among the cards, from basic forward and backward movement in the browser, to bringing up the quick-launcher (a wave of icons) over the top of the current screen.  Similarly, notifications – such as new messages, calls and alerts – gently slide into view at the bottom of the display, smoothly resizing whichever app is running, and automatically disappear if ignored.
Despite the pre-production hardware, in our experience with the Pre webOS performed smoothly and cleanly.  Palm have made good use of page transitions, animations and good icon design, and the Texas Instruments OMAP3430 ARM-based processor, running at an unknown clock speed somewhere between 600 to 1,000MHz, is certainly capable of running multiple apps with no slowdown of the visual niceties.  What we're still waiting to fully experience is Synergy, Palm's attempt to bring together all the different data people have stored in various email, Exchange, IM and other accounts.  Synergy not only imports calendar and contact data, but intelligently sorts it to remove duplicated records and combine multiple entries.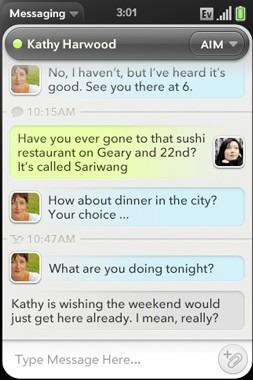 So far so good, but Palm have extended Synergy to cover communication as well as data.  While other software and devices offer threaded SMS messages or multi-platform IM apps, the Pre brings all of those together: you can continue a conversation via text message or various different IM accounts, and it will maintain a single, threaded list.  Search, too, is integrated across multiple apps and services: one single search bar queries first the Pre itself, whether apps, contact entries, emails or anything else, and then the internet.  Pre-production builds of the handset offered Google, Google Maps and Wikipedia searches, but it's likely that Palm will add more providers (and hopefully the ability to add your own).
The device ships with the usual full suite of smartphone apps, including a Webkit-based browser that, in the short time we had with it, performed admirably and will hopefully get a Flash plugin.  However Palm are promising an over-the-air (OTA) App Catalog, for users of the freely-available webOS SDK to distribute software through.  Programming is all done with JavaScript, XML and CSS, which should mean anybody capable of coding websites should be able to code for the Pre.  According to Palm, the SDK also has access to all of the existing software layers – including dialogs and notifications – and will permit system calls.
Decent accessories can help make a device, and Palm is leaving nothing to third-party chance.  Their headline Pre peripheral is the Touchstone, a clever inductive charger that can re-juice the smartphone wirelessly.  Resembling a tube sliced off at an angle, hidden magnets grip the Pre but leave it ready to be snatched up with no microUSB hook-up necessary.  There's no word on pricing for the Touchstone, which is presumed to be sold separately.
Speaking of pricing, the Pre's tag itself is still an unknown quantity.  Various rumors have pegged it at anything from $149 to £399, contract depending, but the general expectation is that Palm will aim for a sub-iPhone 3G 8GB figure.  That would put it at under $199, with a new two-year Sprint contract and obligatory data plan (most likely unlimited).  As for release date, Palm have played safe by suggesting sometime in the first half of 2009; we're expecting to see it in early June.
There's no doubting the impact the Pre could have on Palm, but what's more exciting is its potential impact on the mobile device market in general.  webOS particularly promises a new degree of integration between not only the cloud and the local device, but the multiple services most users today are subscribed to.  If it can succeed in bringing each of these together in a seamless, intelligent way, Palm not only will have a winner with the Pre, but a platform that can take them forward for the next decade.
Want to know more about the Pre?  Interested in discussing Palm's upcoming smartphone and webOS?  Check out Pre Community.