CES 2009: Sleek Audio Custom earphones: Moulding Gallery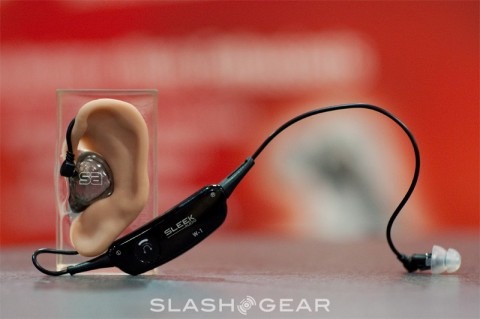 If you've spent any time here at SlashGear you'll probably know that we're big fans of Sleek Audio.  We rated their SA6 in-ear monitor earphones highly, then their W-1 Kleer wireless adapter took a successful product and cut the cord.  At CES last week we stopped by the Sleek stand to check out their Customs, individually made based on silicon moulds of your ears, for a perfect fit.  At $300 they're the current pinnacle of the Sleek Audio range; after the cut, we let the company fire gunk into our ears.
Creating the moulds requires a little work, which needs to be carried out by an audiologist used to taking impressions.  Budget around $50 for that to take place.  As you can see in the gallery below, the ear is first checked for any health issues or blockages, then a small sponge on a cord is threaded into the canal; this can cause a little discomfort, as it passes the nerve which usually stops you from poking a Q-tip too far down.  Once in place, pink silicon gunk is squirted in to fill the canal, and then you just have to wait for five to ten minutes for it to set.
The Customs use the same mini-plug adapter as the SA6 earbuds, meaning they're compatible with the same headphone cable, W-1 wireless adapter and any other future peripheral Sleek come out with.  They company has committed to using that same connector in all future products, meaning the planned high-end and entry-level earbuds will also be compatible.  You're also able to choose from a range of colors and even custom logos, laser-etched.
Unfortunately delivery takes around two weeks from ordering, mainly because each set of Customs are made by hand.  Just as with the SA6's they can tune the treble and bass to your preferences; however once tuned there's no way to change it.  We'll have a full review when they arrive – the sound quality is promised to be even more impressive, with better isolation to boot – so until then, enjoy seeing my ears covered with what looks like frosting.