Sleek Audio W-1 Kleer wireless headphones system Review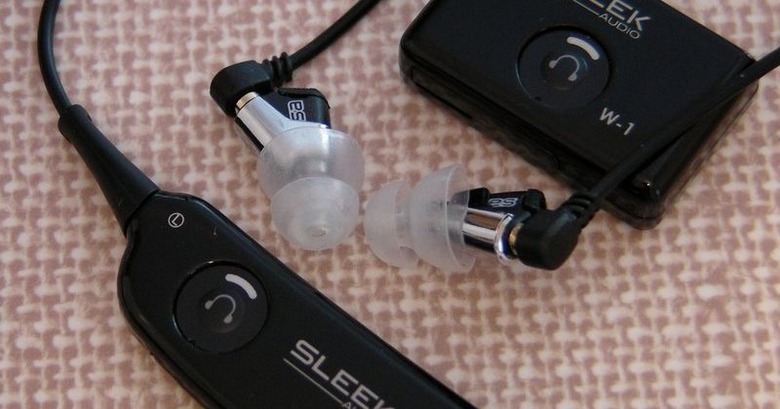 After our earpiphony back in October with Sleek Audio's SA6 customizable earphones, we've been waiting eagerly for their wireless adapter.  Created using Kleer lossless technology, unlike the Bluetooth A2DP profile there's no unwanted compression involved; the range is meant to be better, too.  Can the Sleek Audio Wireless W-1 setup live up to our great expectations?
You can see our video unboxing and initial gallery here.  Inside the box there's the wireless transmitter, a 4 x 2.5 x 1.1cm box with a single button, LED and protruding 3.5mm stereo plug, together with the receiver unit.  That measures 6 x 2 x 0.8cm; roughly the same as three or four sticks of gum stacked.  It's light, too, which is good as it sits at the back of your neck.  A single button and LED, just like the transmitter, are the main controls.  Under a narrow hatch on both there's a narrow port to plug in the double-headed USB recharging cable, plus a very fiddly main power switch.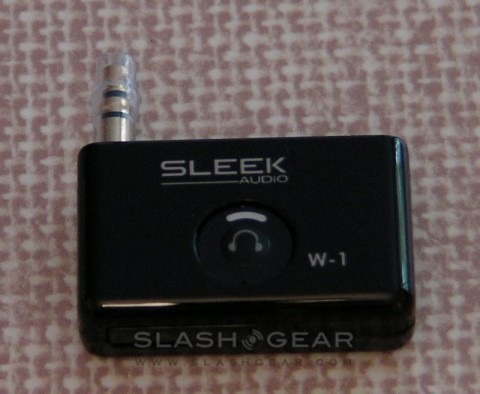 Setup is straightforward, as the two parts come ready paired.  Unplug the SA6 earbuds from the normal cable, then plug in to the 15cm wires on the receiver.  The transmitter goes into the headphone port of your PMP or cellphone (either directly or via the short extension cable if the port is recessed); hold down the power button on both parts and after around four seconds of blinking music starts streaming.
There's little adjustment possible, none in terms of the sound – though you can obviously tweak the bass and treble in the SA6 earbuds themselves – and the only changes to be made on the wireless receiver is shortening the cables by pulling them back through the rubber flex guards.  The LEDs blink periodically to show the system is powered on, but it's not bright enough to be a distraction.  After a short period of no sound both go to sleep to conserve power, and can be woken with a quick press of the main buttons.
Sound quality is pretty much indistinguishable from a wired connection in most scenarios.  Kleer supports wireless frequencies between 20Hz and 20KHz with less than 0.1-percent distortion; in practical terms, all the uncompressed and 320kbps tracks that sounded so fantastic with the wired SA6's sounded just as full bodied and clear with the wireless.  Tested side-by-side with a number of different A2DP stereo Bluetooth headphones the SA6 wireless setup consistently outperformed the competition, with more detail and less distortion.
Battery life is rated between 8 and 15hrs continuous use, which seems a realistic prediction.  We've been using the wireless system frequently since it arrived, with the initial two-hour charge giving us roughly ten hours of listening.  Sleek Audio offer an AC adapter, but it's not included as standard; however the USB cable will work with most USB adapters (5.7v, 750mA) that come with cellphones and other mobile devices, if your laptop or PC is not to hand.  Should the batteries expire, you can plug back in the standard cable and keep on listening, which is something not generally possible with Bluetooth headsets.
One of Kleer's benefits is the ability to simultaneously pair up to four receivers to a single transmitter, meaning four people could listen in at once.  While we only had a single W-1 set to review, additional pairing looks to be an easy process.  Furthermore, it will work with any Kleer system, so if you buy products using the technology from another manufacturer they'll be compatible.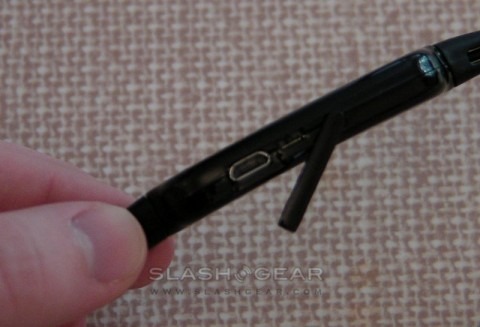 Our main criticism would be the main power switches, which really demand the tip of a pen to flick.  In general use, though, you won't need them; holding down the button on transmitter and receiver puts each into standby, with battery lasting around seven days.  Using the main switches extends that to up to three months.  Unlike Bluetooth there's no remote profile for skipping/pausing/controlling volume from the headphones, either.
If you can't tell by now, we're huge fans of the SA6 Wireless W-1 system.  There's no compromise demanded in cutting the cord: the lossless or high-bitrate tracks that were so time-consuming to encode aren't mangled in the journey from PMP to ear.  Sleek Audio have promised that future earphones will be compatible with the current wireless system, meaning that if you upgrade to a set of custom molded earphones or one of the company's planned ranges you'll still be able to listen wirelessly. 
That's a good thing, as Sleek Audio aren't exactly catering to the budget end of the market.  The SA6 earphones in their wired state cost $249.99; the W-1 system is priced at $120.  Alternatively there's a bundle including SA6 and W-1 for $320 (saving almost $50) or the W-1 and a set of custom earphones for $399.99.  That's not cheap, no, but nor is it out of line for the sound quality, convenience and flexibility on offer.  Frankly, anyone who already has SA6 earphones would be a fool not to pick up the W-1 wireless adapter, and anyone in the market for a set of high-end wireless headphones should certainly have the Sleek Audio system on their shortlist.
Like the sound of the Sleek Audio SA6 earphones?  Interested in your own W-1 Wireless Adapter?  Stay tuned to SlashGear for the chance to win your own!