Sleek Audio Interview: SA6 Wireless, new models and more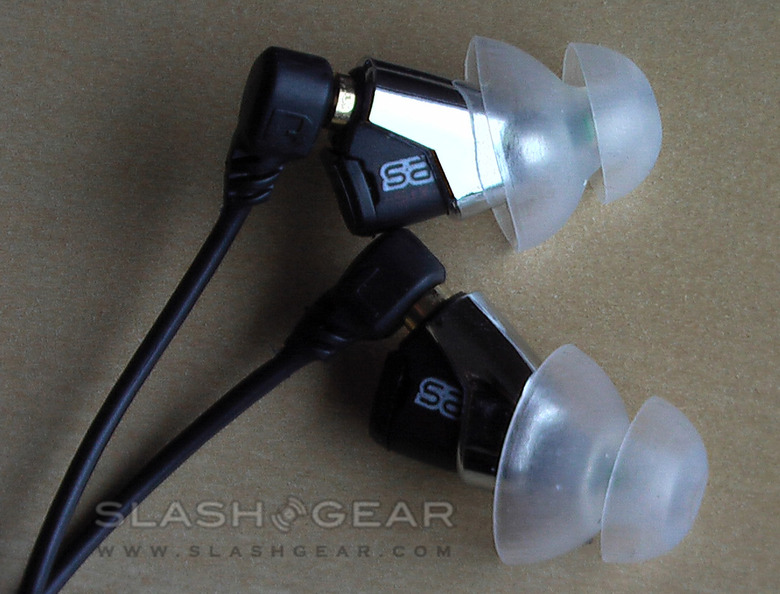 Sleek Audio stormed the high-end personal audio market with their SA6 in-ear monitor earphones, and now the company is preparing to cut the cord with their imminent Kleer wireless adapter.  In an exclusive interview with Mark and Jason Krywko, the father & son team behind Sleek Audio, we discussed the upcoming launch, why Bluetooth just isn't good enough, and some as-yet-unannounced products.
Sleek are the new kids on the in-ear block; both Mark and Jason come from a background in the hearing-aid industry, with over 35 years experience between them.  The company currently has just one product, the $209.99 SA6 in-ear earphones, the acoustic chambers of which took a full year of development.  Sleek worked with a high-end speaker manufacturer to develop a custom designed single driver, in fact the most expensive driver currently made.  That, together with their expertise in earpieces, adds up to between 27 and 40dB noise isolation (compared to 15-20dB from active noise cancelling over-the-ear headphones); since every ear is unique, the Krywkos added 'VQ', Variable Equalization, letting users finely tailor bass and treble responses in the earphones themselves.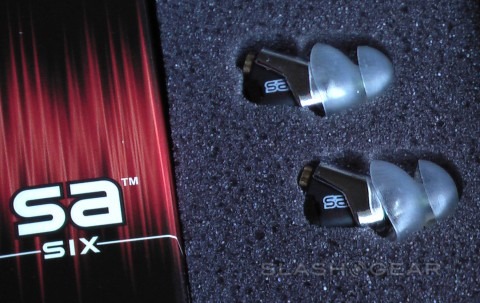 The SA6's were met with incredibly positive response, and spurred Sleek on to offer custom earbuds using the same moulding techniques that are used in hearing aids.  With these, users can expect 40-42dB noise reduction which, as Jason explained, means they can turn down the volume and be less at risk of ear damage.  They also offer a broader frequency range; "extra shimmer" at the extremes, as Jason put it.
Of course, the trend recently has been to go cable-free, and Sleek have been investigating possible wireless options for more than twelve months.  Bluetooth and the stereo A2DP profile were an obvious option, but the distinct loss of audio quality – Bluetooth has the same dynamic frequency range as FM radio – and poor battery life were unacceptable compromises.
In contrast, Kleer were offering CD-quality audio, much better battery performance, and ranges several times that of Bluetooth.  The Sleek Audio wireless adapter has a battery life of around 10hrs, plugging into whichever iPod, PMP or other device you choose and making no power demands on it.  In recent tests, indoor range – with multiple walls in-between – reached 45 to 50 feet with no loss of sound quality.  Total unimpeded range is listed as 60 feet, and up to four wireless adapters can pair with one transmitter.  Jason described a recent high-end audio show in Miami in which the wireless SA6 setup coped admirably despite a show-hall full of EMI.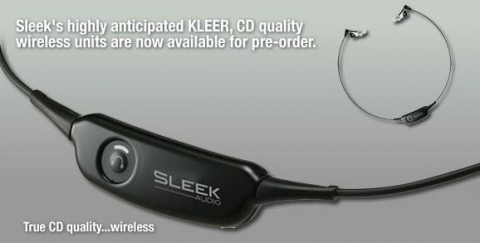 The Sleek wireless system, then, plugs into the SA6 earphones to replace the usual cable.  Although that may not be as minimalist as, say, Sennheiser's MX W1 earphones, each earbud of which is entirely wireless, it does keep prices down and make the system backward compatible to existing SA6 owners.  Jason suggested a fully wire-free setup would have cost buyers anything from $500; the upcoming bundle, including wireless and a pair of SA6 'phones, will set you back between $275 and $299 (pricing is not finalized).  The wireless system on its own will be priced at $120, and is available to preorder now.  Keeping it modular also means Sleek can offer a Bluetooth option in the future if, that is, customers want it.
Exclusively, Mark and Jason confirmed with SlashGear that they are working on a new, less expensive version of the SA6 that Sleek will release before the end of the year.  That will be followed in 6-8 months by new set of higher-end earphones, slotting in above the SA6.  Each of the earphones will use the same connectors as each other, meaning that no matter which version buyers choose, they'll be able to take advantage of Sleek's Kleer wireless system.  Mark also confirmed that the company is also in talks with other high-end earphone manufacturers about using the Sleek Audio wireless adapters.
Given the acquisition of Ultimate Ears by Logitech back in August, I asked Mark and Jason what they thought about the state of the independent earphone market.  They described the buy-out as an example of strength of the in-ear headphones market, but also a sign that people are beginning to recognise the quality of sound possible from PMPs.  Sleek admit that, if all you listen to are 128kbps MP3s, you'll probably not see the point of the SA6's – wireless or not – however encode at a higher bitrate and with good-quality in-ear earphones you can be hearing detail that previously would have demanded speakers costing many thousands of dollars.
Of course, many would say that $200+ is still plenty to pay for a set of earphones, so we've been testing the SA6's and should have the full review later on this week.  We'll also be testing out the Sleek's wireless system once the first units make it out to reviewers, so stay tuned!