HTC to use NVIDIA Tegra for 1080p-capable Smartphones?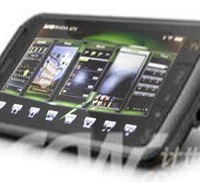 From one NVIDIA rumor to another; now it's the turn of the company's Tegra platform to make headlines, with at least one analyst suggesting [via] that HTC have chosen the applications processor for models in its upcoming range.  Tegra combines an ARM-based processing core, running at either 700MHz or 800MHz, with a 1080p HD-capable GeForce graphics core and direct support for WiFi and input peripherals onto a single chip, and could enable HTC to create a high-power smartphone with low energy demands.
"We believe that HTC has selected the NVIDIA Tegra applications processor for a new handset design that will ramp in [the second half of 2009].  We estimate Tegra could add $100M to 2H09 results.  This revenue will likely be very high margin, given the low-power design in a small-profile package is helping HTC achieve small form factors.  We expect Tegra to sell in a range of $15 to $25 and have more than one customer in '09" Doug Freedman, analyst, American Technology Research
In fact the first Tegra chips are capable of 1080p HDMI, WSXGA+ LCD or CRT, and NTSC/PAL TV output, with the power to run Quake 3 at 40fps with full filters and anti-aliasing.  One-tenth the size of Intel's Atom, battery life is practically unbelievable: 130hrs audio or 30hrs HD video on a single charge.  Initially NVIDIA developed the platform specifically with Windows Mobile in mind, although they later expanded that to accommodate any OS; their SDK's, however, pre-programmed GUIs and Board Support Package (BSP) are particularly tailored to the Microsoft mobile OS.
Back in November, Microsoft were tipped to be using Tegra to develop a smartphone; that has yet to come to fruition, at least publicly.  This latest HTC rumor – paired with the recent leaks of HTC 2009 device renders – sounds far more probable.
Demo Video of NVIDIA Tegra Prototype: