NVIDIA SHIELD Tablet Review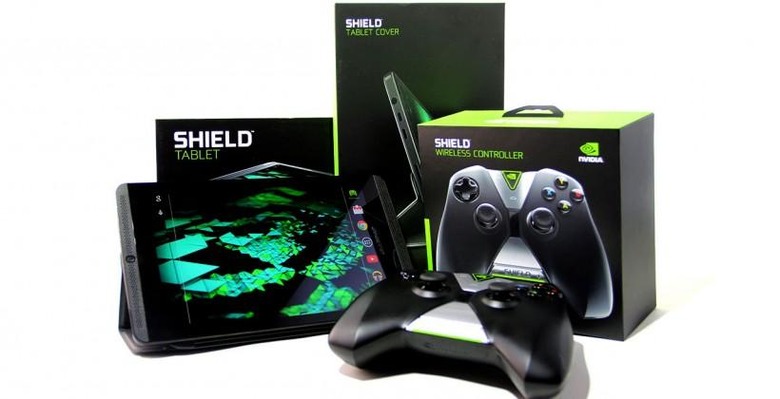 Having cut its teeth on the still-successful NVIDIA SHIELD and their first tablet, the Tegra Note, NVIDIA brings the culmination of years of research and implementation to fruition in the NVIDIA SHIELD Tablet. This device is being released this season with the NVIDIA SHIELD Wireless Controller and a magnetically-attaching SHIELD Cover, the whole collection of which we're having a peek at here.
Hardware
NVIDIA SHIELD Tablet works with an 8-inch 1920 x 1200 touchscreen display. That's 283PPI (pixels per inch) if you're counting, working with IPS LCD technology. It's both bright and sharp, looking like one of the finest displays on a tablet today.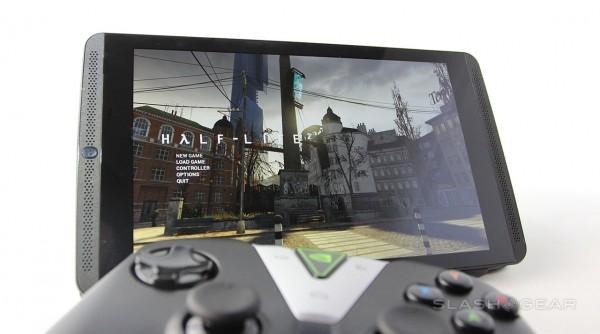 That's including the iPad mini and the Samsung Galaxy Tab S collection. While the iPad mini (with Retina display) and the Galaxy Tab S may have sharper displays than the SHIELD Tablet, NVIDIA stays well above the mark for finest-in-class.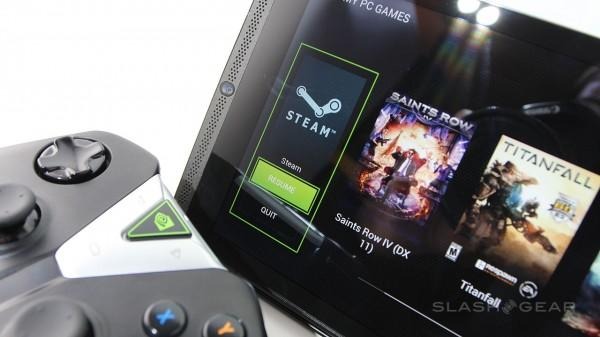 Want iOS? Go with the iPad. Want a fingerprint scanner? Go with the Galaxy Tab S. Want front-facing speakers, a built-in stylus, and a gaming focus? Go for NVIDIA SHIELD Tablet.
NVIDIA is dedicated to regular software updates. We saw them prove this beyond a shadow of a doubt with NVIDIA SHIELD over the past year. This doesn't just mean fixes for bugs, but upgrades to already-powerful systems, too. NVIDIA can hold this over Samsung's head – not necessarily Apple's, as as they update their devices regularly too, but they're certainly better at it than any other Android manufacturer.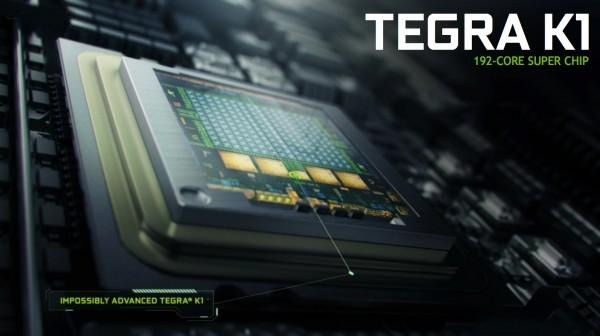 Under the hood you've got NVIDIA's newest and most powerful mobile processor, the NVIDIA Tegra K1 clocked at 2.2GHz with 192 Kepler GPU. This SoC was first introduced at CES 2014 where we saw it onstage – then learned more from NVIDIA's own Nick Stam.
Also inside you'll find GPS with GLONASS, 9-axis motion detection: 3-axis gyro, 3-axis accelerometer, and 3-axis compass, and a spot for a microSD card. Inside we've got 16GB of media storage as well as room for 128GB more with a microSD card of that size.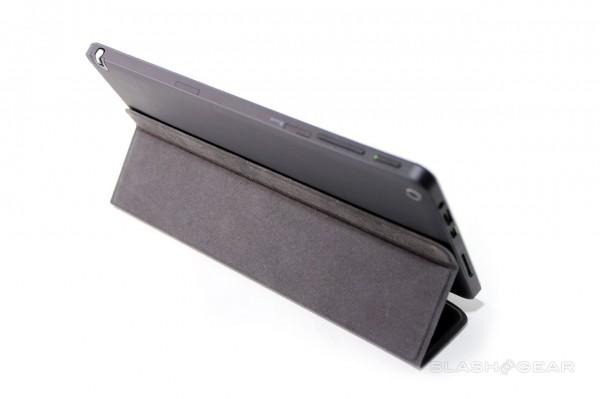 The Wi-fi+LTE version of this machine will come with 32GB of internal storage and that same amount of potential extra storage with a microSD card. The LTE version of the tablet will also have a micro-SIM card slot while this version does not.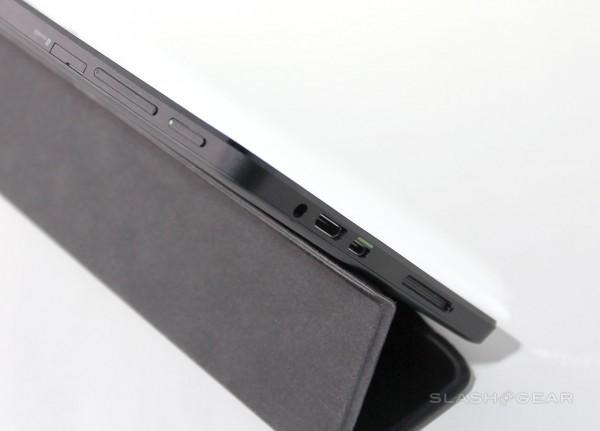 At tipped above, this device comes with front-facing stereos speakers and dual bass reflex ports. You'll see the pips up front and the grilles along the side, all adding up to an audio experience with no equal. When HTC first revealed the HTC One, we were blown away by the simplicity of the concept – the speakers should be facing you, not your hand.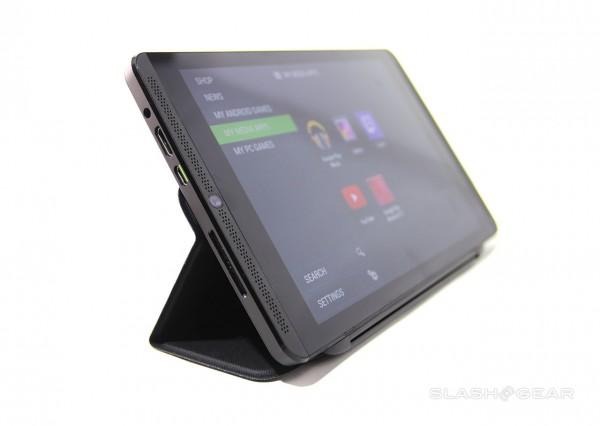 Now NVIDIA has brought some serious heat to the front-facing speaker game with not only these speakers up front, but the bass out the sides. The Galaxy Note 10.1 has front-facing speakers, but ones not nearly as high-end as NVIDIA's here. The only tablet with a speaker system that comes close to the SHIELD Tablet is NVIDIA's own Tegra Note 7 – basically the same boom without so much bass.
SHIELD Wireless Controller
The SHIELD Tablet is great on its own – like a second generation to the Tegra Note 7. With the SHIELD Wireless Controller, the SHIELD Tablet enters a class all its own.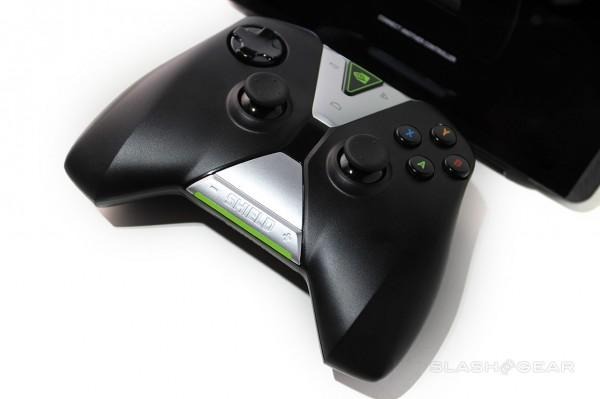 This controller works with NVIDIA's own unique implementation of Wi-Fi Direct to connect with the SHIELD family of devices. Because of this, it has far lower latency than any Bluetooth controller. We'd do direct comparisons, but nothing will compare to you literally experiencing the difference for yourself – it's relatively massive.
If you're talking about a millisecond between a move on the controller and a move on the display compared to even half that with the SHIELD controller – it'll make all the difference. The SHIELD Wireless Controller connects and responds – or by all means seems to connect and respond – as quick as a PS4 or an Xbox One controller.
This controller makes the entire SHIELD-as-console experience so powerful, we'd be surprised if anyone recommended a Steam Machine over SHIELD at any point in the near future. If Valve can out-do NVIDIA here, we'll be truly baffled.
NOTE: The SHIELD Controller's API is not open to the public. It will work with the NVIDIA SHIELD Tablet and the NVIDIA SHIELD Portable in the near future, while you're still free to use Bluetooth controllers at will. Once you go Wi-Fi Direct though, you'll never go back.
Android Gaming
While the real differentiator for the NVIDIA SHIELD Tablet is its ability to bring AAA PC gaming with you wherever you go, Android-based games continue to ramp up. The game Trine 2 is included with NVIDIA SHIELD Tablet, and both of Valve's high-powered titles Portal and Half-Life 2 are compatible with the tablet as well.
NVIDIA has upgraded the interface previously known as NVIDIA TegraZone for all SHIELD devices, making it the "SHIELD Hub" for devices under the SHIELD brand umbrella. This interface works like a mini-console UI, providing simple access to all of your SHIELD-centric apps and games.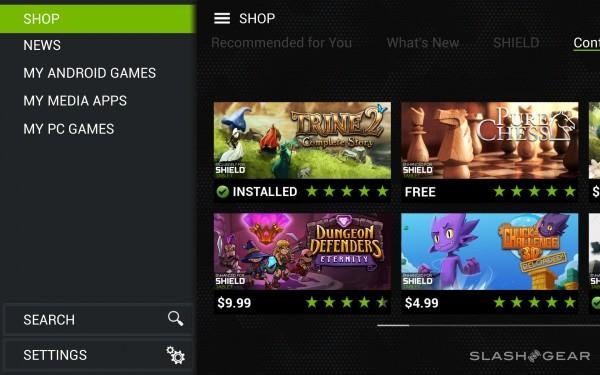 The SHIELD Hub also provides access to the TegraZone collection of apps. Separated by category (puzzle, arcade, retro, etc), as well as "What's New", "Most Popular", and games that work with a gaming controller. It's important to note here that while NVIDIA does have a section here that links you to the SHIELD tablet, wireless controller, cover, and portable, they do not have games that work ONLY with the wireless controller.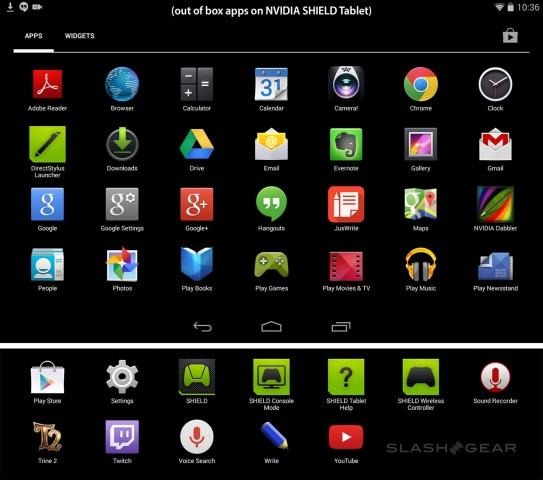 Above you'll see the full collection of apps included with the Wi-Fi-only 16GB edition of this device right out of the box. Below you're seeing how simple it is to share media from any screen – you'll also see this demoed in the wireless controller hands-on below.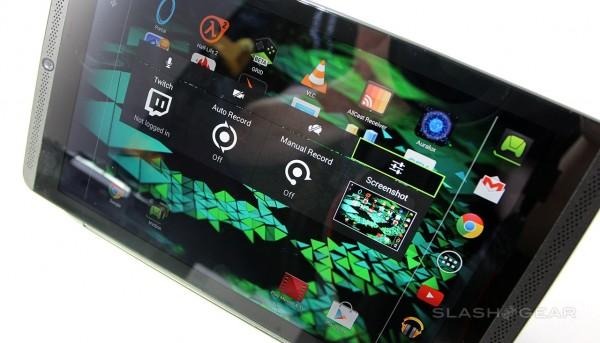 Proof is in the pudding – Android gaming has never looked better than it does here with the NVIDIA SHIELD Tablet running on Tegra K1. Every single game you're seeing in this review was recorded with the device's built-in utilization of Android's ability to record its own display. This is all native.
Performance
While we'll always remind you that benchmarks are not important save for comparing one device to itself with different settings, here we're having a look at the SHIELD Tablet in a number of benchmarks anyway.
Above you're seeing the device with runtime: dalvik, while below we've switched to ART. These have all been captured with a full or near-full battery with performance switched to "MAXIMIZE". We can't stress enough that benchmarks such as these are for fun – they can't express the actual performance of the device, nor can they show how well a machine performs in the wild.
PC Streaming via GameStream
One of the most awesome promises NVIDIA made with the NVIDIA SHIELD when it was originally released was that it'd be able to stream games from your PC. Inside your local wireless network, at first, then out in the wild, NVIDIA kept that promise. It looked great before, and now with a dedicated low-latency controller, GameStream is all but perfected.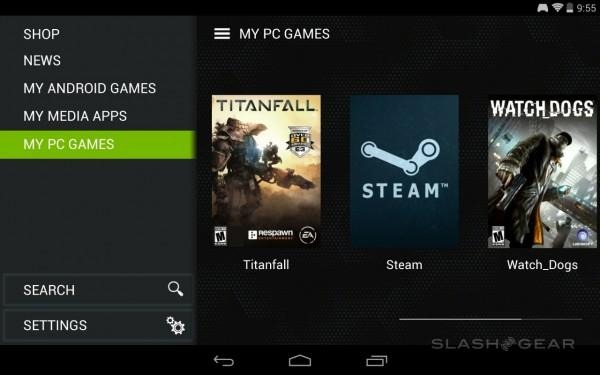 The controller was the key, it would seem. Where our original GameStream experience was slightly hit-or-miss, NVIDIA has made great strides to make the entire experience a go for this second round.
Above you'll see Titanfall streamed from a PC working with an NVIDIA GeForce GTX Titan GPU inside. This stream was done on the same network with an ASUS RT-N66U "Dark Knight" router for Wi-fi.
NVIDIA seems hell-bent on creating the perfect game streaming setup before Valve's efforts can take hold. With the exception of devices that don't run with NVIDIA GPUs, they've done it. Streaming a PC game to NVIDIA SHIELD Tablet is seamless – ready for prime-time and easy enough to accomplish that anyone can do it.
To further drive the Steam point home, here's Team Fortress 2 with GameStream on the SHIELD tablet with the wireless controller to boot.
Now we've only to wait for the LTE version of the tablet so our mobile GameStream exploits won't need to tether to a smartphone to work. The simpler this awesome ability can be, the better.
NVIDIA GRID
The app known as NVIDIA GRID is still in beta mode. It won't be long before it's released without the beta tag on it, but based on what we've seen already, this experiment is ready to roll as a main feature for the whole SHIELD collection.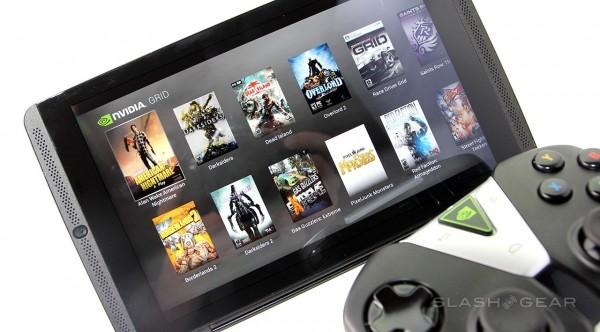 Inside you'll find full-powered streaming games from Borderlands to Saints Row: The Third to Street Fighter X Tekken. The whole collection is housed on NVIDIA GRID servers in San Jose, California, and I'm playing up here in Bismarck, North Dakota. It's just plain awesome.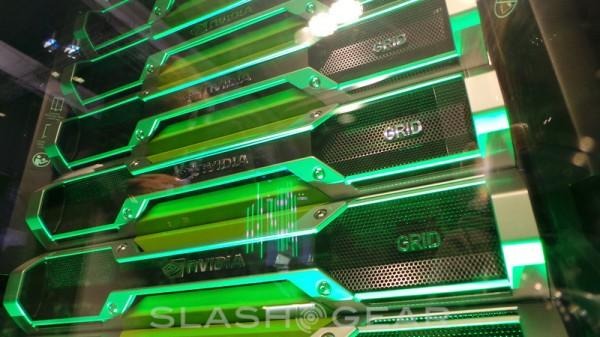 Sometimes streaming from NVIDIA GRID looks excellent, sometimes it looks less-than-perfect. Every time I think about how I'm playing a full-powered PC game on a computer 1,600 miles away, and it looks good – it blows my minds.
To answer your questions from previous comments: yes, your game is saved between sessions. A game we've played of Saint's Row on NVIDIA SHIELD comes up here like we just left it. There's no guarantee of any of this game saving, mind you, as the app is still in beta, but it's there nonetheless. And it's all free for SHIELD device owners, of course.
There's also OnLive game streaming, which also works just as well as it has been working for NVIDIA SHIELD with controller abilities. This system also works on NVIDIA GRID technology, as it were – cloud gaming in full effect!
DirectStylus 2
Taking their stylus game to the next level for NVIDIA meant not only upgrading their hardware, but giving a boost to the ecosystem with software as well. One app included with this device made by NVIDIA for this device specifically is NVIDIA Dabbler, which you'll see being demoed here.
To tell you more about NVIDIA Dabbler and the second-edition stylus called DirectStylus 2, we've got Chris Davies pushing a separate review/feature by the name of NVIDIA SHIELD Tablet DirectStylus 2 Review. In short: if you liked NVIDIA's first edition, the second takes the art out a whole new door.
DirectStylus 2 sits gracefully in the body of the tablet, pulling out with ease, but staying firmly put when not in use. Once you pull DirectStylus 2 out of its sheath, you'll find a collection of apps created by NVIDIA just for this experience – this pop-up is also customizable.
Cameras
The cameras on the NVIDIA SHIELD Tablet are not especially stand-out features, but they're certainly not a couple of do-nothing stand-by pieces of hardware. What you're about to see is a collection of photos shot with the back-facing 5-megapixel camera – aside from this first example.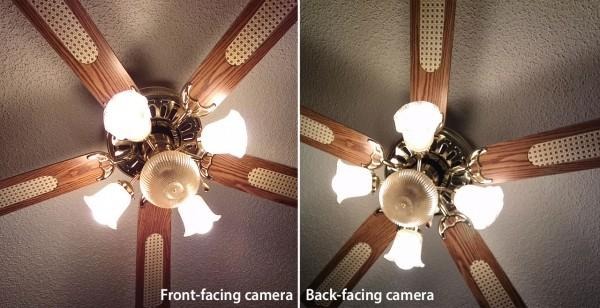 As far as we can tell, the 5-megapixel camera on the back is the same piece of hardware as appears on the front. We look forward to finding out if that's 100% true when the teardowns begin.
Battery Life
When you've got the NVIDIA SHIELD Tablet asleep, battery drain effectively flatlines. Wireless GameStream takes up the most battery, while non-gaming computing has very little effect on the battery.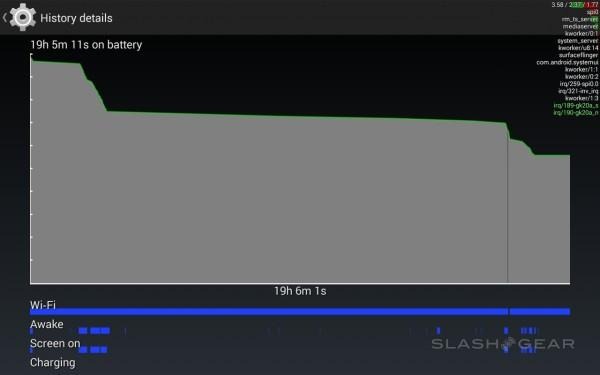 As always, it's the display that takes up most of the energy here unless you're working with GameStream. We've played upwards of four hours from full battery to 10% battery with same-network GameStream from a local PC, while we've had difficulty running the battery down in most any other circumstance.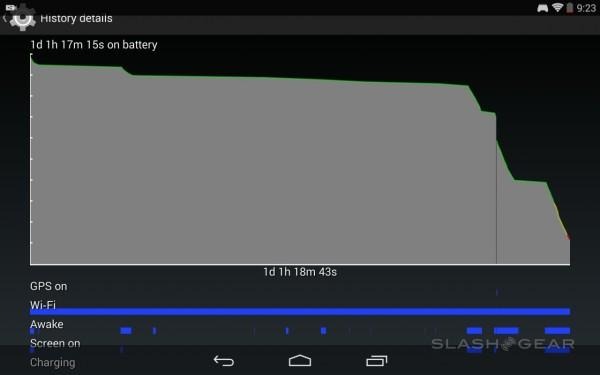 With 5200mAh battery to burn on a tablet this size, we'd be surprised to see anything less than several hours of game time at a time. In reality, any time you're working with GameStream to stream high-powered PC games, you're also near an outlet. It's very little effort to plug in – just do it.
Wrap-up
The NVIDIA SHIELD Tablet effectively creates a second (or is it a third?) generation for Android tablets and indeed tablets in general with several key features. The ability to seamlessly connect with your PC wirelessly coupled with a robust, high quality build and a dedicated software support system from NVIDIA means the SHIELD Tablet is an undeniable winner.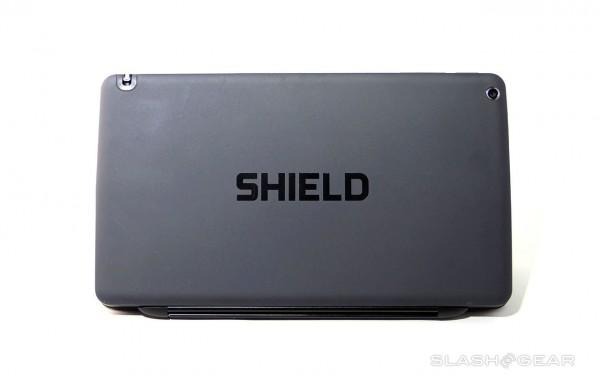 On top of all this, NVIDIA provides a set of price points that are surprisingly well-tuned for today's market. The version we've reviewed here first with Wi-Fi-only and 16GB of internal storage will cost you $299, while the 32GB Wi-Fi+LTE version will run $399. Both prices make this machine easily the best-value tablet on the market. It's not just priced well, it's the new high watermark for a well-rounded tablet, full-stop.
As always, I should remind you that this is not the end of the review process, it's just the beginning. If you have any questions about the NVIDIA SHIELD Tablet or any of its associated hardware or software, please feel free to ask – we'll be reviewing this device well into the future!